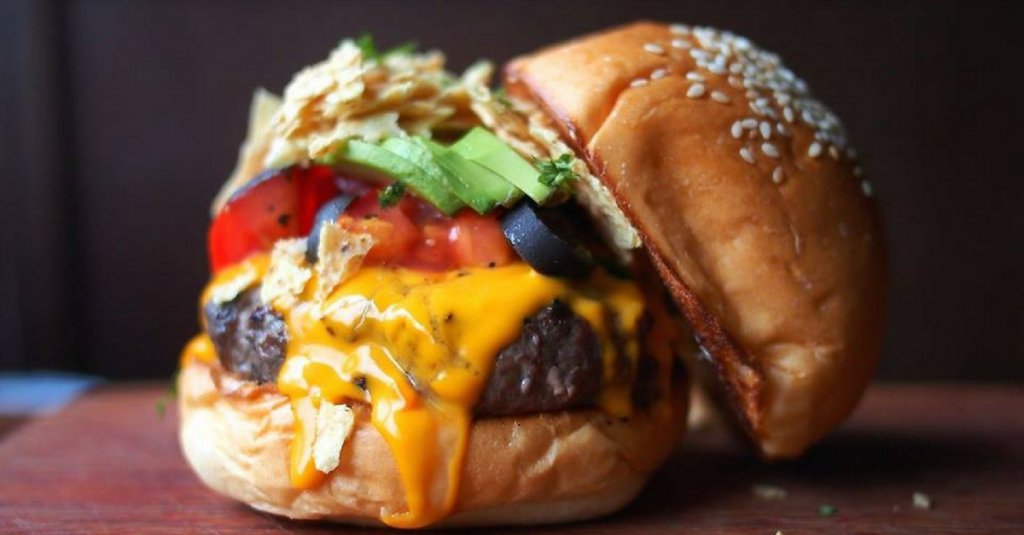 Have you ever pulled out a certain ingredient from your burger because you didn't like it? Or felt disappointed because the burger didn't match up to your expectations or was just different from the description? Well, these are legit burger woes and we identify with you. For that, we've found the prefect solution: our own customised burger!
Everyone has preferences and we will always want our food to be done to our liking. So, here's a list of 6 places where we can enjoy a customised burger. Hurray to picking and choosing our own buns, vegetables (if any), meat or fish, toppings, and sauce!
1. The Burger Joint
Come try what some people call the 'Best Burger in New York City' in Singapore.

[caption id="attachment_20916" align="alignnone" width="800"]
Image Credit: Six and Seven[/caption]

Tucked away at the back in Gemmill Lane, this burger joint is literally what it is: The Burger Joint.

Do it like the Americans and chug down some milkshakes while you have a taste of your very own customised burger. You'll be able to choose the level of doneness for your patty, toppings like lettuce or pickles, and sauces like mustard or ketchup, and more!

[caption id="attachment_20966" align="aligncenter" width="640"]
Credit: 6221 8648
Prince range: $20 – $40
Website here
2. Brewerkz
Unique hand-made craft beer and awesome burgers. Need we say more?
[caption id="attachment_20638" align="alignnone" width="800"]
Image Credit: Hungry Go Where[/caption]

Here at Brewerkz, beer goes hand in hand with almost everything on their menu.

Try your hand at the Bistro and Brewhouse Build Your Own Burger and pair it with a beer of your choice. Choose from a variety of toppings like Blue Cheese, Sauteed Onions, Bacon or Beer Chilli to name a few for your very own customised burger.

[caption id="attachment_20639" align="alignnone" width="550"]
Image Credit: LifeStyleAsia[/caption]

Known for their home brewed beer, Brewerkz serves up beer that you'll surely enjoy with your food. If you're looking to create a spicy customised burger for example, the Iguana Lager will be splendid with it.

Brewerkz
Prince range: $20- $50
Website here
Outlets here 
3. Roadhouse
Wagyu beef burger? Cue Roadhouse, a burger joint at Dempsey that you'll be desperate to try once we tell you what's on the menu.
Beef lovers can rejoice as Roadhouse offers premium Japanese Wagyu Beef as one of their three patty options. Non-beef eaters need not fret as Roadhouse also offers two equally good alternatives: Cajun-Spiced Chicken and Chunky Pork Belly.

[caption id="attachment_20969" align="aligncenter" width="800"]
Credit: Roadhouse[/caption]

There are rules when it comes to ordering at Roadhouse and that is to keep your toppings below $6. Choose from a variety like Jalapeno Peppers, Caramalised Onions, Garlic Mayonnaise and the odd Baconnaise to name a few.

Roadhouse
13 Dempsey Road, Singapore 249674
Tel: 6476 2922
Website Credit:
Image Credit: Smitthankyou[/caption]

Only 3 kinds of meat are offered at Burger Up and they are beef, chicken and fish. Like the meat, three types of buns are available. The joint though, offers interesting sauces. Think oriental, citrus and black pepper mayonnaise to slather on your burger.

Not keen on customising? Burger Up also serves up their own house burgers along with rice sets.

[caption id="attachment_20633" align="alignnone" width="640"]
Image Credit: Smitthankyou[/caption]

We wouldn't suggest picky eaters to visit due to the limited choice of meat and bun types. However, if you're a fan of simplicity then Burger Up is definitely up your street.

Burger Up
Price range: $6- $13 (Depending on what you order)
Website 5. Fatboy's The Burger Bar

Head back to the days of retro dining with a modern twist.

At Fatboy's The Burger Bar, the sky's the limit when it comes to customising your burger. The burger joint offers 4 different types of buns and patties for customers.

[caption id="attachment_20635" align="alignnone" width="1600"]
Image Credit: Cavin Teo[/caption]

Trust us when we say you're going to have a hard time deciding exactly what you want because Fat Boy's has a whopping 25 toppings and 11 sauces for you to choose from. There are 4400 possible combinations so customise away!

[caption id="attachment_20637" align="alignnone" width="1600"]
Image Credit: Cavin Teo[/caption]

Not in the mood to DIY? Fret not as Fatboy's also offers great mains. Take on the Fat Basterd which comes with 2 beef chuck patties or Maholo which comes with a bacon stuffed pork patty. Sides like Beer Battered Onion Rings and Jalapeno Poppers are also some unique offerings by the burger joint.

Fatboy's The Burger Bar
Price range: $30 – $50
Website
6. The Burger Bar
If you're looking for anything other than you own creation, good luck.

[caption id="attachment_20872" align="alignnone" width="640"]
Image Credit: Burpple[/caption]
If this joint sounds really familiar, it's probably because it has the same name as Fatboy's. Started by The Muttons (DJs on Class 95FM) and co-owner of Fatboy's is The Burger Bar where only whatever you want matters.
Despite being touted as the cheaper version of Fatboy's due to the fact that only yours and a few basic burgers are on the menu, The Burger Bar doesn't skimp on quality. It provides the same number of toppings (25), sauces (11), and types of buns and patties you can choose from. A cheaper alternative with equally good standards? Yes please!
Ordering is absolutely fuss-free with iPads made available at the counter.
The Burger Bar
Price range: $10- $30
Website
Image Credit: Odyssey[/caption]
Header Image Source: The Garden Mall
Also, read 5 Fast Food Restaurants So Pretty You'll Want To Spend Your Dates Here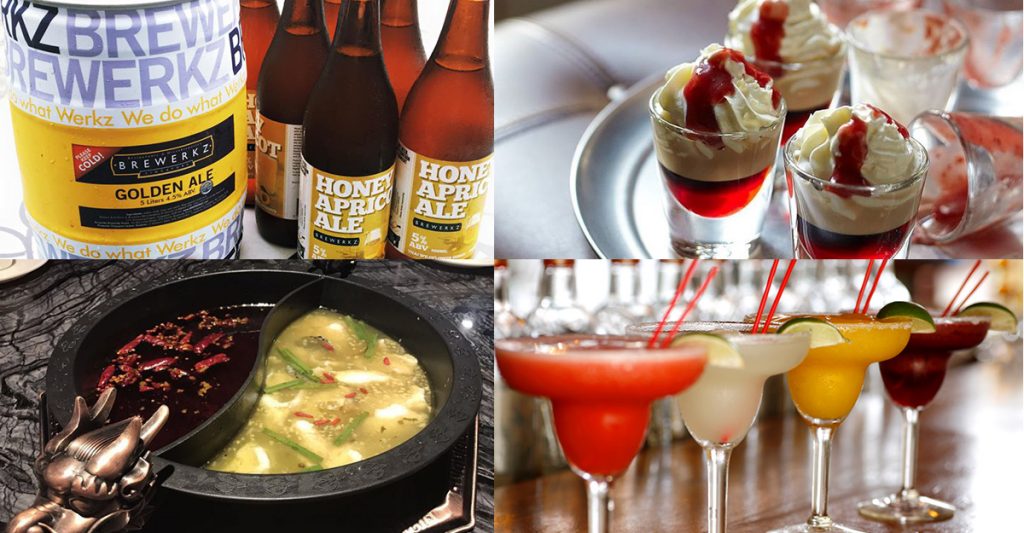 The Singapore River was an important feature of Singapore's growing port back when we were still in our developing stages.

Fast forward to a few decades later, and the River has now evolved into the urban city's hotspot.

With thumping music and diners spilling onto the banks of the Singapore River, it's no surprise Riverside Point has become a mainstay along the Singapore River.

[caption id="attachment_19732" align="alignnone" width="1024"]
Choo Yut Shing[/caption]

A stone's throw from Clarke Quay MRT Station, Riverside Point houses popular restaurants that offer breathtaking views of Singapore's night scene. For those of you who want a meal with a view, here are 5 Riverside Point restaurants that are serving up delicious Christmas eats this festive season!
1. Christmas Special @ JUMBO Seafood
[caption id="attachment_19733" align="alignnone" width="600"]
#01-01/02, Riverside Point, Riverside Point 30 Merchant Road,058282
Everyday: 12pm – 3pm, 5.30pm – 12am
Contact: 6532 3435
2. Late Night Happy Hour @ Café Iguana
[caption id="attachment_19734" align="alignnone" width="1024"]
Cafe Iguana[/caption]
Traditional Christmas dinners have never been your style?
Good news for you, because Café Iguana not only serves up authentic Mexican fare, they also want you to celebrate this festive season by letting loose!
Happy Hour starts at 10pm at Café Iguana with half-off House Margaritas!
Café Iguana wants you to unwind this holiday season with traditionally-flavored Margaritas like strawberry, and exotic flavors like soursop alongside a sizzling platter of Mexican delights, you're bound to have a Christmas you'll never forget!

Café Iguana

Harry's[/caption]
What better way to celebrate this festive season than indulging in the joy of feasting with some friends?
Harry's at Riverside Point is serving a dine-in buddle for 4 pax. Inclusive of Harry's Signature Wings, a mouthwatering Triple Sausage Platter and a couple of Cupcake shooters, you'll be stuffed-full of Christmas cheer at Harry's!
If you're stuck on ideas for Christmas presents, Harry's has also got you covered.
The restaurant has got a couple of voucher packs that would fit any beer aficionado – for example, at $49, the Berry Christmas voucher gets you 6 pints of Harry's Premium Lager, or a meal to share at any Harry's outlet!
Brewerkz isn't your average run-of-the-mill bar – it's known for its high quality craft beer and a winner of several awards for its signature and seasonal beers. Serving up 13 different brews on tap, it's no wonder beer aficionados flock to Brewerkz!
Throwing the biggest Christmas party? You're going to need some drinks to get the party started!
This year, Brewerkz is offering up a Takeaway Special you can't refuse. With 25% off when you purchase two 6-packs and mini kegs, and 30% if you bring home four, you know you're pretty much set when it comes to alcohol for your Christmas get-togethers. 
Brewerkz

Spicy House[/caption]
Let's be honest, we Singaporeans love our spice – just look how people jumped on the bandwagon of downing bowls of Samyang Ramen! The majority of us Singaporeans also live by the mantra "the spicier the better".
For Spicy House, 'spice' takes on a whole new meaning. A Chengdu-style hotpot restaurant that just opened its doors three months ago, the popular Chinese restaurant chain is known for its spicy broth and fresh ingredients.
This holiday season, Spicy House has a late night promotion with 32% off your total bill from 10pm to 3am from Fridays to Sundays! To make things even sweeter, Spicy House will be giving out cash vouchers from 10 to 18 December!
Share the joy of feasting and indulge in the restaurant's flavourful broth with signature dishes such as the spicy beef balls!
Spicy House
Facebook
#01-07 Riverside Point 30 Merchant Road
Opening Hours: 11am – 2pm; 5pm – 4am
Contact: 6493 7213
Christmas At Riverside Point
[caption id="attachment_19741" align="alignnone" width="570"]
The Joy Of Christmas Comes with A Smile[/caption]

This festive season, Riverside Point wants to treat all its Christmas shoppers to some amazing giveaways!

Spend a minimum of $50* and stand a chance to win an iPad Air, Apple Watch, and shopping & dining vouchers worth up to $250,000! Riverside Point will also be giving out exclusive journals when you spend a minimum of $100*!

With these amazing Christmas deals and restaurants serving up some delicious eats this festive season, head on down to Riverside Point for al fresco dining by the river and celebrate this year end the right way!

*Terms and conditions apply. Redemption is at Clarke Quay Central Concierge from now till 25 Dec 2016.

Clarke Quay Central Concierge is located at Level 1 (Blue Zone), 6 Eu Tong Sen Street, Singapore 059817. The Concierge opens from 10am to 10pm daily.

Please visit Gareth Phua)

Also Read: Under $25: 9 Super Local Christmas Gifts That Will Surely Amaze Your Friends!