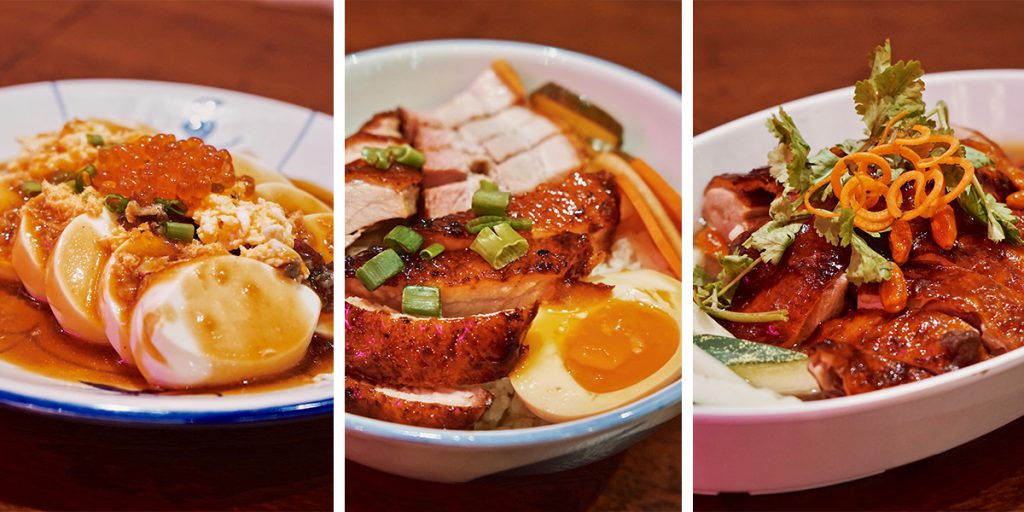 If you've been to Old Airport Road Food Centre in the past year or so, chances are that you've heard about Roast Paradise.
Started by two friends – Randall and Kai – in 2016, these young hawkerpreneurs have quickly made a name for themselves thanks to their Kuala Lumpur-style char siew and siu yoke / roast pork, and the stall attracts long, long queues at pretty much any time of the day.
And after setting up a second outlet in Ang Mo Kio, the pair have now brought their food to central Singapore in the form of the cheekily-named restaurant Fook Kin.
'Fook Kin' Good Food
[caption id="attachment_38318" align="alignnone" width="6000"]
Image Credit: Discover SG[/caption]

Conveniently located at 111 Killiney Road (a 5-minute walk from Somerset MRT, according to Google Maps), Fook Kin is a collaboration between Roast Paradise and local DJ royalty The Muttons.

[caption id="attachment_38324" align="alignnone" width="6000"]
Image Credit: Discover SG[/caption] [caption id="attachment_38325" align="alignnone" width="6000"]
Image Credit: Discover SG[/caption]

Featuring an Instagrammable, Wong Kar Wai-esque aesthetic (think marble tables, graffiti and neon lights in all the right places), the restaurant offers Roast Paradise's Signature Char Siew and Roast Pork, while adding several zi char-style dishes to the menu as well.

[caption id="attachment_38319" align="alignnone" width="6000"]
Image Credit: Discover SG[/caption]

These dishes aren't the kind you'd find at your standard coffee shop, though. The Triple Happiness ($9.80) for example, adds salmon roe and salted egg bits on top of Pitan / Century Egg Tofu, creating a refreshing-yet-flavourful appetiser that serves as a perfect accompaniment to Fook Kin's meatier offerings.

[caption id="attachment_38321" align="alignnone" width="6000"]
Image Credit: Discover SG[/caption]

Those looking for a more traditional dish can also consider the Two Way Kai Lan ($9.80), which — as its name suggests — serves the classic vegetable in two styles on one plate. While one half is more or less your standard braised-in-oyster-sauce fare (still delish, btw), the other is fried and sprinkled with a generous amount of pork floss for a crispy and satisfying bite.

Of course, you can't go to Fook Kin without eating their meat, and the restaurant has added roast duck on top of the Roast Paradise classics for even more freedom of choice.

[caption id="attachment_38320" align="alignnone" width="6000"]
Image Credit: Discover SG[/caption]

Those looking for a simple meal can opt for the one-meat Roast Delight ($8.80), while more indulgent patrons can go for the titular Roast Paradise ($10.80) that includes all three meats. Served with either rice or noodles and throwing in a Shoyu egg for good measure, you're guaranteed a hearty meal no matter which option you choose.

At this point you might be wondering: how does Fook Kin's meat compare to the original Roast Paradise? Well, considering that Randall has now made Fook Kin his main base of operations (he has trusted employees running the Old Airport Road and Ang Mo Kio outlets), you're actually getting the quintessential Roast Paradise experience.

[caption id="attachment_38323" align="alignnone" width="6000"]
Image Credit: Discover SG[/caption]

Thanks to a painstaking preparation process that takes a whopping 4 hours every day, both the char siew and siu yoke are truly a step above the rest. The char siew was incredibly tender and had a distinctively sweet taste to it, while the siu yoke was probably the crispiest and most savoury that I've had in my entire life.

The roast duck — while serviceable — just isn't as mind-blowing as the other two. If we had to choose between the three, I'd recommend going for either the char siew or siew yoke before springing for the duck.

[caption id="attachment_38332" align="alignnone" width="6000"]
Image Credit: Discover SG[/caption]

If the meat in your rice / noodle bowl isn't enough (and believe me, it won't be enough), you'll be glad to know that you can order a meat platter as well. Ranging from $6.80 to $65 for a small and extra large serving respectively, this is the perfect choice if you're coming here with a group of friends…or just really hungry. We won't judge.

[caption id="attachment_38322" align="alignnone" width="6000"]
Image Credit: Discover SG[/caption]

With its convenient location and mouth-watering menu, Fook Kin is definitely the place to be if you want to up your zi char game. Sure, it might be a tad more expensive than…say, a coffee shop, but for the quality you're getting, it's definitely well worth the price.

FOOK KIN
Address: 111 Killiney Road, Singapore 239553
Opening Hours: 11:30am – 9:30pm

Also Read: 10 Affordable Dinner Date Spots In S'pore So You Can Treat Your Bae Without Going Broke

(Header Image Source: Discover SG)