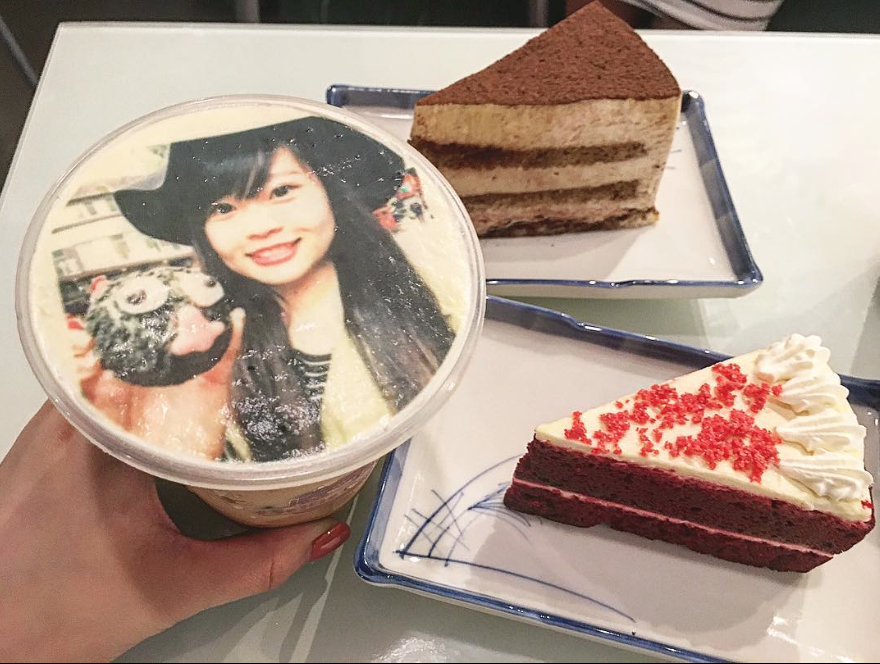 Do you love your face so much you want your coffee to come complete with a picture of yourself on it?
Note: not your picture on the cup, but a picture printed directly into the whipped cream foam. And it's 100% edible!
https://www.youtube.com/watch?v=eCQ3OIwzBjc
Selfie coffees have taken coffee drinking to another level – way above 3D foam lattes.
One-of-a-kind drink
Tucked away in an obscure corner on Haji Lane, The Selfie Coffee lets you customize your coffee for a unique drink. Originally from Malaysia, the Singapore branch also lets you print your photo onto the foam that your coffee comes with.

[caption id="attachment_28888" align="aligncenter" width="282"]
#SQUADSELFIE (Image Credit: @cartmenez77)[/caption]

You can print selfies, commemorative photos, your beloved pet – anything goes! You can also take a picture on the spot, and the cafe has even provided props like huge sunglasses for goofy photos. We heard that some people even printed their idol's faces onto the coffee! Talk about dedication.

[caption id="attachment_28880" align="aligncenter" width="300"]
Is Pokemon still relevant? (Image Credit: @larvitar)[/caption]

After you've ordered, you will send your selfie or photo to a printing machine, which will 'print' your photo onto the whipped cream layer to create an exact color coffee.

If you intend to take 10,000 shots of your selfie coffee, go for an iced latte or frappe, as the picture can last up to an hour on cold drinks. Your face will dissolve in a hot drink in about 5 minutes – which is simply not long enough to admire your selfie!

[caption id="attachment_28883" align="aligncenter" width="293"]
Are we seeing double? (Image Credit: @natasha.pye)[/caption]
Go for the novelty, stay for the coffee
Their coffee and frappes also come in a variety of flavors, like Salted Caramel, Matcha, Butterscotch, Caramel Macchiato, and White Chocolate just to name a few. The best yet: Horlicks fans will be thrilled to know that the selfie frappe also comes in Horlicks flavor.
https://www.instagram.com/p/BW2yuqvAGpV/
Even though having a selfie coffee on a drink is a novelty, the cafe strives to provide delicious coffee that has people returning. The owner said that he didn't want the selfie coffee to be one-time thing.
Besides coffee, there is also a selection of teas, non-caffeineated ice blended drinks, pies and cakes. Complete your insta-worthy flat lay with a slice of rainbow cake!
Selfie Coffee
Address: 11 Haji Lane, Singapore 189204
Opening Hours: Mon – Thu: 12pm – 8pm; Fri – Sun: 11am – 10pm
Contact no.: 6341 7213
Website
Also read Pablo Cheese Tart Is FINALLY Coming To Singapore!
(Header Image Source: @ninahong0128)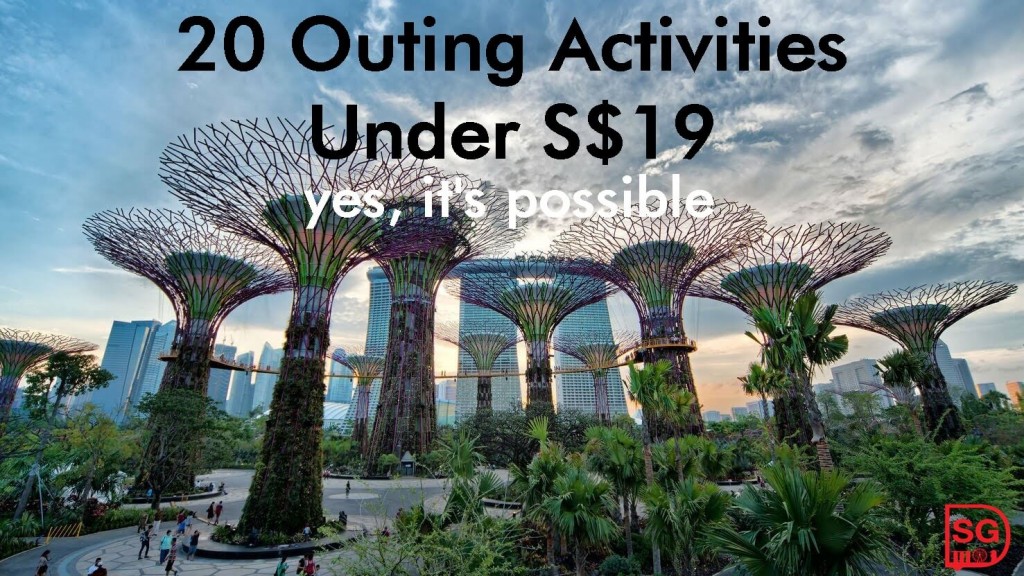 Singapore is a small country, and it's certainly not boring. It just means that you have to look harder. More often than not, it's about entertaining yourself in the place you live in. If you prefer not to spend too much money to travel across another continent, Discover SG's got you covered.
1. Go hiking at The Southern Ridges
[caption id="attachment_2936" align="aligncenter" width="700"]
Image credit: Pitt Urban Studies in Singapore[/caption]

Free admission

Ditch your pumps and Birkenstock, and opt for a pair of sensible footwear to have a stab at hiking down The Southern Ridges. At 10km long, it's the hot new favourite place for history aficionados, nature lovers and selfie buffs.
2. Volunteer at SPCA
[caption id="attachment_2937" align="alignnone" width="700"]
Image credit: SPCA Singapore[/caption]

Free admission

SPCA is always on the lookout for helpers and dog walkers to advocate their animal welfare cause. If you're an animal lover, consider volunteering at the shelter to make a pup's day. You're going to go home with a sense of accomplishment.
3. Marvel at the flowers in Singapore Botanic Gardens
[caption id="attachment_2938" align="alignnone" width="700"]
Image credit: Your Singapore[/caption]

Free admission

Here's something you probably haven't heard of: picnics are back in fashion. They're so popular that there are companies here selling packed baskets! If your money is a wee tight, treat it as a DIY project. Set a time, pick a shady spot and I guarantee you'll have butt-loads of fun.
4. Window-shop at Haji Lane
[caption id="attachment_2940" align="alignnone" width="700"]
Image credit: Expat Living[/caption]

Free admission

There's something about Haji Lane. The quirky knick-knacks, the timeless fashion apparels, the aesthetically pleasing little shops. It's a must-visit for every Singaporean (and tourist). Get a sneak peek at the charming town and its must-visit stores here.
5. Make googly eyes at the fishes at Qian Hu Fish Farm
[caption id="attachment_2941" align="alignnone" width="700"]
Image credit: Qian Hu Fish[/caption]

Free admission

If you don't know who Kenny Yap is, I, well, let's leave it at that. Qian Hu, famous for its Dragon fishes, has been around the block since the late nineties. The fish farm may not be as glitzy as Orchard Road, but it still has its own rustic charm.
6. Watch a free movie outdoors
[caption id="attachment_2942" align="alignnone" width="700"]
Image credit: Movie Mob By Ape[/caption]

Free admission

A free outdoors drive-in movie screening? It certainly beats shivering uncontrollably in the cinema. Movie Mob was launched in 2009 and seven years later, it's still going strong. Join their mailing list to get the first deets.

also read:
Image credit: Mind Blowing Trip[/caption]

We've oohed and ahhed while we were in the Singapore Flyer capsule, but how many of us have actually experienced the Tiger Sky Tower? Not many of us, I'd presume. It's not too late to have a go. Tickets cost S$18 for adults and S$10 for children.
8. Forget hipster cafes, dine at hawker centres instead
[caption id="attachment_2944" align="alignnone" width="700"]
Image credit: Northern Sights[/caption]

Estimated cost: >S$4.50

Ice-cream waffles? Nah, I'll take unconventional local cuisine any day. Here are some recommendations to get you started on your foodie trip:
Seletar Nam Hoe's Bak Kut Teh at the Hainanese Village Food Centre
Guang Liang Cooked Food's Kway Chap at Bedok Reservoir Road Market & Food Centre
Soup Kambing Haji M. Abdul Razak's Mutton Soup at Upper Boon Keng Road Market and Food Centre
9. Test your endurance at Sungei Buloh Wetland Reserve
[caption id="attachment_2945" align="alignnone" width="700"]
Image credit: Angie and James Do Stuff[/caption]

Free admission

Get away from the hustle and bustle, and escape to Singapore's first ASEAN Heritage Park to rewind. The rich biodiversity is something to behold. I wouldn't be surprised if you stop to smell the flowers. Oh yeah, that Komodo dragon that's staring at you like food? Don't worry, it won't kill you. It's a water monitor lizard.

also read:
Image credit: Today Online[/caption]

Free admission (duh)

Say whatever you want about Stephenie Meyer (Twilight series), but you've got to admit it, she's made reading cool again. If you're looking for quality me-time, get on the bus and head to the library. Design fanatics can't go wrong with [email protected] or Jurong Regional Library, and YA (young adult fiction) buffs should not miss Queenstown Public Library for its impressive collection.
11. Admire the greenery at Gardens by the Bay
[caption id="attachment_2947" align="alignnone" width="700"]
Image credit: Wikipedia[/caption]

Depends

You don't have to spend a bomb at Gardens by the Bay. You can enjoy free admission for most of the sights. Take The World of Plants, Dragonfly and Kingfishers Lakes, Heritage Gardens and Sun Pavilion for instance. They're enough to keep you entertained.
12. Rub shoulders with animals at Farmart Centre
[caption id="attachment_2948" align="alignnone" width="700"]
Image credit: Farmart Centre[/caption]

Free admission

If you appreciate casual dining and low-maintenance relaxation, look no further than Farmart Centre. You can have a prawning contest with your mates or feed the farm animals. Price: free, unless you end up going home with a puppy.
13. Attempt the humongous climbing structure at Woodlands Waterfront Park
[caption id="attachment_2949" align="alignnone" width="700"]
Image credit: White as Milk[/caption]

Free admission

Any children — or adult — will want to try this out. If playgrounds aren't your cup of tea, grab your bikes, skateboards or fishing rods. What's interesting about Woodlands Waterfront Park is that there's a restaurant located at the jetty. Who knew?
14. Turn back the hands of time at Creative Art Corner (or Timezone)
[caption id="attachment_2950" align="alignnone" width="700"]
Image credit: 许恩熙[/caption]

Cost: >S$8


Create art with a cotton swab and toothpick! An activity like this will hit you with the nostalgia bomb. If you can't stand art, grab your pals and head down to the arcade (price varies). It's much more satisfying than being cooped up alone in home playing Call Of Duty on your Xbox 360.
15. Dance with coconuts at Bollywood Veggies
[caption id="attachment_2951" align="alignnone" width="700"]
Image credit: Bollywood Veggies[/caption]

Well, I don't know if there are coconuts at the farm, but the name 'Bollywood' certainly brings the fruit to mind. The lush greenery is a marvel and reminds us to take a step back from our fast-paced, urban lifestyle. Entrance fee costs S$2. Admission is free for kids under 12 and seniors over 60.

also read: 
Image credit: National Parks[/caption]

Free admission

Alexandra Canal Linear Park is like a pearl oyster. At first glance, there's not much to look at. Look further and you'd feel like you've been had. If you spend ample time at the park, you'd see that there's a rope playground and a scaled-down skate park for skateboarding enthusiasts.
17. Feed the animals at The Animal Resort
[caption id="attachment_2953" align="alignnone" width="700"]
Image credit: Tuan-min.com[/caption]

Free admission

The Animal Resort is another lesser-known place in Singapore. Think of it as a mini zoo. You get to feed the animals, see what it's like for a pet to get a haircut, and witness a dog training ground.
18. Sneak into The Library & have a drink
[caption id="attachment_2954" align="alignnone" width="700"]
Image credit: Popspoken[/caption]

Not much is known about The Library, except that it's as secretive as hosting an underground supper club. What makes the bar so intriguing is that it's by appointment only and guarded by a secret pass code. One writer at Popspoken recommends the Wonky Donkey ($17).
19. Get over your fear of heights at the Treetop Walk
[caption id="attachment_2961" align="alignnone" width="700"]
Image credit: National Parks[/caption]

Free admission

To any acrophobic, attempting the Treetop Walk is as frightening as walking down the Yuntaishan glass walkway. Think carefully before you embark on this exhilarating mission. Get a friend you trust to come along with you and whatever you do, don't look down!
20. Or better yet, go Sparta! with Running Man
[caption id="attachment_2962" align="alignnone" width="700"]
Image credit: Soompi[/caption]

Cost: varies, depends on your resourcefulness

Here are some ideas to get you started. You could play dodgeball at the basketball field. You could create your own name tag from scratch. Notice the acupuncture stones you often see at your HDB block? Use it. Skip on it. Run on it. Just make sure it's not occupied by some elderly.

Please, only proceed if you don't mind getting weird looks.

With these 20 wildly fun activities to do in Singapore for the cheap, we hope you'll never complain of being bored! Adventure belongs to those to seek it. So go forth and have an adventure!

Note: Price does not include parking fees and transport fares.
Featured image credit: Gardens by the Bay YouTube screen grab