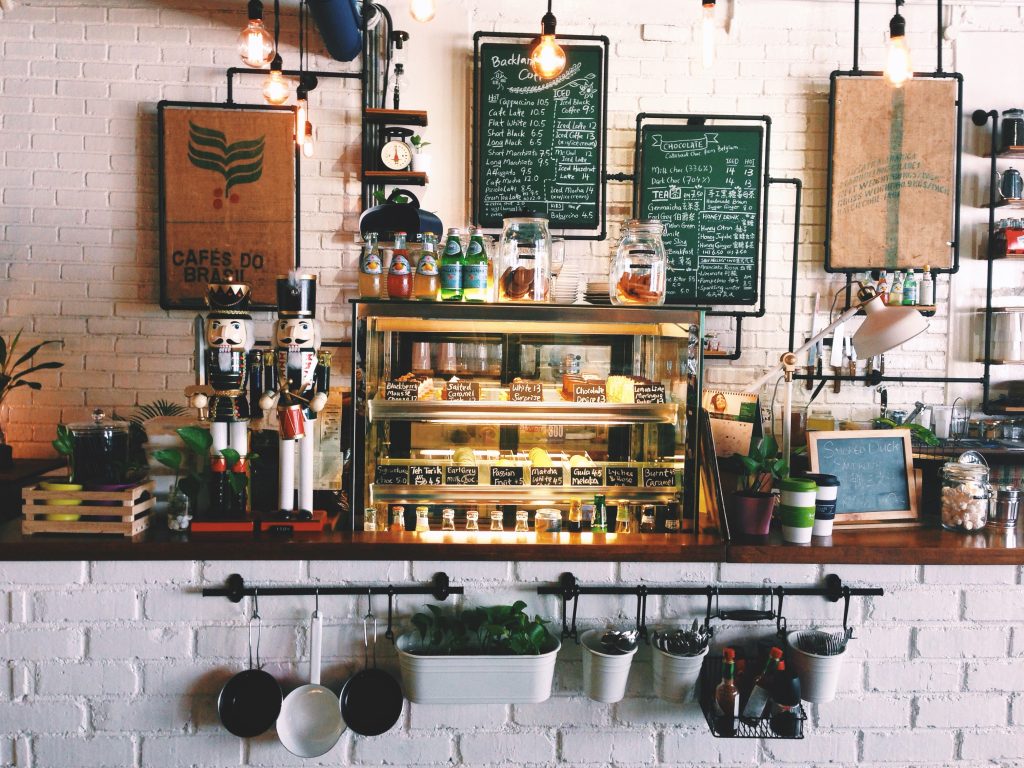 Bored of the sights and sounds of Singapore, and frankly need a short getaway from everything? The understated charm of Melaka awaits, just a bus ride away!
More than just a UNESCO World Heritage Site with a vibrant historical past and beautiful architecture, Melaka is undoubtedly a foodie's paradise – whether it be street snacks, cafe grub or quick eats by the roadside.
The list of tastebud teasers is growing as we speak, so we've wasted no time in bringing you this list of cool cafes that'll surround you with all kinds of #goodvibes.
1. Calanthe Art Cafe (Pork-free)
Tucked away in a quiet alley, stepping into this cafe is akin to entering another world.

A master of revival, this is where television sets are reborn as aquariums, antique furniture is given a new lease of life, and timeless quotes artfully adorn the walls.

[caption id="attachment_28486" align="alignnone" width="1200"]
Image Credit: Image Credit:  Image Credit:  Image Credit: 
Image Credit: Burpple User SuLin Ang[/caption]

Must-try: Baboon Beef Burger, Oriental Chicken Burger, Pork Belly Burger, Terriyaki Porkchop Burger, Cheese Burger, Mango Smoothie, Fresh Juices

The Baboon House
Address: 89 Jalan Tun Tan Cheng Lock, Kampung Bukit Cina, 75200 Melaka, Malaysia
Opening hours: Mon – Sun: 10am – 5pm; Closed on Tue
3. Geographer Cafe (Halal)
[caption id="attachment_28488" align="aligncenter" width="700"]
Image Credit:
Image Credit: Image Credit:  Image Credit:
Image Credit: @yap_yk[/caption]

Must-try: Unique and tasty coffee blends

Mods Cafe
Address: 14 Jalan Tukang Emas , 75200 Malacca, Malaysia
Opening hours: Daily, 10am – 6pm
5. The Daily Fix Cafe and Restaurant (Pork-free)
[caption id="attachment_27753" align="alignnone" width="1600"]
Image Credit: 
Image Credit: The Coverage[/caption]

The cafe's retro decor with painted blinds, wooden sofas and potted plants all add a touch of je ne sais quoi that makes this cafe stand out. Together with their delicious pancakes and mean cups of coffee, The Daily Fix has us pledging our loyalty for a long time to come.

[caption id="attachment_28492" align="alignnone" width="1080"]
Image Credit: @natiweez[/caption]

Must-try: Pandan Gula Melaka Pancakes, Durian Pancakes, Salted Egg Pancakes, Durian Cheesecake, Duck Aglio Olio

The Daily Fix
Address: 55 Jalan Hang Jebat, 75200 Melaka, Malaysia
Opening hours: Mon – Fri: 9am – 11.30pm; Sat – Sun: 8.30am – 11.30pm
6. Locahouz Breakfast and Brunch Restaurant
An oasis of cool comfort away from Melaka's hot and busy streets, the sister cafe of Baboon House offers a Western-style menu too, albeit with greater emphasis on desserts.

[caption id="attachment_27767" align="alignnone" width="1170"]
Image Credit:  Image Credit: 
Image Credit: Stepping out of Babylon[/caption]

An antique shop that doubles as a port-of-call for hungry diners, here is where you can enjoy simple, authentic Malaysian fare in a cosy and homely environment.

[caption id="attachment_27771" align="aligncenter" width="640"]
Image Credit: ParentheticalPilgrim[/caption]

The friendly pakcik and makcik prepare the food on the spot, ensuring that the ingredients are fresh and each dish is piping hot. If you're vegan, this place offers tofu options as well.

Must-try: Laksa, Lontong, Nasi Lemak, Nasi Ambeng

Sayyid Antique & Cafe
Address: 74 Lorong Hang Jebat, 75200 Melaka, Malaysia
Opening hours: Mon – Sun: 8.30am – 5.30pm; Closed on Tue
8. The Stolen Cup
[caption id="attachment_27772" align="alignnone" width="1048"]
Image Credit: Jay W on Tripadvisor[/caption]

A quaint hole-in-the-wall coffee stop along Jonker Walk, The Stolen Cup has stolen our hearts with its rustic interior decorated with wooden planks, old clocks and posters.

[caption id="attachment_28495" align="aligncenter" width="450"]
Image Credit: TripAdvisor[/caption]

Besides the barista specialty of iced gula melaka coffee, enjoy their freshly-toasted, crispy croissants which go down with a buttery crunch.

Must-try: Iced gula melaka latte, croissants

The Stolen Cup
Address: 21A Jalan Hang Jebat, 75200 Malacca, Malaysia
Opening Hours: Mon, Wed – Sun: 9am – 9.30pm; Closed on Tue
9. Backlane Coffee
[caption id="attachment_28497" align="alignnone" width="1024"]
Image Credit:
Image Credit: @yuanlin_steven[/caption]

Must-try: Mr Owl Coffee (owl-shaped coffee ice cubes), Pesto Pizza, Teh Tarik Macaron, Passionfruit Surprise Macaron, Salted Caramel Tart, Raspberry and Praline Mille-Feuille, Backlane Passion (passionfruit cream with chocolate mousse on a white chocolate base)

Backlane Coffee
Address: 129 Jalan Hang Jebat, 75200 Melaka, Malaysia
Opening hours: Mon – Thu, Sun: 9.30am – 11.30pm; Fri & Sat: 11am – 12am
10. Ola Lavanderia Cafe
[caption id="attachment_28500" align="alignnone" width="1020"]
Image Credit: @shiyin122[/caption]

Well-located within walking distance of the heritage site, this all-white, minimalistic cafe is perfect for a pop of caffeine.

What's best is it doubles as a launderette – at only RM 4.80, pop your feet up while your clothes get washed, folded and ironed. Cue Instagram hashtag #taitailife.

[caption id="attachment_28499" align="alignnone" width="1080"]
Image Credit: @spinnincarousel[/caption]

While you're here, be sure to order their famed cheesecakes.

Must-try: White Melaka Cheesecake, All Day Breakfast

Ola Lavanderia Cafe
Address: 25 Jalan Tukang Besi, 75200 Melaka, Malaysia
Opening hours: Mon – Sat: 8am – 5pm; Sun: 8am – 1pm
11. Handmade Bakery Cafe (Halal)
Upon entering this cafe, you'll be hit with the ridiculously yummy fragrance of freshly baked breads, pastries and cakes.

[caption id="attachment_27819" align="alignnone" width="1920"]
Image Credit: 
Image Credit: @tiantian91[/caption]

Sweet treats aside, the cafe serves up a large range of savoury dishes such as pizza and salad which will please your growling tummy.

Must-try: Chocolate Guinness Cake, Baked Polish Cheesecake, Tunisian Orange Cake, Oreo Volcano

Handmade Bakery Cafe
Address: 77 Jln Kota Laksamana 3/8, Taman Mahajaya, 75200 Melaka, Malaysia
Opening hours: Daily, 10am – 10pm
12. The Coffee Jar (呷珈琲)
A quaint little coffee shop with its own mini roaster, its specialty, lightly roasted coffee, will tickle the tastebuds of third wave cafe-goers. Apart from coffee, The Coffee Jar also stocks a selection of pies and cakes for you to munch on while you sip away.

[caption id="attachment_27826" align="aligncenter" width="640"]
Image Credit:  Image Credit: Tripadvisor[/caption]

Must-try: Coffee, Earl Grey Tea Cheesecake, Jar of Pie (a unique in-house rendition of Shepherd's Pie)

The Coffee Jar
Address: 38 Lorong Hang Jebat, 75200 Melaka, Malaysia
Opening hours: Daily, 10.30am to 6pm; Closed on Tue
13. Plat Kitchen
While it may be a coincidence that Plat rhymes with "fat", this is where we wouldn't mind piling on the calories at.

For those with more adventurous tastebuds, you'll find the ingenious play on local ingredients very intriguing and tempting indeed.

[caption id="attachment_27830" align="alignnone" width="1600"]
Image Credit:  Image Credit:  Image Credit: 
Image Credit: Image Credit: Hazel W on Tripadvisor[/caption]

Keeping up with the Joneses has never been this fun.

At this family-run music bar, kick back with their wide selection of freshly-squeezed health juices and alcoholic mixes. The music is the highlight here, so don't drop by on an empty stomach! Come jam with the owner, Hawk, and his wife, Joan, as they sizzle up this vibrant, energetic bar with music ranging from blues to rock-and-roll.

Must-try: Freshly-squeezed health juices

Me & Mrs Jones Cafe
Address: 3 Jalan Hang Kasturi, 75200 Melaka, Malaysia
Opening hours: Daily: 7pm – 1am; Closed on Wed
16. TPC Home Cafe
At this cafe that's housed in a homestay, you'll truly feel like you have balik kampung. 

[caption id="attachment_28503" align="alignnone" width="1080"]
Image Credit: @sinlinglingling[/caption]

Retro wooden tables, paper lanterns and old-style Chinese swing doors adorn the establishment. Unlike the modern Western dishes served in most cafes, their home-style dishes are a refreshing change.

[caption id="attachment_27865" align="alignnone" width="960"]
Image Credit: TPC Home Cafe Facebook[/caption]

Sample their signature crystal dumplings, roast pork and egg over rice, and handmade noodles or ban mian.

[caption id="attachment_27866" align="alignnone" width="2048"]
Image Credit: TPC Home Cafe Facebook[/caption]

As a added perk, they serve yummy cups of coffee too, with some even adorned with cool latte art.

[caption id="attachment_27867" align="alignnone" width="960"]
Image Credit: TPC Home Cafe Facebook[/caption]

Must-try: Crystal dumplings, handmade noodles (ban mian), roast pork rice with egg

TPC Home Cafe
Address: 35 Jalan Bukit Cina, Kampung Bukit China, 75100 Melaka, Malaysia
Opening hours: Tue – Sun: 12pm – 12am; Closed on Mon
17. Halia Inc. (Halal)
Located right next to the river and at the heart of the historical district, Halia Inc. is the perfect pit stop for a casual brunch.

The atmosphere is tranquil and restful, elevated by the spacious cafe's high, open ceiling which gives it a touch of industrial chic. This cafe is much larger than most, so it's the perfect stop if you're touring with a big group of friends.

[caption id="attachment_28504" align="aligncenter" width="640"]
Image Credit: Image Credit: these hipster cafes in JB you're sure to love.

(Header Image Source: Nitalovestoeat Wordpress)