8 Hidden Places In Singapore Even Hipsters Aren't Aware Of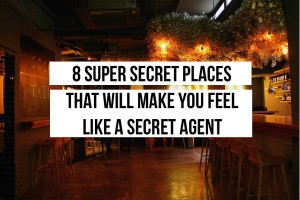 Are you sick of visiting all those same old places that you see on everyone's Instagram feed? Or roll your eyes at all mainstream activities?
The fact that Singapore is small worsens the situation because there is simply nowhere cool to go anymore! (Or is it?) We have discovered 8 different secret places for everyone that even the hipsters don't know about and even we, are really impressed with them! :O
1. Marsiling WWII Tunnel & Navel Base
The Marsiling WWII Tunnel & Navel Base is an abandoned military tunnel built during the WWII by the British. It was used as a storage facility for fuel for the Navy but has not been used since Singapore's independence. All those curious and adventurous explorers shouldn't give this a miss!
[caption id="attachment_3908" align="alignnone" width="495"]
Image credit:
Image credit:
Image credit:
Image credit:
Image credit:
Image credits:
Image credit: The Study's Facebook page or from the server at The Library's sister restaurant, The Study, next to the bar. Shhh, don't tell anyone we told you.

https://www.instagram.com/p/BA9latugzze/?taken-at=39468183

https://www.instagram.com/p/mX5ybxiLsM/?taken-at=39468183

Address:
47 Keong Saik Road
Singapore 089153
4. Operation Dagger
[caption id="attachment_3868" align="alignnone" width="700"]
Image credit: City Nomads[/caption]

Okay, so is this another abandoned building that is rumoured to be haunted?

https://www.instagram.com/p/BAruFcIHg4P/?taken-at=283853306

No, in fact, it's a place that would transport you Narnia. Okay, we kid. Operation Dagger was named after the late 1950s movement in Singapore to rid the underground secret society in Chinatown. This creepy dark flight of stairs actually leads you to a hidden cocktail bar.

[caption id="attachment_3869" align="alignnone" width="960"]
Image credit:
Image credit: asiaone[/caption]
7. The Projector 
This is Singapore's new secret hipster cinema hidden within the depths of Golden Mile Tower.

[caption id="attachment_3916" align="alignnone" width="641"]
Image credit:
Image credit:
Discover SG
Copy and paste this URL into your WordPress site to embed
Copy and paste this code into your site to embed