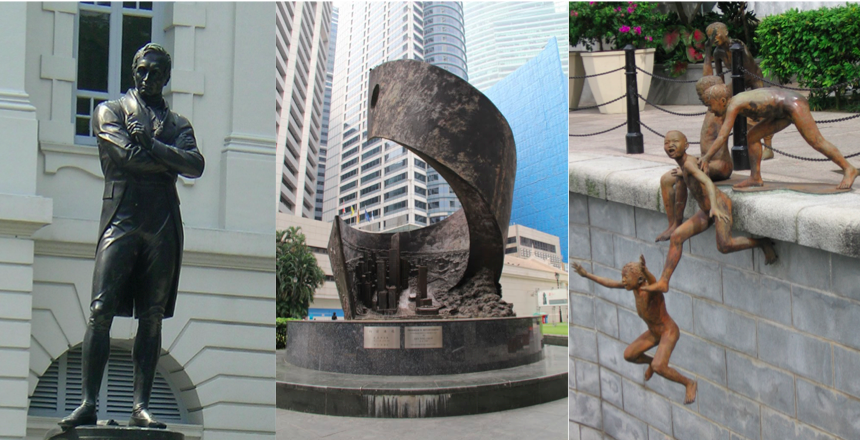 Sir Stamford Raffles, Victoria Concert Hall
One of the most famous statues in Singapore, the statue of Sir Stamford Raffles was installed by the 14th governor of the Straits Settlements Frederick Weld (1823-1891) in 1887 to commemorate the 50th anniversary of Queen Victoria's reign. Originally placed at the Padang, which was believed to be the spot where Sir Stamford Raffles first stepped ashore on the island of Singapore, the statue was moved to its present-day location outside Victoria Theatre and Concert Hall.
Bird, UOB Plaza
The work of Colombian figurative artist, Fernando Botero, well-known for his unique style of creating figurines that are rotund and disproportionate. This adorably plump bird which symbolises peace, serenity and optimism, is sponsored by United Overseas Bank Limited (UOB) and stands by the side of the Singapore River. The bird signifies growth and prosperity for Singapore in years to come. 
Progress and Advancement, Raffles Place
Showing a detailed Central Business District (CBD) by the Singapore River, this 4m-tall sculpture is the work of Yang-Ying Feng. Standing at the heart of Singapore's financial hub, it signifies the progress and advancement of Singapore's financial sector. It was donated on 8th August 1988 by local entrepreneur and founder of Overseas Union Bank Limited (OUB) George Lien Ying Chow (1907-2004).
First Generation, Fullerton Hotel
This work by Chong Fah Cheong transports us back to the early days of Singapore where children frolicked by the Singapore River, indulging in tree climbings and river jumpings. In 1983, the Clean Rivers Project was launched, moving families and hawkers inland, and that marked the end of such simple entertainment.
Other sculptures around Fullerton:
Fishing at Singapore River, Singapore River
Created by Taiwan-born sculptor Chern Lian Shan who began calling Singapore his home in 1980, "Fishing At Singapore River" is one of his many works which depict life in Singapore before the colonial times. Before the arrival of the British, the native Orang Laut, or sea people, plied their trades as fishermen on the Singapore River. With the growth of the city, the river became so polluted all fishes disappeared from the river. This was reversed gradually with the launch of Clean Rivers project in the 1980s.
The River Merchants, Maybank Tower
One of Aw Tee Hong's creations, this cluster of sculptures shows coolies loading goods onto a bullock cart while Scottish Alexandre Laurie Johnston, one of the most well-known merchants of the early days, engaged in negotiations with a Chinese trader and a Malay chief. The present day Maybank tower, where Johnson set up his company, was the nearest to the mouth of Singapore River and was in a prime position to catch the merchant captains as their boats entered the river.
Price of Peace, Bukit Chandu
This group of sculptures were built in rememberance of how the 1st and 2nd Battalion of the Malay Regiment defended Bukit Chandu in the Battle of Pasir Panjang in 1942 during the Japanese invasion.

Malay lieutenant Adnan bin Saidi (1915-1942) led his troops against the Japanese and fought bravely despite being heavily outnumbered. He was caught, tortured and killed. Sacrificing their lives to defend their country, these heroes will forever be remembered.

The Ju Ming – Taichi – Botanical Gardens

[caption id="attachment_1738" align="aligncenter" width="800"]
SONY DSC[/caption]

Laid in the Botanical Gardens, you can find the magnificent, thought-provoking bronze sculptures by famed Taiwanese sculptor Ju Ming. Installed around the Eco Lake, in the section of the gardens closer to Bukit Timah, these sculptures belong to the Taichi Series, majestic expressions of the Chinese meditative exercise.

Another Day, Singapore Arts Museum
The sculptures known as "Another Day (The Coolies)" are bronze depicting two manual workers of bygone days sharing a meal are display at the Singapore Art Museum.
Have you seen all of these sculptures in Singapore? Let us know in the comments below!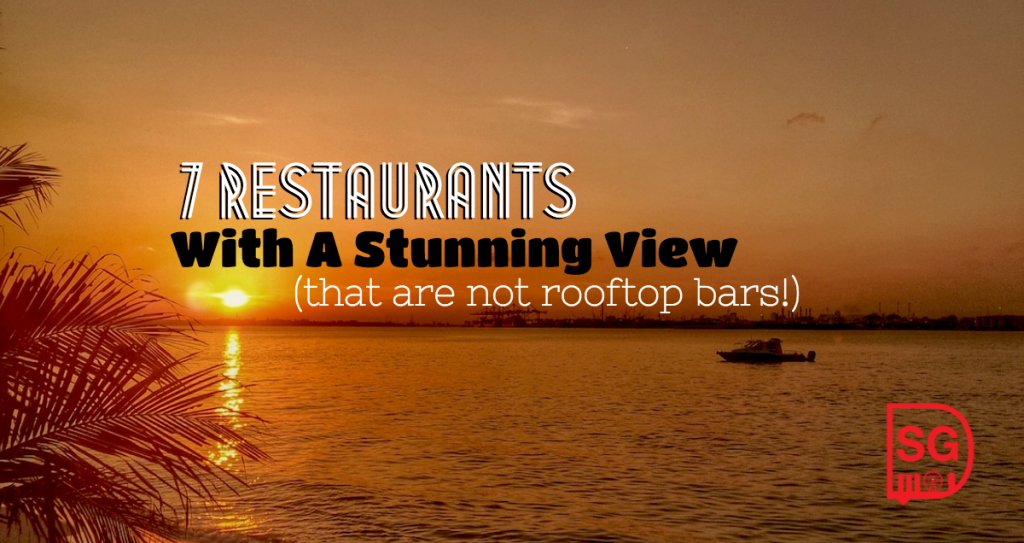 A nation of foodies, Singaporeans love an extensive choice of delectable menus and we spare no effort to hunt down great eats around the island. However, dining in an environment with great ambience does make a difference to the overall dining experience. This does not have to mean swanky fine dining with candlelight setting, it can be as simple as just enjoying the view of nature, soothing those frazzled nerves, and tired, overused eyes with the serenity of greeneries or sea views. Despite Singapore's reputation as a concrete jungle, we do have pockets of oasis tucked away, waiting for you to discover. Note them down on your diaries this weekend!
Belly View Café
https://www.instagram.com/p/xtN5jrwKPw/?taken-at=6801420
https://www.instagram.com/p/6H49NlrVXq/?taken-at=6801420
Situated at the Changi Sea Sports Centre, Belly View serves good zi-char dishes with an informal and rustic seaside dining experience. Enjoy the sea breeze while trying out their signature dishes which include curry fish head and assam fish head.
Address: National Service Resort Country Club, 10 Changi Coast Walk s499739
Opening Hours: 11am -10pm
Pricing: $11-20 per pax
Poison Ivy Bistro
https://www.instagram.com/p/BAl2_hZpeAT/?taken-at=508313
https://www.instagram.com/p/yrH3ajLm79/?tagged=poisonivybistro
https://www.instagram.com/p/51YfDPi5cc/?taken-at=3398356
Nestled in the midst of a wonderfully kept sanctuary in the Kranji countryside, Poison Ivy Bistro is the place to visit if you would like to escape the hustle and bustle on our little red dot. Health-conscious diners will be pleased to know that the ingredients used are fresh farm produce with little or no preservatives and MSG. The café also caters to vegetarians, vegans, and is halal certified.
Address: 100 Neo Tiew Road, Singapore 719026 (Kranji)
Opening Hours: Wed to Fri : from 9.30am to 6.30pm, Sat, Sun & Public Holidays : from 8am to 6.30pm
Pricing: $15-20 per pax
Just The Place European Bistro
https://www.instagram.com/p/8ahmgMikMY/?taken-at=317888971
https://www.instagram.com/p/-Wb7Ovs3tn/?taken-at=317888971
https://www.instagram.com/p/9EHW3GiYXp/?taken-at=317888971
The north-eastern part of Singapore is up and coming with a myriad of F&B outlets mushrooming at breakneck speed. One of the most popular eateries at the Punggol Settlement, Just The Place serves wholesome European food and offers a seafront dining experience. Food and service quality is excellent, but pricing is on the high side. Serves really good desserts and truffle fries.
Address: 3 Punggol Point Road #02-07/08 The Punggol Settlement Singapore 828694
Opening Hours: Tues-Fri : 5pm-12am, Sat to Sun: 10am-12am
Pricing: $25-30 per pax
Wayne's Chill Out Café
https://www.instagram.com/p/2LOjEsyCpB/?taken-at=376925786
https://www.instagram.com/p/94_pluo9rA/?taken-at=376925786
https://www.instagram.com/p/3OFYmkw5bT/?taken-at=376925786
Wayne's Chill Out is a cozy little café at The Punggol Settlement. It stands out with its nautical themed décor and is a popular hangout for the younger crowd because it serves snacks and desserts at very reasonable pricing. Round up your buddies and get your fix of ice-cream, pizzas, waffles and shakes while enjoying the sea view.
Address: 3 Punggol Point Road, #02-11 The Punggol Settlement, Singapore 828694
Opening Hours: Mon-Fri : 2pm-11pm, Sat to Sun: 11am-11pm
Pricing: $6-10 per pax
GRUB
https://www.instagram.com/p/92Qz3-HINW/?taken-by=grubsingapore
https://www.instagram.com/p/-BBNSMHIEl/?taken-by=grubsingapore
https://www.instagram.com/p/BAvoUKXHIOk/?taken-at=85555692
GRUB, a fun bistro located in tranquil Bishan-Ang Mo Kio Park, prides itself for serving food that is responsible, inspired and delicious. Opened by the guys from Cookyn Inc, GRUB brings the same message of awesome food to be shared with friends in a warm, fun and welcoming environment. GRUB is famous for its burgers. It is also popular as a weekend brunch or drinks place after that morning workout at the park. Note that pets are not allowed at the restaurant.
Address: 510 Ang Mo Kio Ave 1, Singapore 569983
Opening Hours: Mon-Fri : 11am-3pm, 5.30-10.30pm, Sat to Sun: 9am-4pm, 5.30-10.30pm
Pricing: $30 per pax
Ohana Beach House
https://www.instagram.com/p/BAb6bQ9KRWE/?taken-by=ohanabeachhouse
https://www.instagram.com/p/5grlG3qRcd/?taken-by=ohanabeachhouse
https://www.instagram.com/p/BAOYis2KRVg/?taken-by=ohanabeachhouse
Well-known for their alfresco beach dining, Ohana is situated along Pasir Ris beach and is touted as one of the best bistro and bars in the eastern part of Singapore. It transforms into a hip and trendy drinking hole once the sun sets. Chill out with friends with a session of darts and beer after work. Don't forget to try their new injection to their menu –a glorious soft boiled egg over a bed of home made creamy mash topped with Japanese seaweed and served with garlic herb spread.
Address: 131 Pasir Ris Rd Singapore 519148
Opening Hours: Mon-Fri : 4pm-12am, Sat to Sun: 11.30am-12am
Pricing: $20 per pax
Wild Oats at Punggol Park
https://www.instagram.com/p/BALWHbDh3Ic/?taken-at=215042119
https://www.instagram.com/p/BAeZsBvmOKw/?taken-at=215042119
https://www.instagram.com/p/BAUi1htn1GZ/?taken-at=215042119
Perched at the edge of a 5-ha lake, Wild Oats is set amidst the lush tropical greenery of Punggol Park. Enjoy the view of the lake while tucking into a delectable menu of local cuisine such as sambal fish rice, or western cuisine like grilled salmon and chicken chop. Insect repellent is advised for those opting for outdoor dining. Indoor dining is available.
Address: 97 Hougang Ave 8 Spore 538792
Opening Hours: Mon-thurs : 4pm-12am, Fri: 4pm-1am, Sat: 4pm-2am, Sun: 4pm-12am
Pricing: $15-20 per pax