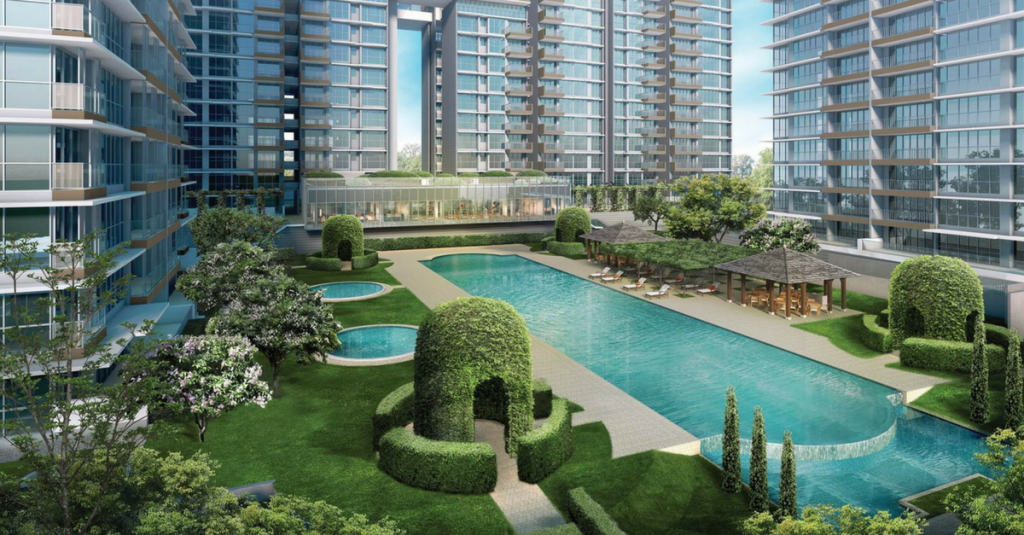 Today, there are more than 1 million public housing flats in 23 towns with over 80% living in HDB flats. With a focus on eco green living, other "vertical villages" like high-rise and high-density private condominiums and apartments are on the rise as well.
But, are these 'green' apartments merely just buildings with expensive solar panels and high technology mechanisms?
Well, we debunk this myth by introducing 5 high rise apartments that are role models because they've successfully incorporated eco green living in Singapore.
You'd totally want to live in a home like that.
1. The Topiary
Located at the west of Sengkang New Town along Fernvale Lane, The Topiary Fernvale EC is the first Executive Condominium launched in Sengkang.
It is equipped with full Condo facilities including aerobic/yoga rooms, hydrotherapy beds and even an onsen!
Designed by DP Architects, The Topiary was built with sustainable materials, and its building configuration and site orientation promotes natural ventilation and daylighting.

[caption id="attachment_16067" align="alignnone" width="1800"]
Image Credit: Kheng Leong[/caption]

Not only can residents enjoy the common sky terraces outdoors, but they can also enjoy energy-efficient air-conditioners indoors that all units come with!

The Topiary
Address: 11 Fernvale Lane
2. Punggol Waterway Ridges
We all know Punggol is increasingly popular with many up and coming developments. But what we may not know is that many of these developments promote sustainable living.

One of these is Punggol Waterway Ridges, which was recently awarded the HDB Design Award in September and is due for completion this December.

[caption id="attachment_16260" align="alignnone" width="1000"]
Image Credit: HDB[/caption]

Located along Edgefield Plains and on the northern bank of the Waterfront town, residents can enjoy waterfront living while conserving water!

[caption id="attachment_16100" align="aligncenter" width="850"]
Credit: Car-Free Sunday.

Punggol Waterway Ridges
Address: 669 Edgefield Plains
3. SkyTerrace @ Dawson
Located in Dawson Estate in the Alexandra area, this project has ecologically conscious technologies like drip irrigation, rainwater harvesting, bio-retention basins and solar energy systems.
[caption id="attachment_17260" align="alignnone" width="1600"]
Image Credit: SCDA Architects[/caption]
At SkyTerrace @ Dawson, there are five towers ranging from 40 to 43 storeys and elevated gardens with lush greenery.
These link through bridges, allowing residents to enjoy the natural environment and enjoy interaction with fellow residents.
Sky Terrace @ Dawson
Address: 89 Dawson Road
4. Casa Clementi
Landscaping in public housing has definitely reached a whole new level.

Casa Clementi in Clementi Avenue 1 has an award-winning landscaped deck that links ten blocks in the estate.

[caption id="attachment_16264" align="alignnone" width="1280"]
Image Credit: Greenroofs[/caption]

Not only is the green roof multi-functional with paved open plazas, but there are also children's play stations and perimeter pathways.
These pathways can double as a 660m jogging track. They serve many purposes – as a water irrigation system, and also to conceal the carpark.
Residents can unwind in this gardenscape after a long day and enjoy the feel of what may otherwise be mistaken as a private condominium!
Casa Clementi
Address: Clementi Ave 1
5. NTU North Hill Residential Hill
Who would have thought that a residential hall in a school could be so popular?

Not only are these NTU's residential halls the first public high-rises in Singapore to use a "Lego-style" construction method, but they are also one of the newest eco-friendly high-rise buildings.

[caption id="attachment_17261" align="alignnone" width="1444"]
Image Credit: Straits Times[/caption]

There are sustainable features such as energy-saving lighting and solar-powered systems. One of the green features is that all rooms in the residential halls have special "Low-E" glazed windows. These windows reflect heat using a special coating.

NTU North Hill Residential Hall
Address: 50 Nanyang Walk

Singapore has definitely upped its green game in the recent years.

The next time you're looking for a new home, you may want to consider if it is eco-friendly!

Also, read The Only Guide You Need To Exploring Lavender: Food, Cafes, Fitness & More!