It's a good time to be a geek — after months of hype, the 2018 edition of the Singapore Toy, Game & Comic Convention (STGCC) is finally taking place this weekend at Marina Bay Sands.
The annual event has strived to be bigger and better every year, and after 11 iterations we might have a "too much of a good thing" situation on our hands.
We've reached a point where even the geekiest of geeks might have trouble keeping track of the activities at this pop culture extravaganza, so after some research we've pinpointed four things that you definitely have to do while you're there:
Make Your Own Superhero Cape
[caption id="attachment_37167" align="alignnone" width="1280"]
Image Credit: Discover SG[/caption]

Cosplay has always been a big part of SGTCC, and if you've ever wanted to try your hand at it you'll be glad to know that the Singer Experience Zone is giving you the chance to do so.

With the guidance of acclaimed cosplayer Olivia Mears AKA AvantGeek, you'll use a sewing machine to construct your very own superhero cape. Don't worry if you don't have any sewing experience — we certainly didn't, and came out with both hands still intact.

The sewing will also take place in a telephone booth, so if you've ever wanted to bust out of one Superman-style, here's your chance. Only 500 capes will be given out each day, so be sure to make this one of the first things on your to-do list.
Put Your LEGO Building Skills To The Test
[caption id="attachment_37166" align="alignnone" width="1200"]
Image Credit: Singapore Toy, Game & Comic Convention – STGCC[/caption]

Think you're good at building LEGO's? You might want to put your money where your mouth is at the LEGO Speed Building Challenge, where you'll have to assemble the recently released LEGO Voltron set within a time limit.

You won't be competing for shits and giggles either — the fastest builder will walk away with a LEGO Voltron of their own (worth $300, btw), autographed by the set's designer Leandro Tayag.

And if you aren't in the competitive mood, don't worry — Tayag will actually be making a special appearance at STGCC, and we're sure he'll be more than happy to sign your merch if you ask nicely.

[caption id="attachment_37168" align="alignnone" width="1280"]
Image Credit: Discover SG[/caption]

If you weren't willing to head all the way down to Compass Point to get the $650 LEGO Hogwarts Castle, you'll also be glad to know that the 6,000+ piece set will be for available in limited quantities at STGCC, alongside other LEGO Harry Potter products as well.
Play Overcooked! (And More)
[youtube https://www.youtube.com/watch?v=eLnx6zk9iLI]

Overcooked! is one of the hottest (pun unintended) titles in gaming right now, so it's no surprise that the Good Game Experience (GGXP) Freeplay Zone will be hosting a high score challenge for the co-op cooking game.

The mini competition will take place in the game's 2 v 2 versus mode, and the pair with the highest score at the end of STGCC will receive a prize that hasn't be revealed yet. The GGXP website lists "Ravenous Rapids" (the level in the video above) as the level they'll use, so feel free to do some pre-competition training.

Not interested in panic-screaming at your friends? Everything from arcade classic House Of The Dead 2 to the recently released Pro Evolution Soccer 2019 will available to play as well, and you can even try your hand at the SNK NEOGEO Mini that hasn't even been released yet.
#Supportlocal Game Developers
[youtube https://www.youtube.com/watch?v=UiXLyhD8uho]

International games are good and all, but why not show some love to our local developers as well? Nine indie companies will be showcasing their stuff at GGXPedition, a space dedicated to games made in the little red dot.

One title you should totally check out is Weightless, one of the four games made by students of SUTD's Game Innovation Programme. This mobile puzzle game is as stylish as it is fun, and incredibly impressive considering that it was made in the matter of a few months.

The other titles aren't anything to scoff at either — the genres span from visual novels to dungeon crawlers to virtual reality RPG's, and there's even a tabletop game that teaches you about cryptocurrency.

[caption id="attachment_37169" align="alignnone" width="3744"]
Image Credit: Singapore Toy, Game & Comic Convention – STGCC[/caption]

Here's the best part — if you take the time to try every game, you'll stand the chance to win a Nintendo Switch (more details here). Support the local development scene, play some unreleased games and win some free swag? Yeah, we'll be there, and so should you.

We've listed four must-do things to do at STGCC, but rest assured that there'll be a whole lot more to keep you occupied throughout the weekend. Tickets are still available, so what are you waiting for?

https://www.facebook.com/singaporetgcc/posts/10156538366183416?__xts__[0]=68.ARCo_G2MwWBQfZAGuBCmf_vcZ1fQM-YMk1uIHYEwJPY33Bh1MPJ9eYYABX39Fq2B6I0KhAEebb6iR-Vl5PFN4VT9xPSMD93q_-MYZDab_e_pW_XceV6fh13ih33mJ8uAwCcw_lKodj6o-abQu_0d2gRIuZboePF12lvihLhTqVeopElt8ZaQMPc&__tn__=-R

Singapore Toy, Game & Comic Convention
Venue: Marina Bay Sands Expo (Halls D,E,F)
Date: 8th and 9th September
Price: $20.50 (1 Day Pass), $32 (2 Day Pass)

Also Read Orchard Road Turns On The Christmas Magic With A Disney-Themed Light Up This Year

(Header Image Source: Singapore Toy, Game & Comic Convention)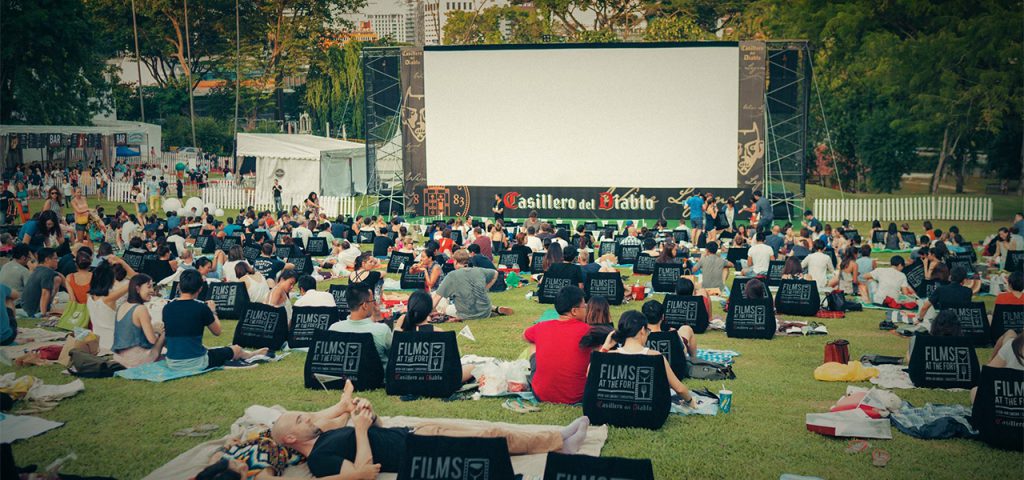 Another National Day might have come and gone, but that doesn't mean that the celebrations have to stop.
If you're not ready to put away your red t-shirts and remove Home from your Spotify playlist just yet, here are some events that'll help you scratch that patriotic itch over the weekend:
Independent Market National Day Fair 2018
[caption id="attachment_36482" align="aligncenter" width="1728"]
Image Credit: Independent Market[/caption]

Have the recent festivities spurred you to fill your home and / or wardrobe with locally-inspired merchandise? Then Independent Market's National Day Fair is definitely the place to be.

Featuring wares from an assortment of homegrown brands, you'll find everything from notebooks to cushion covers — all of which feature local icons such as the Merlion, chilli crab and the famous Toa Payoh dragon playground, to name a few.

This is one of the rare occasions that so many local brands will be in one place at the same time, so you best head down unless you're cool with scouring the island to find them again.

Independent Market National Day Fair 2018
Venue: VivoCity Southeast Boulevard
Date: 10th-13th Aug 2018
Time: 10am-10pm
Admission: Free
Website
RWS Street Eats 2018
[caption id="attachment_36480" align="aligncenter" width="1366"]
Image Credit: Resorts World Sentosa[/caption]

What better way to celebrate Singapore than to indulge in its favourite activity?

Following its highly successful debut in 2017, Resorts World Sentosa's Street Eats event is back for a second year, featuring a curated collection of over 20 street food stalls from Malaysia, Indonesia, Vietnam, Thailand and of course, Singapore.

This year's special guests include Chef Steven Long from Vietnam, who'll be serving his signature Pho and Vietnamese Summer Rolls. while Chefs Zainal Abidin and Mohd Fairus, on the other hand, are set to satisfy both your eyes and mouth with their Flying Roti Canai preparation / performance hybrid.

Entertainment has never tasted this good.

RWS Street Eats 2018
Venue: Resorts World Sentosa, Malaysian Food Street (Waterfront Level 1)
Date: 10th-19th Aug 2018
Time: 11am-9pm (Monday-Thursday) 9am-10pm (Friday-Sunday)
Admission: Free
Website
Garden Rhapsody: Singapore Edition
[caption id="attachment_36484" align="aligncenter" width="1670"]
Image Credit: Gardens By The Bay[/caption]

If you're looking for a place to just sit back and relax, head on over to the Supertrees at Gardens By The Bay, where there'll be a special National Day edition of the Garden Rhapsody light and sound show.

The light show's hypnotic visuals should be reason enough to head down, but the real attraction is the star-studded group of Benjamin Kheng, Nathan Hartono, Rani Singam and iNCH, who will be performing a collection of local tunes to keep you in the National Day mood.

Some of Singapore's best musicians performing some of Singapore's best songs at one of Singapore's most iconic landmarks…for free? Yeah, there really isn't any reason for you not to go.

Garden Rhapsody: Singapore Edition
Venue: Gardens By The Bay, Supertree Grove
Date: 10th-12th Aug 2018
Time: 7:45pm, 8:45pm
Admission: Free
Website
Films At The Fort
[caption id="attachment_36479" align="aligncenter" width="2048"]
Image Credit: Films At The Fort[/caption]

Okay, this one isn't exactly National Day themed, but paying a little too much for a hipster experience has become so commonplace in Singapore that it could be considered a national pastime.

At $30 a ticket, Films At The Fort isn't exactly the cheapest date idea, but you'll be hard pressed to find another event that allows you to watch a classic movie in an open-air setting under the stars. It's a unique concept for sure, and one you should experience at least once in your life.

Romance Classic The Notebook and sex comedy Blockers will be screening on Saturday and Sunday respectively, so there's something for everyone. The organisers are also expecting "a strong demand for tickets", so be sure to get yours quick.

Films At The Fort
Venue: Fort Canning Park
Date: 11th August 2018 (The Notebook), 12th Aug 2018 (Blockers)
Time: 7:30pm
Admission: $29.80
Website

Also read Want To Feel Like You're In Mission Impossible? You Can Now Abseil Off A HDB Block

(Header Image Source: Films By The Fort)