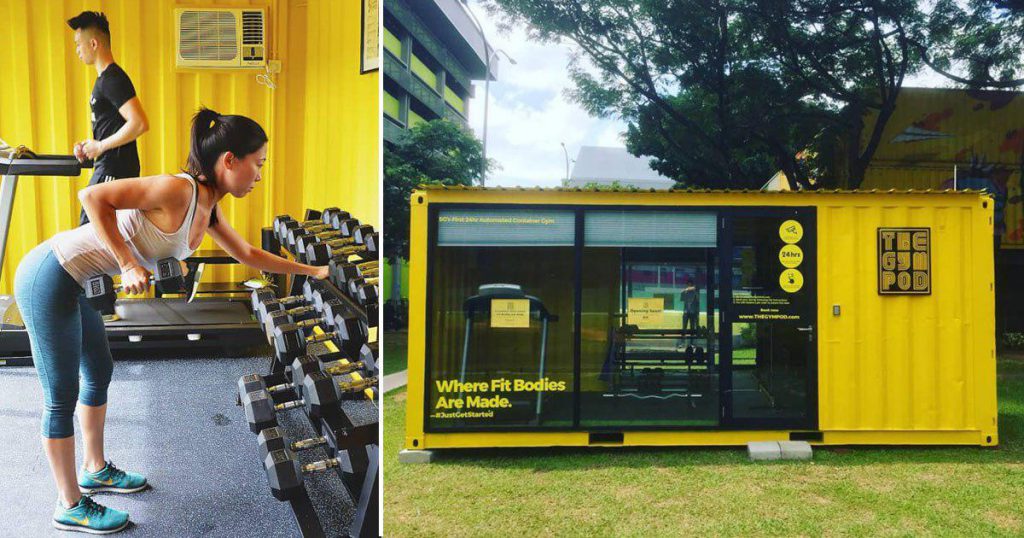 My 2018 New Year's Resolution was to get fit and stay in shape.
I told myself,
"Alright, time to get a gym membership, get new workout clothes, a yoga mat and start fresh!"
This resolution of mine only stuck for a month because 1. gym memberships are CRAZY expensive and 2. all those hulk-like bodybuilders can be pretty intimidating.
Besides, all they do is grunt and hog the equipments 90% of the time.
Just recently, I was introduced to a 24 hour container gym that is automated and only charges you based on the hours you book your pod for. Talk about a dream come true.
Time To Get Fit Fam
The Gym Pod is Singapore's first 24 hours automated container smart gym. It is designed such that you can enjoy an undisturbed and private workout at anytime of your choosing.

[caption id="attachment_36024" align="aligncenter" width="1080"]
Image Credit: The Gym Pod Facebook[/caption]

Thanks to The Gym Pod, you can now have your very own private gym containers to exercise in. This is a complete dream come true for those who can't deal with the crowd! No more competing for gym equipments with other gym goers and crazy gym memberships.

The Gym Pod doesn't come with a buffet-spread worth of gym equipments but you can definitely get the basics such as a treadmill, dumbbells ranging from 1kg to 20kg, an adjustable bench as well as a guided weight-plate-loaded bar, also known as a Smith Machine.

[caption id="attachment_36025" align="aligncenter" width="1080"]
Image Credit: The Gym Pod Facebook[/caption]

Their equipments may not be as fancy as compared to a typical gym, but they're sufficient to provide you with enough challenging exercises to build your body in a safe way.

But the best part of this container gym is definitely the fact that they only charge you $7/hour. They don't run on memberships so you no longer have to stress out about that gym membership you're paying for every month.

First-timers get to enjoy a free hour of workout as well!

[caption id="attachment_36027" align="aligncenter" width="1080"]
Image Credit: The Gym Pod Facebook[/caption]

Users are not allowed to stay in the gym for hours in one session which means you get guaranteed access to space and gym equipments at your booked timings. You get your own private space to workout and not be affected by crowds as the gym container only fits a max of 3 people at each time.

Open all day, every day, feel free to gym away past midnight if that's what you like. Don't worry, the gym is fully automated and monitored 24/7 for your safety.

The process is entirely fuss-free. After your successful booking, a SMS with a 4 digit passcode of The Gym Pod's door at the location of your choosing will be sent to you.

At the time of your booking, simply go to The Gym Pod, key in the 4 digit passcode, and you can enter and start your workout!

[caption id="attachment_36026" align="aligncenter" width="1080"]
Image Credit: The Gym Pod Facebook[/caption]

While there's only 1 pod at located at the JTC Launchpad (next to Timbre+) for now, the lovely people being The Gym Pod are working with authorities now to place more Gym Pods at convenient locations.

Or, you can drop them an email of your suggested location and who knows, you might just see a Gym Pod near your place.

Gymming in Singapore just got a whole lot easier and a lot less intimidating. So, who's up for a good workout session?

The Gym Pod
Address: JTC Launchpad @ one-north, 73A Ayer Rajah Crescent, Singapore 139957
Opening Hours: 24 hours, daily
Price: $7/hour
Website

Also Read Cycle Up A 7-Storey Carpark In This Race – Don't Say You're 'Two-Tyred' For It

(Header Image Source: The Gym Pod Facebook)