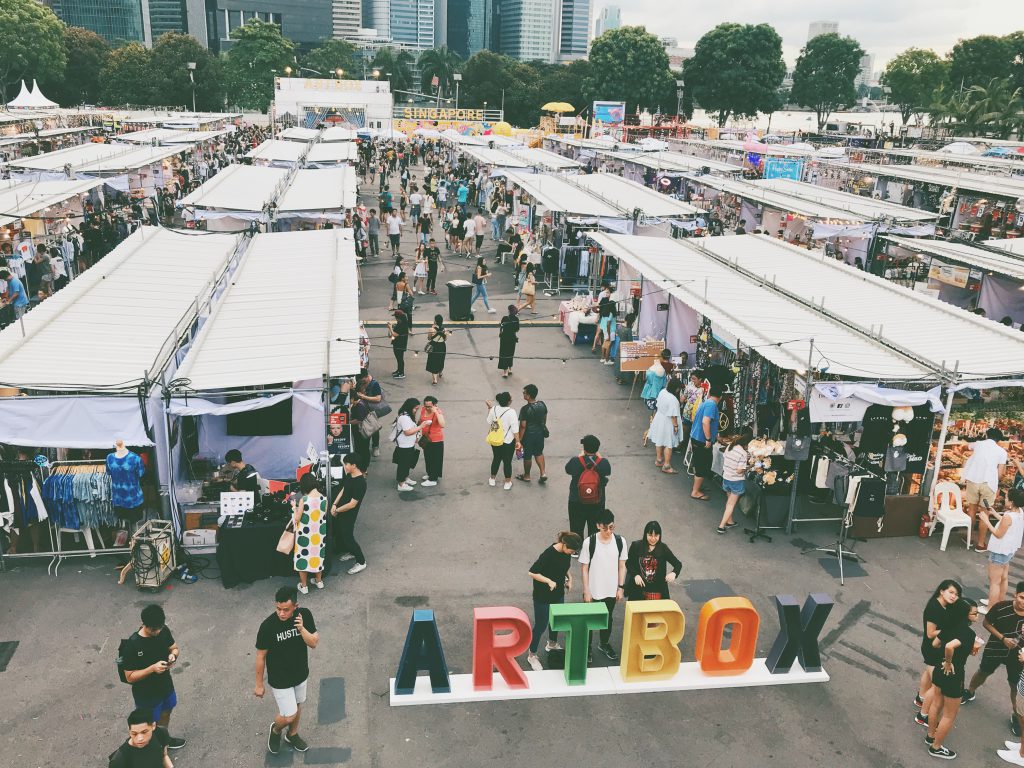 It's that time of the year again! Artbox Singapore is back for its second run, and promises to be bigger and better than before.
If you've been to Artbox last year, you may have left severely disappointed as the event faced an overwhelming turnout. If you're unfamiliar with the event, it is a wildly popular market that supports local creators retailing everything from beauty, fashion, food and art.
Originating from Bangkok, Artbox Singapore recreates the vibrancy of Thai night markets, but you wouldn't need a flight ticket this time.
So if you've got a bae and some friends, head down to Artbox Singapore which spans over two weekends from 25-27 May 2018 as well as 1-3 June 2018 from 3-11 pm at the Bayfront Event Space near The Shoppes at Marina Bay Sands.
Food At Artbox Singapore 2018
If you saw the insta-worthy food pics from last year, you'll know that food is the main highlight of the event. Dive into over 160 bustling F&B stalls each weekend for a wide variety of food to choose from.
Here's what we got that definitely got DiscoverSG's stamp of approval. Now, the food at Artbox is not Thai-Night-Market-Cheap but we tried out food that's worth your money and not overly pretentious.
1. Golden Moments
I'm a huge fan of durian. I'm not being biased but this is definitely one of THE best Mao Shan Wang Ice Cream ($9.90) I've tried in Singapore.

Just look at it!

[caption id="attachment_34752" align="aligncenter" width="1280"]
Image Credit: Discover SG[/caption]

The bamboo charcoal infused ice cream has a subtle hint of MSW flavour. It is bittersweet and creamy and topped with 24K gold leaves.

I expected it to be jelak after a few bites but I surprisingly managed to devour the entire durian ice cream without feeling sick or heaty. If you're not a huge durian lover, this ice cream might just change your mind.

It was slightly pricey for what is essentially durian ice cream, but it is definitely worth trying.

This limited edition ice cream is making its first appearance at this year's Artbox, so if you know anyone who loves durian, you HAVE to bring them here.

If the ice cream is not enough, you can also try their Durian Platter ($18.80) which consists of durian mochi, durian puffs and the ice cream.

[caption id="attachment_34753" align="aligncenter" width="2560"]
Image Credit: Discover SG[/caption]

If you're in need of a good dessert, then Golden Moments is a must visit at this year's Artbox.
2. Saiko
Don't you just hate it when you buy takoyaki at a pasar malam and you can barely taste the octopus in it?

Serving up Japanese street food realness, Saiko serves takoyaki in sizeable portions with full bite-sized octopus. You can choose from 3 different fillings – octopus, chicken and braised mushrooms. You also have the option of mixing 2 different fillings in one serving.

[caption id="attachment_34760" align="aligncenter" width="4029"]
Image Credit: Discover SG[/caption]

We got their Classic ($8) which comes with 6 takoyaki topped with bonito flakes, seaweed and torched Japanese mayo.

[caption id="attachment_34759" align="aligncenter" width="3807"]
Image Credit: Discover SG[/caption]

This was hands down one of the best Takoyaki I've had in a very long time. It's also the perfect bite-sized snack as you walk around Artbox.
3. Cha Tra Mue
When in Thailand, always get their Thai Milk Tea!

The weather was scorching hot and we were in desperate need of a good drink. We walked around and came across a stall selling the famous Cha Tra Mue brand teas.

[caption id="attachment_34761" align="aligncenter" width="4032"]
Image Credit: Discover SG[/caption]

You no longer have to ask your friends to buy you a packet of instant Cha Tra Mue from Thailand because its readily available at most bazaars and festivals in Singapore.

We recommend getting the 1-litre Thai Milk Tea ($4) because it is an absolute life saver in Singapore's crazy weather. 10/10 would buy again!
4. The6ixsRosti
I was surprised to find a stall specialising in rosti at Artbox. I had high hopes for this one as I saw a queue forming at The6ixsRosti.

Being the typical kiasu Singaporean that I am, I knew I had to try this rosti.

[caption id="attachment_34763" align="aligncenter" width="3589"]
Image Credit: Discover SG[/caption]

We opted for the Spicy Rosti with Mozarella Cheese ($7) – perhaps one of my favourite purchases of the day.

[caption id="attachment_34762" align="aligncenter" width="3845"]
Image Credit: Discover SG[/caption]

The rosti is pan fried to perfection. It's crispy on the outside and soft on the inside. The spicy rosti actually had quite a kick to it, so if you can handle your spice, opt for the spicy rosti.
5. Thai Foodie Palace SG
I knew I couldn't leave Artbox without getting any Thai Desserts. Just like any other basic Singaporean, I knew I couldn't leave without trying the Mango Sticky Rice.

The cheapest Mango Sticky Rice I could find at Artbox was from Foodie Palace SG which sold a box for $6.

[caption id="attachment_34758" align="aligncenter" width="4032"]
Image Credit: Discover SG[/caption]

I never thought I would ever have to pay $6 for mango sticky rice, but I can't complain. Their mango sticky rice turned out to be pretty good. The mango was sweet and they gave us a generous portion of sticky rice as well.

[caption id="attachment_34757" align="aligncenter" width="4032"]
Image Credit: Discover SG[/caption]

Safe to say, we wiped the entire box clean. It was the perfect ending to my food hunt at Artbox.
Cheap Cheap, Good Good
Besides the food, you can also explore more than 200 retail booths! Each weekend brings forth a different set of unique and creative lifestyle and fashion vendors from Thailand and Singapore.
6. Oasis:Skin
If you're in need of a good skincare routine, Oasis:Skin is an all-natural skincare company that believes in delivering high quality plant-based products that can help people rebuild their skin barrier in a natural way.

[caption id="attachment_34768" align="aligncenter" width="1280"]
Image Credit: Discover SG[/caption]

They use 100% natural and high-quality ingredients that are carefully sourced from artisanal producers and botanical experts from all over the world.

If your skin is in need of some desperate TLC, then you should try out their face mists. They have several face mists that targets dry skin, oily skin and even sensitive skin!

[caption id="attachment_34770" align="aligncenter" width="960"]
Image Credit: Discover SG[/caption]

They also sell clay masks for those "treat yo'self" kind of days. The masks are packaged in its pure clay form as it has a longer shelf life, and there is no need for any harmful chemicals to preserve it.

[caption id="attachment_34769" align="aligncenter" width="1280"]
Image Credit: Discover SG[/caption]
7. Common Touch
If you're looking for unique and quirky pieces to place around the house, then you'll love the ceramics by Common Touch.

[caption id="attachment_34767" align="aligncenter" width="1280"]
Image Credit: Discover SG[/caption]

Common Touch is a Singapore-based craft unit working together to create distinctive and purely handcrafted ceramic homeware. From different types of clay and combination of stains and glazes, each piece is hand-thrown and individually crafted.

[caption id="attachment_34764" align="aligncenter" width="1280"]
Image Credit: Discover SG[/caption]

You can also get hand-made jewellery at this store. If you know anyone who is a fan of minimal jewellery, then you should definitely check out Common Touch at Artbox!

[caption id="attachment_34766" align="aligncenter" width="1280"]
Image Credit: Discover SG[/caption]

You can also find plenty of stalls around Artbox selling everything from tops and pants to tote bags and leather wallets. What's more, you can pay by DBS PayLah! at most stalls so you don't have to worry about running out of cash after all that shopping!

This year's Artbox definitely did not disappoint. With a variety of retail booths and F&B stalls to choose from, there's definitely something for everyone here.

Pro-tip: Carry and umbrella and wear comfortable clothes because our weather is extremely unpredictable!

Are you heading down to Artbox Singapore this year?

Artbox Singapore 2018
Address: Bayfront Event Space, 12A Bayfront Avenue, Singapore 018970
Dates: 25 – 27 May, 1 – 3 June 2018
Time: 3pm – 11pm
DBS Marina Regatta Combines Fitness, Food And Craft Into One Big Party At The Bay

(Header Image Source: Discover SG)