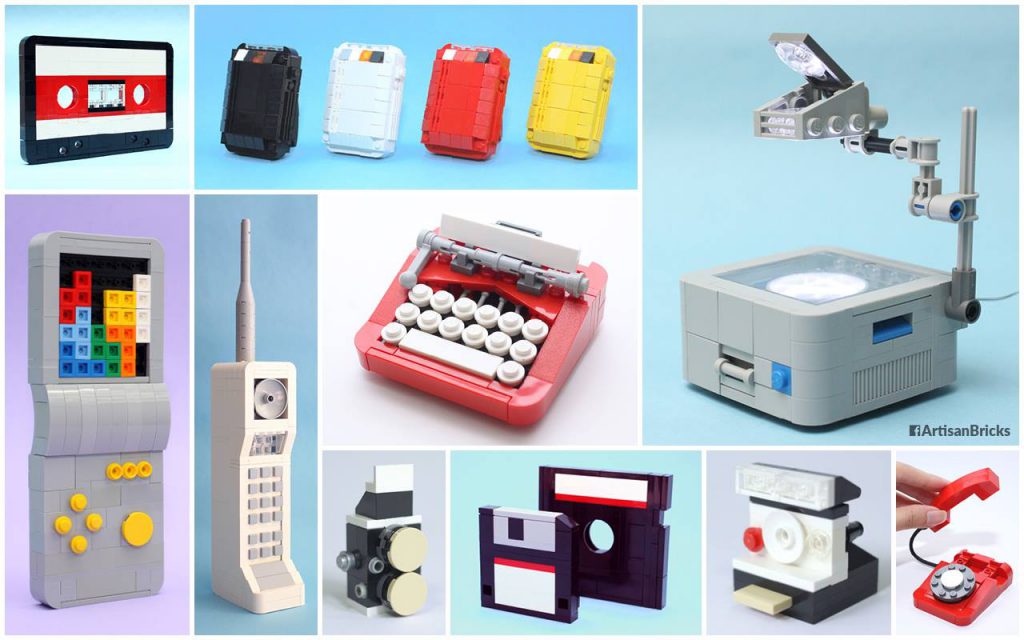 We've all played with LEGOs at some point in our lives. However, for this man, LEGO is a career and a way of life.

Meet Jeffrey Kong, a Singaporean brick artist and founder of Artisan Bricks. He makes replicas of local landmarks, food and items out of LEGO bricks and parts.

Each piece he makes catches every detail of the original.

[caption id="attachment_30880" align="aligncenter" width="1080"]
Image Credit: @artisanbricks[/caption]

With multiple awards under his belt, Jeffrey has been creating with LEGOs for almost half a decade now and his works look so much like the original, you have to do a double take just to be sure.
Building Classics Brick By Brick
Jeffrey's creations are small yet complex and most of them evoke a sense of nostalgia in most Singaporeans.

Here are some of our favourites.

[caption id="attachment_30881" align="aligncenter" width="1080"]
Image Credit: @artisanbricks[/caption]

How many of these things can you identify? We love the replicas of the Toa Payoh Dragon Playground and the floppy disk.

[caption id="attachment_30882" align="aligncenter" width="1080"]
Image Credit: @artisanbricks[/caption] [caption id="attachment_30883" align="aligncenter" width="1080"]
Image Credit: @artisanbricks[/caption]

For those of you who are confused as to what this is, it's a replica of the classic Overhead Projector (OHP). This was before overhead projectors were really overhead and hung from classroom ceilings.

Most Singaporeans who were in school before the millennium would know that this was a staple in every classroom.

[caption id="attachment_30884" align="aligncenter" width="1080"]
Image Credit: @artisanbricks[/caption] [caption id="attachment_30885" align="aligncenter" width="1080"]
Image Credit: @artisanbricks[/caption]

Machines and pencils made out bricks, we get it. But how he made a mooncake out of LEGO bricks is simply mind-blowing. The craftsmanship is so detailed and accurate. We are in awe.

[caption id="attachment_30886" align="aligncenter" width="1080"]
Image Credit: @artisanbricks[/caption]

This is the most adorable replica of a neighbourhood we've ever seen. It's honestly quite difficult to not gush about these creations.

[caption id="attachment_30887" align="aligncenter" width="1080"]
Image Credit: @artisanbricks[/caption]

Now, isn't this a familiar sight? The little pieces of "laundry" is what really completes this replica.

[caption id="attachment_30889" align="aligncenter" width="1080"]
Image Credit: @artisanbricks[/caption]

Does this look familiar to you? Yes, it's the red mailbox found in old homes in Katong!

[caption id="attachment_30890" align="aligncenter" width="1080"]
Image Credit: @artisanbricks[/caption] [caption id="attachment_30891" align="aligncenter" width="1080"]
Image Credit: @artisanbricks[/caption]

This is, without a doubt, our favourite. The ability to capture the essence and details of The Fullerton Hotel, one of the most iconic buildings in Singapore's cityscape, is truly a commendable feat. Mr Kong, you're the real MVP.

[caption id="attachment_30894" align="aligncenter" width="250"]
GIF Credit: giphy.com[/caption]

Jeffrey does commissions as well; so if you're looking to have something made out of LEGO bricks, he's the perfect man for the job.

You can contact Jeffrey here and find more of his creations on Instagram, Facebook and on his website.

Also read Oktoberfest Asia Is Back And Our Livers Are Ready For Free Flow German Beers

(Header Image Source: Artisan Bricks Facebook)