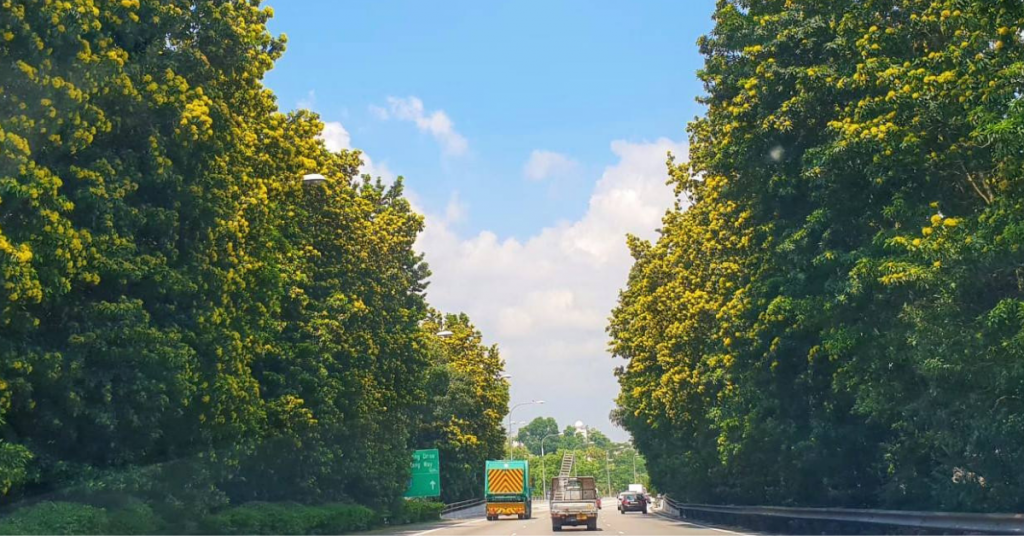 Just 3 weeks ago, Trumpet Tree flowers decked our pavements and road dividers turning our island into a sea of pink.

As we approach a new month, Singapore is now taking on a bright shade of yellow as Golden Penda Trees have been spotted flowering around various parts of Singapore.

[caption id="attachment_37577" align="aligncenter" width="1302"]
Image Credit: NParks/ Wai Jie Bin[/caption]
Bright Yellow Blooms
Also known by their scientific name, Xanthostemon chrysanthus, the bright yellow Golden Penda flowers frequently attract nectar-feeding birds and butterflies.
Great news for West siders as photos uploaded by NParks showed the flowers in full bloom mostly in areas such as Choa Chu Kang, Bukit Batok West and Jurong Lake Gardens.
https://www.facebook.com/nparksbuzz/posts/2009761209063345?__xts__[0]=68.ARDGANIcO43Vg8grzvIsKIrqkkBvm15Xo8avlP1Jn3TO-1cssFWWEBo2Duee8FFfsAuEzuMu94FjQtOEapUmuSW1yse-2JEbEpmbFX8VxXrZxifzqVnbgML-ZweCcmBJLH_I2tk8U2i9vj2joWDfE_76ouPb5aVokxHDYrBS00wgg6LvoD_D-Q&__tn__=-R
The trees are native to Australia and introduced to Singapore in 1982.
The Golden Penda flowers can be identified by their distinctive colours as they are bright yellow with five petals attached to the rim of a calyx.
[caption id="attachment_37578" align="aligncenter" width="1757"]
Image Credit: NParks/ Tee Swee Ping[/caption]According to the NParks website, the flowering of these trees are believed to be induced by a sudden drop in temperature and can begin 2 – 3 years after they have been grown from seeds.
The next time you're walking home, look out for these bright yellow flowers!
[caption id="attachment_37579" align="aligncenter" width="1064"]
Image Credit: NParks/ Bryan Yeo[/caption]Also, if you didn't already know, our trees in Singapore have their very own map! If you're looking for a specific Golden Penda tree, you can find it here at www.trees.sg where you can learn more about Singapore's trees!
Where have you seen the Golden Penda flowers? Share your pictures with us!
Also Read It's 'Sakura Season' In Singapore – Pink Trumpet Trees Are In Full Bloom Now
(Header Image Source: NParks / Wai Jie Bin)