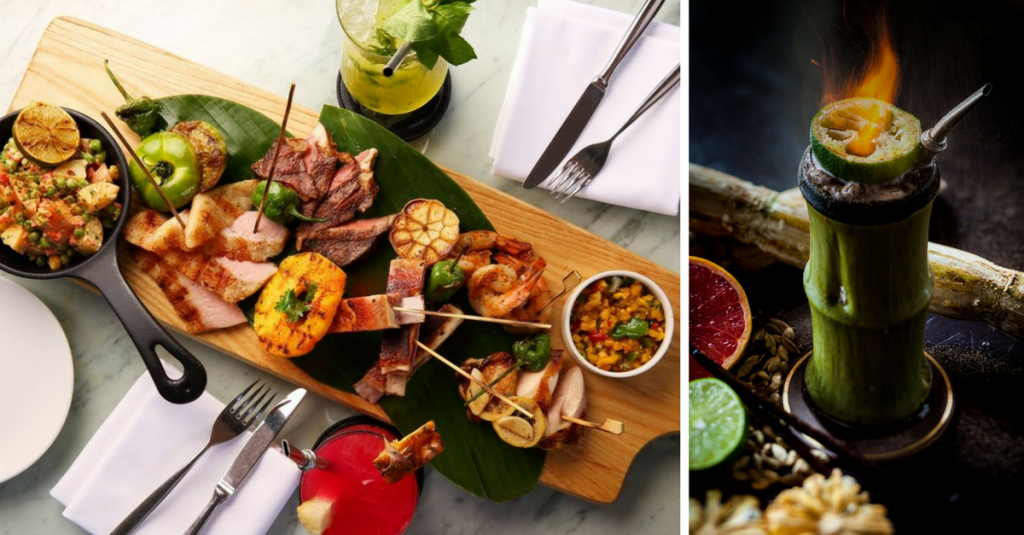 It's time to mix up your evening plans! Singapore Cocktail Festival is just around the corner.
Bob's Bar at Capella Singapore will be presenting a thrilling 6-day line-up from 16 – 21 March.
The only participating bar in Sentosa Island for this festival, Bob's Bar is the perfect escape in island paradise.
Pomaika'i
Throughout the Festival, Bob's Bar will be serving its signature Festive Cocktail, Pomaika'i. So fiery.

[caption id="attachment_23826" align="aligncenter" width="834"]
Image credit: Singapore Cocktail Festival[/caption]

Need all the good luck you can get this year? One sip of this cocktail should do the trick! Its name means 'good luck' in Hawaiian. It's made with sweet rum and fresh citrus juices. Extra refreshing on a hot night!

At S$20++, this drink will be served with its recipe card and a hands-on cocktail making kit. More fun!
Diplomático World Tournament – Singapore National Final 2017
The event will see 8 local bartenders compete for a chance to represent Singapore. This year's Continental Finals will be held in Venezuela.

[caption id="attachment_23827" align="aligncenter" width="1024"]
Image credit: Ingmar Drinkt[/caption]

Be prepared to be wowed by insane amounts of bartending talent!

There'll be live music, good food and a special Diplomàtico Cocktail Bar. They are all set up on the picturesque alfresco terrace.

When: Thursday, 16 March 2017, 3:30pm to 10:00pm
Find out more here.
Havana Nights
To shake up your evenings, we present everyone's favourite Havana Nights! This is a usual Friday affair on the breezy outdoor terrace.

[caption id="attachment_23824" align="aligncenter" width="1024"]
Image credit: Hungry Go Where[/caption]

Look forward to a groovy beach-themed affair and an unforgettable evening of salsa dancing and live music.

There'll be succulent barbecue meats and a pop-up Pomaika'i Cocktail Bar.

When: Friday, 17 March 2017; 6:30pm to 10:00pm
Guest Bartender Hiroyasu Kayama
What's a more perfect way to end your Sunday evening than to unwind with a cocktail? To have a glass made by Japan's top mixologist perhaps!

[caption id="attachment_23829" align="aligncenter" width="2340"]
Image credit: Punch[/caption]

Hiroyasu Kayama hails from Ben Fiddich Tokyo. The bar ranks 21st in Asia's 50 Best Bars Awards 2016. Impressive.

Be sure to order Kayama's cannot-be-missed drink, "The Botanist Forest". It's a creative and refreshing botanical concoction. All made with an assortment of exotic herbs.

[caption id="attachment_23844" align="aligncenter" width="1440"]
The Botanist Forest[/caption]

Consider your Sunday night plans made.

When: Sunday, 19 March 2017, 8:00pm to 10:00pm

All these are happening at Singapore's premier resort destination: Capella Singapore on Sentosa Island.

[caption id="attachment_23830" align="aligncenter" width="1000"]
Image credit: DestinAsian[/caption]

Are you ready to mix it up at Asia's largest celebration of cocktails?

Bob's Bar @ Capella Singapore
Address: 1 The Knolls Sentosa Island Singapore 098297
Dates: 16 – 21 March 2017
Tel: +65 6377 8888
Also, read An Acai Affair: Fall In Love With Healthy, Delicious & Instagram-able Acai Bowls
Don't get us wrong, the dinner and movie date will always be a classic. But if you've been together for a while now, you must be a little bored by this date combination.
This special occasion, Valentine's Day, is when couples should spend time together doing something more memorable. Shake things up by taking your pick amongst these fun, relaxing and romantic activities guaranteed to give both of you quality time. You'll make memories to keep for a lifetime.
Make this Valentine's Day an extra special one, with these 12 date experiences you won't forget!
1. Live Music at the Botanic Gardens
If the standard picnic isn't quite special enough for you, try one where you and your date are serenaded by incredible live music, against the backdrop of a moonlit sky.

[caption id="attachment_22401" align="aligncenter" width="1200"]
Image credit: Families For Life[/caption]

The Singapore Botanic Gardens Bandstand will be showcasing a series of melodic live acts the weekend before Valentine's Day. So grab your sweetheart and a picnic mat for two unforgettable nights of soul soothing indie pop in the middle of a natural scenic setting.

What better way to celebrate Valentine's Day than with good music, lush greenery and a sky full of stars? Head down with your loved one early enough to grab a good spot and catch the sunset together before a relaxing night.

Valentine's Day 2017 @ Botanic Gardens
Where: Singapore Botanic Gardens, Bandstand
Date: 10-12 Feb 2017
Time: 6pm to 10pm
Price: Free
Website
2. Marina Bay Sands Light & Water Show
If you haven't seen the Wonder Full Light and Water Spectacular at Marina Bay Sands yet, this is something uniquely Singaporean that you and your loved one have to experience together at least once. This is one majestic water-fire-light show that'll take your breath away.

[caption id="attachment_22403" align="aligncenter" width="2880"]
Image credit: Skyscraper City[/caption]

The show begins with a single drop of water, signifying the beginning of life, and matures into a vibrant extravaganza–so much like your ever growing love. Fall in love again amidst the amazing convergence of light, music and sound, with the stunning cityscape of Singapore lit up in the backdrop.

If you're enjoying a post dinner stroll along the Marina Bay, be sure not to miss this majestic show that will add that spark to complete your romantic and breezy evening at the waterfront.

Wonder Full Light and Water Show
Where: Marina Bay Sands Event Plaza at the Promenade
When: Sunday-Thursday 8pm, 9:30pm; Friday-Saturday: 8pm, 9:30pm, 11pm
Price: Free
Tel: 6688 8868
Don't just promise your beloved the moon and the stars–show it to them! If there's a most stereotypical romantic nighttime date, stargazing has to be it. And yes, you can do that right here in Singapore.

[caption id="attachment_22402" align="aligncenter" width="800"]
Image credit: Telegraph[/caption]

For one night each week, the Science Centre Observatory offers free star-gazing sessions. Peer at the surrounding constellations in both the northern and southern celestial hemispheres through their super telescopes, and perhaps catch a meteoroid shower while you are it. Andromeda is also a lesser-known observatory where you catch glimpses of star clusters in the Andromeda Galaxy.

For a little more privacy, you can also try West Coast Park, Fort Canning Hill, (or any secluded spot far from the city lights, really!) in the evenings to immerse yourselves in the celestial spectacle.

Science Centre Observatory
Where: Singapore Science Centre Omnitheatre, 21 Jurong Town Hall Road
When: Every Friday, 7.30pm to 10pm
Price: Free
Website

Andromeda Observatory
Where: Woodlands Galaxy Community Club, 31 Woodlands Avenue 6
When: Every Friday and Saturday, 7.30PM-9.30PM
Price: $1 per visit
4. Couple Spa
Noticed that work has been taking a toll on your loved one? Stress can take away the sweet moments you're supposed to be spending together, so take this Valentine's Day to relax and pamper yourselves at with a couple spa package!

[caption id="attachment_22398" align="aligncenter" width="3000"]
Image credit: Time Ou's day[/caption]

We recommend Auriga Spa specially for this V-day. Chill in one of its four couple spa suites that come with their private garden. Their PS I Love You head-to-toe treatment starts with a relaxing foot massage with rose scrub, followed by a indulgent full body massage.

A candlelit bath–yes, with rose petals and the lot–and two glasses of champagne round off your intimate session.

Auriga Spa
Address: Capella Singapore, 1 The Knolls, Singapore 098297
Open: Daily 10am-10pm
Tel: 6591 5023
Price: PS I Love You Treatment $688 for two/165 minutes
Website

Also, read Nothing Above $60 – Indulge In An Affordable Full Body Massage
5. Perfume Workshop
Embrace your chance to create a custom fragrance with your sweetheart this Valentine's Day. At Je T'aime Perfumery's couples perfume workshop, you'll be able to design the perfect blend of unique ingredients based on you and your partner's traits and preferences.

[caption id="attachment_22394" align="aligncenter" width="1024"]
Image credit: The Nanyang Chronicle[/caption]

For starters, you'll be given a perfume personality questionnaire. Shake things up by filling it in for each other, and you may be surprised by the results! You can then use that as a guide to match the oils in olfactory families and create the formula for a signature scent only you two will have. #couplegoals

Je T'aime Couples Perfume Workshop
Where: 90 Good Man Road, Block O, #01-57 Singapore 439053
When: Monday & Tuesday 10am to 4pm; Wednesday-Sunday 10am to 8pm
Price: $250
Tel: (65) 91814871
Email: [email protected]
Website
6. Island Hopping
Thinking of a short getaway with your sweetie?

Spend the day on one of Singapore's scenic Southern islands, or explore the lot of them! Singapore Island Cruises runs daily ferrying services to Singapore's many secretive islands off the coast.

[caption id="attachment_22400" align="aligncenter" width="1284"]
Image credit: The Smart Local[/caption]

Kusu Island boasts Malay shrines, a Chinese temple, tortoises and beautiful beaches, while Sisters' Island allows for camping and snorkeling. St. John's Island has great trekking, swimming and fishing, while Lazarus Island is perfect for suntanning and picnicking.

No matter where you go, you're bound to feel like you're on vacation.

Try island hopping to create an exclusive and memorable Valentine's Day for you and your beloved!

Singapore Island Cruise
Where: #01-04 Marina South Pier, 31 Marina Coastal Drive, Singapore 018988
When: See site for individual ferry schedules
Price: $18 per two-way ticket
Tel: 6534 9339
Here Are 6 Singapore Offshore Islands You Can Visit To Get Away From The Crowd!
7. Say It With Love
Celebrate Cupid's season with your loved one by heading down to The Meadow at Gardens by the Bay for Say it with Love–an assortment of activities to enjoy with your partner, and even friends and family.

[caption id="attachment_22399" align="aligncenter" width="1372"]
Image credit: Time Out[/caption]

Create a field aglow with dreams by penning your wishes for each other on a glow-in-the-dark windmill to plant on an expanse of green.

You can also art jam with artists from Band of Doodlers, buy a unique handcrafted item for a good cause, or create a gift for that special someone at fun workshops. The highlights of the event are the cosy evening picnic and movie under the stars.

Pack your own picnic or get a couple's picnic bag ($60-$65), which comes with a mat, snacks and a choice of either wine, a platter of finger food or a box of sandwiches.

Say It With Love
Venue: The Meadows, Gardens By The Bay
Address: 18 Marina Gardens Dr, Singapore 018953
When: Friday 24 Feb 2017  Saturday 25 Feb 2017
Price: Free
8. Dance Classes
Venture out of your comfort zone and learn something new together this Valentine's Day by signing up for a couple dance class! John & Josephine Dance Creative offers Latin, Waltz, Cha Cha and many other styles for you to Tango the night away.

[caption id="attachment_22404" align="aligncenter" width="940"]
Image credit: Hitched Wedding Planners Singapore[/caption]

Partner dances are beautiful, intimate, and require much communication and coordination. That should pretty much strengthen your relationship, and we promise that you will have a ball of a time!

Ballroom dancing may be a good one to start with, since you'll have to learn to do it at your wedding anyway. Hint hint.

John & Josephine Dance Creative
Where: John & Josephine Dance Creative, 1 Sophia Road, #06-27/28, Peace Centre, Singapore 228149
Open: Monday-Friday 12 noon to 10pm, Saturday-Sunday 12 noon to 6pm
Price: $100 per Lesson (per couple), $350 for 4 Lessons
Tel: 6334 6230
Email: [email protected]
Website
9. Pasta Making Workshop
The couple that cooks together, stays together.

That's why Plentyfull has put together a pasta-making workshop specially for the month of February. You and your partner will follow Head Chef Victor Loy in learning how to make gnocchi from scratch!

[caption id="attachment_22393" align="aligncenter" width="1638"]
Image credit: Plentyfull[/caption]

Each of the three workshops showcases something different: Russet Potato Gnocchi with Mushroom & Spinach (14 Feb), Pumpkin Gnocchi with Kale & Pecorino (21 Feb), and Gratinated Gluten Free Gnocchi with Anchovies & Capers (28 Feb).

Drop by to pick up a new recipe for a hearty, wholesome, home-cooked meal you can make together for dinner!

Plentyfull Pasta Making Workshop
Where: 9 Raffles Boulevard, #01-79/80 Millenia Walk, Singapore 039596
When: 14, 21 & 28 February 2017
Price: $38 per person
Tel: 6493 2997
Email: [email protected]
Facebook
10. Walk in Nature
With so many green spaces in Singapore, a leisurely stroll amongst our ample greenery makes for a great date idea. You can share a peaceful day in your own world, traipsing through leafy shrubs under the shade of the towering trees.

[caption id="attachment_22395" align="aligncenter" width="900"]
Image credit: One Three One Four[/caption]

Take your pick from the many walking guides provided by NParks.

Take your love to new heights at the MacRitchie TreeTop Walk, relive history amongst the Changi Heritage Trees or Fort Canning Park, or go completely off the beaten track at Pulau Ubin.

Hike hand in hand through these walking trails and reconnect in the wilderness this Valentine's Day!

NParks Walking Guides
Website
11. Cosmic Bowling
Remember the good old days dating at the bowling alley? How about some late night, glow-in-the-dark bowling this Valentine's Day?

It's as cool as it sounds. Luminous balls and pins, blasting dance music and disco lighting will surely make for a date night to remember.

[caption id="attachment_22397" align="aligncenter" width="953"]
Image credit: The New Age Paren[/caption]

Choose amongst Rock, Retro, Kpop and R&B themes on separate nights, and head to your favourite. Get pumped up be prepared to bowl your partner over with your moves both on the alley and the dance floor!

Orchid Bowl Cosmic Bowling
Where:
SAFRA Yishun,  60 Yishun Avenue 4 Singapore 769027
The Chevrons, 48 Boon Lay Way, Singapore 609961
E!hub, Downtown East, 1 Pasir Ris Cl, Singapore 519599
When: Saturdays; individual dates listed on website
Price: $24.50 (SAFRA members), $30 (non-members)
Tel: 6752 6219
Email: [email protected]
Facebook
12. AcroYoga Classes
Yes, you too can be one of those cool couples on Instagram who are always trying fun new things.

This Valentine's Day, take an Acroyoga class with your loved one! The dynamic aerial postures not only increase core strength and flexibility, but more importantly unites your mind, body and spirit.

[caption id="attachment_22392" align="aligncenter" width="1268"]
Image credit: Mark Adams[/caption]

This zen sport calms you down, reduces stress and anxiety, and puts you in a better mood. Partner yoga in particular deepens the practice by including your lover in postures where breathing and moving together is key.

At the end of it, expect improved levels of communication, deeper expressions of postures and higher levels of trust.

Acroyoga Jam Singapore
Where: Raffles Place on the outdoor grass lawn in front of The Providore, Raffles MRT
When: Every Thursday 8pm to 10pm, Sunday 4pm to 6pm
Facebook

Shelve your dinner and movie plans, have them another day instead. This Valentine's Day, we've suggested special date night (and day) plans for you already.

Take this chance to spend some good old quality time bonding with your special someone, with some of these memorable activities you can experience as a couple. All you've got to do is grab your sweetheart and head to these romantic events happening all throughout the sweetest month of the year!

Also, read 8 Awesome Valentine's Day Dinner And Gift Ideas For A Truly Special Date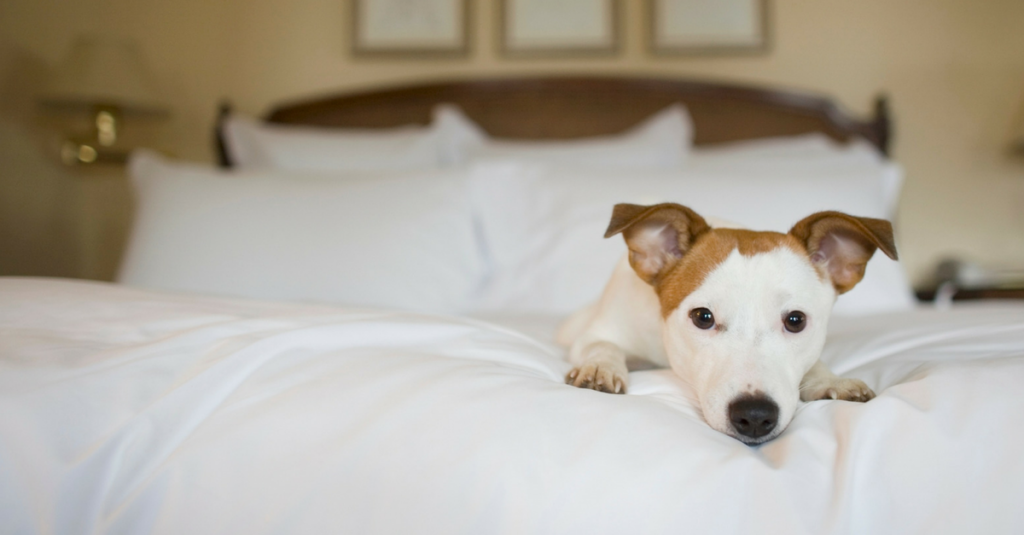 Always heart broken whenever you have to leave your furkid behind when you go on a holiday? Well, you'll be glad to know that you might never have to feel this way again. Say hello to these pet friendly hotels in Singapore and kill two birds with one stone by making both you and your  dog happy.
1. Four Seasons Singapore
A 5 star hotel for a 10 star experience with your furkid!

[caption id="attachment_19669" align="alignnone" width="720"]
Image Credit: Four Seasons[/caption]

Luxury meets great service at Four Seasons and that's exactly what you and your pet need for that much needed getaway. Pamper not only yourself but your doggie too with this staycation.

Your pooch will be welcomed with a cushioned bed and a chew toy.

Extra Charges for Pets: $100 cleaning fee
House Rules:
Only one pet weighing no more than 8kg is permitted.
Pets are not allowed in the restaurants, gym and swimming pool area in the hotel.
Pets must be in carriers or on a leash in public areas.
Four Seasons Singapore
190 Orchard Blvd, Singapore 248646
Tel: 67341110
Website
Image Credit: Honeycombers[/caption]
Upon arriving, your pet will be given his or her own chew toy, bowl and a door handle to let everyone know about the VIP (Very Important Pet) inside. Humans are also entitled to their own gifts in the form of fruits, chocolates and a teddy bear.
Tired of being cooped up in the hotel? The hotel is located near several key attractions in Singapore. Marina Bay is a 14 minutes walk from the hotel while Gardens by the Bay (Dogs are only allowed in outdoor areas) and Universal Studios Singapore are 2km and 8km away respectively.
The hotel also has a whopping 16 kinds of pillows available for selection. Go ahead and order one for yourself and one for your pet!
Extra Charges for Pet: $150 cleaning fee per room
House Rules:
Two pets weighing not more than 34kg in total per room.
Pets are not allowed in the restaurants, executive lounge, gym and swimming pool area in the hotel.
Pets must be in carriers or on a leash in public areas.
Conrad Centennial Singapore
2 Temasek Blvd, Singapore 038982
Tel: 63348888
Website
Image Credit: Hilton Singapore[/caption]
Though it's right smack in the middle of Orchard Road, you need not worry should your pup require some exercise. The hotel is also located near the Esplanade and the Merlion, so take your little one sightseeing!
Do note that there aren't any amenities for dogs in this hotel.
Extra Charges for Pets: $50 non-refundable deposit
House Rules:
One pet weighing not more than 5kg is permitted.
Pets are not allowed in the restaurants, gym and swimming pool area in the hotel.
Pets must be in carriers or on a leash in public areas.
Hilton Singapore
581 Orchard Road, Singapore 238883
Tel: 67372233
Website
Image Credit: Regent Hotels & Resorts[/caption]

It's quite obvious why Regent is the go-to pet friendly hotel for most pet owners. Not only does the hotel provide excellent service, but it also takes care of your darling pet.

[caption id="attachment_19534" align="alignnone" width="1000"]
Image Credit: TheShutterWhale[/caption]

Your furkid will receive a welcome letter along with everything that he or she might need (A bed, water and food bowl).

Before your arrival, you can even call the hotel to inform them of the needs of your pup. Should your pet have any dietary preference or restrictions, the staff are more than happy to help. Hotel staff will even be briefed to address your pup by his or her name!

Extra Charges for Pets: None
House Rules:
Only one pet weighing less than 15kg is permitted.
Pets are not allowed in any restaurants in the hotel except Dolcetto by Basilico (Afresco area only).
Pets must be in carriers or on a leash when in public areas.
Regent Singapore
1 Cuscaden Road, Singapore 249715
Tel: 67338888
Website
Image Credit: Capella Singapore[/caption]
If you want an all-rounded pet friendly hotel then look no further than Capella.
The hotel is literally haven for both you and your pet. With dog friendly cafes (Trapizza, Blue Lotus, Brussel Sprouts and Tanjong Beach Club just to name a few) located around the island and Tanjong Beach (Sentosa's only dog friendly beach) within reach, your pet will definitely give you owner points.
During your stay, your pet will be provided with a cushion and a food bowl.
Think your pet needs some pampering? Spend a bit more on a villa and enjoy splashing around the private pool with your pet.
Extra Charges for Pets: None
House Rules:
Only one pet weighing less than 6kg is permitted.
Pets must be in carriers or on a leash when in public areas.
Pets are not allowed on the Sentosa Shuttle Bus.
Capella Singapore
1 The Knolls, Sentosa Island, Singapore 098297
Tel: 63778888
Website here
Be it spending the whole day lazing in the hotel room or going for walks somewhere new, we're sure you and your pet will enjoy a staycation at these pet-friendly hotels in Singapore.
Header Image Source: Pets Magazine
Also, read Ultimate Guide To Dog-Friendly Places: Hang Out With Your Doggy All Day, Every Day!