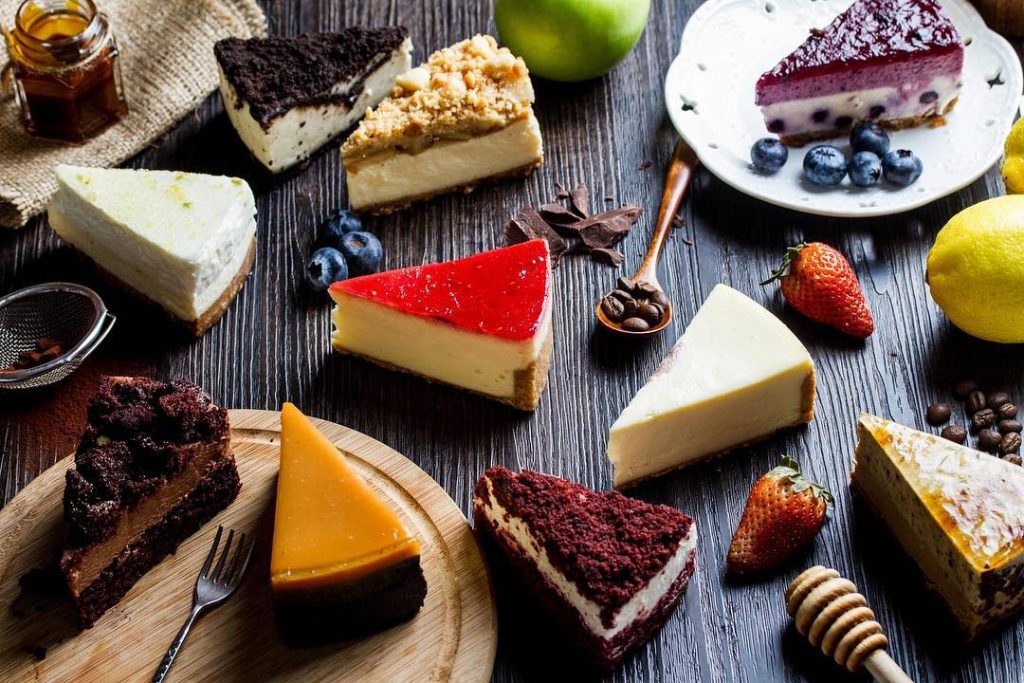 Let's admit it, a meal isn't quite complete without a sweet treat at the end of it.

Here in Singapore, there are countless bakeries offering up decadent, sweet treats but if you're looking for a cheesecake that will blow your socks off, head to Cat & The Fiddle.

Opened by award-winning pastry chef Daniel Tay in 2014, Cat & The Fiddle is Singapore's first online cheesecake retailer.

[caption id="attachment_25275" align="alignleft" width="1024"]
Image Credit: Cat & The Fiddle Instagram[/caption]

Serving up 17 varieties of cheesecake from the Classic New York Cheesecake to the Mao Shan Wang Durian cheesecake, Cat & the Fiddle serves up cheesecakes that are bursting with flavour!
'Queen Bee' Mother's Day Cheesecake 
[caption id="attachment_25279" align="alignnone" width="750"]
'Queen Bee' Mother's Day Cheesecake[/caption]

Teaming up with Nature's Farm, Cat & The Fiddle has created a special limited edition 'Queen Bee' Mother's Day Cheesecake ($55.90 for 7″) so you can spoil the most important woman in your life this Mother's Day.

This spectacular creation comprises two layers: a top layer crafted from UMF 5+ Manuka Honey, Osmanthus flowers and Goji berries, and a bottom layer crafted from luscious cream cheese mousse infused with Manuka Honey and lime zest.

[caption id="attachment_25280" align="aligncenter" width="750"]
UMF 5+ Manuka Honey Cheesecake ($55.90 for 7″)[/caption]

A delightful combo, this cheesecake was surprisingly light. The cream cheese mouse was creamy and dense, with the touch of lime zest giving it a slight sour kick. The Manuka honey glaze was slightly sweet and the goji berries added a bit of added texture to this dessert.

Health conscious? This is the perfect dessert if you (and mum) are watching your weight or trying to cut down on processed goodies.
The Queen Bee Mother's Day Gift Set 
[caption id="attachment_25284" align="aligncenter" width="500"]
The Queen Bee Mother's Day Gift Set[/caption]

If you haven't decided on what to get for mother dearest this Mother's Day, why not get the Queen Bee Mother's Day Gift Set! Priced at $99, this set includes the Queen Bee Cheesecake, a 500g bottle of NF Reserve UMF +5 Manuka Honey and complimentary delivery service!

Cat & The Fiddle not only serves up tastebud tingling cheesecakes for any (and every) occasion, you can order them online from the comfort of your home! To check out more of their decadent desserts, head to https://www.catandthefiddle.com/

Cat & The Fiddle
Address: 171 Kampong Ampat, KA Foodlink #05-04, S368330
Contact no.: 6287 0077
Website

Also read 7 Oozy Choux Pastries That Will Have You Scrambling To Lick Everything Up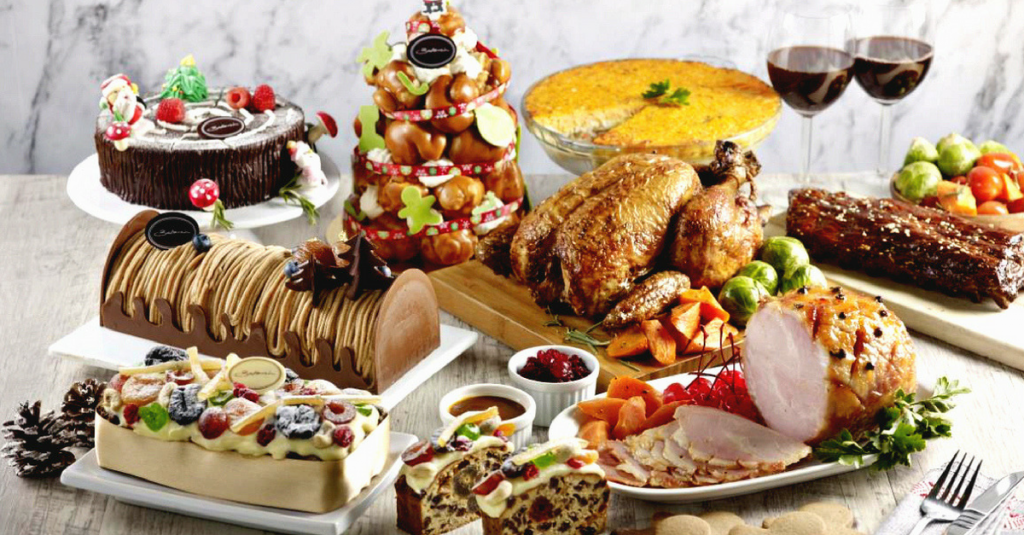 After hanging up your hundredth bauble, unwrapping your thousandth present, and exchanging your millionth kiss under the mistletoe, you bet it's time for something more. If what you're thinking is what we're thinking, it's none other than a Christmas feast.
Be it turkey with all the trimmings, indulgent desserts or spiced tipples, tis' the season for feasting!
Read on for our choice picks of binge-worthy festive fare.
1. Bakerzin
This festive season, let home-grown Bakerzin tantalise your taste buds, spice up your parties, and keep your guests coming in droves.
We were lucky enough to lay our hands on a few items in their Enchanting White Christmas Takeaway Menu, and it had us wishing Christmas would never end.
Roast Cajun Capon – $36 (approx. 2kg)
Roasted for 1 ½ hours under carefully-calibrated temperatures, marinated overnight and stuffed generously with aromatic herbs and spices – that's how much goes into preparing each roast.
It was all worth it because the chicken was moist, tender and flavourful. And, it came with crispy golden skin – a big plus.
We dipped pieces of the meat into the refreshing and tangy Chimichurri Sauce, an interesting Argentinian-inspired concoction. Equally tasty was the Christmas Tangy Sauce – an earthy, wholesome sauce made from hours of simmering chicken bones and tomatoes, and infused with red wine.
To round off the dish, we tucked into heaps of sweet roasted carrots cut to bite-sized perfection and moreish mini potatoes.
Yule Love Chocolate Log Cake ($52 – approx. 1.2 kg)
Not for the faint-hearted, don't mess with this bad boy unless you're a serious chocolate lover. We're glad to say that the confection contained more chocolate mousse than cake, with a chocolate-to-cake ratio of approximately 70 to 30.
Rich and decadent, this bittersweet chocolate mousse cake is made from fine Valrhona chocolate, and luxuriously covered with chocolate frosting. 
The cake was an overall winner, considering that it nailed the chocolate just right and it was a treat for the eyes. Decorated with adorable mini Santas and crunchy candy canes, we couldn't say no to it!
Galette des Rois – $40 (approx. 580g)
Add some pizazz to your Christmas party with this rustic Northern French pastry, otherwise known as the King Cake.
At first bite, we noticed how delicate and buttery the puff pastry was. It was considerably tastier and more buttery than most other puff pastries that we've tried. After that, the sweet and fragrant scent of the almond frangipane filling hit us. Baked to a golden brown hue, the cake looked as good as it tasted.
What's more, this dessert contains a fève (porcelain toy figurine)! According to tradition, the lucky person who finds it will be the "king of the day". Will it be you?
Croquembouche (Available in vanilla custard or Coffee Cream) – $22.80 for 27 pcs (approx. 800g)
A traditional French confection popular at weddings, this sweet pyramid dessert consisted of 27 mini choux pastries, stacked like an awesome Christmas tree.
Freshly-baked daily and glazed with a generous coating of indulgent, homemade butterscotch, this dessert is worth getting a belly for. The delicate and airy choux pastries were filled with rich and smooth coffee cream, which brought the dessert to great heights.
While the choux pastry was fluffy but not the fluffiest, the coffee cream was pretty amazing. Deep and fragrant, the coffee flavour was strong enough to lend the dessert an edge. Popping several of them made us feel like we'd downed a good cuppa, which we absolutely love.
Bakerzin
Enchanting White Christmas Takeaway: 11 November  2016 – 2 January 2017
Order: Place orders online at https://www.bakerzin.com/ or at Bakerzin outlets in Singapore

2. Cat and The Fiddle
Looking for a little slice of decadence?
Cat And The Fiddle's Happy, Merry, Boozy! cake is a dense black forest cake crafted from a layer of chocolate mousse atop a layer of brandy-infused chocolate sponge cake. A generous offering of brandied cherries comes with every second bite.
The cake even comes with a Christmas tag and two gold Christmas tree ornaments!
Our ambassador, Vanessa, tried the cake, and here's what she had to say:
"In lieu of the festive season, I tried The Cat and The Fiddle black forest cake that was such a sensation for my taste buds! Loved the surprise of brandy infused cherries and the soft mousse on the chocolate cake. Unconventional compared to the usual creamy log cakes!"
We'll be giving away this cake on our Facebook soon. Like us for updates!
Cat and The Fiddle
Happy, Merry, Boozy! is available from 15 November 2016 to 1 January 2016
Price: $49.90 (inclusive of GST)
Approximate weight: 1KG (good for 8-10 servings)
Order: Place your order online at https://www.catandthefiddle.com
3. Flor Patisserie
Named after the Portuguese word for 'flower', FLOR Patisserie is a Japanese-inspired confectioner serving authentic French pastry. For honest baking, fresh ingredients and sincerely tasty baked goods, step right up.
Strawberry Log Cake
Our ambassador, Stephanie, tried the Strawberry Log Cake, here's her experience:
https://www.instagram.com/p/BNl_YFjDwSo/
"I really liked that the cake was moist and fluffy, and that it wasn't very sweet, so it wasn't too rich or overwhelming to have one slice after another. Also there wasn't a lot of cream used, which I liked, cause it's not that oily and fattening. ? The strawberries were a little sour, but it was a nice contrast to the sweetness of the cake ??"
Chocolate Brick Log Cake
After a bite of this tasty brick, you'll probably crack a grin, but not your teeth! The bittersweet cake offered a solid chocolate punch.
A strong player in the texture game, smooth chocolate fudge cream was sandwiched between fluffy layers of dark chocolate sponge, complemented by crisp and flaky puff pastry on both sides of the cake.
Offering an interesting texture contrast, were the crunchy chocolate-covered pearls hidden within the cake
FLOR Patisserie
Strawberry Log cake
9.5 x 17cm – $53.50
9.5 x 24cm – $69.60
Chocolate Brick
9.5 x 17cm – $55.70
9.5 x 24cm – $72
Order: Place your order online at  at their outlets
4. Asanoya Bakery
Asanoya Bakery first captivated the people of Japan. Now, they're doing the same right here – blending the best of Japanese flavours with tried and tested European recipes. You might have known them for their creative spins on the salted egg craze – matcha lava, and maple lava salted egg croissants. This Christmas 2016, they've hit us with yet another round of tasty tricks.
Chocolate Banana Log Cake
Our ambassador, Victoria, tried the log cake. Here's what she had to say:
https://www.instagram.com/p/BN5eu1MBtQj/?taken-by=victoinette
Christmas Gift Box
Asanoya's Christmas Gift Box makes for a great gift – 1 traditional stollen, 9 pieces of Madeleine, 9 pieces of Christmas cookies and 9 pieces of Yuzu Miso Rusk, we guarantee the recipient of this box will be grinning like a Cheshire cat.
We enjoyed everything! Every bite of the stollen guaranteed fruit bits and it was very addictive. Unlike traditional Madeleines, the ones from Asanoya are green tea flavoured and perfect to go with tea. The Yuzu Miso Rusk was a unique twist – the mishmash of flavours is surprisingly delectable. You get a strong yuzu taste that does not overpower but was the perfect contrast. As for the Christmas cookies, they were crunchy yet smooth but not too dry.
All in all, we couldn't think of a better Christmas goodie box to gift to friends.
Asanoya
Christmas Gift Box: $78
Chocolate Banana Yule Log: $45.80
Website: Diana, tried the log cake. Here's what she had to say:
https://www.instagram.com/p/BN–qezDUXb/?taken-by=dianabakar_
"Bursting with nutty flavour, the log cake was an eruption of pure joy at first bite. A myriad of textures – from the smooth pudding, sponge cake to the crunchy wafer bits delighted my palate. The log cake was complete with dark chocolate toppings and the cutest reindeer that joyfully highlights this Christmas season."
Shangri-La Hotel, Singapore
Order online More details Pies & Coffee is a bold and vibrant cafe that specialises in freshly baked handmade gourmet pies and coffee. Tuck into their scrumptious buttery and flaky pastry crusts which will melt in your mouth.
This Christmas, Pies & Coffee has taken an unconventional twist on the traditional Christmas log cake by infusing our local favourite – Ondeh Ondeh flavour!
Bite into a piece of this Ondeh Ondeh-infused log cake and revel in the sweet yet not overpowering gula melaka creamy exterior. Coupled with slightly crispy coconut flakes and a deliciously soft and slightly moist pandan chiffon interior, it is almost like having an Ondeh Ondeh itself!
This unique cake is artfully decorated with white chocolate bites and sweet golden balls as well. For a refreshing and Singaporean-style log cake this Christmas, Pies & Coffee's Christmas Rhapsody Log Cake will surely not disappoint!
Pies & Coffee
Christmas Rhapsody (Ondeh-Ondeh) Log Cake
Weight: 1kg (approx.)
Price: SGD45 nett
Website
A slight nutty aftertaste of the cream rendered us dumbfounded until we found out it was made of kinako (soya bean) powder. Perfectly light and fluffy, you'll definitely reach for seconds!
Christmas Nama Chocolate Log Cake
Topped with an array of adorable Christmas treats, the Nama cake had a fluffy sponge that was mildly sweet and yet hid just the right amount of nama cubes within the airy layers of cream.
Definitely the choice for those who subscribe to the non-sweet tooth club but yet wouldn't mind finding the occasional hidden sweet delights.
Patisserie Glace
Website: Named after a stop on London's Northern Tube Line, Chalk Farm is a cosy white bakery that is well-known for its plethora of sweet treats. From delectable Salted Caramel Macadamia cupcakes to chocolate Guinness loaf, brownies and cheesecakes, expect an array of uniquely crafted desserts here at Chalk Farm.
Rich Christmas Fruitcake
Christmas will certainly be an even more beautiful festive season with this Rich Christmas Fruitcake from Chalk Farm! This yearly fruitcake offering looks positively gorgeous with its pink marbled fondant robe.
The dark and moist interior is a mixture of fresh prunes, sultanas, raisins, currants, glace cherries and walnuts which offers an authentic fruity flavour. Prepare your taste buds for a slight rum hint as you savour a small piece of this rich fruitcake. Artfully decorated with a crown of gold-dusted bay leaves and nuts, this Rich Christmas Fruitcake from Chalk Farm is surely a pretty sight.
Rich Christmas Fruitcake
Weight: 2.2kg
Price: SGD140 (including GST)
Espresso Meringue
You know that first sip of coffee on a busy morning? Chalk Farm's Espresso Meringue is the perfect embodiment of that warm cup of coffee. We were impressed by how the light coffee flavoured sponge cake balanced the dense heavy coffee-infused cream.
A slightly bitter kick of the cream pairs well with the light and slightly sweet fluffy sponge cake. If you're a true coffee enthusiast, Chalk's Espresso Meringue is a treat worth splurging on.
Espresso Meringue
Weight: 1kg
Price: SGD78 (including GST)
Midnight Chocolate Bundt Cake
Dark, smoky and just slightly bitter Chalk Farm's Midnight Chocolate Bundt Cake is crafted from a dense chocolate cake, unlike light sponge cakes.
This dessert is both a sweet treat and a perfect tea time snack. With hints of coffee and Christmas spice, Chalk Farm's Midnight Chocolate Bundt Cake is topped with chilli spiked chocolate for that perfect dark twist.
Midnight Chocolate Bundt
Weight: 1.2kg
Price: SGD86 (including GST)
Chocolate, Banana and Peanut Butter Cake
[caption id="attachment_19838" align="aligncenter" width="460"]
Chocolate, Banana and Peanut Butter Cake[/caption]

The Chocolate, Banana and Peanut Butter cake is layered with moist sponge and cream with banana. The peanut butter wasn't overpowering, and the chocolate was decadent, smooth, and left us wanting for more.

Chocolate, Banana and Peanut Butter Cake
Weight: 1kg
Price: SGD75 (including GST)
Chocolate Chestnut Log
[caption id="attachment_19839" align="aligncenter" width="705"]
Chestnut Log Cake[/caption]

The Chestnut Log featured luscious chocolate ganache slathered on the soft chocolate sponge, with a chestnut cream middle. With the perfect amount of sweetness, this gold encrusted log is fit for kings!

Chocolate Chestnut Log
Weight: 1kg
Price: SGD88 (including GST)

Chalk Farm
Paying homage to age-old recipes from their grandmothers, the folks at Butter Studio have a fierce passion for cakes and all things sweet. Everything is made by hand, well-sourced quality ingredients are used, and they're dedicated to making honest, delicious desserts.
What are some of their Christmas goodies? Christmas Rocher Ganache Log, Cupcakes, Macarons, and Speculoos Red Velvet Yule Log!
Butter Studio's Christmas Rocher Ganache Log has just the right amount of chocolatey goodness! Light chocolate sponge cake is coated with a luxurious and sweet layer of chocolate ganache.
Their cupcakes were also moist and flavourful, perfect for those with a sweet tooth. As for the Speculoos Red Velvet Yule Log, this soft and fluffy cake reminded us of cookie butter. The log was topped with cookie butter crumbs and they provided a nice crunch with every bite.
Butter Studio
Chocolate Rocher Ganache Yule Log, $62 per 1kg
Season's Greetings Cupcakes, $35 per dozen
Speculoos Red Velvet Yule Log, $62 per 1kg
Website:
While Christmas may be celebrated in many ways around the globe, one tradition has stuck worldwide – the Christmas feast. Food brings people together, sparks merriment and bonds hearts. What better way to experience the warmth of this season than to love, laugh and eat?
Header image credit: Bakerzin
Also, read Riverside Point Is Bringing The Joy of Feasting To The Next Level With All Their Amazing Giveaways!