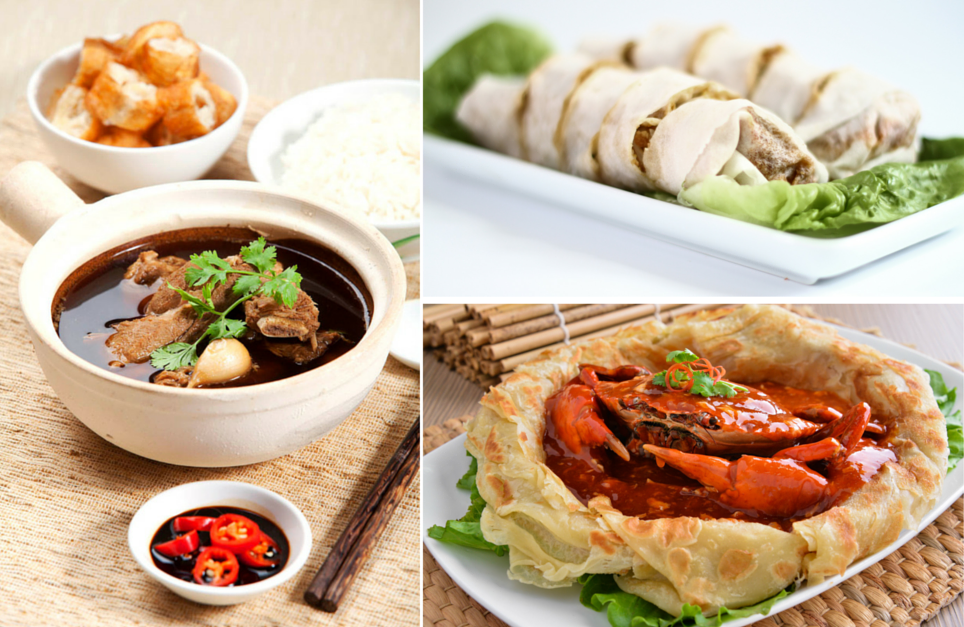 Attention foodies, the Singapore Favourite Food Village (SFFV) is back! Themed "A Wok Through Singapore's Culinary Heritage", the festival will be held at Rochor Event Space (Bugis MRT Exit A) for a period of 10 days, from 22 – 31 July 2016!

[caption id="attachment_10795" align="alignnone" width="949"]
Image source: SSFV[/caption]

In celebration of good food, visitors (free admission yas!) can expect a helluva unique variety of local dishes with over 20 culinary partners from three different school of thoughts – Old Favourites, Modern Take and On The Go.
Culinary Face Off: Old Favourites VS Modern Take
[caption id="attachment_10796" align="alignnone" width="740"]
Image source: SSFV[/caption]

The key feature of this year's festival is the culinary showdown between two dominant groups of culinary talents – the traditional Old Favourites and the avant-garde Modern Take. The two waves would be presenting their version of our local dishes, where the best part has to be getting visitors to taste before deciding on the winning dish.

[caption id="attachment_10797" align="alignnone" width="797"]
Image source: SSFV[/caption]

On top of that, there will be food trucks and pop-up cafes dishing lip-smacking street food, live cooking demonstrations and street performances to keep the lively atmosphere going. We understand going through all 20 culinary vendors can get a little tough on your waistlines so listed below is are our top 5 picks of the festival.
1. Chilli Crab In Prata Bag by Big Street
[caption id="attachment_10794" align="alignnone" width="702"]
Source: Glamour Wave Photography[/caption]

Chilli Crab in Prata Bag sure does sound like a heavenly combination. The birth of this signature dish from Big Street however, is certainly not by chance. After many unsuccessful attempts at flavour experimentation and presentation, this uniquely Singaporean dish was created. Thank you Big Street.
2. Cow's Taco Bowls by The Travelling C.O.W
[caption id="attachment_10812" align="alignnone" width="597"]
Image source: jiaruiii_[/caption]

A favourite at any food festival, we're more than delighted to hear of Singapore's first gourmet food truck, sous-vide!
3. Rainbow Churros by Churros Factory
[caption id="attachment_10813" align="alignnone" width="596"]
Image source: Churros Factory[/caption]

We've had salted caramel churros, chocolate churros, cinnamon coated churros, but have you head of Rainbow Churros? Inspired by the traditional Nyonya 9 Layers Kueh, Jeremy Chiang, founder of 4. Fortune Food [caption id="attachment_10814" align="alignnone" width="439"]
Image source: fortunefoodsg[/caption]
With a variety of dishes that include Popiah (spring rolls), Kueh Pie Tee, Nyonya Laksa, Muah Chee to Ayam Koro Bun (a braised chicken in a bun), 5. Souperstar [caption id="attachment_10815" align="alignnone" width="596"]
Image source: souperstarsg[/caption]
The brain child of Fortune Food,
Image source: SSFV[/caption]
Now who is excited for the end of the month? We know we are! No better time than the present to make a list of dishes you wish to try at the festival, eh? What is the dish you'd love to try the most? Drop us a comment and let us know!
Singapore Favourite Food Village – A Wok Through Singapore's Culinary Heritage
Date: 22 – 31 July 2016
Time: 5PM-11PM daily
Venue: Rocher Event Space (Bugis MRT Exit A)
Ticket: Free admission
Website: Singapore Favourite Food Official
(All images in courtesy of Singapore Favourite Food)
Also read: Lobster Chicken Rice? Gastronomic Event STREAT 2016 Is Here!
For more information about Singapore's Food Festival, 
click here
.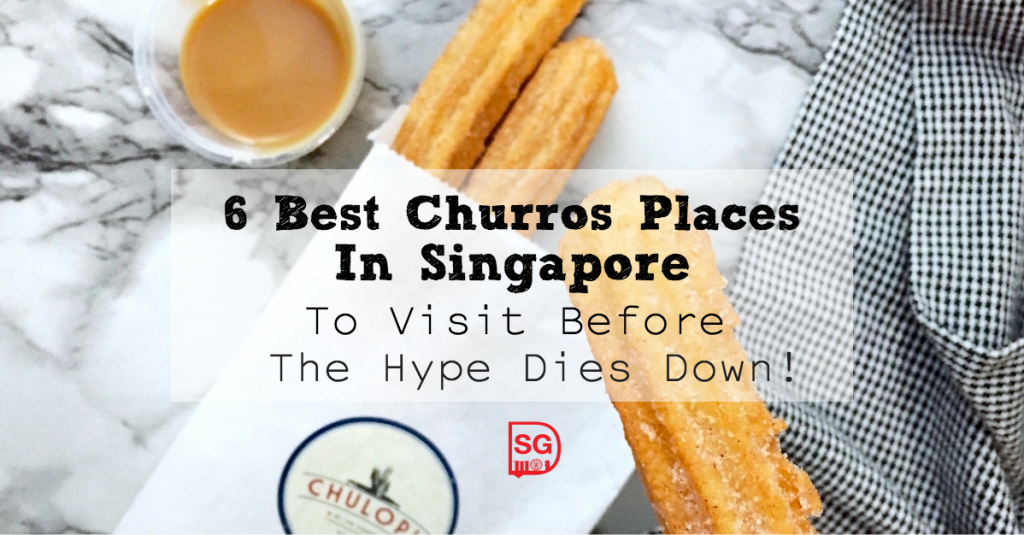 Ah, churros – one of the latest snack trends making waves on our sunny island. A crunchy ridge-shaped snack rolled in cinnamon, icing sugar, or dipped in rich chocolate sauce, it surely is enticing!
A simple search on Google for churros in Singapore resulted in thousands of listings, from prominent brands like Max Brenner to new players like Chulop. With a plethora of choices available, where should you go to get your churro fix? Fear not, as the Discover SG team has painstakingly collated a list of 6 places to get the best churros just for you!
1) Alegro Churros Bar

(Image credit: Burpple)
Located at Clarke Quay, Alegro Churros Bar serves scrumptious Spanish street food with a variety of cocktails. Besides that, they also specialise in freshly made Churros that are crisp on the outside, but soft and chewy on the inside. The unique texture and taste of their Churros is all thanks to their Churros pulling equipment specially imported from Spain. With opening hours until 2:30am on most nights (4am on Friday and Saturday), it is a great place to chill for a late night out.
Outlet & Opening Hours
3D River Valley Road #01-13
Monday & Tuesday: 1830 – 0230
Wednesday & Thursday: 1830 – 0330
Friday & Saturday: 1800 – 0400
Sunday: 1900 – 0230
2) Alt-Yard

(Image credit: Alt Yard Facebook)
Do not be put off by the dark green colour of Alt-Yard's Ondeh Ondeh Churros ($3.80 for 7). Covered in shredded coconut shavings, and served with Gula Melaka dip, it is so good that it melts in your mouth and leaves you craving for more. A collaboration between Penny University and Fluff Bakery, this dessert and specialty coffee bar offers several other delectable options besides its made-to-order chunky churros. The churros are coated lightly in fragrant cinnamon sugar and served with house dips such as Chocolate Ganache ($1), Salted Caramel ($1) and Liquid Cheesecake ($1.50).
Promotion
Churros at half price on Tuesdays.
Outlet & Opening Hours
Tampines West Community Club
Tuesday to Sunday: 1200 – 2030
Closed on Mondays
3) Chulop
(Image credit: Chulop)
Opened in 2015 by local celebrity couple, Syarif Sleeq and Malaque Mahdaly, Chulop is one of the newest players in the market. The churros are served hot and fresh with a light yet crisp texture. Artisanal premium dips, such as Milk, White, and Mexican Chocolate, and Salted Caramel, complement the Churros well.
Outlet & Opening Hours
430 Upper Changi Road #01-93
Saturday to Thursday: 1300 – sold out
Friday: 1500 – sold out
4) Churros Factory

(Image credit: Churros Factory)
Churros Factory offers churros that are diminutive in size. The stand out factor for Churros Factory is that their Ondeh Ondeh Churros with Gula Melaka ($5 for 3 pieces, or $7 for 6), crisp brown on the outside, is filled with delectable pandan goodness inside. Their menu also boasts other sinful, unique, and whacky flavours, such as Sea Salt Charcoal Churros with Caramel and Ice Cream. The churros here certainly don't disappoint.
Outlets & Opening Hours
I12 Katong Mall B1-26
Westgate Mall B1-K2
West Coast Plaza 02-01
Junction 10 01-25
City Square Mall B2-K21
Orchard Central #B1-01
Daily: 1130 – 2200
5) Habitat Coffee
(Image credit: Burpple)
Habitat Coffee, a popular location for brunch, now offers churros. They are perfectly coated with cinnamon sugar and served with a cup of Chocolate Ganache for dipping on the side. Less oily as compared to other churros, they are perfect as a sharing snack among friends.
Outlet & Opening Hours
223 Upper Thomson Road
Tuesday to Friday: 1100 – 2230
Saturday and Sunday: 1030 – 2230
Closed on Monday
6) Max Brenner Chocolate Bar
(Image credit: Burpple)
Tucked away at two accessible locations, Vivo City and Esplanade Mall, Max Brenner Chocolate Bar offers Churros coated in crystal sugar. The Churros come with complementary dipping sauces of Dark and Milk Chocolate with Raspberry jam. A tantalising treat as the different flavours of the sauces come together perfectly with the soft crust of the Churros.
Outlets & Opening Hours
Vivo City 01-116
Esplanade Mall 01-06
Sunday to Thursday: 1000 – 2200
Friday and Saturday: 1000 – 2300