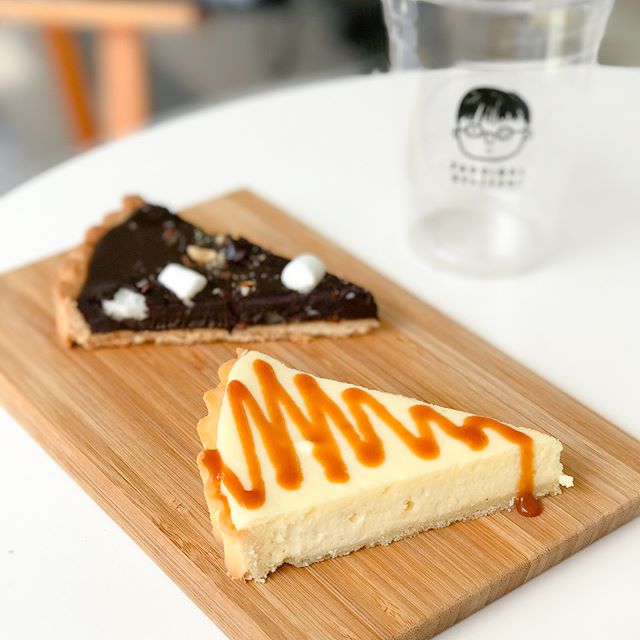 Prodigal Roasters pride themselves on their own roasted beans, which differ every single month as they are constantly getting in new beans from all over the world.

But we think its the ultimate pairing of their freshly brewed coffee and interesting bizarre cheese tart flavors that got to us.

[caption id="attachment_29808" align="alignnone" width="1170"]
Freshly roasted (Image Credit: Prodigal Roasters)[/caption]
Their bizarre cheese tarts somehow works 
Get this, their bestseller is a Miso Cheese Tart, which tastes as delicious as it sounds bizarre. The miso caramel sauce is drizzled over a creamy cheese tart before its served. The sauce is kind of similar to salted caramel, but miso-style.

[caption id="attachment_29782" align="alignnone" width="640"]
Tart's up! (Image Credit: Natalie Wong via Burpple)[/caption]

If you prefer your tarts to be on the chocolate-y side, go for their Rocky Road Tart. The thick and fudge-like chocolate is slightly bittersweet (it uses dark chocolate), and is full of crunchy nuts and chewy marshmallow.

Another interesting one to try is the Sweet Potato Tart, which is mixed with chocolate and tinged with the mellow sweetness from the sweet potato.

On a superfood diet? Get the Acai Cheese Tart.

[caption id="attachment_29783" align="alignnone" width="730"]
Superfoods in desserts so that you don't abandon your diet. (Image Credit: Xing Wei Chua via Burpple)[/caption]

Classic flavors like lemon meringue and creme brûlée are also on the menu if you want to play it safe.
Something more substantial?
Prodigal Roasts started out selling tarts, but have since expanded to selling hearty mains in limited portions. Just like everything else, the menu is not fixed, so there's no saying what you'll get.

The chefs at Prodigal Roasters are very open to ideas from customers, which results in pretty unusual dishes. If you really want to be kept updated on their latest food creations, follow their Instagram!

Just a couple weeks ago, they had an interesting burnt cream pasta, which comes topped with pomegranate, one week old fermented onions, capers, celery and dusted with coffee grounds. Your tastebuds will be working overtime! 

[caption id="attachment_29773" align="alignnone" width="1080"]
Coffee in pasta? (Image Credit: Prodigal Roasters)[/caption]

The only drawback is that these creations are not permanent fixtures on the menu (even though we think they deserve to be), but don't be afraid to ask the chefs to whip something up on the spot.

They'll try their best to oblige, although this is not always possible as they might not have the ingredients on hand.
Journey all over the world with their seasonal roasts
The guys at Prodigal Roasts love experimenting with their coffees as much as they love experimenting with their foods.

You can expect new coffee flavors every month as they are constantly trying out new bean profiles from all over the world. Taste coffees from Papua New Guinea, Brazil, Ethiopia, Thailand, Rwanda and more.

[caption id="attachment_29809" align="alignnone" width="1080"]
Bring home some beans! (Image Credit: Prodigal Roasters)[/caption]

They also sell freshly roasted beans if you can't get enough of your brew. Get some beans so that you can make your own cuppa whenever the cravings hit you.

Whether you're a coffee lover or just want to try something new this cafe is definitely worth a trip to the heartlands for!

Prodigal Roasters
Address: Blk 625 Ang Mo Kio Ave 9 #01-112, Singapore 560625
Opening Hours: Mon – Fri, 12pm – 10pm; Sat – Sun, 9am – 5pm; Closed on Wednesdays
Instagram

Also read Japan's Famous Blinged Out Soft Serves Are Here, And They're Sure To Give You A Gold Rush

(Header Image Source: Prodigal Roasters)