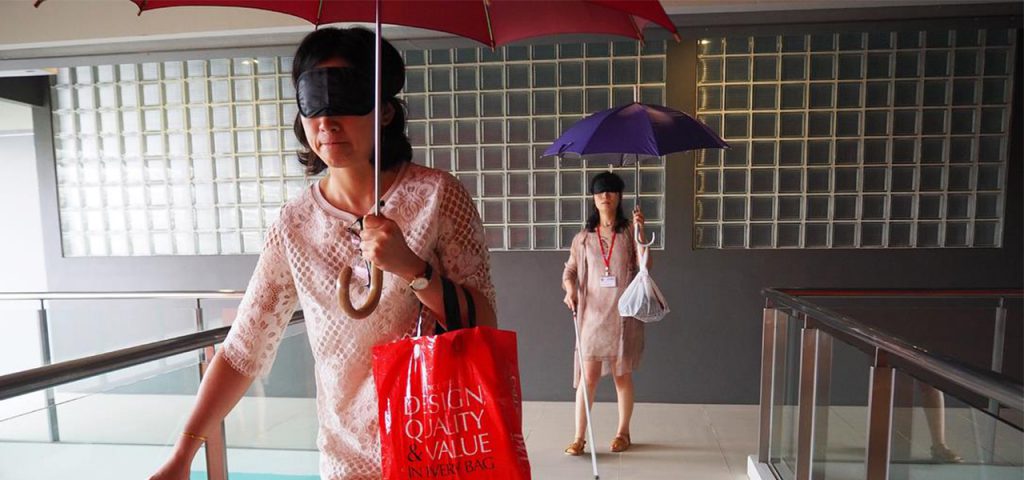 There's a lot of things that we take for granted in life, and our eyesight might be the biggest offender in that respect.
Think about it — we stare at a computer the entire day at school/work, squint at the tiny text on our phones on the commute back home, and then kick back by watching YouTube on yet another screen with little regard to what it's doing to our eyes in the long run.
What we don't realise (or try not to think about, at least) is that some people don't have access to this seemingly basic privilege, and Dialogue In The Dark is giving you the chance to take a literal walk in their shoes.
See Less, Learn More
For the uninitiated, Dialogue In The Dark is a social initiative that allows you to experience the life of a visually impaired person.

[caption id="attachment_37518" align="alignnone" width="2048"]
Image Credit – Dialogue In The Dark – Singapore[/caption]

Led by guides who are visually impaired themselves, you'll be taken through specially designed rooms that are shrouded in darkness, and learn how they perform everyday tasks walking in the park and visiting a cafe.

It's a sobering experience, to say the least, and one that is sure to make you appreciate life a little more.

Now, we're fully aware that Dialogue In The Dark isn't exactly a new concept (the Singapore branch has been opened since 2009), but we're writing this because now could the best time to try it.

[caption id="attachment_37519" align="alignnone" width="920"]
Image Credit: Tedx Pickering Street[/caption]

Tickets for this experience usually cost $15 and $25 for students and adults respectively, but as part of the Tedx Pickering Street Adventures series of events, you can attend a session on the 6th of October completely free (you'll need to pay $2 deposit, but it'll be refunded at the door).

We're pretty sure that there's limited slots and they'll be snatched up quick on account of being…y'know, free, so head over to Peatix now to secure a place.

TedxPickering Street Adventures: Dialogue In The Dark
Venue: Ngee Ann Polytechnic — 535 Clementi Road, Block 5, #01-03
Date: 6 Oct 2018
Time: 1:30pm – 4pm
Price: Free ($2 Deposit)

Also Read I Attended A Self Defence Class – Now I Can Take Down Someone Twice My Size

(Header Image Source: Dialogue In The Dark — Singapore)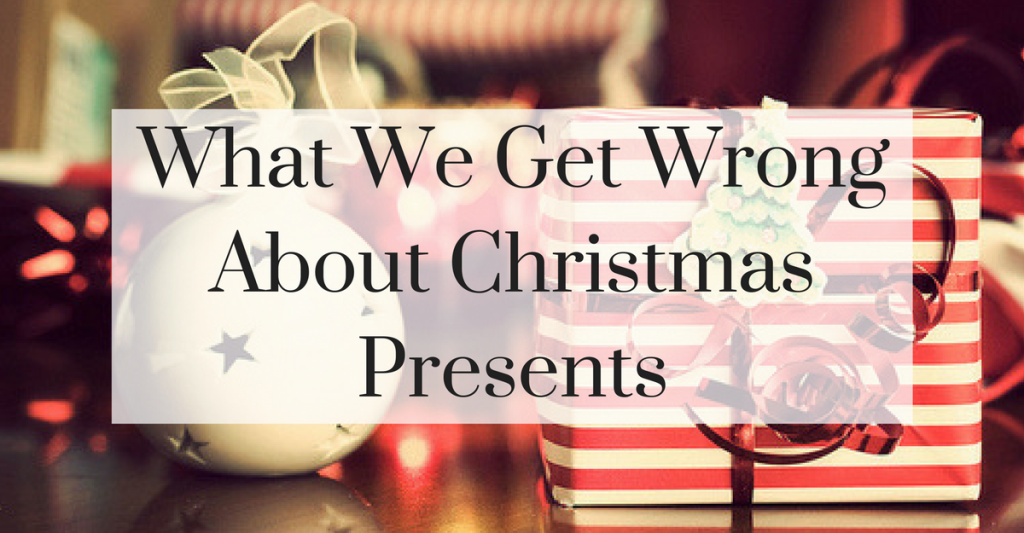 Let's be honest, while we Singaporeans love Christmas (the lights, the food, the endless parties and get-togethers!), picking out the perfect gifts for family and friends can be pretty tough.

We can readily admit that pinning down that unique, extra special and thoughtful gift for a loved one is no easy feat.

Chances are, after hours of searching and walking up and down Orchard Road, you would have settled for the typical gift sets, hampers and bags of sweet treats to give out to family, friends and colleagues (don't even try to deny it)!

[caption id="attachment_19318" align="alignnone" width="1024"]
the Nail Social for a relaxing spa day. Located along Haji Lane, this nail spa offers up manicures and pedicures for ladies and gents!

Using only products that are non-toxic, eco-friendly, fair-trade and/or cruelty-free, the Nail Social is also a socially-conscious salon that trains and employ underprivileged women, who often face a higher barrier to employment. The Nail Social in partnership with The Pink Room International Nail Academy co- sponsor Professional Manicurist Courses, which beneficiaries undergo enabling them to pick up skills of the trade.

Nail Social is probably one of the most comfortable nail spas around, with personal iPads loaded with movies and complimentary glasses of wine on weekends, guests are definitely in for a treat. The best news? Nail Spa can also play host to your bridal showers and intimate get-togethers!

The Nail Social
42A Haji Lane (2nd Floor), S189235
Opening Hours: Weekdays 11am – 9pm; Weekends 10am – 8pm
Contact: Phone +65 6717 3221 ; Whatsapp +65 8145 5226

[caption id="attachment_19272" align="alignnone" width="1024"]
AsiaForGood[/caption]

Founded by a group of local Singaporeans who were keen to overthrow the idea that Singapore is boring, Geylang Adventures strives to explore the different dimensions of Geylang while creating a more harmonious and welcoming society for all.

During the Geylang Adventures Trail, guests will get to explore the winding lorongs and back alleys and experience firsthand the eco-system that forms the backbone of Geylang. Intertwining stories of childhood adventures and interactions with the people who spend their days and nights in Geylang, the Geylang Adventures Trail hopes to break down barriers and open our eyes to a different side of this historic neighbourhood.

[caption id="attachment_19275" align="alignnone" width="960"]
Geylang Adventures
Geylang Adventures Trail
Daily, 7pm – 10pm
Weekdays: $35, Weekends: $40
Contact: [email protected]
3. Enjoy A Tranquil Moment @ Hush TeaBar
[caption id="attachment_19276" align="alignnone" width="955"]
4. Coffee Appreciation Courses @ Bettr Barista Coffee Academy [caption id="attachment_19278" align="alignnone" width="1024"]
DBS[/caption]

Not just a place to learn to appreciate coffee blends (not to mention unleash your inner hipster), Bettr Barista also trains women and at-risk youth to be baristas. A firm believer in holistic well-being, they also offer emotional development and physical skills training.

For more information on Bettr Barista Coffee Academy:

Bettr Barista Coffee Academy
37 Mactaggart Road, #07-03, S368083
Opening Hours: Weekdays 10.30am – 5pm; Saturday 10.30am – 2pm; Sunday Closed
Contact: +65 6509 0113
5. Learn How To Whip Local Delicacies @ Food Playground
[caption id="attachment_19280" align="alignnone" width="550"]
Food Playground[/caption]

Learning to cook is a skill most of us sorely lack (no, instant noodles don't count!), but fortunately, there are cooking schools here in Singapore where we can pick up some culinary skills!

Food Playground offers three-hour long cooking classes where participants can have a go at whipping up local favorites such as Nasi Lemak, Chicken Rice and Laksa!

[caption id="attachment_19281" align="alignnone" width="459"]
have a festive meal for a good cause at these restaurants that give back!

For more information of Food Playground: https://www.foodplayground.com.sg/

Food Playground
24A Sago St, S059020
Contact: 945223669
6. Dine In The Dark @ Dialogue In The Dark
[caption id="attachment_19282" align="alignnone" width="1024"]
Dialogue In the Dark[/caption]

Looking for a unique experience like no other? Dialogue In The Dark may just have what you're looking for!

Located at Ngee Ann Polytechnic, Dialogue In The Dark enables local Singaporeans to "learn to see in the darkness". Guests will go through a guided one-hour long tour, where they will walk around a typical housing estate, and later sail down the Singapore River – experiencing everyday environments that are vastly different without the gift of sight.

If you're looking for something a bit more intimate, Dialogue In The Dark also features Lunch in the Dark.

Guests will have a chance to experience a full course meal in complete darkness. Relying on other senses such as sound and touch, guests are encouraged to communicate, and help each other ease their fears and apprehension throughout the experience – perfect for that friend who's keen on trying out something truly unique!

[caption id="attachment_19283" align="alignnone" width="1024"]
SG Socially Conscious[/caption]

Most of us have tried our hand at picking up a new language. Let's be honest – most, if not all of us, know a handful words from another language (the perks of being born in Singapore!), but picking up a new language using just your hands is a whole new experience.

At Extraordinary Horizons, participants would be able to pick up basic Sign Language. If you're keen on delving deeper into how the deaf communities live their daily lives, Extraordinary Horizons offers customizable workshops where you can experience music, dance and song appreciation for the deaf!

[caption id="attachment_19285" align="alignnone" width="720"]
Singapore Sign Language Club[/caption]

Extraordinary Horizons strives to promote deaf awareness through their sign language courses, workshops and outreach programs. EO Horizons also features performances by those dabbling in the deaf performing arts scene in Singapore, and helps the disadvantaged gain self-confidence as well as attain life skills and knowledge!

Extraordinary Horizons
Entrepreneurs with Disabilities
3 Coleman St, #04-04, S179804

Scape Co Ltd
2 Orchard Link, #04-01, S23797

Contact: [email protected]

[caption id="attachment_19286" align="alignnone" width="500"]
Family Christmas[/caption]

Let's be honest, most of us can't use that many bath and beauty products at any one time. So this year, instead of popping by a store for those yearly gift boxes head down to any of these 7 local social enterprises and have a unique Christmas experience!

Feeling inspired? Check out this list of fun events that give back this festive season.

If you're looking to make your Christmas one that really counts, check out Asia For Good's socially conscious gift guides and hacks for a merrier Christmas!

(feature image: Reignite The Magic Of Christmas On Orchard Road With ION's Tiffany & Co. Xmas Tree!