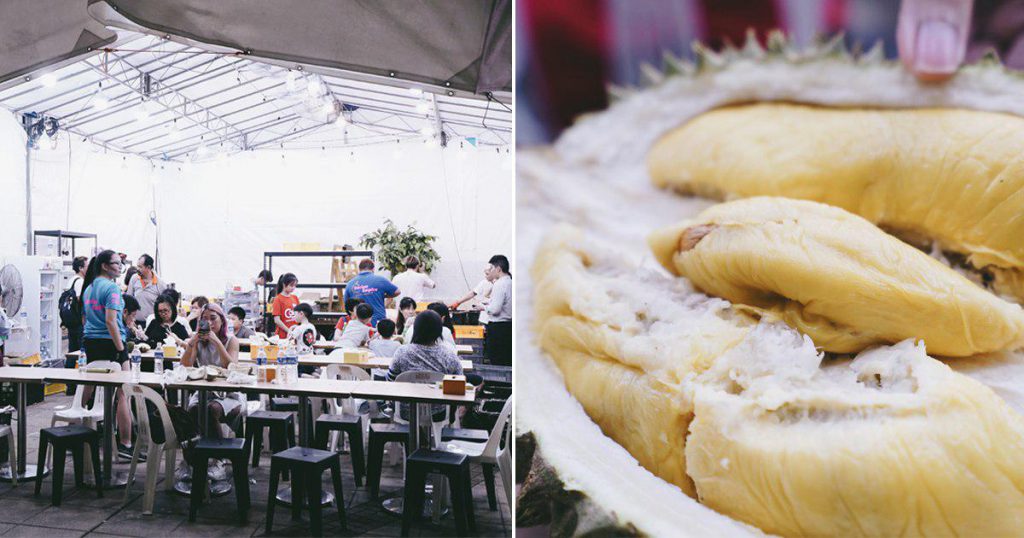 The thing about us durian lovers is that we're all slightly crazy.
There's just something about this thorny, creamy, pungent fruit that sparks a certain obsession in us.
Durian season is back in full swing and we definitely can't wait to stuff our faces with durians. We recently came across a Durian spot that was set up "For Punggolians, By Punggolians". Of course we had to check this place out.
Know Your Liu Lian
When we hear Punggol, we only think of BTOs and….Waterway Point? If you're a hardcore durian fan then you know the best places with old school durian sellers would be in Geylang.

Nonetheless, we headed down to Durian Empire at Punggol Plaza to check what the hype is all about.

[caption id="attachment_35793" align="aligncenter" width="4240"]
Image Credit: DiscoverSG[/caption]

We arrived at 7pm but there was already a long queue of Singaporeans waiting for their durians. And just like any typical Singaporean, we joined in the fun because our mothers always say, "Long queue means must be good".

The queue may seem intimidating but it was constantly moving so you don't have to worry about waiting in line for too long. They even gave out complimentary bottled water for their customers – 10/10 service.

We met with Martin, one of the founders of Durian Empire to ask him every question we ever wanted to ask a Durian Seller.

1. How do I know if the durian I picked is fresh?

A lot of people assume that watery durians are not good quality durians, but some people prefer this over the more creamier durians. So "freshness" is subjective in a sense.

Sometimes some durians may look good on the outside but the inside may still be underripe. You can also hit the durian to hear if it makes a "hollow" sound.

[caption id="attachment_35795" align="aligncenter" width="4240"]
Image Credit: DiscoverSG[/caption]

2. Are the durians that are pre-packed in plastic/styrofoam sold in supermarkets fresh?

I think most Singaporeans don't really like the packaged ones because of their perception that they're "low-quality durians". A lot of my friends have feed-backed that a lot of durian sellers pack the nice looking durians on the first row and the bad ones on the second row.

We want to be honest and have a long term relationship with our customers instead.

3. Do names (D24, Mao Shan Wang, Jin Feng) really matter?

The taste is really different. Taste is really subjective.

Not everyone loves Mao Shan Wang, some prefer XO because of the texture. Last time, I don't think they got all these different types of durians. Only now, because of the cross-breeds, there's all these different durians like Black Thorn etc.

4. Is there a sequence to eating durians?

Yes there is. Because of the overwhelming taste, if you taste something too strong and then go for the lighter one afterwards, it will just cover all the flavours and you won't taste anything at all.

[caption id="attachment_35803" align="aligncenter" width="4240"]
Image Credit: DiscoverSG[/caption]

You should eat the lighter ones first and save the stronger ones for last. For example, go for the D13, XO and save the Mao Shan Wang for last.

5. What durian would you recommend for first timers who are intimidated by the taste and smell of this fruit?

D13. This durian is not so overwhelming.

I would compare the D13 durian to cheddar because the taste is milder. The Musang King is like Blue Cheese because it is more flavourful. The Musang King is an acquired taste because not everyone would like the overwhelming flavour.

6. Are you sick of durian yet?

I still enjoy durian a lot. I'm not here every day so I don't face durians as often as they (his colleagues) do.

I'm still okay, I still enjoy my durian.

The durians sold at Durian Empire are extremely cheap now. Their Mao Shan Wang durians are going for as low as $13/kg and their D13 for $8/kg. If you're looking for a durian feast with your makan kaki, then this is the perfect place for you.

https://www.facebook.com/durianempiresg/photos/a.680391182164265.1073741828.675783929291657/783596661843716/?type=3&theater

We tried two different MSW, one from JB and the other from Pahang. Both had intense flavours but I prefer the one from Pahang. It had a slight nutty taste to it making it not as jelak as the one from JB.

[caption id="attachment_35794" align="aligncenter" width="4240"]
Image Credit: DiscoverSG[/caption]

The Pahang MSW's flesh was thicker and had a heavier bitterness as compared to the JB MSW which was more watery and had a sharper sweetness to it. We tried their D13 and XO durians as well. Although not as intense as the MSW, they definitely did not lack in flavour.

Their selection of durians are definitely some of the best I've had in Singapore. They were smooth, creamy and almost buttery even. The durian instantly melts in your mouth once you eat it.

In other words, you know its a good durian when you go "OOOOOHHH" or "AAAHHH" on your first bite. It was shiok lah.

[caption id="attachment_35805" align="aligncenter" width="1280"]
Image Credit: DiscoverSG[/caption]

The durians here are so good that they have customers from Bukit Panjang and Choa Chu Kang coming all the way to Punggol for their durians. Now that's what you call dedication.

Unfortunately they don't do delivery but if you're lucky, you might just be able to reserve some durians for yourself if there's enough for the walk-in customers as well.

If you're a durian connoisseur, then you can't miss out on the best and freshest durians from Durian Empire.

Durian Empire
Address: 168 Punggol Field, Punggol Plaza B1 Atrium, Singapore 820168
Opening Hours: Sun – Thurs: 4:30pm – 11pm, Fri – Sat: 4:30pm – 12:00 am
Website

Also Read Stuff Your Face With Cake At This Bake Sale Pop-Up – Happens Every Weekend Till August

(Header Image Source: DiscoverSG)