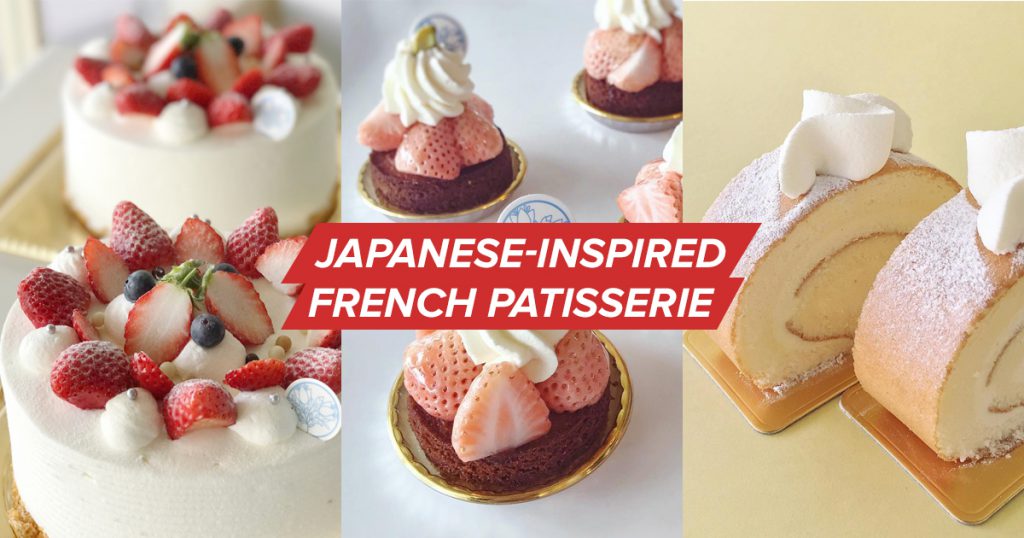 If there's one thing that I can eat for the rest of my life, it would be a good slice of cake.

Now I love cakes as much as, if not more than, the next person. I look forward to my birthday every year because I know I'll get to indulge in a rich Belgium dark chocolate cake, finished with a silky chocolate glaze.

[caption id="attachment_33875" align="aligncenter" width="450"]
GIF Credit: giphy.com[/caption]

I thought no other cakes could ever win my heart. Until, I came across a beautiful, magnificent piece of cake.

After a bit more research, it led me to this really quaint and simple patisserie. Flor Patisserie, you've won my heart this time round.
Fantastic Cakes And Where To Eat Them
Flor Patisserie is a Japanese-styled patisserie that serves authentic Japanese inspired French pastry.
They pride in using the freshest and best quality ingredients that have been sourced from overseas (Japan, Belgium, and France), and locally.

The chef at Flor Patisserie, Heidi, aims to create pastries based on the principle of honest baking with the finest ingredients.

Needless to say, their creations are truly a work of art.

Now that Cherry Blossom season is in full swing, Flor Patisserie is serving up sakura themed pastries and you for sure don't want to miss any of it.

First up, we have the Sakura Tofu Chiffon which is made with salt-pickled Sakura blossoms.

[caption id="attachment_33884" align="aligncenter" width="814"]
Image Credit: @flor_patiserrie[/caption]

The Sakura Pie is a puff pastry filled with almond cream, and topped with Sakura chantilly and strawberries. This pie is only available at their Takashimaya outlet.

[caption id="attachment_33879" align="aligncenter" width="1080"]
Image Credit: @flor_patisserie[/caption]

They also sell mini versions of the Sakura Pie which will be available in all outlets. This pie is made out of Sakura cream, pickled Sakura flower, and a creme d'amandes pie base.

[caption id="attachment_33880" align="aligncenter" width="930"]
Image Credit: @flor_patiserrie[/caption]

You can also gift your friends these cute Sakura Honey Cakes which is part of their Sakura Gift Range. These cakes are available in a box of 10.

Honestly, I'll just buy an entire box and gift it to myself instead.

[caption id="attachment_33882" align="aligncenter" width="960"]
Image Credit: @flor_patisserie[/caption]

This final pastry definitely wins my heart.

The White Strawberry Tart is made with Awayuki strawberry of the Sage prefecture in Japan. The Awayuki strawberries were hand carried back from Tsukiji Market in Japan so you know you're getting the best stuff.

The sweet strawberry is paired with a fragrant creme d'amandes tart, filled with custard and topped with chantilly.

[caption id="attachment_33883" align="aligncenter" width="1080"]
Image Credit: @flor_patisserie[/caption]

As this is a seasonal item on the menu, Flor Patisserie only makes a limited amount of these pretty tarts! It's best to call the outlet and reserve the tarts in advance.

You can order whole cakes via their website and enjoy a 5% discount. Best part, there's a delivery option so you can order their cakes for any special occasion.

[caption id="attachment_33885" align="aligncenter" width="1308"]
Image Credit: @flor_patisserie[/caption]

So if you're wondering where to bring your family or friends to this weekend, this patisserie will definitely satisfy all your sweet tooth cravings.

If you need a little bit more convincing, head on over to their Instagram and marvel at all of their beautiful creations.

Flor Patisserie (Siglap)
Address: 42 Siglap Drive
Opening Hours: Mon – Sun: 10.00am – 7.30pm
Contact No.: 6243 0813
Website

Flor Patisserie (Duxton Hill)
Address: 2 Duxton Hill #01-01
Opening Hours: Mon – Sun: 11.00am – 9.00pm
Contact No.: 6223 8628
Website

Flor Patisserie (Takashimaya)
Address: Takashimaya B2
Opening Hours: Mon – Sun: 10.00am – 9.30pm
Contact No.: 6737 1789
Website

Also Read 8 Steakhouse In Singapore That Will 'Meat' Your Expectations For Under $50

(Header Image Source: @flor_patisserie)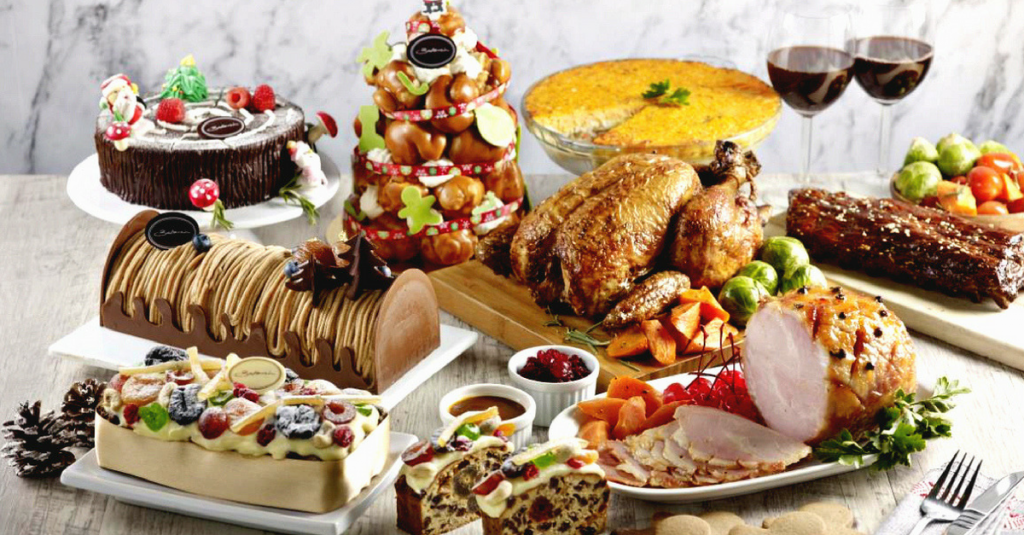 After hanging up your hundredth bauble, unwrapping your thousandth present, and exchanging your millionth kiss under the mistletoe, you bet it's time for something more. If what you're thinking is what we're thinking, it's none other than a Christmas feast.
Be it turkey with all the trimmings, indulgent desserts or spiced tipples, tis' the season for feasting!
Read on for our choice picks of binge-worthy festive fare.
1. Bakerzin
This festive season, let home-grown Bakerzin tantalise your taste buds, spice up your parties, and keep your guests coming in droves.
We were lucky enough to lay our hands on a few items in their Enchanting White Christmas Takeaway Menu, and it had us wishing Christmas would never end.
Roast Cajun Capon – $36 (approx. 2kg)
Roasted for 1 ½ hours under carefully-calibrated temperatures, marinated overnight and stuffed generously with aromatic herbs and spices – that's how much goes into preparing each roast.
It was all worth it because the chicken was moist, tender and flavourful. And, it came with crispy golden skin – a big plus.
We dipped pieces of the meat into the refreshing and tangy Chimichurri Sauce, an interesting Argentinian-inspired concoction. Equally tasty was the Christmas Tangy Sauce – an earthy, wholesome sauce made from hours of simmering chicken bones and tomatoes, and infused with red wine.
To round off the dish, we tucked into heaps of sweet roasted carrots cut to bite-sized perfection and moreish mini potatoes.
Yule Love Chocolate Log Cake ($52 – approx. 1.2 kg)
Not for the faint-hearted, don't mess with this bad boy unless you're a serious chocolate lover. We're glad to say that the confection contained more chocolate mousse than cake, with a chocolate-to-cake ratio of approximately 70 to 30.
Rich and decadent, this bittersweet chocolate mousse cake is made from fine Valrhona chocolate, and luxuriously covered with chocolate frosting. 
The cake was an overall winner, considering that it nailed the chocolate just right and it was a treat for the eyes. Decorated with adorable mini Santas and crunchy candy canes, we couldn't say no to it!
Galette des Rois – $40 (approx. 580g)
Add some pizazz to your Christmas party with this rustic Northern French pastry, otherwise known as the King Cake.
At first bite, we noticed how delicate and buttery the puff pastry was. It was considerably tastier and more buttery than most other puff pastries that we've tried. After that, the sweet and fragrant scent of the almond frangipane filling hit us. Baked to a golden brown hue, the cake looked as good as it tasted.
What's more, this dessert contains a fève (porcelain toy figurine)! According to tradition, the lucky person who finds it will be the "king of the day". Will it be you?
Croquembouche (Available in vanilla custard or Coffee Cream) – $22.80 for 27 pcs (approx. 800g)
A traditional French confection popular at weddings, this sweet pyramid dessert consisted of 27 mini choux pastries, stacked like an awesome Christmas tree.
Freshly-baked daily and glazed with a generous coating of indulgent, homemade butterscotch, this dessert is worth getting a belly for. The delicate and airy choux pastries were filled with rich and smooth coffee cream, which brought the dessert to great heights.
While the choux pastry was fluffy but not the fluffiest, the coffee cream was pretty amazing. Deep and fragrant, the coffee flavour was strong enough to lend the dessert an edge. Popping several of them made us feel like we'd downed a good cuppa, which we absolutely love.
Bakerzin
Enchanting White Christmas Takeaway: 11 November  2016 – 2 January 2017
Order: Place orders online at https://www.bakerzin.com/ or at Bakerzin outlets in Singapore

2. Cat and The Fiddle
Looking for a little slice of decadence?
Cat And The Fiddle's Happy, Merry, Boozy! cake is a dense black forest cake crafted from a layer of chocolate mousse atop a layer of brandy-infused chocolate sponge cake. A generous offering of brandied cherries comes with every second bite.
The cake even comes with a Christmas tag and two gold Christmas tree ornaments!
Our ambassador, Vanessa, tried the cake, and here's what she had to say:
"In lieu of the festive season, I tried The Cat and The Fiddle black forest cake that was such a sensation for my taste buds! Loved the surprise of brandy infused cherries and the soft mousse on the chocolate cake. Unconventional compared to the usual creamy log cakes!"
We'll be giving away this cake on our Facebook soon. Like us for updates!
Cat and The Fiddle
Happy, Merry, Boozy! is available from 15 November 2016 to 1 January 2016
Price: $49.90 (inclusive of GST)
Approximate weight: 1KG (good for 8-10 servings)
Order: Place your order online at https://www.catandthefiddle.com
3. Flor Patisserie
Named after the Portuguese word for 'flower', FLOR Patisserie is a Japanese-inspired confectioner serving authentic French pastry. For honest baking, fresh ingredients and sincerely tasty baked goods, step right up.
Strawberry Log Cake
Our ambassador, Stephanie, tried the Strawberry Log Cake, here's her experience:
https://www.instagram.com/p/BNl_YFjDwSo/
"I really liked that the cake was moist and fluffy, and that it wasn't very sweet, so it wasn't too rich or overwhelming to have one slice after another. Also there wasn't a lot of cream used, which I liked, cause it's not that oily and fattening. ? The strawberries were a little sour, but it was a nice contrast to the sweetness of the cake ??"
Chocolate Brick Log Cake
After a bite of this tasty brick, you'll probably crack a grin, but not your teeth! The bittersweet cake offered a solid chocolate punch.
A strong player in the texture game, smooth chocolate fudge cream was sandwiched between fluffy layers of dark chocolate sponge, complemented by crisp and flaky puff pastry on both sides of the cake.
Offering an interesting texture contrast, were the crunchy chocolate-covered pearls hidden within the cake
FLOR Patisserie
Strawberry Log cake
9.5 x 17cm – $53.50
9.5 x 24cm – $69.60
Chocolate Brick
9.5 x 17cm – $55.70
9.5 x 24cm – $72
Order: Place your order online at  at their outlets
4. Asanoya Bakery
Asanoya Bakery first captivated the people of Japan. Now, they're doing the same right here – blending the best of Japanese flavours with tried and tested European recipes. You might have known them for their creative spins on the salted egg craze – matcha lava, and maple lava salted egg croissants. This Christmas 2016, they've hit us with yet another round of tasty tricks.
Chocolate Banana Log Cake
Our ambassador, Victoria, tried the log cake. Here's what she had to say:
https://www.instagram.com/p/BN5eu1MBtQj/?taken-by=victoinette
Christmas Gift Box
Asanoya's Christmas Gift Box makes for a great gift – 1 traditional stollen, 9 pieces of Madeleine, 9 pieces of Christmas cookies and 9 pieces of Yuzu Miso Rusk, we guarantee the recipient of this box will be grinning like a Cheshire cat.
We enjoyed everything! Every bite of the stollen guaranteed fruit bits and it was very addictive. Unlike traditional Madeleines, the ones from Asanoya are green tea flavoured and perfect to go with tea. The Yuzu Miso Rusk was a unique twist – the mishmash of flavours is surprisingly delectable. You get a strong yuzu taste that does not overpower but was the perfect contrast. As for the Christmas cookies, they were crunchy yet smooth but not too dry.
All in all, we couldn't think of a better Christmas goodie box to gift to friends.
Asanoya
Christmas Gift Box: $78
Chocolate Banana Yule Log: $45.80
Website: Diana, tried the log cake. Here's what she had to say:
https://www.instagram.com/p/BN–qezDUXb/?taken-by=dianabakar_
"Bursting with nutty flavour, the log cake was an eruption of pure joy at first bite. A myriad of textures – from the smooth pudding, sponge cake to the crunchy wafer bits delighted my palate. The log cake was complete with dark chocolate toppings and the cutest reindeer that joyfully highlights this Christmas season."
Shangri-La Hotel, Singapore
Order online More details Pies & Coffee is a bold and vibrant cafe that specialises in freshly baked handmade gourmet pies and coffee. Tuck into their scrumptious buttery and flaky pastry crusts which will melt in your mouth.
This Christmas, Pies & Coffee has taken an unconventional twist on the traditional Christmas log cake by infusing our local favourite – Ondeh Ondeh flavour!
Bite into a piece of this Ondeh Ondeh-infused log cake and revel in the sweet yet not overpowering gula melaka creamy exterior. Coupled with slightly crispy coconut flakes and a deliciously soft and slightly moist pandan chiffon interior, it is almost like having an Ondeh Ondeh itself!
This unique cake is artfully decorated with white chocolate bites and sweet golden balls as well. For a refreshing and Singaporean-style log cake this Christmas, Pies & Coffee's Christmas Rhapsody Log Cake will surely not disappoint!
Pies & Coffee
Christmas Rhapsody (Ondeh-Ondeh) Log Cake
Weight: 1kg (approx.)
Price: SGD45 nett
Website
A slight nutty aftertaste of the cream rendered us dumbfounded until we found out it was made of kinako (soya bean) powder. Perfectly light and fluffy, you'll definitely reach for seconds!
Christmas Nama Chocolate Log Cake
Topped with an array of adorable Christmas treats, the Nama cake had a fluffy sponge that was mildly sweet and yet hid just the right amount of nama cubes within the airy layers of cream.
Definitely the choice for those who subscribe to the non-sweet tooth club but yet wouldn't mind finding the occasional hidden sweet delights.
Patisserie Glace
Website: Named after a stop on London's Northern Tube Line, Chalk Farm is a cosy white bakery that is well-known for its plethora of sweet treats. From delectable Salted Caramel Macadamia cupcakes to chocolate Guinness loaf, brownies and cheesecakes, expect an array of uniquely crafted desserts here at Chalk Farm.
Rich Christmas Fruitcake
Christmas will certainly be an even more beautiful festive season with this Rich Christmas Fruitcake from Chalk Farm! This yearly fruitcake offering looks positively gorgeous with its pink marbled fondant robe.
The dark and moist interior is a mixture of fresh prunes, sultanas, raisins, currants, glace cherries and walnuts which offers an authentic fruity flavour. Prepare your taste buds for a slight rum hint as you savour a small piece of this rich fruitcake. Artfully decorated with a crown of gold-dusted bay leaves and nuts, this Rich Christmas Fruitcake from Chalk Farm is surely a pretty sight.
Rich Christmas Fruitcake
Weight: 2.2kg
Price: SGD140 (including GST)
Espresso Meringue
You know that first sip of coffee on a busy morning? Chalk Farm's Espresso Meringue is the perfect embodiment of that warm cup of coffee. We were impressed by how the light coffee flavoured sponge cake balanced the dense heavy coffee-infused cream.
A slightly bitter kick of the cream pairs well with the light and slightly sweet fluffy sponge cake. If you're a true coffee enthusiast, Chalk's Espresso Meringue is a treat worth splurging on.
Espresso Meringue
Weight: 1kg
Price: SGD78 (including GST)
Midnight Chocolate Bundt Cake
Dark, smoky and just slightly bitter Chalk Farm's Midnight Chocolate Bundt Cake is crafted from a dense chocolate cake, unlike light sponge cakes.
This dessert is both a sweet treat and a perfect tea time snack. With hints of coffee and Christmas spice, Chalk Farm's Midnight Chocolate Bundt Cake is topped with chilli spiked chocolate for that perfect dark twist.
Midnight Chocolate Bundt
Weight: 1.2kg
Price: SGD86 (including GST)
Chocolate, Banana and Peanut Butter Cake
[caption id="attachment_19838" align="aligncenter" width="460"]
Chocolate, Banana and Peanut Butter Cake[/caption]

The Chocolate, Banana and Peanut Butter cake is layered with moist sponge and cream with banana. The peanut butter wasn't overpowering, and the chocolate was decadent, smooth, and left us wanting for more.

Chocolate, Banana and Peanut Butter Cake
Weight: 1kg
Price: SGD75 (including GST)
Chocolate Chestnut Log
[caption id="attachment_19839" align="aligncenter" width="705"]
Chestnut Log Cake[/caption]

The Chestnut Log featured luscious chocolate ganache slathered on the soft chocolate sponge, with a chestnut cream middle. With the perfect amount of sweetness, this gold encrusted log is fit for kings!

Chocolate Chestnut Log
Weight: 1kg
Price: SGD88 (including GST)

Chalk Farm
Paying homage to age-old recipes from their grandmothers, the folks at Butter Studio have a fierce passion for cakes and all things sweet. Everything is made by hand, well-sourced quality ingredients are used, and they're dedicated to making honest, delicious desserts.
What are some of their Christmas goodies? Christmas Rocher Ganache Log, Cupcakes, Macarons, and Speculoos Red Velvet Yule Log!
Butter Studio's Christmas Rocher Ganache Log has just the right amount of chocolatey goodness! Light chocolate sponge cake is coated with a luxurious and sweet layer of chocolate ganache.
Their cupcakes were also moist and flavourful, perfect for those with a sweet tooth. As for the Speculoos Red Velvet Yule Log, this soft and fluffy cake reminded us of cookie butter. The log was topped with cookie butter crumbs and they provided a nice crunch with every bite.
Butter Studio
Chocolate Rocher Ganache Yule Log, $62 per 1kg
Season's Greetings Cupcakes, $35 per dozen
Speculoos Red Velvet Yule Log, $62 per 1kg
Website:
While Christmas may be celebrated in many ways around the globe, one tradition has stuck worldwide – the Christmas feast. Food brings people together, sparks merriment and bonds hearts. What better way to experience the warmth of this season than to love, laugh and eat?
Header image credit: Bakerzin
Also, read Riverside Point Is Bringing The Joy of Feasting To The Next Level With All Their Amazing Giveaways!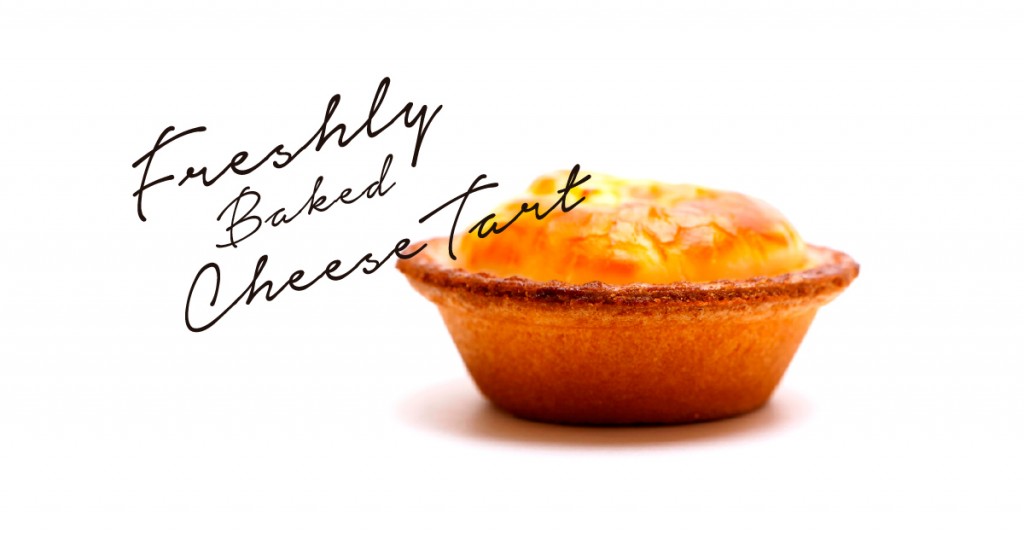 Gone were the days where we had to go all the way to Osaka, Japan to try Pablo's infamous yakitate cheese tart (baked cheese tarts). Now, we even have our own localised version with salted egg yolk!  So ladies and gentlemen, let's put salted egg croissants aside and start discovering cheese tarts!
1. Bake Cheese Tart
[embed]https://www.instagram.com/p/BEFmiWDnrs2/?taken-at=1024098622[/embed]

Originally from Hokkaido, Bake may be the latest tart store in Singapore and they sure know how to bake up a storm. Their signature baked cheese tart is made from two Hokkaido and one French cream cheese variety. The cream cheese, baked to a glorious golden, sits in crispy pastry. This cheese tart has gotten Hong Kong-ers waiting for over two hours just to get a bite of it.

[caption id="attachment_5605" align="aligncenter" width="1139"]
Credit: Bake Cheese Tart[/caption]

Apparently, it is Bake's special double-bake method that makes the tart particularly yummy. The process starts in Japan. First, the crust of the tart is baked, and the cheese is poured into it. Then in Singapore, the tart will be baked for a second time at 200 celsius. If the tart is not baked long enough, it won't be crunchy. And if the cheese is overbaked, it won't be in a molten state. It's all about the skills! Bake Cheese Tart will begin operations at the end of April at ION Orchard.

Bake Cheese Tart
Address: 2 Orchard Turn, #B4-33 ION Orchard
2. Prima Deli
[embed]https://www.instagram.com/p/BEAnBMZx0KJ/?tagged=primadeli[/embed]

For those who enjoyed the salted egg yolk croissant, here is something that will hit you like a crescendo. Local baker Prima Deli has recently launched not one but two types of cheese tarts – Original Lava Cheese Tart and Salted Egg Lava Cheese Tart, at a very reasonable price. It is so popular that their cheese tarts have sold out in an hour.

[caption id="attachment_5610" align="aligncenter" width="1050"]
Credit: here for the outlets
3. The Icing Room
[embed]https://www.instagram.com/p/BEGOTsXmpQc/?tagged=theicingroom[/embed]

Also on the cheese tart bandwagon is The Icing Room with their very cheesy, soft like tofu Original, Tiramisu (not available yet) and Golden Lava (salted egg) Cheese Tarts. What we love about these tarts is the consistency of the texture, so velvety and smooth in your mouth, and the cheesiness is not too over the top.

[caption id="attachment_5609" align="aligncenter" width="1000"]
Credit: The Icing Room[/caption]

If you think one is never enough, they're currently having a buy 3 get 1 free promotion with each tart priced at $2 (limited quantities available). The cheese tarts are currently available at The Icing Room [email protected] outlet and will soon be making a debut at BreadTalk. They will also be dishing out their Tiramisu flavoured cheese tarts in the near future.

The Icing Room
Address: [email protected], #B2-58/59
Contact number: +65 6634 4486
Operating Hours: Daily, 10am – 9pm
4. Flor Pâtisserie
You know you can always count on Japanese bakeries for drool worthy and 'so pretty I don't have the heart to eat' desserts. To get your artisanal ice cheese tart fix, we highly recommend FLOR Pâtisserie, a Japanese-styled patisserie serving authentic Japanese-inspired French pastry.

[embed]https://www.instagram.com/p/BD-mMR1u4a5/?taken-at=123974080&hl=en[/embed]

You might want to bring some friends along because their cheese tarts are available in 8 different flavours- Original, Earl Grey, Green Tea, Caramel, Chocolate, Orange and Maple (more friends, more chance to try different flavours). And the best part? FLOR's cheese tarts are almond cookie based, giving extra flavour.

FLOR Pâtisserie
Click here for the outlets

How do you like your cheese tart? Are you a baked cheese tart person or do you like it chilled? Drop us a comment and let us know!

(Header Image source: Bake Cheese Tart)

Also read: The Best High Tea Spots For All Occasions That Will Leave You Feeling Blissful!