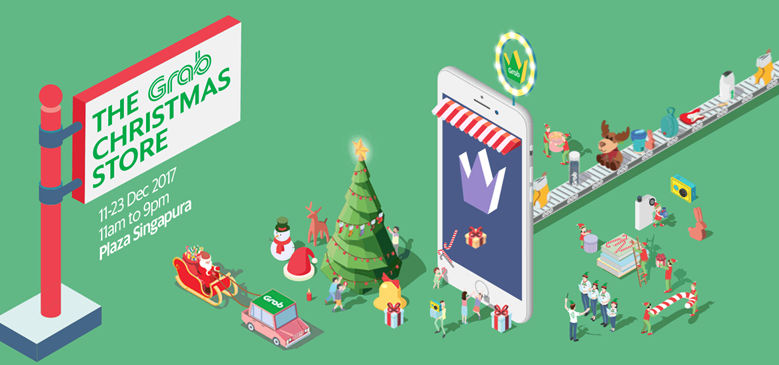 We are now just 10 days away from Christmas!

Amidst all the Christmas cheer, here's one more reason to celebrate. If you've been an avid Grab user, Grab has a present (or many presents) for you.

[caption id="attachment_32216" align="aligncenter" width="779"]
Image Credit: Grab[/caption]

From 11 – 23 December, the Grab Christmas Store is popping up at Plaza Singapura – and you won't have to spend a single cent. The first and only store of its kind, you can shop over 88 gifts, ranging from accessories and beauty products to homeware and books, using the GrabRewards points you've accumulated.

For 2,000 points, you can choose from a selection of cups, bowls, and jewellery. For 4,000 points, you can get a jar of premium jam by Straits Preserves. And for 6,000 points, you can choose from body scrubs and fragrant candles.

[caption id="attachment_32221" align="aligncenter" width="564"]
Image Credit: Pinterest[/caption]

And if you manage to rack up 40,000 points – that's A LOT of Grab rides – you get to choose from what we think are the best items of the lot: a JBL portable bluetooth speaker and a XiaoYi Action Cam, just to name a few.

[caption id="attachment_32229" align="alignnone" width="1766"]
Image Credit: Pinterest[/caption]

And that's not all.

For even more Christmas rewards, check out the GrabRewards Catalogue inside your Grab app. If you see something you like, redeem it via the app, and pop by the Grab Christmas Store to collect it.

[caption id="attachment_32223" align="aligncenter" width="700"]
Image Credit: Groupon[/caption]

Grab users, be sure to check how many GrabRewards points you've accumulated and redeem them ASAP! All items are only available while stocks last so don't be afraid to be kiasu!

Grab Christmas Store
Address: Plaza Singapura, 68 Orchard Road, Singapore 238839
Opening Hours: 11am – 9pm
Date: 11 – 23 December 2017
Website

Also read 8 Best Fish Soups In S'pore That Will Have You Savouring Every Last Drop

(Header Image Source: Grab)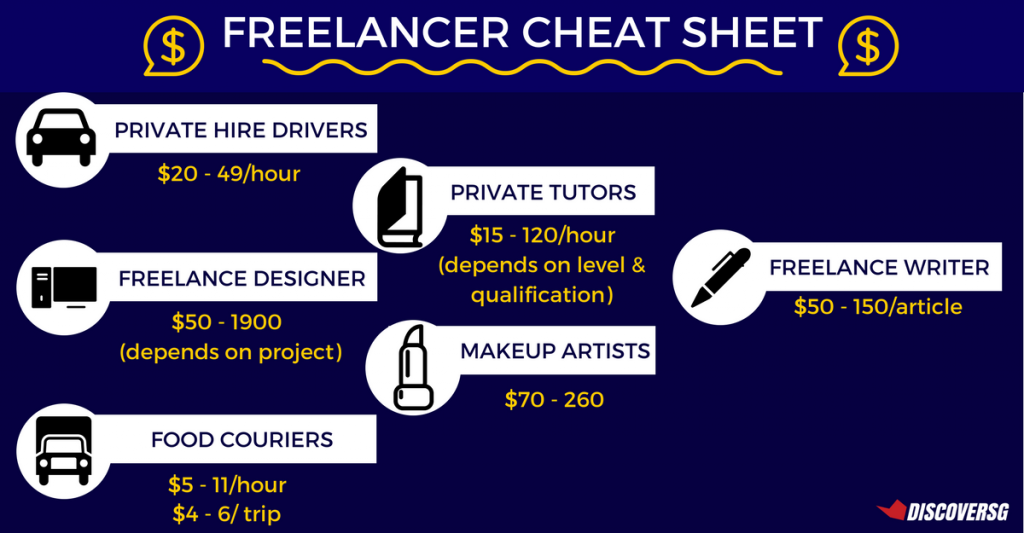 Freelance jobs are increasingly popular among youth in Singapore. Since 2015, why you're taking the freelancing route are all problems faced by freelancers on a daily basis.
We decided to uncover the truth behind 4 popular freelancing jobs here in Singapore and find out the 'real cost' of working as a freelancer.
1. Private Hire Drivers
[caption id="attachment_23010" align="alignnone" width="1024"]
You have a license and your dad hates to drive. Might as well make some money right?! You'll get to drive whenever and wherever you want and you'll be meeting loads of new people (like good looking lads and ladies). You'll also finally be able to tell your mum you were out late "because I was working!"
Youth.sg[/caption]

The Moolah: Expect to get paid from guaranteed fare incentives!

Private-hire drivers are part of a growing gig economy. Gig economy sees such as overtime pay. They also do not receive statutory benefits such as Central Provident Fund contributions from the companies they work for.

So who's helping private-hire drivers?

[caption id="attachment_23011" align="alignnone" width="1024"]
National Private Hire Vehicles Association (NPHVA) inked a partnership with Grab. Facilitating feedback between drivers and Grab, NPHVA seeks to foster stronger partner relationships. Grab also works in conjunction with e2i (Employment and Employability Institute) to provide mature workers with the opportunity to become drivers with Grab.
2. Food Couriers
[caption id="attachment_23014" align="alignnone" width="1024"]
The Benefits: On the move for most of the day, you'll look super cool wheezing your way through traffic. Work whenever you want and you'll finally get that extra amount of cash for the new iPhone (there's always a new one!).

The Shady Side: Seen Premium Rush? While you're not going to be targeted by a crazed loan shark, you'll The Moolah: At $5 – 11 an hour and an additional $4 – 6 a trip, you'll be making an average of $13 – 30 an hour!
3. Freelance Designers
Let's face it, clients are difficult. You'll meet the flaky, the rude and the uptight. And if you're planning to do freelance designing as a full time job, you'll spend A LOT of time worrying about when's your next job (and if you'll be able to afford rent next month).
The Moolah: While you may start out charging at $50 for one-off projects. Once you've built your portfolio, a large project (like a website) could fetch you a cool $1,000 (or more)!
4. Freelance Tutors
Under the Employment Act, part-timers without contracts like tutors, aren't covered by the Manpower Ministry. With online tuition agencies popping up, you might not even see the organization that has hired you!
NTUC Strives To Protect Freelancers

There is an estimated 200,000 freelancers in Singapore. Unlike employed individuals, freelancers here in Singapore are not legally entitled to statutory protection and benefits such as CPF contributions, annual leave, medical leave and rights under labour legislation such as Employment Act and the Work Injury Compensation Act.
[caption id="attachment_23017" align="alignnone" width="1024"]
NTUC U Portal[/caption]
In its recent Budget 2017 recommendations, NTUC called on the Government to review labour legislation that could potentially help ensure that the interests of freelancers and the self-employed are protected. NTUC is currently focusing on three ways to help protect the interests of freelancers:
Expanding the role of Tripartite Alliance for Dispute Management (TADM). Freelancers will have access to tripartite networks to resolve disputes.
Urging the Governments to review how freelancers can currently make CPF contributions and also receive support from the Government in terms of CPF retirement adequacy.
Urging service buyers to keep manpower costs at advisable rates enabling freelancers access to CPF contributions.
Last year, NTUC's Freelancers and Self-Employed Unit (U FSE) in collaboration with e2i held a 'Fair For Freelancers'. Freelancers were given the opportunity to come together and gain new business opportunities. U FSE introduced digital platforms to help connect freelancers with clients for project collaborations.
The Labour Movement continually works closely with the other Tripartite partners – Ministry of Manpower and employers, to create a better working environment for employees. Through Collective Bargaining, Dispute Resolution mechanism and Advocacy, NTUC is giving a voice to the working people of Singapore.
https://www.facebook.com/anghinkee/photos/a.152579238126400.53313.149772861740371/1459249270792717/?type=3&theater
For more information on how the Labour Movement is speaking up for various worker segments, check out Labour Movement's Budget 2017 Recommendations.
Also Read: True Heroes – 4 Invisible Jobs Singaporeans Take For Granted