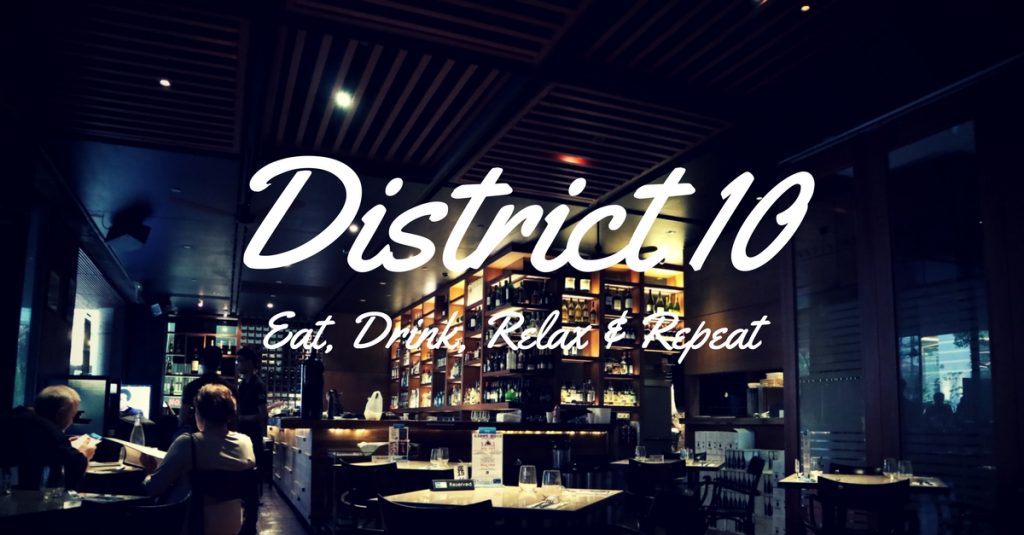 Running overtime tonight? That's not a problem.

At Singapore After Nine, we bring you the scoop on tried-and-tested, late night gems for you to rest your work-weary self.

This time, we're featuring Image Credit: Chong Yi Sze[/caption]

Alternatively, enjoy the breeze at the alfresco dining area:

[caption id="attachment_23921" align="alignnone" width="2880"]
Image Credit: Chong Yi Sze[/caption]

Here is where you'll find genuinely good Italian food that doesn't call for a pound of flesh. They're generous with their portions, do not scrimp on their cheese (cheese lovers take note) and use fresh, quality ingredients. Read on to see what's good.
Starters
1. Caesar Salad from the Cheese Wheel Menu ($19++)
[caption id="attachment_23902" align="alignnone" width="2880"]
Image Credit: Chong Yi Sze[/caption]

Prepared in a uniquely traditional Italian method right by our table, the salad was tossed in the middle of a 20kg Grana Padano cheese wheel.

[caption id="attachment_23919" align="alignnone" width="871"]
Image Credit: Chong Yi Sze[/caption]

While the salad was being mixed, the server scraped off fluffy cheese from the wheel to add a creamy, sweet-salty zing to the salad. Smoked chicken and light, crispy croutons were the cherry on top. It was such a refreshing accompaniment to our meal, and also doubled as an effective palate cleanser.
2. Wagyu beef carpaccio ($18++)
[caption id="attachment_23904" align="alignnone" width="2880"]
Image Credit: Chong Yi Sze[/caption]

This dish consisted of finely sliced wagyu, topped with fresh rocket leaves and mushrooms, and drizzled with truffle oil. Amidst the bed of rocket leaves lay delicately-shaved pieces of 24-months old Parmesan cheese. All in all, it was a tasty, clean and refreshing dish. There were no hints of fishiness from the beef, which was sweet and tender. The rocket leaves were fresh, and tasted great with the dressing.
3. Oven Baked Eggplant Alla Parmigiana Style ($16++)
[caption id="attachment_23910" align="alignnone" width="2880"]
Image Credit: Chong Yi Sze[/caption]

This dish of eggplant gratin proved to be a delicious, well-executed twist on the popular potato gratin. Baked to a pleasing softness without being overly mushy, the eggplant pieces were doused in a tomato-herb based sauce that had more flavour and depth than regular pasta sauce.

While potatoes might have weighed the dish down, the eggplant added a lighter touch that was delightfully refreshing. We bet you'll love the chewy golden Parmesan crust atop the eggplant base. It was generously thick and stringy, and crispy at the edges.
Pizza
4. District 10 Pizza ($19++)
[caption id="attachment_23905" align="alignnone" width="2880"]
Image Credit: Chong Yi Sze[/caption]

This dish was the highlight of the night. The pizza arrived warm and toasty, brimming with the aroma of a good ol' stone oven. The crust was fluffy and so chock full of ingredients that it bent under their weight when we tried to pick up the pizza slices. The Pancetta ham was smoky and savoury, its fatty juices adding a flavour burst in every bite. Refreshing zucchini pieces were thoughtfully added to counter the richness of the ingredients, which included a sunny side up egg and mushrooms.
Pasta
5. Spaghetti Carbonara with Black Truffle ($24++)
[caption id="attachment_23908" align="alignnone" width="871"]
Image Credit: Chong Yi Sze[/caption]

This dish was another one of our favourites. Al dente pasta coated with creamy carbonara sauce and infused with truffle – what's not to like? The dish arrived with a sprinkling of finely-shaved black truffle, and a perfectly poached egg that oozed golden yolk.
6. Homemade Angel Hair with Live Lobster, Chilli, Basil and Fresh Tomatoes ($34++)
[caption id="attachment_23909" align="alignnone" width="2880"]
Image Credit: Chong Yi Sze[/caption]

Looking ever so tempting, this dish no doubt lived up to its appearance. The tomato-based sauce was tangy and appetizing, which made us lose track of how much pasta we were eating. The zesty hit of tomato also went very well with the half-shell lobster, which could have been a tad bit more springy.
7. Warm Lava Chocolate Cake and Vanilla Ice Cream ($14++)
[caption id="attachment_23912" align="alignnone" width="2880"]
Image Credit: Chong Yi Sze[/caption]

All it took was a gentle cut and the chocolate lava flowed like an endless river. Safe to say, this tops our list of chocolate lava cakes. The chocolate flavour was intense and the consistency of the lava was great. It wasn't too runny, nor was it too thick. The cake itself was moist and fluffy, which was a major plus point.
8. Traditional Italian Tiramisu ($14++)
[caption id="attachment_23996" align="alignnone" width="6000"]
Image Credit: Victoinette[/caption]

Likewise, the tiramisu was another crowd pleaser.  Topped with cocoa powder and garnished with a berry and holly leaves, it looked like Christmas came early. The light cream sat atop a fluffy cake base flavoured richly with coffee, and was not as bitter as some other tiramisus out there.

While District 10 is known for serving up great-tasting Italian fare, its latest outlet at Suntec City specialises in something rather more unique, but equally delicious. There, choose from an ample variety of flavoursome, dry-aged meats that are beautifully marbled and paired off with premium red wine.

Last but not least, what better way to round off the night than with these sweet deals?

[caption id="attachment_23916" align="aligncenter" width="306"]
Outlets
UE Square
Address: 81 Clemenceau Avenue #01-15/16, UE Square Shopping Mall Singapore 239917 (Corner of Unity Street and Clemenceau Avenue)

Monday to Thursdays: 11.30am to 12.00am (Last order: 10.30pm)
Fridays & Eve of Public Holiday: 11.30am to 1.00am (Last order: 11.00pm)
Saturdays: 09.00am to 12.00am (Last order: 10.30am)
Sundays & Public Holidays: 09.00am to 11.00pm (Last order: 10.30pm)

The Star Vista 
Address: 1 Vista Exchange Green, The Star Vista #01-42/K3, Singapore 138617 (Beside taxi stand)

Mondays to Thursdays: 11.30am to 11pm (Last order: 10.30pm)
Fridays & Eve of Public Holiday: 11.30am to 12am (Last order: 11.00pm)
Saturdays, Sundays & Public Holidays: 11.00am to 11.00 pm (Last order: 10.30 pm)

Suntec City
Address: 3 Temasek Boulevard, Suntec City Mall #01-514/515, Singapore 038983 (Beside Tower 2 Office Lobby, near the Fountain of Wealth)

Monday to Sunday: 11.30am to 11pm
Lunch: 11.30am to 3pm (Last order: 2.30pm)
Dinner: 6pm to 10.30pm (Last order: 10pm)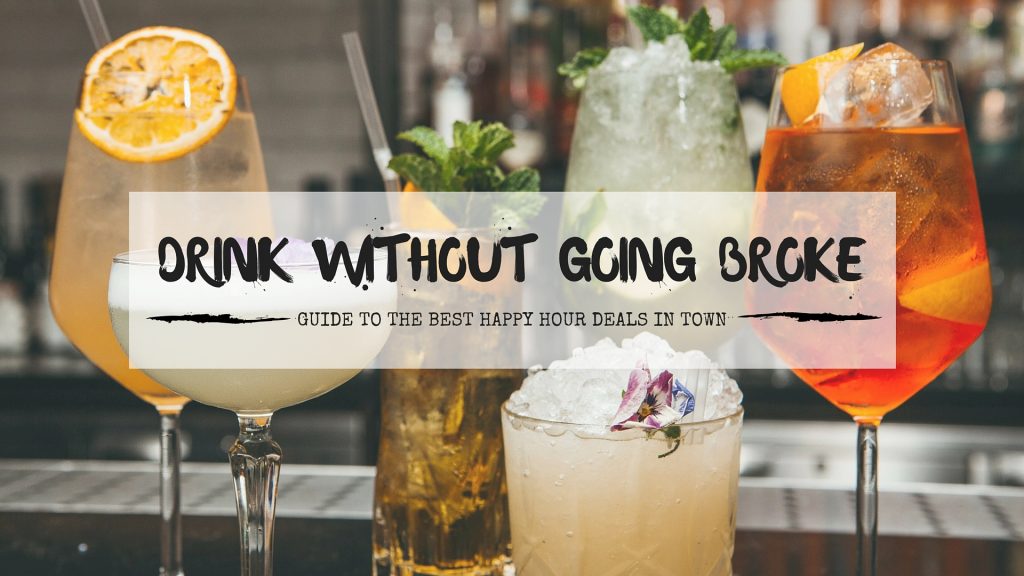 Rated one of the most expensive cities in Asia for alcohol, it would seem logical for alcoholics to be seen at neighbourhood coffeeshops instead of exorbitant bars and pubs that will rip you off your wallet. Well, drinking in Singapore doesn't necessarily have to cost you a bomb. With awesome happy hour promotions, booze prices are slashed and your wallet gets a little breather.
Here's our take on great happy hours places that aren't hidden at the far ends of Singapore. With pubs, bars and restaurants located all at the central area – Orchard Road and Bras Basah, you'll never have to travel far to get your cheap booze.
1. Loof
[caption id="attachment_8794" align="alignnone" width="1024"]
Image credit: Loof[/caption] [caption id="attachment_8795" align="alignnone" width="1024"]
Image credit: Loof[/caption]

At Loof, the early bird catches the best prices. Awarded Singapore's best rooftop bar, it is one of the most dope spots in downtown CBD. Bask in its urban garden and take in the best view of Raffles Hotel, or soak up beats from resident DJs and theme party nights. From 5pm to 8pm on weekdays, all drink prices will match according to the time. Housepours, wines and beer are $5 from 5-6pm, $6 from 6-7pm and $7 from 7-8pm. Arrive early for cheaper drinks! With such prices, imagine the number of glasses we'd be ordering.
Image credit: sgasiacity[/caption] [caption id="attachment_8811" align="alignnone" width="1024"]
Image credit: wearespaces[/caption]
After a dramatic makeover of the iconic Killiney Post Office, KPO opened its door in 2010. It now accommodates up to 500 people with both indoor and outdoor seating available. This bar has become a staple on Orchard Road.
Happy hours happen daily till 8pm and day-time alcoholics will rejoice over housepour wines and spirits that are available from $10 to $11 and beers on tap from $12. For the ladies, head down on Wednesday nights for martinis at $8. Enjoy the tunes that their DJs spin or listen to hip-swaying music as you kick back and relax over a cold pint of beer or wine. Chill the night away while you enjoy the hustle and bustle of city life.
Emerald Hill outlet, Image credit: icecoldbeer[/caption]
Opened in 1994, Ice-Cold Beer is housed in a restored Peranakan shop house and offers customers icy-cold beers from unique ice tanks. Beers are served in beer glasses chilled to -3 degrees Celsius to keep them icy-cold for a long time. Choose from over 60 types of bottled and draught beers from local to international beers.
During happy hour, get a pint of Hoegaarden at $11 nett or a jug of Stella Artois at $23. Located just off the busy Orchard Road, Ice-Cold Beer allows its customers to relax in its quiet and comforting space. They also have another outlet at SMU where you can get a 2 bottle deal of Kronenberg Blanc for $15. Reasonably priced cold beers served by friendly staff in a relax casual environment – sounds good!

Happy Hour: Daily 11am – 9pm
Address: 50 Stamford Rd #01-01, Singapore 178899
Contact: 65 6837 3585
Opening Hours: Mon-Thu 11am-12am, Fri, Sat, Eve of PH 5pm-3am 11am-1am, Sun/PH 4pm-12am
4. Tanuki Raw
[caption id="attachment_8798" align="alignnone" width="1000"]
Image credit: Tanuki Bar[/caption]

Known for its insane happiest hours where freshly shucked oysters go for $2, martinis and cocktails for $10, a pint of beer of $12, this place is the most value-for-money food and drink spot along Orchard Road. Enjoy happy hours from 5pm-8pm daily after a hard day's work. Choose between enjoying live music on their alfresco balcony overlooking Orchard Road, or on their patio in the beautiful Bras Basah civic district.

Need we say more? With happy hours including fresh oysters and a good cold cocktail or beer, this is the place to be hanging out comfortably after a long day without burning a hole in your pocket. What's more, enjoy these prices without any extra service tax or GST. Do note that Tanuki Raw does not take reservations so remember to arrive early to avoid long queues.

Tanuki Raw (Orchard Central) 
Happy Hour: 5pm-8pm
Address: 181 Orchard Road, #04-01 Orchard Central, Singapore 238896
Contact: 65 6636 5949
Opening Hours: Daily 1130am-1030pm

Tanuki Raw (Kapok)
Happy Hour: 5pm-8pm
Address: 111 Middle Road, #01-05 National Design Centre, Singapore 188969
Opening Hours: Daily 10am-10pm
5. Five Izakaya
[caption id="attachment_8799" align="alignnone" width="640"]
Image credit: paowmagazine[/caption]

Five Izakaya is Singapore's first Tachinomi Izakaya inspired bar. Modelled after the 300-Yen bars, the "five" in their name refers to the price of the drinks. Yes, you can get Asahi, Shochu, Choya, and basically every drink here at $5! It's not a gimmick. It's happy hour here everyday, at anytime! Even the snacks here are $5. Unbelievable.

Five Izakaya has 4 outlets. One of them is just off Orchard Road at Cuppage Terrace. Enjoy live music and cosy ambience with drinks and food at affordable prices. With such cheap prices in town, this is the perfect place to catch up and chill out after a long day at work. Getting a seat here might prove challenging. Hence, visit early or make a reservation at least 1 day in advance! Do check out their other 3 outlets and opening hours
Happy Hour: Everyday, anytime
Address: 25 Cuppage Road, Cuppage Terrace, Singapore 229454
Contact: 65 6733 8097
Opening Hours: 5pm – 12am Daily
6. No. 5 Emerald Hill
[caption id="attachment_8802" align="alignnone" width="1024"]
Image credit: moneysmart[/caption]

Located conveniently a street away from Orchard Road, this Peranakan-style bar has a number of extremely cost saving drink options. It has the longest happy hour session in town with deals from 12pm to 9pm followed by Martini specials from 9pm all the way to 1am. With two Martinis for $16, this bar has won our hearts for late night drinks in the city. Their wide range of cocktails including Chilli Vodka and No. 5 Cocktail are not to be missed. The drinks pair delightfully with their famous Prawn Paste Chicken Wings and selection of Pizzas.

Their relaxed, unpretentious atmosphere has remained unchanged over the years; and that has drawn us back every time.
Image credit: Park Hotel Group[/caption] [caption id="attachment_8807" align="alignnone" width="1024"]
Image credit: Park Hotel Group[/caption]
Located strategically in the heart of Orchard, Bar Canary is an open-air bar perched on the fourth level of 5-star Grand Park Orchard Hotel. Away from the hustle and bustle of city life, Bar Canary provides an idyllic oasis for shoppers and busy working adults to relax. With mesmerising fairy lights illuminating its alfresco bar, its atmosphere is spot on and it is one of Orchard Road's hidden gem.
Beat the clock and jumpstart your happy hour at the Bar Canary with their special deals available from 6pm to 9pm. Round up your friends and colleagues and choose from a bucket of 8 bottled beers or a set of house red or white wine and your choice of 4 signature cocktails from $60++ at 6pm, $70++ at 7pm, $80++ at 8pm and $90++ at 9pm. At Bar Canary the early bird gets the cheap booze! Cocktail fans might want to try their signature Coco Chanel. Coconut liqueur shaken with gold rum, fresh coconut water, lime juice, fresh mint and wheatgrass which leaves a refreshing taste.
For some mid-week fun, on Wednesdays from 7pm to 9pm, girls get free flow champagne, housepour wines, spirits and signature cocktails at $50++ while men pay $100++. Head down to Bar Canary and enjoy a good catch up session with your friends and colleagues!
Here's An Ingenious Way To Easily Save 10% Off Your Dining Bills