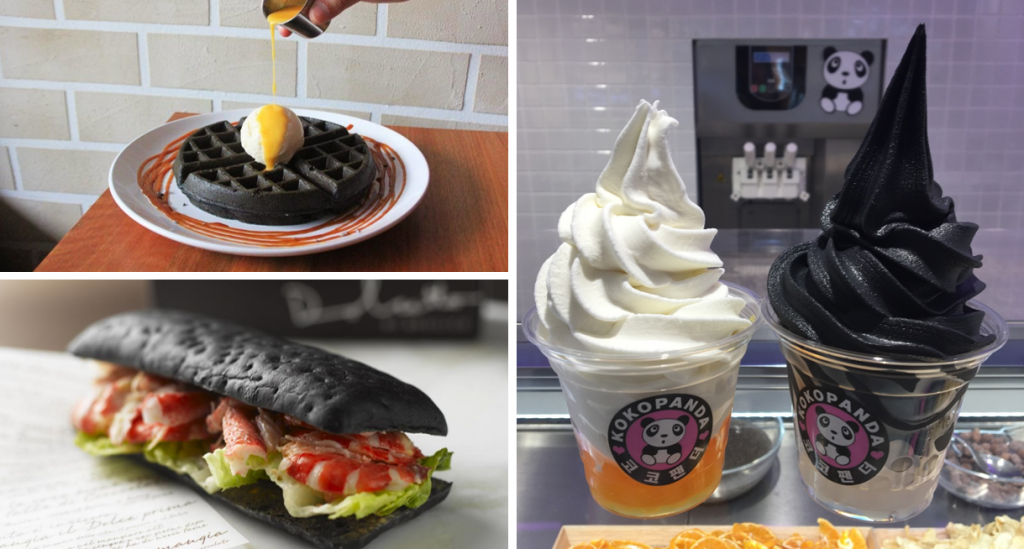 Black – we love to wear it, we love it on makeup, we love to… eat it?
Black coloured foods seem to be the next big food trend and we think you'll be seeing more of these dark, moody foods all over your Insta-feeds. From sinful desserts to devilish mains, with foods as black as our hearts, we're not going to say no.
We've rounded up some of the blackest foods in Singapore, so let your inner goth come alive with these cold, black treats.
1. 黑 "Hei" Rice ($22) – Paddy Hills
[caption id="attachment_27591" align="aligncenter" width="1024"]
Image Credit: 
Image Credit:
Image Credit: Burpple User Seth Lui[/caption]

This signature dish consists of the OG black food, squid ink pasta, tossed with a generous amount of crayfish, scallops, prawns, clams, and squid. The pasta is infused with the natural taste of the sea from the squid ink, and the sauce is briny and flavourful. While squid ink pasta is not hard to find across our little island, this is one of the better squid ink pastas you can get in Singapore.

Pasta Brava
Address: 11 Craig Road, Singapore
Opening Hours: Mon – Sat: 11.45am – 2.15 pm (lunch), 6.15pm – 10.15pm (dinner); Closed on Sun & PH
4. Squid Ink Panini with King Crab and Prawns ($14) – Dolcetto by Basilico
[caption id="attachment_27694" align="aligncenter" width="1000"]
Image Credit: Image Credit:  Image Credit:  Image Credit:  Image Credit:  Black Magic[/caption]

You may have chanced upon this all-black dessert before. Now, it's back again in all its glory. The magic unfolds in an intricately designed medley of black sesame panna cotta, squid ink profiterole, crispy charcoal biscuit, lace tulle, black berries, with a chocolate wand. A tasty and quirky combination that works wonders!

Platform 1094
Address: 1094 Serangoon Road, Singapore 328192
Opening Hours: Tue – Fri: 11am – 10pm; Sat & Sun: 10am to 10pm; Closed on Mon
10. Foie Gras Macaron ($12) – Hashida Garo
[caption id="attachment_27604" align="aligncenter" width="1500"]
Image Credit: 
Image Credit: Burpple User V T[/caption]

To beat the heat, come to the dark side with KokoPanda's black frozen yoghurt, made with charcoal and roasted coconut husk.

It's a tangy, refreshing and absolutely yummy alternative to ice cream. What's more, it's also a much healthier choice as it comes topped with superfoods. These include dried strawberry, apple, pear, persimmon and Jeju tangerine, as well as caviar bubbles made with real fruit juice.

A single topping with the base froyo will cost $4.90, while a froyo with 3 toppings will cost $5.90, with additional toppings priced at $0.80 each.

KokoPanda
Address: 68 Orchard Road, #B2-60, Plaza Singapura, Singapore 238839
Opening Hours: Mon – Sun: 10am – 10pm
12. Homemade Black Soy Ice Cream ($4.90 for Regular, with 2 toppings) – Dofu
[caption id="attachment_27607" align="aligncenter" width="480"]
Image Credit: 
Image Credit: Burpple User Zhi Hui Lim[/caption]

This grand tower consists of fine milk shavings topped with a generous layer of black sesame and kinako powder, a heap of red beans, and a scoop of ice cream. Feast your eyes on the Black Sesame Bingsu, a slayer at Nunsongyee Korean Dessert Café that for good reason, has garnered its own fan club.

Nunsongyee Korean Dessert Café
Address: 534 North Bridge Road, Singapore 188749 | #02-25 Century Square, 2 Tampines Central 5, Singapore 529509 | 227 Upper Thompson Road Singapore 574359 | The Midtown Singapore, 1187 Upper Serangoon Road #01-14, Singapore 534785
Opening Hours: 24 hours daily (North Bridge Road branch) | Mon – Sun: 12pm – 10pm (Century Square branch)

It seems when it comes to food, black is now the new black. With all the multi-coloured and ombre foods and drinks we've been seeing lately, this is definitely a refreshing and much welcomed change.

If you're in the mood to try something new, check out these deliciously dark eats. And of course, make sure to bring a mirror with you–you don't want to be out in public with black stuff all over your teeth!

Also read 8 Instagram-Worthy Drinks That Will Have Your Followers Spamming The Like Button