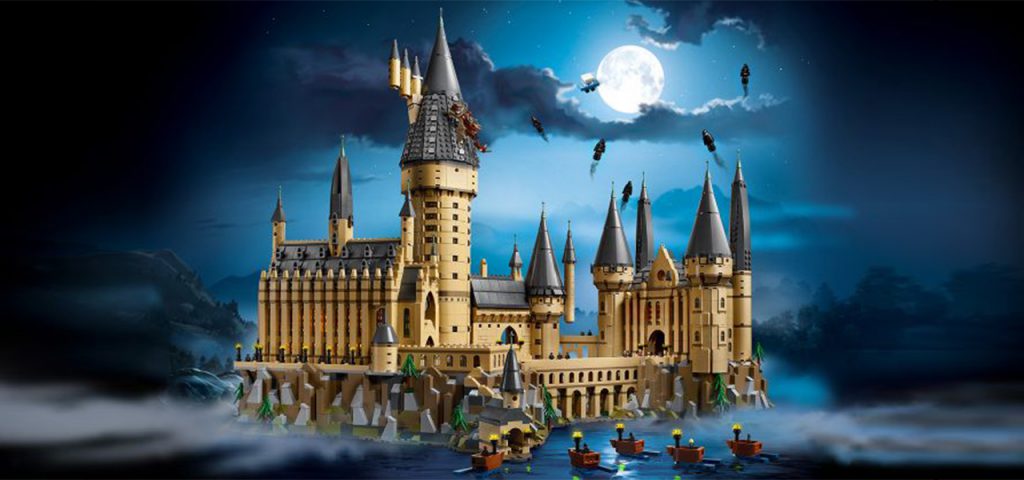 Do you like Harry Potter?
Do you like LEGO's?
Do you happen to have $650 of expendable income lying around?
If you answered "yes" to all three questions, then brace your muggle heart, because everyone's favourite toy brick company has come up with a stunning recreation of the one and only Hogwarts Castle.
You're A Builder, Harry!
[caption id="attachment_36846" align="alignnone" width="1280"]
(Image Credit: Lego)[/caption]

Okay, we'll admit that this isn't exactly *breaking* news — according to Brickipedia, LEGO have already released four versions of the iconic HP locale, but this one is so detailed that it's probably the closest you'll ever get to attending a Defence Against the Dark Arts class.

"How detailed can detailed be?", you ask? Well, for starters, the set is comprised of a whopping 6,020 pieces, a significant upgrade over the previous iteration's brick count of 1,290.

Everything from the Great Hall to the Chamber of Secrets is included, and you'll have 27 microfigures of Harry and the gang to really make the place come alive.

[caption id="attachment_36843" align="alignnone" width="1893"]
(Image Credit: LEGO)[/caption] [caption id="attachment_36849" align="alignnone" width="1700"]
(Image Credit: LEGO)[/caption] [caption id="attachment_36841" align="aligncenter" width="1802"]
(Image Credit: LEGO)[/caption]

We could go on, but you should just watch this video to get a proper sense of how grand this thing is:

[youtube https://www.youtube.com/watch?v=i-SY7FdM908]
Avada Kedavra, Wallet
As previously mentioned, however, this collector's item will set you back $650 ($649.90, to be exact), but if you're undeterred by the price tag you'll be glad to know that you won't have to wait too long before you can get your hands on one.

The set will be released this Saturday, the 1st of September, and it's such a big deal that LEGO is currently holding a launch event for it at Compass One mall (sorry, west siders).

[caption id="attachment_36842" align="alignnone" width="900"]
(Image Credit: The Brick Shop LEGO Certified Store)[/caption]

To sweeten the deal, early adopters will be treated to an exclusive "mosaic gift" that supposedly can't be bought anywhere else.

For those who don't have the cash but still want to join in the festivities, there's still a host of Potter-themed activities to partake in, including the building of a 152cm x 152cm mosaic of the franchise's titular character.

The event only ends on the 9th of September, so don't feel too pressured to make an impulse buy — considering the price, we aren't expecting these to fly off the shelves.

LEGO Harry Potter Hogwarts Castle Launch
Venue: Compass One
Date: 1 Sep 2018

Also Read Life's A Beach: Sentosa Offers FREE Entry for S'poreans From 1 – 16 September

(Header Image Credit: Lego)