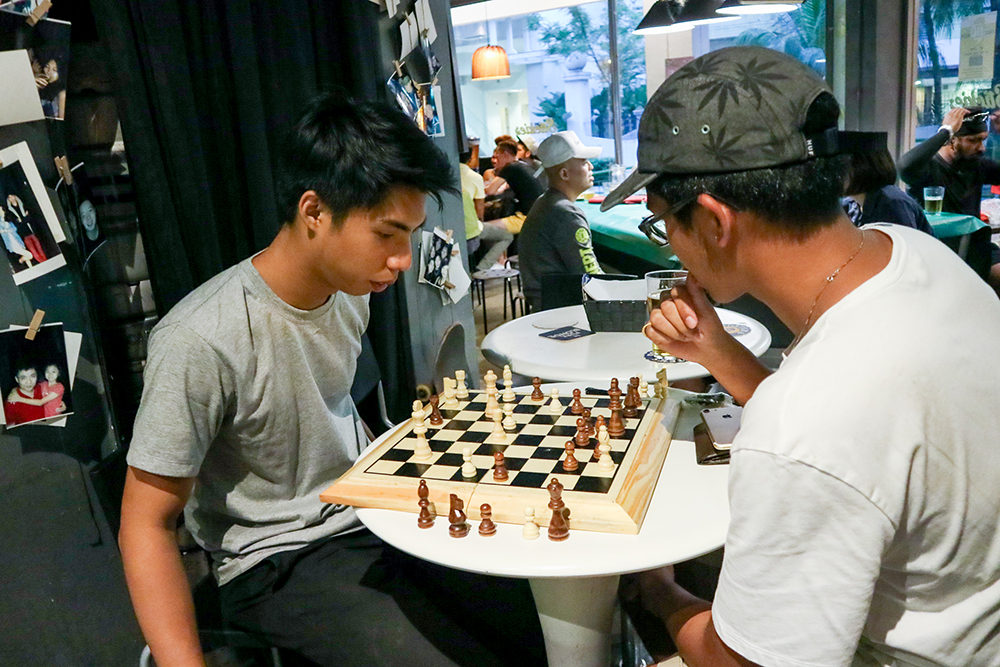 There's only how many rounds of 'never have I ever' and 'five-ten' before you start to question how many more shots you have to go before you blackout. Sometimes you just want to drink and have fun, but the only thing you can do is send in endless song requests to the current live band.
We rounded up a couple of our favorite haunts where you and your squad can chill at without ever getting bored. Choose from beer pong, arcade games, giant Jenga, Quiz Night – the list is endless!
1. Hopheads 
Hopheads isn't your typical underground bar. Besides their super Instagrammable interiors and amazing range of craft beers, they've loaded up on all sorts of games to ensure that there will be nary a boring moment.

[caption id="attachment_29249" align="aligncenter" width="300"]
Every wall is Instagram-worthy (Image Credit:

kestonhuang

)[/caption]

Besides the usual dart machines, foosball table and pool table, Hopheads offers a huge range of board games like the infamous Cards Against Humanities and huge Jenga. Need to test your hand-to-eye coordination after one too many drinks? There's even a ping pong table. I don't know about you, but drunk ping pong is pretty hilarious.

[caption id="attachment_29251" align="aligncenter" width="300"]
So many games, too little drinks! (Image Credit: Hopheads)[/caption]

Once you've had your fill of fun, replenish your energy with their food offerings. Hopheads has all the usual bar bites like nachos and wings, and heavier dishes like pizzas, pasta and burgers. A must try is their Waffle Burger ($18.90), where the chicken is fried to perfection and comes sandwiched in two waffles and drizzled in maple syrup. The combination of sweet and savoury flavors is just what you need after an intense game of beer pong.

Hopheads
Address: 178 Clemenceau Ave Haw Par Glass Tower B1-00, Singapore 239926
Opening Hours: Mon – Sat 11.30am-12am
Contact: 6904 4019
Website
2. Stickies
Stickies is probably known for their insanely cheap happy hour promotions. I mean, their beers, wines and housepours are priced by the hour! Which means if you go at 12 noon, your beer is on the house (but you have to get some food) Their beer towers are also cheaper than most places in Clarke Quay at $55 for a three liter tower.

[caption id="attachment_29256" align="aligncenter" width="300"]
Have you ever tried to play Super Mario while drunk?[/caption]

Aside from their ridiculously awesome deals, their entertainment options are pretty comprehensive too. Their darts, board games and pool are all free to play, and gamers will love the Playstation 4. If you love awful jokes, try Joking Hazard, a game where you compete to see who can come up with the worst comic strip. Another favorite is Exploding Kittens, which is a kitten version of the popular Russian Roulette card game.

[caption id="attachment_29254" align="aligncenter" width="300"]
For those terribly (awesome) jokers (Image Credit:

sanzopeh

)[/caption]

Challenge the house to a game of beer pong, and if you win, you don't have to pay! But if you lose, that's going to cost you $50 a game.

Stickies has also just opened another outlet at Sunset Hill, so Westies don't have to travel all the way to the city to have some fun!

Check out what else we have to say about Stickies here.

Stickies 
Address: 11 Keng Cheow St,#01-10, Singapore 059608
Opening Hours: Mon – Sun, 12pm -12am
Contact: 6443 7564

You can use 'the card too small' as an excuse anymore (Image Credit: clubcastlegroup)[/caption]

Club Castle is like a playground, but for the alcoholics. With LED chairs and tables so that you can see what you're doing in the dark, Club Castle exudes arcade vibes, complete with games and booze.

[caption id="attachment_29257" align="aligncenter" width="300"]
Claw machines: the bane of every arcade visitor (Image Credit: Club Castle)[/caption]

Giant poker cards will definitely get a laugh when you're trying to hide your hand from the person next to you, while a rotating wheel will put a spin on your drinking game. Put your vocals to the test with some karaoke, or play the claw machine to take home a souvenir.

https://www.facebook.com/clubcastlegroup/videos/1891088651218228/

Club Castle
Address: 10 Neo Tiew Lane 2 #01-10 Singapore 718813,D'Kranji Farm Resort
Opening Hours: Mon – Sun, 10.30am – 3am
Contact: 9722 4018
Website
4. Obar 
Obar loves its music as much you do, which is why you can catch live performances or even put on a show of your own at their karaoke pub outlets. Nothing like a couple of drinks to help you let down your hair and belt out a couple of songs!

[caption id="attachment_29301" align="aligncenter" width="300"]
Can you hear me roar? (Image Credit: its_vicent_not_vincent)[/caption]

There are a lot of Obar branches all over Singapore, but only the outlet at Tradehub 21 offers more than karaoke, with ping pong, foosball tables and dart boards for you to while the night away!

[caption id="attachment_29302" align="aligncenter" width="300"]
Darts anybody? (Image Credit: Shental85)[/caption]

Obar at TradeHub 21
Address: 8 Boon Lay Way, Singapore 609964
Opening Hours: Mon – Fri: 11:30am – 1am, Sat & Sun: 4pm – 1am
Contact: 9050 0973
Website
5. Molly Malone's Irish Pub
Ever wondered what an Irish pub feels like?

[caption id="attachment_29300" align="aligncenter" width="300"]
What's screams more Irish than green furnishings (Image Credit:
Nothing like some Bangers and Mash (Image Credit: Molly Malone's)[/caption]

Bringing back the ago ol' tradition of Quiz Night, Molly Malone's holds a weekly quiz on Monday nights that that is free to enter. Put your knowledge skills to the test, and you might win a bucket of beer and bragging rights if you come out first.

[caption id="attachment_29298" align="aligncenter" width="300"]
Challenge others a Cards Against Humanities Championship Tournament (Image Credit:

mollymalonesingapore

)[/caption]

On the other days, you might be able to join in their Killer Pool, where you are awarded with a $50 bar tab if you are the last man, or challenge their Cards of Humanities Championship round to see who is the best worst human being.

Molly Malone's Irish Pub
Address: 56 Circular Road, 049411
Opening Hours: Mon – Sat, 11am – 1 am
Contact: 6536 2029
Andsoforth's Unique Dining Experience Serves Up Dinner With A Side Of Theatre

(Header Image Source: Choong Yi Sze)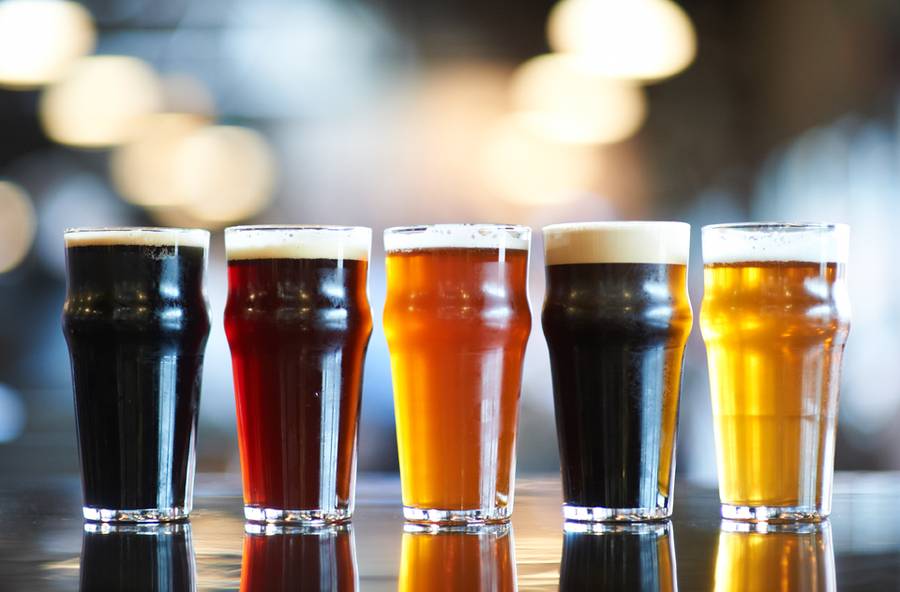 Nickeldime Drafthouse, Jiburu and Smith Street Taps; as beer enthusiasts, we're sure that you'd be familiar with these popular craft beer bars scattered across our island.
But as fellow true beer lovers, we know that you require something more exquisite (and possibly easier on the wallet) to quench your thirst for craft beers. From a mind-boggling range of beers to kickass views of Singapore's skyline, below are five discreet craft beer bars that serve lip-smacking beers that don't cost a week's salary.
Next Door Café
[caption id="attachment_1778" align="alignnone" width="700"]
Image Credit: Citynomads.com[/caption]

Featuring over a hundred different beers from half a dozen countries, Next Door Café definitely has any beer lover covered. Besides its extensive drinks menu, Next Door also serves some of the most authentic Adriatic cuisine such as Grilled Lamb and Spicy Cheese Sausages. For recommendations on drinks that best complement your food, feel free to approach the café's friendly and knowledgeable staff. With beers available from $8.80 during happy hours, all you have to do is to head Next Door for your after-work brew.

Address: 699 East Coast Road S459061
Tel: 6291 1351
Email: [email protected]
Operating Hours: Tue-Sun 6pm-12am, Sat 12pm-2.30pm & 6pm-12am
Hopheads
[caption id="attachment_2169" align="alignnone" width="960"]
Image Credit: Hopheads[/caption]

Hidden within Innotel Hotel is Hopheads, an inconspicuous bar nestled in the heart of town. From craft ciders such as Thatchers Katy Cider to classic IPAs from Stone, this modest bar offers a surprisingly wide variety of drinks. Beers are decently priced at $7-$15 and 1-for-1 Macs Great White Cloudy Wheat Beer going all day long during weekends and from 6.30pm-9.30pm during weekdays ($14 for two pints). The selection of bottled and draft beers rotate every week so do keep a lookout for their latest menu on their Facebook page!

Address: 11 Penang Lane, Innotel Hotel S238485
Tel: 6635 7120
Operating Hours: Daily 11.30pm-12am
Brussel Sprouts
[caption id="attachment_1780" align="alignnone" width="630"]
Image Credit: Yahoo Singapore[/caption]

Unlike most of its counterparts, Brussel Sprouts is a family-friendly restaurant that provides all parents a short respite from their children. We're obviously talking about the well-equipped play areas for the children and not about the restaurant's menu that consists of over 150 different Belgian beers. Obviously.

Besides its boast worthy menu, the restaurant has also different daily promotions e.g. one-for-one draught beers on Mondays, for all seven days of the week. If this is not the opportunity to try out as many beers as you can head here for your next family day, we don't know what is.

Address: 80 Mohamed Sultan Road #01-12, S239013/31 Ocean Way #01-01, S098375 (closed on Mondays)
Tel: 6887 4344
Operating Hours: Mon-Fri 5pm-11pm, Sat & Sun 12pm-11pm
Level 33
[caption id="attachment_1781" align="alignnone" width="1000"]
Image Credit: Sg.asia-city.com[/caption]

Imagine sipping at a pint of freshly brewed as you take in the gorgeous view of Singapore's skyline. Looking for a watering hole with chilled-out-after-work vibes? This bar situated at the penthouse of Marina Bay Financial Centre has got your back and beer belly. Although the bar has only a couple of beers on the menu, the towering brewing tanks found onsite will ensure you the freshest beer possible. Coupled with the kickass view and happy hours (300ml at $9.35+ before 8pm and $13.35+ after 8pm, 500ml at $12.35+ before 8pm and $17.35+ after 8pm), we're pretty sure few will mind the less than variable menu. Guys, now you know where to impress your dates without having to break the bank. You're welcome.

Address: 8 Marina Boulevard #033-01, Marina Bay Financial Centre, S018981
Tel: 6834 3133
Operating Hours: Sun-Thu 12pm-12am, Fri & Sat 12pm-2am 
Little Island Brewing Co
[caption id="attachment_1782" align="alignnone" width="750"]
Image Credit: Femalemag.com.sg[/caption]

Our favourite craft beer bar of the lot, Little Island is a spacious warehouse-like microbrewery that serves wheat beers, pale and golden ales. What really makes this brewery stand out is its pay-as-you-pour system, where beers are charged by the amount poured. By being your own bartender, you'll be able to save on cash and have more tummy space to try more brews (we admittedly tried all beers before crowning Singapore Pale Ale our favorite). Brews at Little Island are typically priced at $2-$3 per 100ml so yes, it's a sign to drink your fill. Besides craft beers and wines, Little Island also serves affordable tapas such as Fries & Aioli ($5) to complement your beer-tasting session. We're not sure about you, but our trip to the far east is definitely worth it.

Address: Block 6 Changi Village Road #01-01/02 S509907
Tel: 65439100
Email: [email protected]
Operating Hours: Tue-Thur 12pm-11pm, Fri-Sun 12pm-12am

The next time you and your drinking kakis run out of breweries and bars to visit, you know where to go. Don't say we neh share.

https://www.facebook.com/discover.sg.official/posts/1953364744889218