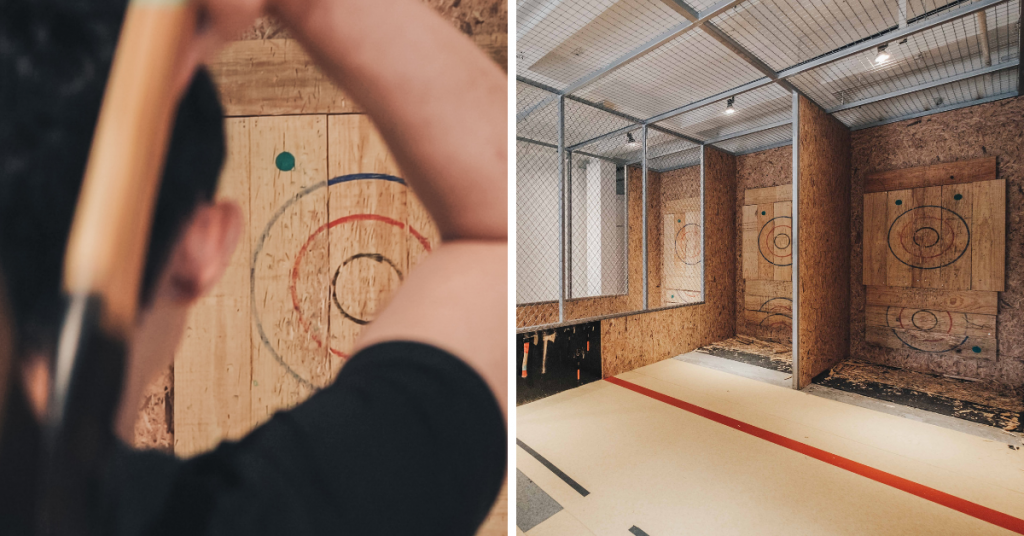 Look, we all know Singaporeans are a wound-up/uptight/stressed/no chill bunch.

For students and working adults alike, sometimes it gets to a point where it's all just too much, when all you want to do is scream, hit or break something to let all that pent up frustration out.

You've heard of smashing things in The Fragment Room to vent your anger. Now, you'll get to release stress AND pick up a sport at the same time with Axe Factor.

[caption id="attachment_38500" align="aligncenter" width="6532"]
Image Credit: Axe Factor[/caption]
Let The Axes Fly
Originating from Canada as a legitimate sport, it's about time Singapore picks up on this sport. Fit for those aged 15 years and above, axe throwing is a complete stress reliever. Think darts, but bigger and better!

Axe Factor at The Grandstand is Singapore's first indoor axe throwing range with up to 10 lanes equipped with with real axes for you to master your skills. Axes can be deadly weapons but fret not under the watchful eyes of trained "Axe-perts". They have a specific set of rules and regulations for throwers to adhere to and they'll teach you how to hurl axes of different sizes.

[caption id="attachment_38506" align="aligncenter" width="6531"]
Image Credit: Axe Factor[/caption]

In order to start your training to be the next Khal Drogo from Game Of Thrones, here's what you need to know.

There are 3 circles you can aim for – black (5 points), red (3 points) and blue (1 point) – and beginners can choose from 3 types of axes. If you're keen on taking on the expert level, they have a massive axe stashed away as well. The longest and heaviest (1.25kg to be exact!) of the lot – be prepared to use all your arm strength for this one.

[caption id="attachment_38504" align="aligncenter" width="6531"]
Image Credit: Axe Factor[/caption]

[caption id="attachment_38503" align="aligncenter" width="5999"]
Image Credit: Axe Factor[/caption]

Plus, there are even fun-filled VR Games like Haunted Mansion, Beat Saber and Fruit Ninja you can immerse yourself in.

[caption id="attachment_38505" align="aligncenter" width="6000"]
Image Credit: Axe Factor[/caption]

An hour will cost $28/pax, while 2 hours will cost $48/pax. What's more, you can organise a party or a company get-together to channel all that rage from workplace drama as there's a VIP room with a capacity to hold up to 20 people that you can rent for only $350 for 2 whole hours!
Do note that bookings are always preferred as walking in doesn't guarantee you a lane to throw in!
Take your love for axe throwing to the next level as we head Axe Factor will be announcing their first ever Axe throwing league in Singapore. Keep a lookout on their space and who knows, you may just be crowned as Singapore's first Axe throwing champion.
So if you're looking to let off some steam from all that work, head on down to the Axe Factor for an axe-citing experience like no other!
Axe Factor
Address: The Grandstand, 200 Turf Club Rd #01-32A/B & 34A/B, Singapore 287994
Opening Hours: Mon – Thurs: 12pm – 10pm | Fri: 12pm – 1am | Sat: 10am – 1am | Sun: 10am – 10pm
Contact No.: 8268 9205 / 9799 4523
Website | Facebook | Instagram
(Header Image Source: Axe Factor)