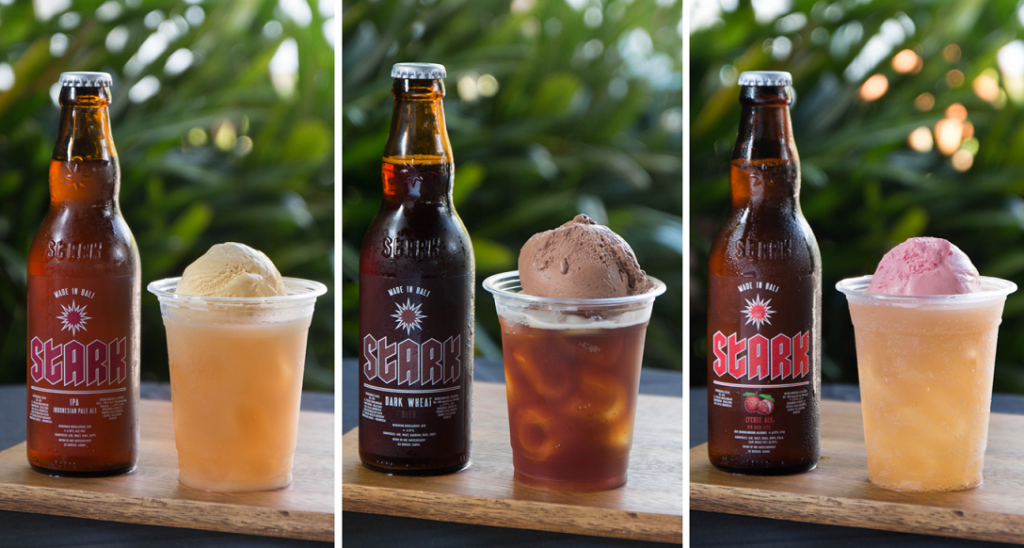 We've all heard of ice cream floats, but have you heard of an ice cream beer float?
It's exactly as it sounds – a scoop of ice cream plopped into a glass of cold beer.
A marriage of two things we all love – ice cream and booze – that's exactly what Creamier and Stark Craft Beer are bringing to the table at this year's Beerfest Asia.
A Perfect Union
[caption id="attachment_28953" align="alignnone" width="4505"]
Image Credit: Creamier Handcrafted Ice Cream & Coffee[/caption]

Huge fans of the ice cream brand (as are we), the guys behind Stark Craft Beer conceived of this unusual pairing on a hot and humid night in North Bali.

Craving a taste of Creamier's Tahitian Vanilla ice cream to go with some of their freshly-brewed Dark Wheat Beer, they decided to combine the two into one outrageous dessert, and bring it to the masses.

They reached out, Creamier said yes, and now, we get to enjoy 3 inventive floats!

A union of two artisanal, premium brands, both Creamier and Stark Craft Beer use all-natural ingredients, with no preservatives added into their innovative, delicious products.
Beer + Ice Cream Pairings
[caption id="attachment_28954" align="alignnone" width="3084"]
Image Credit: Creamier Handcrafted Ice Cream & Coffee[/caption]

The first beer-ice cream combo is Stark Lychee Ale with Creamier's Raspberry Love. The ale is fruity, light, with the natural aroma and sweetness of lychee, while the Raspberry Love ice cream is a romantic combination of raspberry berries, rose and sweet cream.

The final result? A taste of summer in a cup that's light, floral and sweet.

[caption id="attachment_28955" align="alignnone" width="3119"]
Image Credit: Creamier Handcrafted Ice Cream & Coffee[/caption]

The next float flavour on the menu is Stark Indonesian Pale Ale with Creamier's Sea Salt Gula Melaka. The IPA has a distinct hoppy flavour, is slightly bitter, with a sweet and malty aftertaste. This is paired with Sea Salt Gula Melaka ice cream, which gives you a hit of sweet, but not without a hit of savoury flavour. The two combine into a smooth butter beer.

[caption id="attachment_28957" align="alignnone" width="1665"]
Image Credit: Creamier Handcrafted Ice Cream & Coffee[/caption]

The last drink is one for the chocaholics – the Stark Dark Wheat with Creamier's Mochaccino. The Dark Wheat beer is thick, malty and chocolatey, with a hint of bitter roasted coffee. The Mochaccino ice cream amps up the chocolate flavour with its blend of chocolate and espresso, giving you a dessert that's chocolatey, smoky, slightly bitter, and absolutely decadent.

And on to the most important question: How do you enjoy your ice cream beer float? Either sip the beer and eat the ice cream separately, or stir all that goodness together – both ways, you get to enjoy a tasty, delightful dessert.

These ice cream floats will be available at both of Creamier's outlets at Toa Payoh and at Gillman Barracks. They will also be available at BeerFest 2017 (17 – 20 August) at the Stark Craft Beer booth.

Each float will set you back $14 and will only be available for the month of August. Make a date with Creamier and give these a spin – you'll wish they weren't a limited edition treat!

Creamier
Address: Blk 128, Toa Payoh Lorong 1, #01-835, Singapore 310128
Opening Hours: Tue – Thu: 12pm – 10pm; Fri – Sat: 12pm – 11pm; Sun: 12pm – 10pm; Closed on Mon
Contact no.: 6250 1476
Also read 7 Local Desserts So Good, They'll Remind You Of Your Childhood Sweetheart

(Header Image Source: Creamier Handcrafted Ice Cream & Coffee)