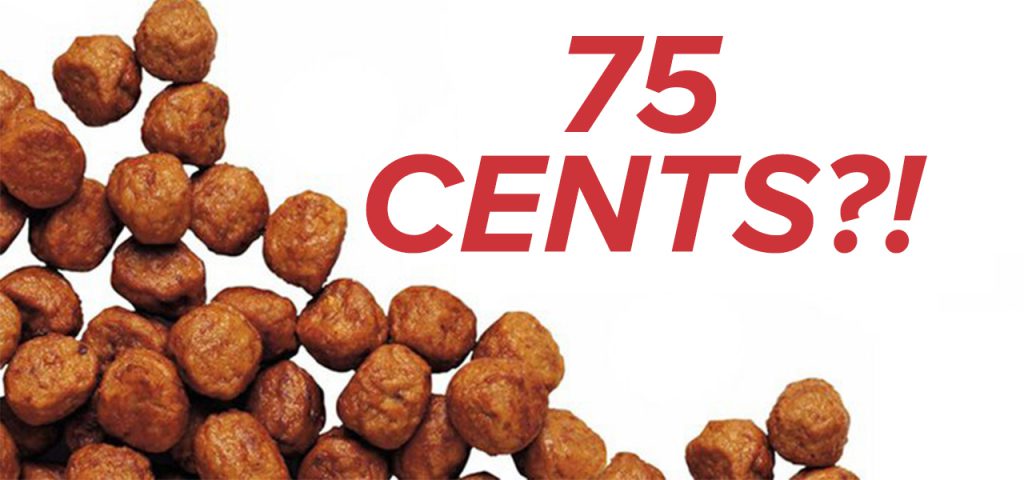 There's an unofficial rule in life that if you go to IKEA, you buy their meatballs.
They might not be of the highest quality (there are other places for that), but at the affordable price of $6 for a plate of 8, they are hands-down the easiest to satisfy your meatball cravings.
And if you have been craving the nostalgia-inducing dish lately, this weekend might be the time to scratch that itch, because the Swedish furniture company will be selling their meatballs for less than a dollar.
Wait, How Much?!
[caption id="attachment_37684" align="alignnone" width="1308"]
Image Credit: IKEA Singapore[/caption]

Yup, you heard us right — in celebration of their 75th anniversary, IKEA will be selling a plate of 8 meatballs for 75 cents on the 6th and 7th of October.

If the calculator on our phones are working correctly, that's an unbelievable 9(.375) cents per meatball, which means that your meal will probably be cheaper than the transport costs to get there.

There are a few things to take note of though: this promotion will only be happening at IKEA Tampines (sorry, north/south/west siders), and you have to be IKEA FAMILY member to be eligible as well.

Only 750 plates will be sold at this price (limited to one plate per member, thankfully), and judging by how Kiasu Singaporeans can be you'll most likely have to wake up reaaal early to take advantage of this offer.
More Than Just Meatballs
If you can't be bothered with going up against what is sure to be a chaotic crowd, IKEA is having pretty massive discounts on their furniture as well (because they're…y'know, a furniture company).
To save you a trip to the their website, Here's a list what's on offer:
[caption id="attachment_37683" align="alignnone" width="1100"]
Image Credit: IKEA Singapore[/caption]

May the odds be ever in your favour, folks.

IKEA Tampines
Address: 60 Tampines North Drive 2, Singapore 528764
Opening Hours: 10am-10pm

Also Read McDonald's Samurai Burger And Shaker Fries Returns To Macs On Oct 4 Along With A New Savoury Pie

(Header Image Source: IKEA Singapore)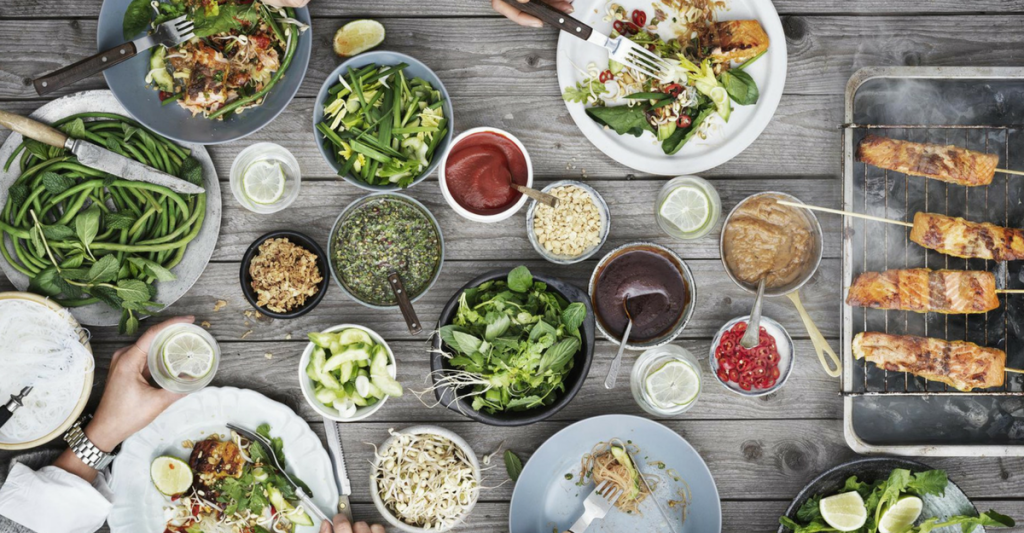 IKEA is a name that needs no introduction.
Whether you pronounce it 'ee-kia', 'ee-kay-a' or 'eye-kay-a', we can all agree that it's great for two things: good, affordable furniture and meatballs.
This month, the Swedish company will be celebrating Ramadhan and Hari Raya alongside its Muslim friends by giving everyone a special treat between 26 May – 22 June.
IKEA Tampines Buffet Istimewa
[caption id="attachment_26759" align="alignnone" width="695"]
Image Credit: IKEA[/caption]

For two weeks in June (12 – 16 June & 19 – 22 June), IKEA Tampines will be holding its very own buffet feast.

Limited to 200 seats, this Buffet Istimewa is priced at $19.90 for adults and $9.90 for kids. The buffet starts at 7pm and with limited seats available, we recommend grabbing a spot early!

IKEA Tampines Buffet Istimewa
Date: 12 – 16 June, 19 – 22 June
Time: 7pm – 10pm
Price: Adult: $19.90, Child: $9.90
IKEA Family Midsummer Buffet Dinner 
[caption id="attachment_26760" align="alignnone" width="855"]
Image Credit: IKEA[/caption]

For one day only, IKEA is set to hold a buffet dinner for IKEA Family members to indulge in IKEA Favourites.

For $20 per pax, an IKEA Family member and 3 guests will be able to feast on a never ending supply of IKEA's famed meatballs! Tickets are only available for purchase at the IKEA restaurant, so you'll have to head down early to secure a spot!

IKEA Family Midsummer Buffet Dinner 
Date: 23 June
Time: 5.30pm – 7.30pm, 8pm – 10pm
Price: (Only applies to IKEA Family members & 3 guests) Early bird: $20/pax; Regular: $30/pax; Child: $10
Extended Hours & $2 Meal Deals 
[caption id="attachment_26761" align="alignnone" width="860"]
Image Credit: IKEA[/caption]

For selected weekends in June, IKEA will be extending its shopping hours till midnight! That means you'll be able to drop by IKEA to pick up that side table you've been eyeing, right after work.

IKEA knows that shopping can really work up an appetite, so they're also offering an assortment of local eats at only $2 a bowl. From Curry Mee to Mee Rebus, dig into a comforting bowl of noodles after shopping the night away!

Extended Hours & $2 Meal Deals 
Date: 26 May – 17 June
Time: 9pm – 11pm

Love yourself some IKEA food? Make sure you seize this opportunity to feast, and make sure to share the love with all your Muslim friends!

IKEA Alexandra
Address: 317 Alexander Road, S159965

IKEA Tampines
Address: 60 Tampines North Drive 2, S528764

Also read, Grab Your Foodie Friends And "Buka Puasa" At These 11 Halal Buffets