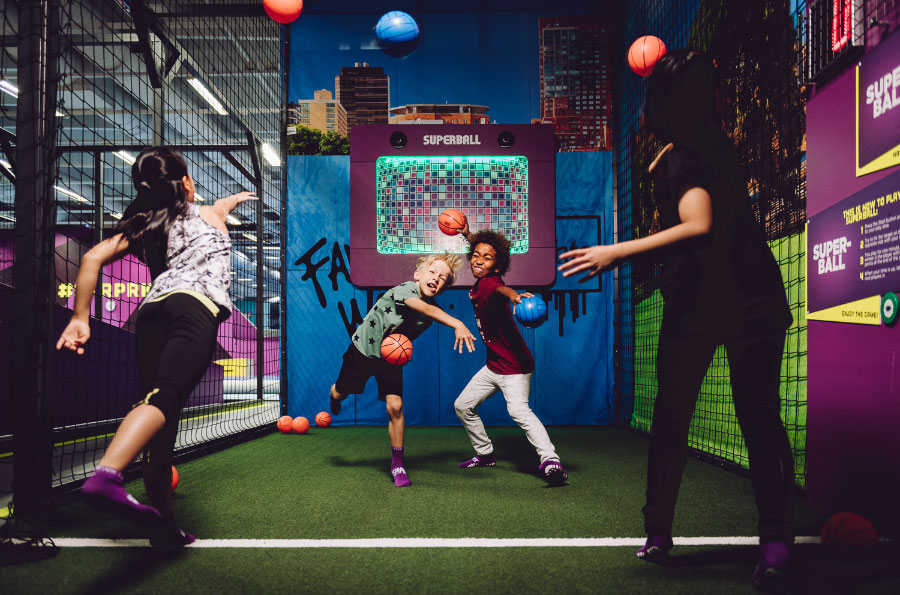 From Pororo Park to Amazonia, kids in Singapore are truly blessed with some of the best indoor playgrounds in Singapore.

If you wish that adults had fun and exciting playgrounds as well, you're in for a real treat.

Come November, you'll have chance to be a kid again because SuperPark is coming to town.

[caption id="attachment_37464" align="aligncenter" width="1024"]
Image Credit: SuperPark[/caption]
Adults Just Wanna Have Fun
This coming 17 November, an indoor activity park brand 'SuperPark' is coming to Singapore.

Founded by Finnish businessman Taneli Sutinen in 2012, the first SuperPark opened in Finland in 2012. Singapore is the 2nd country in Asia to have its own SuperPark.

There's a host of activities to look forward to at this new indoor super playground. Offering more than 20 activities in three themed zones for Singaporeans of all ages, there's something for everyone.

SuperPark will be located at Suntec City Mall. And at 40,000 square ft – it's roughly around three-quarters of a football field.

Day Passes for the park are tentatively priced between $22 and $48. Here's what you can look forward to once SuperPark opens this coming November!

The Adventure Area

Unleash your inner child at the Adventure Arena as it has everything you can ever dream of.

[caption id="attachment_37459" align="aligncenter" width="1024"]
Image Credit: SuperPark[/caption]

Obstacle walls, trampolines, zip wires, slides, play towers, pedal car racing track, you name it, SuperPark has it.

The Game Arena

Need a place to show off your skills to your friends?

[caption id="attachment_37466" align="aligncenter" width="1024"]
Image Credit: SuperPark[/caption]

Here at SuperPark's Game Arena, you can compete in everything from basketball to baseball. Don't need to keep score as performance is measured by radar and other digital systems.

The Game Arena is a great place to practice your baseball swing and pitching, test the power of your slap shot and hone your accuracy on the basketball court.

The Freestyle Hall

Always wanted to try out parkour?

SuperPark's Freestyle Hall includes a parkour course and gymnastics floor, as well as trampolines and foam pits. You don't have to worry about hurting yourself as the Freestyle Hall provide a safe environment for putting your skills to the test.

[caption id="attachment_37461" align="aligncenter" width="1024"]
Image Credit: SuperPark[/caption]

You can also challenge yourself with the super climb, a tailor-made climbing concept, or partake in the ninja warrior obstacle course.

Best part is, you don't need to be pro to try out any of these activities as  the experienced staff – many of whom are recognised coaches will man the park and help you out.

Don't Forget The Food

You're bound to get hungry after all that playing. SuperPark got you covered with their extensive buffets that includes burgers, hot dogs and fresh salads.

[caption id="attachment_37462" align="aligncenter" width="900"]
Image Credit: SuperPark[/caption]

Famous for its family-centered approach to having fun – children, teenagers and even parents can all play, be active and have fun together.

Also Read I Attended A Self Defence Class – Now I Can Take Down Someone Twice My Size

SuperPark Singapore
Opening Date: 17 November 2018
Address: Suntec City Mall

(Header Image Source: SuperPark)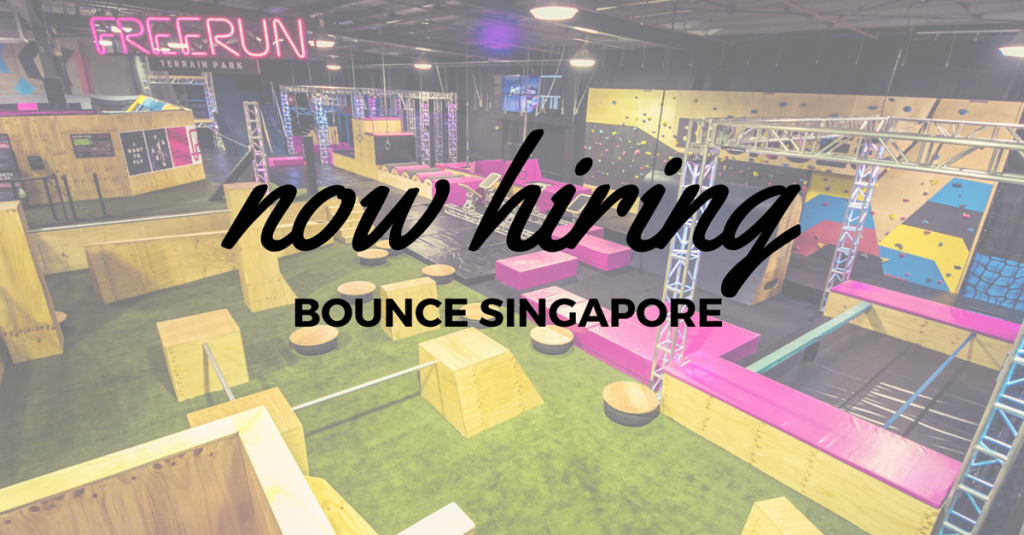 Are you an enthusiastic adrenaline junkie, constantly looking for something fun to do? You might just be the perfect candidate Bounce Singapore is looking for! Here's an opportunity to work at the world's best indoor adventure park.
Casting Call
[caption id="attachment_6159" align="alignnone" width="2040"]
Interconnected Trampolines[/caption]

The very first indoor adventure park in Singapore is having a casting (also known as hiring or recruitment) call on 28th and 29th April 2016. They're looking to recruit energetic and outgoing team members to join the Bounce Tribe!

Set to take place at *SCAPE Orchard from 10am – 6pm, positions for team leaders, hosts and referees are available. For more information about the positions, click here.

Bounce Singapore
Originating from Melbourne in 2012, Bounce Inc is an international sensation that has redefined gravity across the globe. Their park locations include South Africa, Hong Kong, Thailand, Europe, Abu Dhabi, and more.
This epic urban playground consists of interconnected trampolines, Freerun Terrain Park (like the one on Ninja Warrior Mount Midoriyama), and "Leap of Faith" – jump on a raised platform and leap out to catch hold of the trapeze. There are all in all, 3 areas in the park. The areas are based on interests and levels of difficulty. There's something for everyone – adults, fitness enthusiasts, youths, and kids.
Not to worry, the park is safe as all hard surfaces are replaced with circus-grade padding, giant air bags, and springs.
Bounce Singapore will be opening their doors this June. In anticipation of the grand opening, they are hosting a recruitment unlike any other. Aside from being able to demonstrate your skills and charisma, auditionees will be given the exclusive opportunity to enter and have fun at the adventure park before its official opening.
If you fit the bill, do head down to *SCAPE for the audition!
Bounce Singapore
Casting information:
Date: 28 and 29 April 2016 (Thursday & Friday)
Time: 10am – 6pm
Location: *SCAPE,  2 Orchard Link #04-01, 237978
Apply here
Bounce opens this June holidays at the heart of Orchard Road.
For more information, check out their Facebook page – Bounce Singapore.
(All image credits: Bounce Singapore, header image words by editor)
Also read: 4 Abandoned Hiking Trails In SG For The Bravest Of Hikers