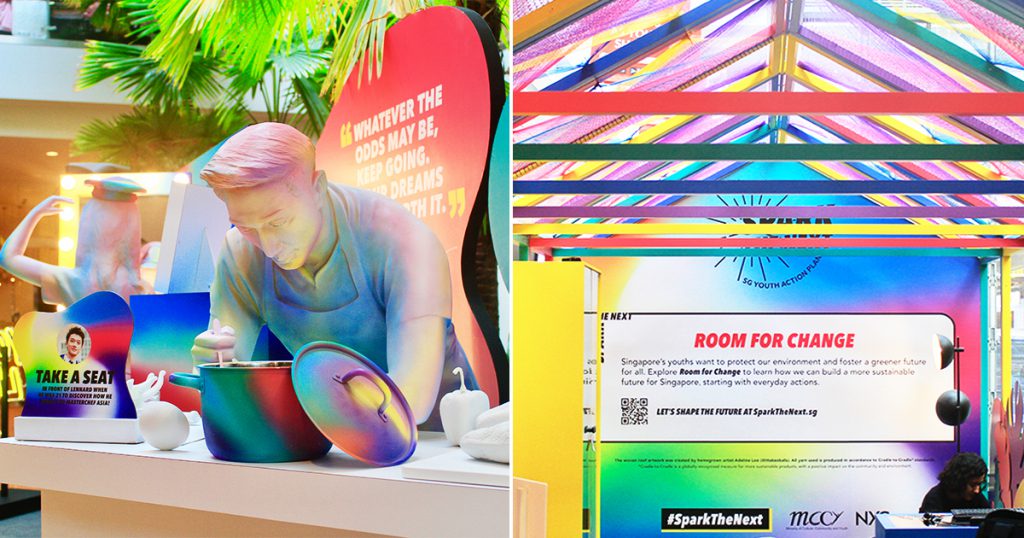 As millennials and Gen Z-ers, we love any stunning visual
installation that makes a great photo-op for our Instagram feed, but to call us
superficial would be wrong.
We're also the same people who crave to go deep and talk
about the meaning of life, our hopes and dreams, and how we envision a better
world.
A new roadshow called Spark
The Next: Youth Hangout will let you do both. While it sets a dazzling
backdrop of swirling colours for the 'gram, it's also packed with many
insightful things to discover, based on topics that we care about.
Here's why you should check it out.
Psychedelic Spaces Come Alive When You Step Inside
If your favourite installations are the kind you can
interact with, Spark The Next: Youth
Hangout will let you unapologetically be the 'itchy-fingers' your parents
used to call you.
Step inside the various installations, snoop around and
see what happens. Each of its psychedelic spaces isfilled with interactive elements — every action you take here
triggers a reaction that may just surprise you!
In fact, the installations quite literally won't show you anything special unless you work with them. So go ahead and don't hold back your curiosity!
Learn How Your Habits Can Make The World Around You Greener
Many young Singaporeans are on board with the idea of
sustainability. But frankly, we know it's going to take SO much more than just
metal straws to fix waste, pollution and climate change.
For the eco-conscious who want to know how they can do
their part, Room For Change will
show you where to look.
What do you do with your old phone when you upgrade to a
newer model? Did you know your fashion choices could be leaving a nasty trace
too? The good news is, switching to better habits can make a positive impact.
Explore this installation to find out how your little
changes can go a long way!
We Don't Have To Hide What We're Dealing With Inside
We're the generation that's ready to stop shying away and
get real about mental health and many other complications of growing up. But it
isn't always easy for these conversations to happen. When everyone constantly
tries to put their best 'face' forward, sometimes we don't know who's actually
struggling.
The Invisible
Gallery shows you blank canvases at first, just like the way
emotional strife is often hidden beneath the surface. There's a simple trick to
revealing what lies beneath. We won't tell you how, but here's a hint: your
handphone will help you out.
Once you find out what to do, you'll start to see stories of struggles come to light. Prepare to have your heartstrings tugged as Singaporeans share about their personal experiences with mental health, addiction and other unseen struggles.
Find Out How Successful Singaporeans Were Once #YouthsLikeUs
Everyone could use a motivator now and then, to remind you that you're doing great and to keep going towards your goals!
Who better to do that than fellow Singaporeans who have
been through the hustle and made their mark?
Youths-Like-Us lets you 'meet' Michelle Chong, Fandi Ahmad, MasterChef Asia finalist Lennard Yeong and Tanglin actress Eswari Gunasagar as their younger selves pursuing their passions, and they each have a few words to help motivate you along your own path to success.
Besides getting some nuggets of wisdom about how they made personal progress on their journey, you could also win exclusive workshops with each of the four personalities!
Free Entry To An Immersive Experience
The best part is that
Spark The Next: Youth Hangout is completely free for anyone to enjoy. If
you're tired of expensive outings with your friends or S/O, this makes for a
memorable activity you can try without spending a cent.
In fact, you can also look out for instructions at the
installation to redeem free bubble tea, and stand a chance to win mall vouchers!
You'll definitely leave with something new learnt, and maybe even feel inspired to start a change IRL.
The installation will be hopping across a few locations around Singapore, including Plaza Singapura and Our Tampines Hub. You can catch it first at Jurong Point from 20 November!
Spark The Next: Youth Hangout
Location: Jurong Point
Date: 20 – 24 November 2019
Location: Plaza Singapura
Date: 27 November – 1 December 2019
Location: Our Tampines Hub
Date: 4 – 8 December 2019
Click The Secrets of City Hall Unveiled at National Gallery Singapore's Latest Exhibition