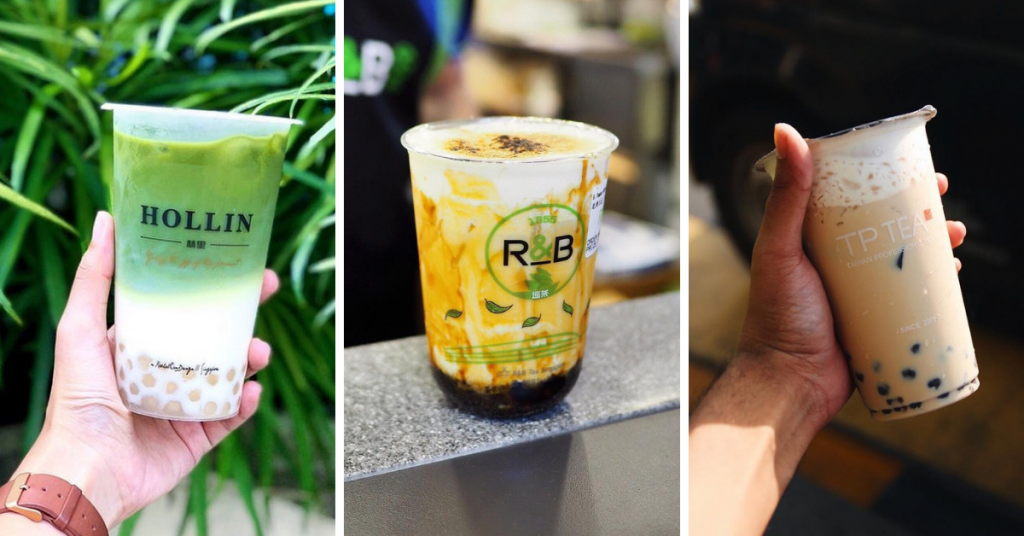 If there's anything that 2018 gave us, it was a slew of new bubble tea brands – not that we're complaining.
Over the years, we've seen bubble tea stores come and go – from the good ol' days of Sweet Talk to big name chains like Gong Cha, Koi and LiHo conquering the BBT game. But in recent months, many new bubble tea kiosks have been springing up, giving those long standing favourites a run for their money.
If you're looking for to switch up your go to order, here are 10 new bubble tea brands you should totally hunt down in 2019.
1. Ten Ren Tea
[caption id="attachment_38746" align="aligncenter" width="716"]
Image Credit: @tenrenteasg[/caption]

For those of you who are unfamiliar, Ten Ren Tea was established in 1953 and is THE leading tea retailer in Taiwan. That's not all, they have over 2000 outlets in Australia, Japan, Canada, Malaysia, and North America.

The 800-square feet store at ChinaTown Point offers bubble tea, traditional tea drinks, as well as tea leaves, snacks and tea ware.

Ten Ren Tea puts a spin on our traditional teas with our love for bubble, sourcing quality tea leaves from the mountains of Taiwan. A must-try here is its signature 913 King's Oolong Tea Latte ($3.50 for medium, $4.90 for large). Another popular pick is the Taro Green Tea Latte ($4.70 for medium, $6.50 for large).

Ten Ren Tea
Address: Chinatown Point, 133 New Bridge Rd, #01-07, Singapore 059413
Opening Hours: Daily: 10am – 10pm
Contact no.: 6593 4333
Website
2. TP Tea
[caption id="attachment_38747" align="aligncenter" width="1080"]
Image Credit: @tptea.sg[/caption]

Bless the bubble tea gods as TP Tea is considered Singapore's first 24hrs Taiwanese Bubble Tea shop – which means they're open to satisfy your 3am cravings. They're also Halal-certified which provides a peace-of-mind to Muslim customers.

The bestseller at TP Tea includes the Tie Guan Yin Tea Latte ($4.60) which uses premium tea leaves from Taiwan and Pearl Black Tea Latte with Red Bean ($5.30). The star on the menu is also the Pearl Milk Tea Soft Serve Ice Cream ($3.60) which comes topped with sweet, chewy QQ Pearls made fresh every 3 hours.

TP Tea Changi Airport
Address: Level 2 (Departure Hall) Changi Airport Terminal, 260 Airport Boulevard, Singapore 819643
Opening Hours: 24 hours, daily
Website

TP Tea Suntec City
Address: Suntec City, #01-312, 3 Temasek Boulevard Singapore 038983
Opening Hours: 11am – 10pm, daily
Website
3. Hollin
[caption id="attachment_38748" align="aligncenter" width="730"]
Image Credit: @cweizhi[/caption]

Gone are the days of basic black pearls. Hollin, which in Hokkien means "Good to drink", specialises in freshly made pearls.

Other than the Honey White Pearl which is a fixed flavour, you can expect daily rotating pearl flavours with the likes of Cocoa, Matcha and Coconut. So if you happen to be craving for a particular flavour, you have to head down on the day itself or you'll end up waiting for another week for your bubble tea fix. Pearls are priced at an additional $0.70 for both Medium and Large cups.

A must-try is their signature Matcha Latte ($4.20) which has a subtle bitterness from the matcha powder. You can also get the Hollin Black Tea Latte ($3.20 medium, $4.20 large) has a strong floral flavour from the roasted tea leaves.

Hollin
Address: Blk 190 Lorong 6 Toa Payoh, #01-538, Singapore 310190
Opening Hours: 10am – 10pm, daily
Contact No.: 6252 2456
Website
4. HEYTEA
[caption id="attachment_38749" align="aligncenter" width="1080"]
Image Credit: @heytea[/caption]

Touted as the OG creator of cheese teas, the highly-raved Chinese tea connoisseur finally made its way to Singapore back in November.

We recommend getting the King Fone ($5.50) which uses premium Oolong tea leaves that have been smoked to bring out the strong fragrance of the tea. The saltiness from the cheese foam gives the brew a savoury kick with every sip.

HEYTEA will be opening their second outlet at Clarke Quay and adding alcoholic bubble tea creations to the menu.

HEYTEA
Address: 2 Orchard Turn, #B4-29, Singapore 238801
Opening Hours: 10am – 10pm, daily
Website
5. Answer Tea
[caption id="attachment_38750" align="aligncenter" width="1080"]
Image Credit: @answertea.sg[/caption]

Have a question you don't have an answer to? Answer Tea may be able to help you out. Simply write your questions on the cup holder and order a drink from their Macchiato Series (from $4.30) and you'll get your answer printed on the surface of your macchiato froth with edible ink.

If you need a drink for the 'gram, we highly recommend the Lemon Butterfly Milk Tea with Black Pearl (from $4.20) which has a gorgeous blue hue derived from butterfly pea flowers.

Answer Tea
Address: Dhoby Ghaut MRT, B2, Singapore 238826
Opening Hours: 11am – 10pm, daily
Contact No.: 9117 1277
Website
6. MuYoo
[caption id="attachment_38751" align="aligncenter" width="1000"]
Image Credit: @thefussyfoodie_[/caption]

As if we don't have enough options already, here's another newcomer to the cheese tea scene: MuYoo. Launched by a Singaporean duo, the brand claims to have a healthier version of cheese tea compared to everyone else.

Its signature "Cheese Cloud," is whipped up with a mixture of "naturally derived milk powder" from New Zealand, cheese powder from Holland, and sea salt from Bolivia. This is what makes their cheese tea different, since the other brands usually use creamer, which is full of trans fat and artificial flavouring.

You can get that "Cheese Cloud" as an add-on to standard cold-brewed teas like Roasted Oolong ($3.50-$3.90) and Lapsang Souchong ($3.90-$4.50).

MuYoo
Address: 252 North Bridge Road #B1-67 Raffles City Shopping Centre Singapore 179103 (City Hall MRT)
Opening Hours: 10am – 10pm, daily
Website

MuYoo+
Address: Bedok Mall, 311 New Upper Changi Road, #01-94 (Bedok MRT)
Opening Hours: 9am – 11pm, daily
7. Tiger Sugar
[caption id="attachment_38752" align="aligncenter" width="1080"]
Image Credit: @hobijajan[/caption]

Those who have had a sip of this drink have claimed that the hype is very real, dubbing it as the most popular milk tea in Taipei.

Since its opening late last year, Tiger Sugar has been getting all the hype from hard core milk tea lovers in Taipei. They got their name from the 'tiger stripes' it forms when the caramalised syrup mixes with the thick milk tea mixture.

Many have praised their Brown Sugar Fresh Milk for its undiluted taste, a mistake often made by most bubble tea stores who scrimp on flavour affecting the overall taste and experience of milk tea addicts.

Tiger Sugar – Capitol Singapore
Address: Capitol Singapore #B2-32, 13 Stamford Road, Singapore 178905
Opening Hours: 11am – 10pm, daily

Tiger Sugar – Chinatown Point
Address: 133 New Bridge Road #B1-42 Singapore 059413
Opening Hours: 11am – 10pm, daily
8. Bobii Frutii
[caption id="attachment_38753" align="aligncenter" width="2048"]
Image Credit: Bobii Frutii Singapore Facebook[/caption]

Brought over from Taiwan by local actor, Nat Ho, Bobii Frutii puts a spin on bubble tea with colourful drinks and quirky drink names.

Known for its colourful pearls, Bobbii Frutii have since attracted crowds to both their outlets at Clementi Mall and Suntec City due to its distinct coloured and "Instagram-worthy" layers. Each drink is made using milk, tea, colourful pearls with no artificial flavouring, man-made essences, preservatives and creamer.

The menu features a total of 37 drinks divided into 5 categories – Tea Au Lait, Ice Blended, Matcha, Fruit Tea and Cheese Tea (exclusive to Singapore). The pearls come in 3 different flavours – Original, Butterfly Pea and Brown Sugar and are made made in Taiwan and air flown to Singapore to ensure freshness and consistency.

Get the signature Mermaid's Tears, which a blend of Butterfly Pea extract, Mango Juice with honey, yogurt and butterfly bobii.

Bobii Frutii The Clementi Mall
Address: 3155 Commonwealth Avenue West, The Clementi Mall, #04-K4, Singapore 129588
Opening Hours: 10am – 10pm daily

Bobii Frutii Suntec City
Address: 3 Temasek Blvd, #02-376, Singapore 038983
Opening Hours: 11am – 10pm daily
Website
9. Bober Tea
[caption id="attachment_38756" align="aligncenter" width="1080"]
Image Credit: @lloydworth[/caption]

A new contender to the ever-expanding bubble tea scene is Bober Tea. Situated right outside Bishan MRT, Bober Tea serves unique concoctions using premium ingredients. What makes them stand out amongst the other bubble tea joints is their strict philosophy of serving beverages that take on the pure authentic flavours of the ingredients used as well as their emphasis on keeping their drinks as healthy as possible.

Bober Tea seems to be very popular for their Brown Sugar Boba Milk Cap Fresh Milk, the drink that has been in trend as of late. If you're a huge match fan, then you'll love the Uji Matcha Latte – made using pure matcha powder and fresh milk.

Other creative blends from by Bober Tea includes the Hokkaido Milk Cap Green Tea, Matcha Strawberry Latte and Black Glutinous Rice Milk Tea.

Bober Tea
Address: 200 Bishan Road, #01-01, Singapore 579827
Opening Hours: 11am – 10pm daily
Website
10. R&B Tea
[caption id="attachment_38755" align="aligncenter" width="1080"]
Image Credit: @tjang.fonda[/caption]

R&B Tea provides the perfect blend for those with a sweet tooth.

The Brown Sugar Boba Milk is a must try for everyone as the pearls are soaked in brown sugar and slow cooked for a full 3 hours. And if that isn't enough sugar for you, get the Brown Sugar Boba Milk With Cheese Brulee which is only available at their Marina Bay Sands outlet.

R&B Tea
Address: Find your nearest outlet here
Website

Also Read  Save More, Huat More – 10 Wholesale Stores In S'pore To Stock Up On CNY Goodies And Groceries