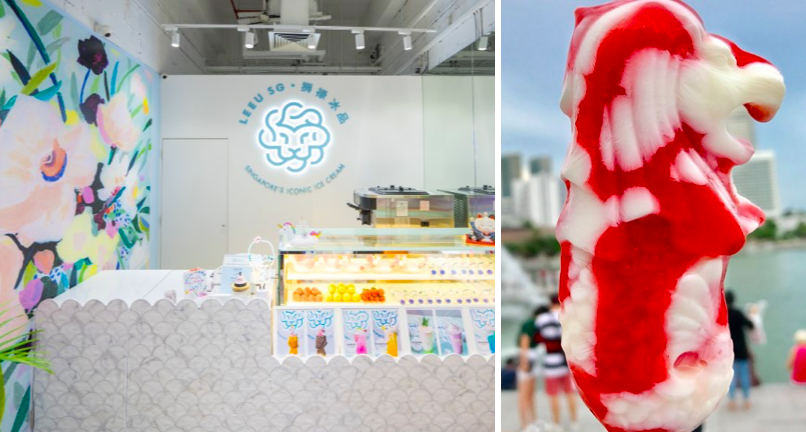 Though we live in the tropics, we never cease to complain about how bloody hot the weather is. Recently, temperatures have managed to hit a high of 35 Degrees Celsius and IT IS NOT OKAY.

In response to this ridiculous heat, I've taken at least 3 cold showers per day over the weekend, and consumed enough Magnum ice creams to develop lactose intolerance. Okay, I exaggerate but you get my point.

Speaking of ice cream, Esplanade recently saw the opening of a local artisanal ice cream shop.

[caption id="attachment_35230" align="aligncenter" width="752"]
Image Credit: Esplanade[/caption]

Introducing, Leeu SG.
You Mean, We Can Eat The Merlion?
With a logo of a lion's head that looks way better than LiHo's, this local artisanal ice cream is making waves across the nation for their iconic Merlion ice pop, The Icy Merlion.

[caption id="attachment_35226" align="aligncenter" width="752"]
Image Credit: Esplanade[/caption]

The Icy Merlion is Vanilla and Strawberry-flavoured, because red and white are our national colours.

[caption id="attachment_35229" align="aligncenter" width="667"]
Image Credit: imgflip[/caption]

That's not all, there's also a durian ice cream, aptly named The "Esplanade" that's made to look like a durian.

[caption id="attachment_35227" align="aligncenter" width="752"]
Image Credit: Esplanade[/caption]

Other items on the menu include soda floats and soft serve ice creams.

Choose from 4 different soda floats, each with their own locally-inspired names.

The lychee-flavoured Sentosa Breeze, The Red Dot with peach soda, The Zouk-Out Cure with yuzu lemon ginger soda, and The Old Timer which is a pandan-infused milk beancurd float.

Their soft serves are made with Blue Majik. No it's not a drug. Blue Majik is a new superfood that's a derivative of sea algae spirulina.

Every soft serve is served (no pun intended) in a normal or charcoal Taiyaki (Japanese fish-shaped waffle).

For the month of June, Leeu SG will be selling their local desserts at discounted prices. Get your Merlion Ice Pop at $3.80 (U.P $4.80) and the Esplanade Ice Cream at $8.80 (U.P $11.80).

And lastly, you will be able to buy a unicorn float for $1 with any purchase of a drink.

[caption id="attachment_35228" align="aligncenter" width="1080"]
Image Credit: @leahyhlee[/caption]

Now if you'll excuse me, I'm going to get myself a Merlion to munch on and get that adorable AF unicorn float. Peace.

Leeu SG
Address: The Esplanade Mall, #02-07, Singapore 039802
Opening Hours: Daily: 11am – 10pm
Contact no.: 9489 7433
Website

Also read If You Can't Cook, This Fish Stall Will Teach You How To Prep And Serve Seafood Like A Pro

(Header Image Source: Leeu SG)