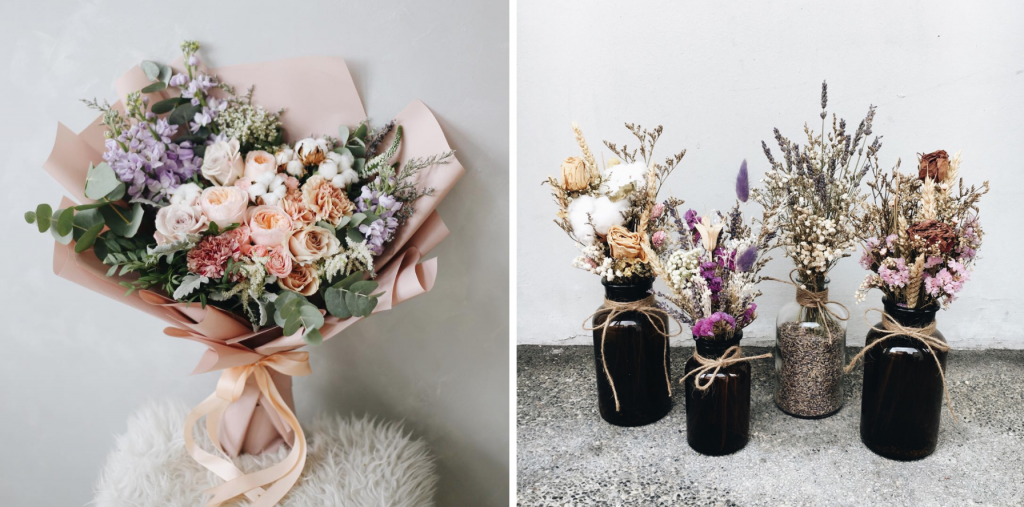 As January nears its end, it means one thing: Valentine's Day is round the corner.
A day where we celebrate love and show our partners how much they mean to us, on this special day, no gesture is too big or too small.
If you're looking to give your partner some flowers, but don't want to splash out over a hundred dollars on blooms, you'll be glad to know that affordable options are not that hard to find these days.
Here are 10 florists that sell beautiful bouquets – fresh and dried – at wallet-friendly prices, so you can show your affection without burning a huge hole in your pocket.
After all, it's the thought and not the amount of money you spend that counts.
1. The Bloom Room
A floral shop that typically sells bouquets that are on the pricier side, The Bloom Room is showing us all some love this Valentine's Day by selling petite floral bouquets, so we can all experience the joy of giving and receiving flowers on the day of love.

[caption id="attachment_32962" align="aligncenter" width="1080"]
Image Credit: @bloomroomsg[/caption]

Bouquets start at $18 for a simple rose and wax flower combo, and other affordable options include a dried medicinal bottle arrangement ($28) and a dried lavender bouquet ($30).

Do take note that delivery is not free, so drop by to pick up your flowers, and save that extra money for something else!

Bloom Room 
Price: From $18
Instagram
Website
2. The Enchanted Tree
If you haven't heard of The Enchanted Tree, get acquainted – especially if your partner loves receiving flowers.

[caption id="attachment_32963" align="aligncenter" width="1080"]
Image Credit: @theenchantedtreesg[/caption]

A company that believes in making flowers affordable anywhere in Singapore, their hand bouquets are priced at $30 each. Yes, that's a $30 flat fee that includes delivery.

These $30 bouquets – otherwise known as 'Daily Picks' – differ on a day to day* basis, so what you get really depends on what they're selling on that particular day.

The Enchanted Tree
Price: From $30
Instagram
Website

*A different style is put created everyday from Monday to Friday, excluding PH.
3. Windflower Florist
Another go-to florist for affordable bouquets is Windflower Florist. They're the ones responsible for the dried flower vending machines you may have seen around Singapore!

[caption id="attachment_32952" align="aligncenter" width="1080"]
Image Credit: @windflowerflorist[/caption]

If your partner loves the look of dried flowers, you should definitely give Windflower Florist's catalog a browse. Dried lavender bouquets start at $33, while $48 can get you pink, blue, purple bouquets and more with some whimsical cotton flowers.

Fresh flower bouquets here are similarly wallet-friendly, with a good selection of affordable options starting at $43.

Windflower Florist
Price: From $33
Instagram 
Website
4. The Bloom Box
For a more unique Valentine's Day gift, why not get blooms in a box?

[caption id="attachment_32958" align="aligncenter" width="1080"]
Image Credit: @thebloombox[/caption]

The Bloom Box rejects the notion that flower bouquets need to be expensive, reserved for special occasions, and come wrapped in coloured paper. As such, they've created floral boxes, and they offer only one type of box a day at $35 nett (inclusive of delivery).

Designed with a handle, these floral boxes are definitely a lot handier than the traditional hand bouquet. Their Valentine's Day designs are out, and are available for pre-order.

The Bloom Box
Price: From $35
Instagram
Website
5. Adorninglory
Another unconventional bouquet idea is a felt floral bouquet. That is, flowers made of felt material.

[caption id="attachment_32970" align="aligncenter" width="750"]
Image Credit: Adorninglory Facebook[/caption]

These quirky bouquets are created by Adorninglory, a felt and fresh floral artist. For Valentine's Day this year, Adorninglory will be selling 4 types of felt bouquets, as well as 1 dried flower bouquet.

Prices start at $39 for a felt floral bouquet, and their hand-calligraphed card + bouquet set is tagged at $55.

Adorninglory
Price: From $39
Instagram

6. Fleuriste
For more rustic bouquets, check out the selection at Fleuriste.

[caption id="attachment_32971" align="aligncenter" width="1080"]
Image Credit: @fleuriste.sg[/caption]

For fresh bouquets, the Everyday Petite Posy costs $40 while the Everyday Medium Bouquet costs $55. Here, you'll find many soft pastel blooms, rather than the loud, bolder hues you typically see in more old school floral shops.

Their Valentine's Day collection is also very affordable, starting at $55 for a simple bouquet of baby's breath, cotton flowers and roses.

Fleuriste
Price: From $40 
Instagram
Website
7. Skinny Blooms
For an all-in-one Valentine's Day gift, you can turn to Skinny Blooms.

[caption id="attachment_32966" align="aligncenter" width="1080"]
Image Credit: @skinnyblooms[/caption]

Aside from dainty bouquets, which start at $40 for a Dainty Posy, they also sell floral gift sets. That is, flowers with an added gift, such as bralettes in their I'm in x Petite Beauty Set ($98) and lipsticks in their Vely Vely x Dainty Posy set ($83).

With that, your Valentine's Day gift is pretty much settled, and all that's left to do is show your lady a good time.

Skinny Blooms
Price: From $40
Instagram
Website
8. Keira Floral
A relatively lesser known brand, Keira Floral is a name many brides and bride-to-bes will know.

[caption id="attachment_32959" align="aligncenter" width="1040"]
Image Credit: , and go up to $126, if you're looking to make an Instagram

Image Credit: @dawnqflowers[/caption]

Their bouquets start at $65 and come with plenty of greenery and quirky little details.

Dawn Q has also released her own Valentine's Day bouquet range, with prices starting at $65 for a dried flower bouquet.

Dawn Q
Price: From $65
Instagram
Website
10. Petite Fleur
For more sophisticated bouquets, try Petite Fleur.

[caption id="attachment_32965" align="aligncenter" width="1080"]
Image Credit: @petitefleur_sg[/caption]

With flowers in pretty pastel hues of pink, purple and blue, these romantic bouquets are surely the way to a woman's heart.

Prices start at $69 for a bouquet of purple roses with Dusty Miller and Baby's Breath, or a simple 8-stalk rose bouquet. They also sell round and square flower boxes which are a nice change of pace from handheld bouquets. Flower boxes start from $60.

Petite Fleur
Price: From $69
Instagram
Website

This Valentine's Day, give your special someone the gift of flowers. After all, a little romance never killed anyone.

Also read $5 Is All You Need To Get Drunk At Singapore's Cheapest Pub Crawl

(Header Image Source: @windflowerflorist, @bloomroomsg)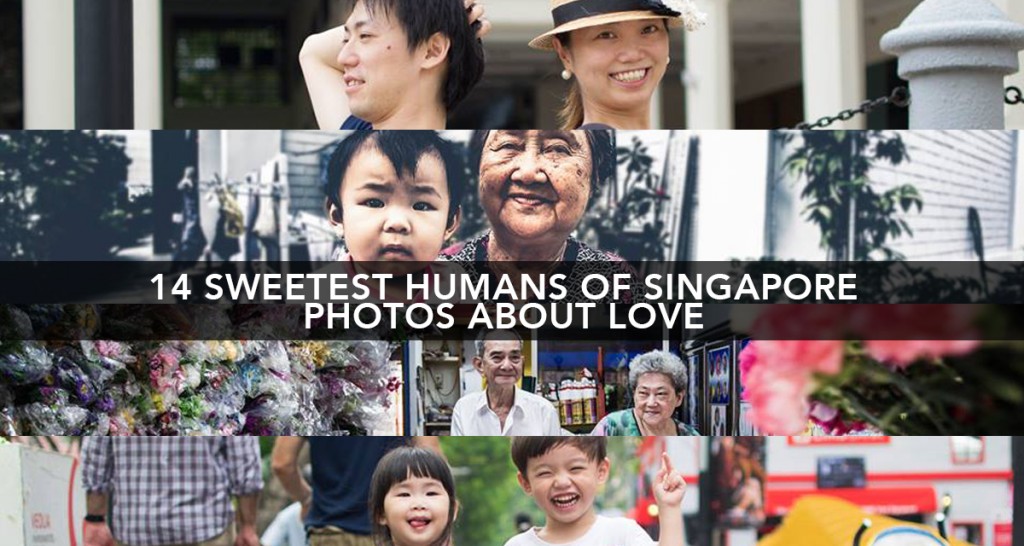 True love knows no boundaries. In Singapore's multi-racial society, we grew up learning to love and care for each other regardless of race, language or religion. From our very own Humans of Singapore, we have compiled the loveliest photographs that best captures the spirit of love.
From toddlers, young couple to elderlies' love, this infectious message of unconditional care and concern should be spread all around. Hopefully these posts will inspire you to remind the people around you how much you love them!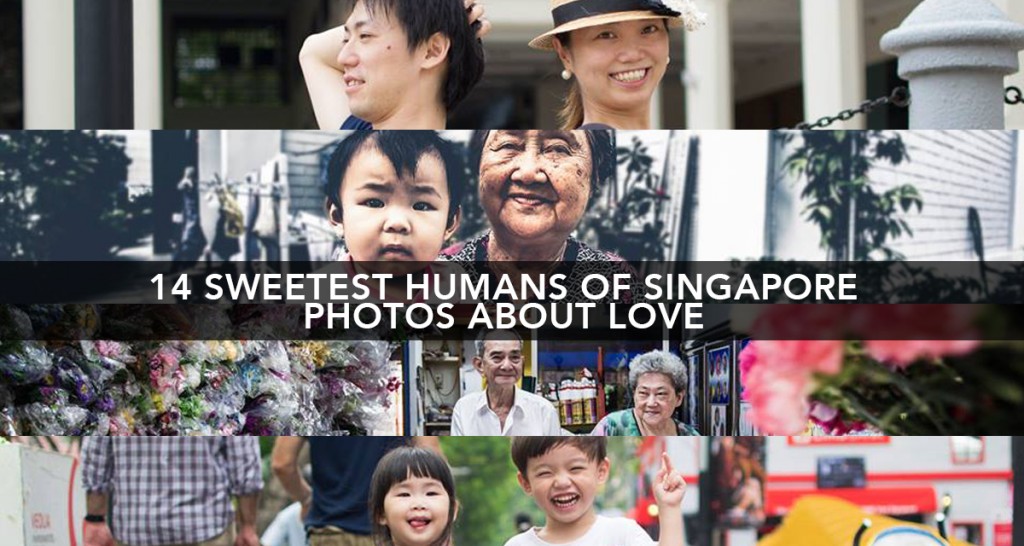 It is that time of the year again, where just about every person in Singapore is jostling for new clothes and shoes in the shopping centres. Perhaps you have been traumatised by last year's crowds, or are simply short of time to do any physical shopping… whatever it is, your wardrobe is still awaiting fresh pieces for the new year!
You right now.
Fear not!
If you are severely lacking time to shop, we selected 18 modern outfit ideas from Singapore's 18 best blogshops that you can purchase without even stepping out of the house. Huat ah!

Starting from prices as low as SDG $27, these online retailers are currently showcasing the best of their Spring collection. With a variety of designs from the iconic red dress to whimsical geometrical prints, you are bound to find something that you'll love! 
So what are you waiting for? Pick the piece you fell in love with from the ideas above and get them delivered to your doorstep today!
(And if nothing suits your fancy, simply head over to these blogshops for a million more possibilities!)