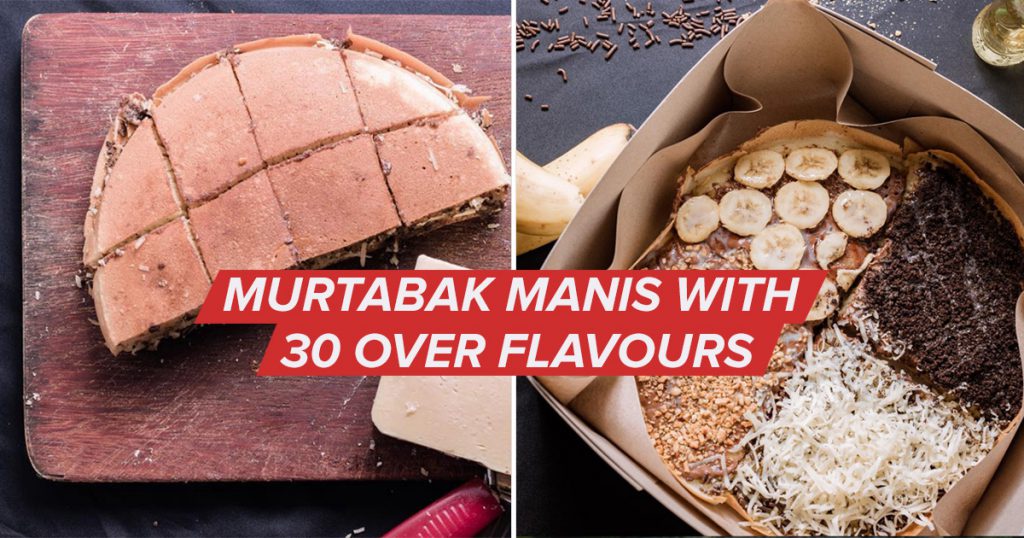 My fondest memory of travelling to Indonesia will always be the street food. The murtabak manis in particular has always been my go-to dessert after a long day of activities.
If you're not too familiar with murtabak manis, it's the Indonesian version of a 'pancake' that's usually thick and sinful due to the excessive amount of butter and toppings such as sweet condensed milk, chocolate sprinkles, grated cheese, ground peanuts.
Terang Bulan is a muslim-owned eatery that offers murtabak manis with several unique flavours – there's bound to be something for everyone here.
Sugar Overload
Terang Bulan offers 30 over flavours for you to choose from, so you'll be spoilt for choice. The Pizza Terbul (from $9) comes with 4 flavours of your choice.

Some of their popular flavours would be the Kit Kat, Choju (chocolate and cheese) and Juna (banana and cheese).

[caption id="attachment_33695" align="aligncenter" width="1106"]
Image Credit: @duashutter[/caption]

Freshly made upon order, you can expect hot pancakes, packed with your favourite toppings and drizzled with condensed milk. So bad for your health but so good for your soul.

In case you're not up for sharing and you just want an entire terbul to yourself, they offer Mini Terbul (from $3.50/pc) as well.

[caption id="attachment_33696" align="aligncenter" width="2084"]
Image Credit: @duashutter[/caption]

Aside from their usual murtabak manis base, they have a red velvet edition as well. Just imagine sinking your teeth in red velvet murtabak manis topped with velvety cream cheese and oreo crumbs.

The owner, Ms Adhita, who migrated from Indonesia to Singapore at 14 years old, personally went back to her hometown, Surabaya to learn how to make murtabak manis.

So you know this murtabak manis at Terang Bulan is as close to authentic as you can get.

[caption id="attachment_33700" align="aligncenter" width="2080"]
Image Credit: @duashutter[/caption]

If you don't have the time to head all the way to their stall, they do delivery as well. So you can get murtabak manis at the comfort of your own home.

Do give this murtabak manis a try if you're ever in the East side. It's definitely worth the calories.

Terang Bulan
Address: 430 Upper Changi Road, #01-04, East Village Mall, Singapore 487048
Opening Hours: Tue – Sun: 12pm – 8pm
Contact No.: 9230 9514
Price: $3.50 – $15
Website

Also Read Ben & Jerry's Free Cone Day Is Back – Get Ready To Queue On April 10

(Header Image Source: @duashutter)