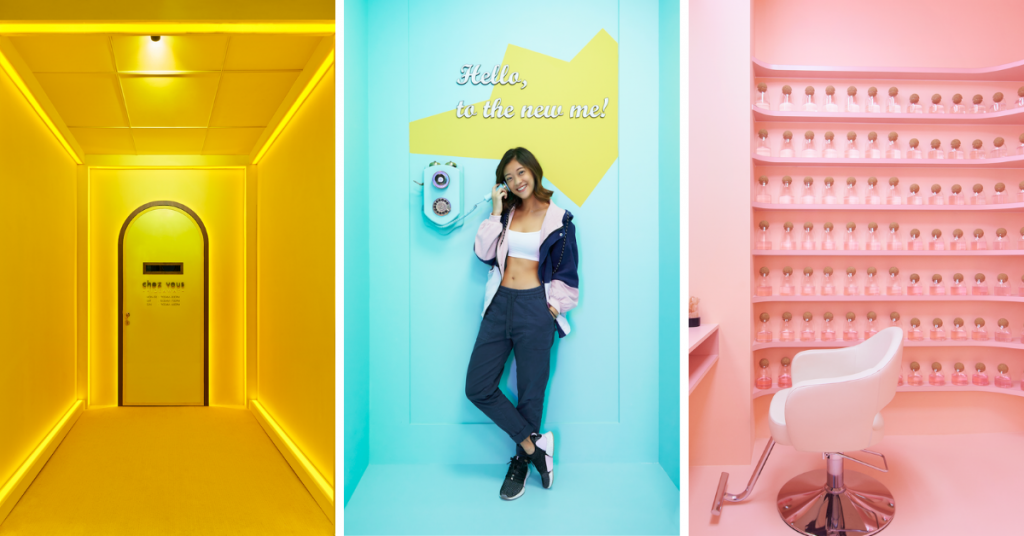 Do you remember the times in your childhood when your parents used to bring (or drag) you to the neighbourhood barber shop to get your hair cut? The leather seats with metal frames, faint smell of hair dye and the blocky hard cushion they used to prop you up so the chatty uncle or auntie (who typically goes way back with your family) can trim your locks.
As we grew up, we gradually and unknowingly transitioned from these vintage barbershops to the stylish modern hair salons that we frequent today.
Hair salons are a dime in a dozen in Singapore, however, there is one that is hoping to be a cut above the rest.
Hair Salon Made For Instagram
Tucked away in a former office space and hidden away from the hustle and bustle of the city is Chez Vous: HideAway – which unabashedly bills itself as Singapore's most Instagrammable hair salon. Far from your ordinary hair salon, Chez Vous is a breakaway from the usual makeover stations, old school chandeliers and marble flooring.

[caption id="attachment_38434" align="aligncenter" width="2074"]
Image Credit: Chez Vous[/caption]

What makes it so Instagrammable you may ask? For starters, there are seven different zones set up as a maze across its 1,800 sq ft interior, each offering a different experience. Part salon, part sanctuary and part-playhouse, this salon is designed to create an immersive, retreat-like experience.

[caption id="attachment_38441" align="aligncenter" width="2120"]
Image Credit: Chez Vous[/caption]

[caption id="attachment_38440" align="aligncenter" width="1048"]
Image Credit: Chez Vous[/caption]

Take countless selfies in a Hogwarts-inspired library and get your hair cut in an urban-minimalist loft which comes with a quirky Instagram-perfect bathtub right in the middle. You don't only get to enjoy the hair services and your new look, but also feel like you're on a retreat.

[caption id="attachment_38435" align="aligncenter" width="2120"]
Image Credit: Chez Vous[/caption]

[caption id="attachment_38437" align="aligncenter" width="2480"]
Chez Vous: HideAway's urban-minimalist loft has styling pods and a quirky Instagram-perfect bathtub right in the middle | Image Credit: Chez Vous[/caption]

Guests are encouraged to drop by 15 minutes ahead of their appointed time to enjoy the complimentary spa extras the salon offers. Unwind at the Relaxation Lounge which boasts a menu of signature herbal teas, spa snacks and leather massage chairs equipped with an oxygen bar and scalp rejuvenation machines.

Other complimentary add-ons include getting a Swedish scalp massage to the sound of a Tibetan Singing Bowl. Yes. Extra? Maybe, but we're not mad about it.

[caption id="attachment_38439" align="aligncenter" width="2114"]
Image Credit: Chez Vous[/caption]

Each experience will also be accompanied by a bespoke Aromatherapy Journey, where your selected essential oil blend will accompany you through each step of your hair service, from the shampoo to the shoulder massage.

And all of these services are a GIVEN for every customer.

Here's the catch. While all of these services may sound like the ideal place to pamper yourself, expect to fork out a minimum of $199 while you're here.

There are only 4 tiers available here (for all hair length):

1. $199 for 2 services (Cut + 1 other service)

2. $299 for 3 services (Cut + 2 other services)

3. $399 for 4 services (Cut + 3 other services)

4. $499 for 5 services (Cut + 4 other services)

Check out their list of services here.

All we're trying to say is, if you have money to throw and you feel like treating yourself, make your way down to Chez Vous: HideAway for a hair cut like no other.

Take all the time you need at this hair salon as each Chez Vous stylist will only take up to five appointments in a day to ensure customers get all the attention – and all the pouty selfies you need.

Chez Vous: Hideaway
Address: 391B, Orchard Road, Ngee Ann City Tower B (Takashimaya), #14-04, Singapore 238874
Opening Hours: Mon – Fri: 11am – 8.30pm | Sat: 10.30am – 7pm | Sun: 11am – 6pm
Contact No.: 6219 3558
Also Read Need A Quick Workout? This Bouldering Gym In The CBD Lets You Sweat It Out From $30/Entry

(Header Image Source: Chez Vous)