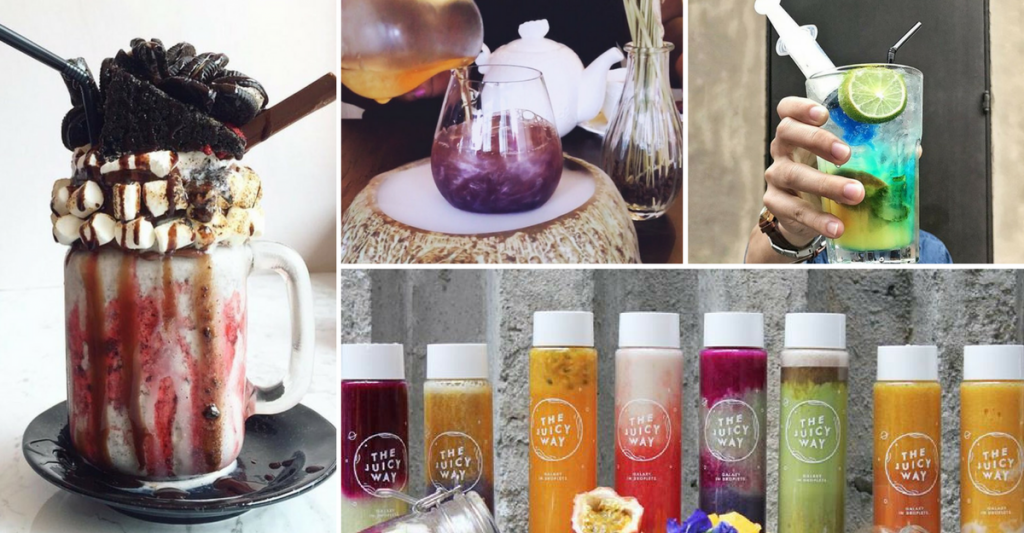 Hands up if you can't resist snapping a photo of your avocado toast or your latte during brunch.
Most of us are guilty of snapping a pic or two of our food, especially if they're pretty because #foodgoals. And why shouldn't you? After all, someone put hard work into plating up or creating these dishes–appreciating it is the least we can do.
If you're a foodie who loves digging into nosh that not just tastes but looks amazing, we've shortlisted 10 beverages from all over Singapore that are not just a treat for the taste buds, but for the eyes as well.
1. Unicorn Tears @ Dapper Coffee 
[caption id="attachment_26480" align="aligncenter" width="960"]
Image Credit: Burpple User Jeslyn xxx[/caption]

While unicorns sadly do not exist, here's something we'd happily make do with: Unicorn Tears. Created by the good people at Dapper Coffee, a small cafe along Amoy Street, Unicorn Tears is the cafe's best known product.

A shimmery swirl of aqua blue with flecks of sparkle, this beverage is not just to be consumed–it's to be admired as well. The one thing you MUST do when you get your hands on a bottle of Unicorn Tears is give it a good shake! This will bring out all the sparkle and the mesmerising shades of blue.

At $10 a bottle, Unicorn Tears does not come cheap, but it is free of alcohol, caffeine, nuts, soy, eggs and it's gluten-free.

[caption id="attachment_26481" align="aligncenter" width="600"]
Image Credit: Dapper Coffee[/caption]

So what is it made of? We can't quite pinpoint the ingredients that go into this magical potion but according to the people at Dapper Coffee, Unicorn Tears "is some pure-ass stuff".

For the animal lovers out there, don't worry! No unicorns were harmed in the making of Unicorn Tears.

Dapper Coffee
Address: 73A Amoy Street, Second Floor, Singapore 069892.
Opening Hours: Mon – Fri: 8am – 5pm; Weekends & PH: Closed
Website
2. Ombre Drinks @ The Juicy Way & The Talad Drink 
If you were at Artbox this year, you would have noticed some epic-ly long queues at stalls serving up ombre drinks. The Juicy Way and The Talad Drink were two stalls that saw excited Singaporeans queueing up for hours to get their hands on these colourful bottles of fruit juices and smoothies.

[caption id="attachment_26482" align="aligncenter" width="960"]
Image Credit: The Juicy Way Facebook[/caption]

Crafted from an assortment of fruits, The Juicy Way serves up bottles of juice that come in alluring ombre shades. The Big Bang, crafted from dragonfruit, guava, honeydew and blue pea flower is one of the more eye-catching ones with its galaxy-like hues of purple, grey and blue.

Unfortunately, The Juicy Way is primarily a pop up store, so you'll have to follow them on Instagram and Facebook to get updates on where they'll be popping up next!

The Juicy Way 
Facebook
Instagram

[caption id="attachment_26483" align="aligncenter" width="640"]
Image credit: Burpple User My Food Story[/caption]

Serving up authentic Thai nosh, alongside an assortment of juices and traditional Thai drinks, the Talad Drink & Thai Kitchen was a crowd favourite at this year's Artbox. If you missed the chance to try The Talad Drink at Artbox, fret not! They have a kiosk at Toa Payoh just a stone's throw away from the Toa Payoh Bus Interchange.

While you can expect your favourite Thai drinks here like Thai Ice Milk Tea and Thai Iced Lemon Grass, don't expect them to come in their usual dull colours–The Talad Drink serves up all their beverages in giant bottles of ombre tones.

Want a refreshing tea? Opt for the An Chan Orange or An Chan Kiwi. The colours are gorgeous and are bound to up your 'Gram game!

Talad Drink & Thai Kitchen
Address: 190 Toa Payoh Lorong 6, #01-520, S10190
Opening Hours: 11am – 9pm
Facebook
3. Rainbow Lattes @ I AM & Dazzling Cafe 
[caption id="attachment_26485" align="alignnone" width="1200"]
Image Credit: I AM[/caption]

At one point, edible rainbows were the only food trend worth chasing (get it?). Food items served in all the colours of the rainbow may seem ridiculous to some, but to Instagram foodies, they spell an Instagram moment.

There are not one but two well known joints in Singapore serving up the photogenic Rainbow Lattes: I AM cafe, a popular halal eatery that serves up Western fare, and Dazzling Cafe, a Taiwanese franchise known for its thick toasts.

For those unacquainted with the concept of Rainbow Lattes, it typically involves dripping food colouring into a pitcher of steamed milk. A skilled barista then pours the milk into the coffee, as with any other cup of latte.

Rainbow Lattes, like most rainbow-coloured food, do not taste any different from their less colourful counterparts, so they really are your average cup of coffee with a colourful twist!

[caption id="attachment_26486" align="aligncenter" width="640"]
Image Credit: Burpple User Daniel Food Diary[/caption]

I AM 
Address: 674 North Bridge Road, S199486
Opening Hours: Mon – Thu: 11am – 11pm; Fri & Sat: 11am – 1am; Sun: 11am – 10pm

Address: #03-04, Tampines Hub, 51 Tampines Ave 4, S520940
Opening Hours: Daily, 11 am – 11 pm
Website

Dazzling Cafe
Address: #01-85, Capitol Piazza, 15 Stamford Rd, S178906Website

4. OTT Milkshakes @ Cake Spade, Robert Timms, Patissez  
[caption id="attachment_26549" align="aligncenter" width="608"]
Image Credit:
Image Credit: Cake Spade Facebook Page[/caption]

Known for their deliciously dense cakes and OTT milkshakes, Cake Spade is a cafe that's truly knows its desserts. From the Matcha Adzuki Cakeshake to their Unicorn Cakeshake, Cake Spade doesn't fool around when it comes to their monster desserts. The perfect spot to satisfy your sugar cravings, we highly recommend sharing the Freakshakes at Cake Spade.

Another place you can go for your Freakshake fix is Robert Timms. With flavours like Banana Popcorn and Rocky Timms, these OTT milkshakes will have you getting busy slurping everything up!

[caption id="attachment_26550" align="aligncenter" width="750"]
Image Credit: Patissez Instagram [/caption]

The original creators of the Freakshake, Patissez is all about keeping it simple. Patissez has an array of more "traditional" tasting OTT Milkshakes, with flavours like mint chocolate and salted pretzel. Ironically, the creations at Patissez are quite tame compared those from other dessert spots, but we kind of like the fact that these look far less intimidating than the others.

Cake Spade
Address: 83 Tg Pagar Rd, S088504
Opening Hours: Mon – Thu: 12pm – 9.30pm; Fri & Sat: 12pm – 10.30pm; Sun: Closed
Patissez
Address: 118 Holland Avenue, #01-06, S278997
Opening Hours: Weekdays: 10am – 10pm; Weekends: 9am – 10pm

Image Credit: Burpple User Kris Lim[/caption]

If you're all about the 'gram, Enchanted Cafe is a quaint spot you need to check out. Far from the typical brunch fare we've become accustomed to, this cafe offers up food with an enchanting Singaporean twist!

[caption id="attachment_26557" align="aligncenter" width="645"]
Image Credit: Burpple User Shali Selva[/caption]

The star of the show at this cafe is the Sorcerer's Elixir.

Served atop a stone dish filled with dry ice, this enticing beverage starts off slightly purple with whispers of shimmer. The staff will come around and pour a slightly orange-y substance into your drink, turning it from a dark red to a deep purple. The whole spectacle of the Sorcerer's Elixir is mesmerising, so we advise getting your phones ready to capture the magic!

Sip slowly though, because this particular drink will set you back almost $10!

Enchanted Cafe
Address: 88 Rangoon Road #01-04, S218374
Opening Hours: Wed & Thu: 12pm – 10pm; Fri: 11am – 11pm; Sat: 10am – 11pm; Sun: 10am – 8pm; Tue: 11am – 10pm; Mon: Closed
6. Heisenberg @ The Lab 
[caption id="attachment_26563" align="aligncenter" width="640"]
Image Credit: Burpple User Estée Celestine[/caption]

The Lab is one of those cafes that will keep you coming back for more. Located a stone's throw away from Sultan Mosque, The Lab is known for serving up your usual Western fare, alongside a slew of desserts and drinks. If you're the kind who can never decide what to eat, this place will make that decision even harder for you.

[caption id="attachment_26564" align="aligncenter" width="516"]
Image Credit: The Lab Facebook Page[/caption]

Like any dining establishment worth its salt, The Lab serves a good range of coffees, juices and mocktails. However, what sets The Lab apart is the presentation of its drinks. The Heinsenberg, which is served with a syringe in it, is a particularly interesting one. Hot beverages also come with droppers filled with sugar syrup!

Not only are these drinks tasty, they're a fun experience, and they're 100% insta-worthy.

The Lab
Address: 1 Jalan Pisang, #01-01, S199069
Opening Hours: Mon – Sat: 12pm – 10pm; Sun: 1pm – 10pm
Image Credit: Bubbs Facebook Page[/caption]

While some food fads are able to stand the test of time (hello salted egg-everything), some quickly fade into obscurity. One that will certainly be a cute addition to your Instagram feed is the Light Bulb Drink. Call it gimmicky if you want, but you can't deny that these drinks make you want to whip out your phone and snap a picture of it.

Bubbs serves your favourite Bubble Tea flavours in plastic light bulbs, from the classic Milk Tea to an assortment of Fruit Teas. But here's the bad news–Bubbs only has one outlet and it certainly is out of the way for many Singaporeans.

Located in Tai Seng, it's great for those working in the area, and not so great for, well, the rest of us.

[caption id="attachment_26569" align="alignnone" width="960"]
Image Credit: Oh My Cafe Facebook Page[/caption]

What's a light bulb that doesn't light up, am I right? Oh My Cafe at Westgate takes the Light Bulb drink to the next level but serving it with a glowing straw. Serving drinks in all sorts of eye-catching colours, we have to say, the drinks here have won our hearts.

Bubbs
Address: 1 Irving Place #01-06, S369546


Oh My Cafe
Address: #B1-01, Westgate Mall, 3 Gateway Drive , S608532

8. Coffee In A Cone @ Coffee Academics
[caption id="attachment_26574" align="alignnone" width="1024"]
Image Credit:
Image Credit: Burpple User Dex Neo[/caption]

One caffeinated treat that will have your followers double tapping away is the Coffee In A Cone. No, it's not as simple as pouring a cuppa into an ice cream cone. Instead, the process involves coating the ice cream cones with different chocolate compounds, giving them that hardened exterior and extra integrity. Warm, slightly sweet and with a crunch, this is a whole new way to enjoy your cuppa.

Coffee Academics
Address: Scotts Square, #02-01/02, 6 Scotts Road, S228209
Opening Hours: Daily: 9am – 9pm
Forget Sugar Glazed, This Cafe Serves Up Savoury Donuts Like 'Cheeseburger' And 'Bacon' At Only $2.90 A Pop