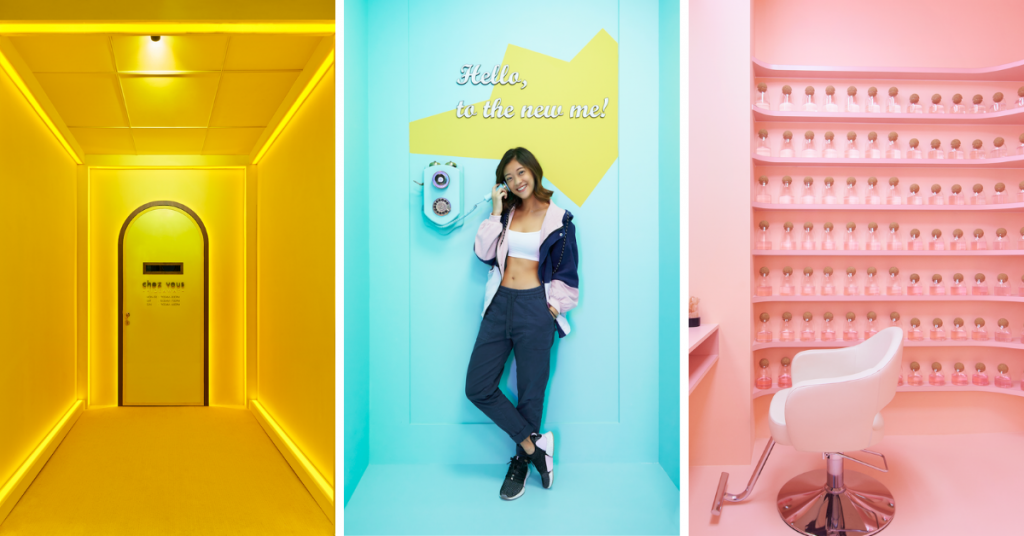 Do you remember the times in your childhood when your parents used to bring (or drag) you to the neighbourhood barber shop to get your hair cut? The leather seats with metal frames, faint smell of hair dye and the blocky hard cushion they used to prop you up so the chatty uncle or auntie (who typically goes way back with your family) can trim your locks.
As we grew up, we gradually and unknowingly transitioned from these vintage barbershops to the stylish modern hair salons that we frequent today.
Hair salons are a dime in a dozen in Singapore, however, there is one that is hoping to be a cut above the rest.
Hair Salon Made For Instagram
Tucked away in a former office space and hidden away from the hustle and bustle of the city is Chez Vous: HideAway – which unabashedly bills itself as Singapore's most Instagrammable hair salon. Far from your ordinary hair salon, Chez Vous is a breakaway from the usual makeover stations, old school chandeliers and marble flooring.

[caption id="attachment_38434" align="aligncenter" width="2074"]
Image Credit: Chez Vous[/caption]

What makes it so Instagrammable you may ask? For starters, there are seven different zones set up as a maze across its 1,800 sq ft interior, each offering a different experience. Part salon, part sanctuary and part-playhouse, this salon is designed to create an immersive, retreat-like experience.

[caption id="attachment_38441" align="aligncenter" width="2120"]
Image Credit: Chez Vous[/caption]

[caption id="attachment_38440" align="aligncenter" width="1048"]
Image Credit: Chez Vous[/caption]

Take countless selfies in a Hogwarts-inspired library and get your hair cut in an urban-minimalist loft which comes with a quirky Instagram-perfect bathtub right in the middle. You don't only get to enjoy the hair services and your new look, but also feel like you're on a retreat.

[caption id="attachment_38435" align="aligncenter" width="2120"]
Image Credit: Chez Vous[/caption]

[caption id="attachment_38437" align="aligncenter" width="2480"]
Chez Vous: HideAway's urban-minimalist loft has styling pods and a quirky Instagram-perfect bathtub right in the middle | Image Credit: Chez Vous[/caption]

Guests are encouraged to drop by 15 minutes ahead of their appointed time to enjoy the complimentary spa extras the salon offers. Unwind at the Relaxation Lounge which boasts a menu of signature herbal teas, spa snacks and leather massage chairs equipped with an oxygen bar and scalp rejuvenation machines.

Other complimentary add-ons include getting a Swedish scalp massage to the sound of a Tibetan Singing Bowl. Yes. Extra? Maybe, but we're not mad about it.

[caption id="attachment_38439" align="aligncenter" width="2114"]
Image Credit: Chez Vous[/caption]

Each experience will also be accompanied by a bespoke Aromatherapy Journey, where your selected essential oil blend will accompany you through each step of your hair service, from the shampoo to the shoulder massage.

And all of these services are a GIVEN for every customer.

Here's the catch. While all of these services may sound like the ideal place to pamper yourself, expect to fork out a minimum of $199 while you're here.

There are only 4 tiers available here (for all hair length):

1. $199 for 2 services (Cut + 1 other service)

2. $299 for 3 services (Cut + 2 other services)

3. $399 for 4 services (Cut + 3 other services)

4. $499 for 5 services (Cut + 4 other services)

Check out their list of services here.

All we're trying to say is, if you have money to throw and you feel like treating yourself, make your way down to Chez Vous: HideAway for a hair cut like no other.

Take all the time you need at this hair salon as each Chez Vous stylist will only take up to five appointments in a day to ensure customers get all the attention – and all the pouty selfies you need.

Chez Vous: Hideaway
Address: 391B, Orchard Road, Ngee Ann City Tower B (Takashimaya), #14-04, Singapore 238874
Opening Hours: Mon – Fri: 11am – 8.30pm | Sat: 10.30am – 7pm | Sun: 11am – 6pm
Contact No.: 6219 3558
Also Read Need A Quick Workout? This Bouldering Gym In The CBD Lets You Sweat It Out From $30/Entry

(Header Image Source: Chez Vous)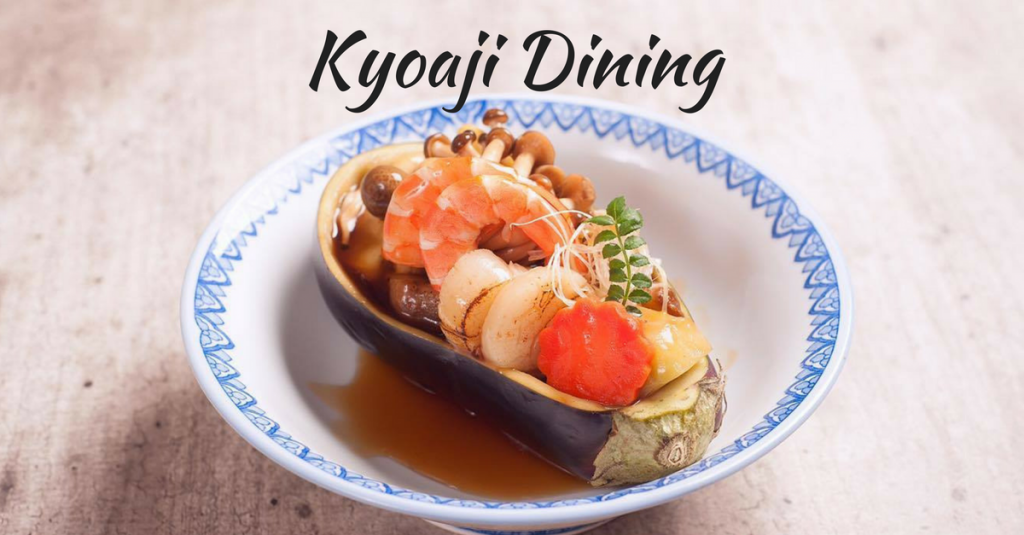 If any of you were disappointed by the closure of Fukuichi Dining at TripleOne Somserset, you'll be relieved to know that Kyoaji Dining is helmed by the same team.
Executive Chef John Phua, with over 30 years of experience in Japanese cuisine, continues to wow our taste buds with a thoughtfully conceived menu featuring familiar and well-loved dishes!
The rebranded name "Kyoaji" literally translates to "A taste of Kyoto". Situated on the 4th level of the newly revamped wing of Centrepoint, Kyoaji Dining promises to serve authentic Japanese fare at reasonable prices. Read on for our experience!
1) Kani Tofu
A unique spin on the traditional chawanmushi, the Kani Tofu (tamago with tofu) is topped with a decadent layer of century egg puree with juicy crab meat!
The cold handmade tofu is incredibly silky while the liberally sprinkled Tobikko packs a subtle crunch with each bite.
Crab Meat Bean Curd ($6)
2) Shio Maguro Aburi Maki
Tired of the usual salmon aburi maki dominating the menu in almost every Japanese restaurant?
We have here a beautifully presented seared white tuna roll topped with Tobikko and green caviar.
We would aburi everything if we had it our way! Nice and smoky, each thick slice of tuna, wrapped around a california roll base, was fully savoured.
Seared White Tuna Roll ($22)
3) Caterpillar Maki
If you thought that Japanese food automatically translates into Insta-worthy captures, the Caterpillar Maki is a great example.
The avocado slices give the illusion of a caterpillar coming to life – it even has eyes (made of Tako) to boot!
On a low carb diet? This maki is made without rice.
Pop each little segment of the caterpillar body in your mouth and be overwhelmed from the freshness of each light bite.
Avocado roll ($20)
4) Ebi Almond Tempura 
If you're a fan of almonds, this dish might just hit the spot! Here's an ebi tempura with extra crunch and flavour.
Each tempura is generously coated with sliced almonds and deep-fried to perfection. We liked how the nutty profile complemented the sweeetness of the prawns. The batter coating was not too thick too!
Deep Fried Prawns with Almonds ($15)
5) Fukiyose Beinsu
This is one of Chef's Phua's signature creations.
A whole eggplant is sliced and stuffed to the brim with a seafood lover's dream.
The fresh scallop and prawns are coated with a thick, savoury base braised with Japanese soya sauce, mirin and sake. Expect to pick up light notes of yuzu as well. This is one said to be one of their top signature dishes. A must-try!
Egg Plant with Seafood ($25)
6) Fagura Chawan Mushi
Kyoaji Dining sure knows how to get their chawanmushi right- They have an entire menu page dedicated to this particular dish.
This silky steamed egg custard is layered with foie gras liver sauce and cubes (an elevated version of the common chawanmushi) stole the show. The liver sauce tasted almost caramalized and gave the chawanmushi a lot more depth in flavour. The foie gras cubes were oh so sinful, but extremely satisfying.
Goose Liver Steamed Egg ($25)
If you were a fan of Fukuichi Dining, expect to find your favourite Japanese dishes resurrected at Kyoaji Dining. Have a look at their set lunches, they are affordably priced as well!
To celebrate the opening of their new restaurant, you can enjoy 15% of your total bill, valid till 30th November so head on down soon! We know, good news and great food have to be shared.
This was an invited food tasting session.
Kyoaji Dining
Address: 176 Orchard Road #04-17/18 The Centrepoint
Opening hours:
For lunch, Monday – Friday: 11.30 am-3pm (last order at 2.30pm)
For dinner, 5.30pm – 10.30pm (last order at 10pm)
Sat, Sun & PH: 11.30am – 10.30pm (last order at 10pm)
Website: Facebook, Instagram
Also, read New Hangout Spot, Chip Bee Gardens, Is Where All The Cool Things Are