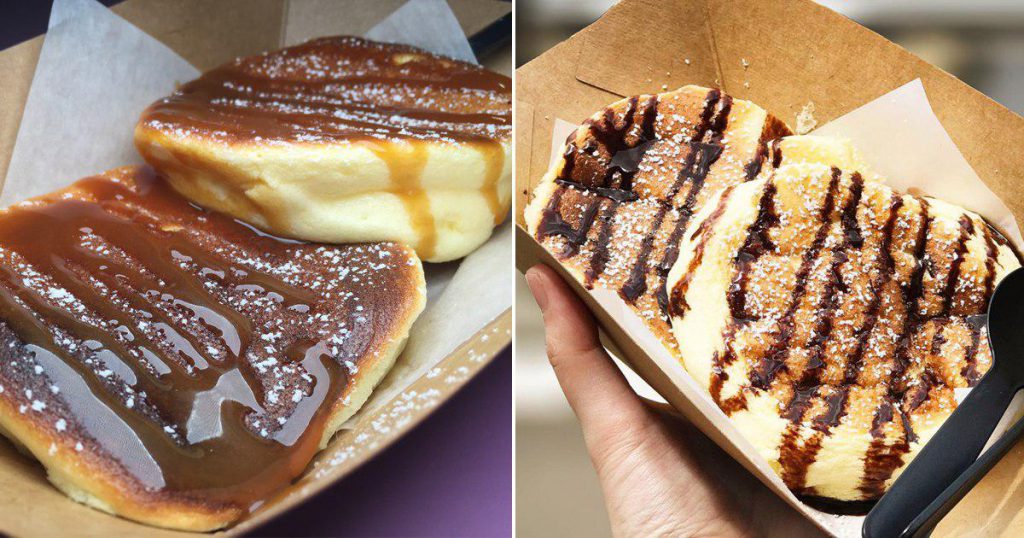 When I was a kid, I looked forward to Sunday mornings because that meant hotcakes from McDonald's. I never quite understood why their hotcakes made me happy but all I knew was that the more maple syrup I poured and the more butter I spread, the happier I felt.
There's just something comforting about digging into a plate of pancakes drenched in maple syrup and butter on a Sunday morning.
About a year ago, Insider released a video of the jiggliest most fluffiest pancakes I've ever seen in my entire life. Ever since then, everyone forgot about good ol' buttermilk pancakes because these Soufflé Pancakes were the next big thing.
https://www.youtube.com/watch?v=FBaRWq0gXAk
Just like any foodie, I searched high and low for affordable Soufflé Pancakes in Singapore.
Until recently, I came across these cute soufflé pancakes selling for $1.50 each at Mei Ling Hawker Centre!
Wiggle, Wiggle, Wiggle
If you're not familiar with soufflé pancakes, they're lighter and fluffier than regular pancakes. Which explains why everyone has been jiggling this dessert for the 'gram.

https://www.instagram.com/p/Bgpt04kgP35/?tagged=soufflepancakes

You can get these pancakes in cafes and restaurants but they'll definitely cost you more than $10.

The soufflé pancakes from Sweet Rex comes in a set of 2 for just $3!

[caption id="attachment_34894" align="aligncenter" width="1258"]
Image Credit: @foodiegoh[/caption]

The fluffy pancakes from Sweet Rex are freshly made and served with a sauce of your choice – caramel, strawberry or chocolate. It's everything you ever want in a pancake – light, airy and not too sweet.

If you could bite into clouds, then this is how I'd describe eating the soufflé pancakes from Sweet Rex.

Additionally, the stall also sells cheesecakes and puddings you can get at a low price. Here's evidence that you can eat good even when you're on a budget!

[caption id="attachment_34895" align="aligncenter" width="1250"]
Image Credit: @sweet.rex[/caption]

[caption id="attachment_34896" align="aligncenter" width="1228"]
Image Credit: @sweet.rex[/caption]

There's chocolate, Thai milk tea, kopi, ginger and matcha pudding – which you can get at $2 each.

We highly recommend getting the Lemon Cheesecake ($3.80) which looks like "tofu". The cake is a perfect balance of creamy and tangy, making it easy on the palate.

If you're ever in Queenstown, then head down for Sweet Rex's affordable desserts. However, they are only opened on weekends, and sporadically on weekdays. If you're ever heading down on weekdays, best to give them a call!

Sweet Rex
Address: 159 Mei Chin Road, #02-47, Mei Ling Market & Food Centre, Singapore 140159
Opening Hours: Sat – Sun: 10am to 9pm, Opens on random days on weekdays. 
Contact No.: 8163 7630
Website

Also Read Hong Kong's Famous Tsui Wah Cafe To Open First S'pore Outlet This June

(Header Image Source: @foodiegoh and Burpple User Doreen Tan)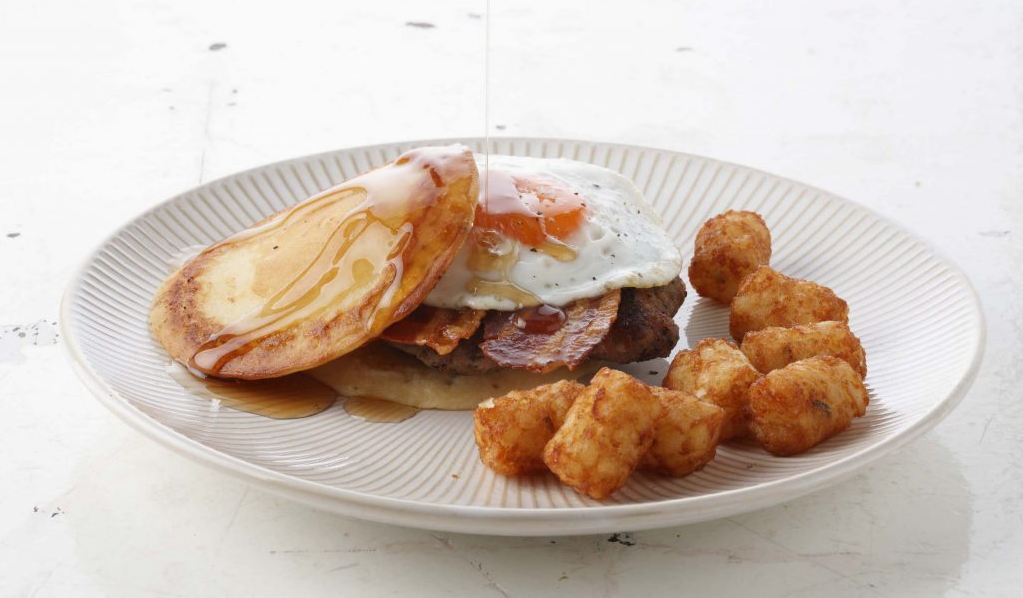 Here in Singapore, we have seen our fair share of food mashups. These include the "cronut", a croissant and donut hybrid, the sushi burrito (self-explanatory), as well as the pizza waffle, to name a few.
Now, Tiong Bahru Bakery unveils their latest creation–pancake burgers–as part of their new Raffles City outlet dinner menu.
Pancake burgers at Tiong Bahru Bakery Raffles City
The creative folks at Tiong Bahru Bakery have whipped up 3 types of pancake burgers for you to sink your teeth into.

They recommend the PB & B Pancake Burger ($23) which has smoky spiced pork belly sandwiched between a stack of fluffy pancakes. The pancakes have maple syrup drizzled over them, with a generous helping of salted caramel, caramelised bananas, and peanuts to add some crunch.

[caption id="attachment_27510" align="aligncenter" width="640"]
PB & B Pancake Burger (Image Credit: Burpple User Raine Liu)[/caption]

If you prefer something savoury, The Kim Cheesy Pancake Burger ($23) is the dish for you. It tastes and resembles an okonomiyaki with its bonito flakes and lettuce toppings. The savoury kimchi pancakes in this unique creation are complemented with a tofu patty that is drenched with a sweet bean sauce. Pick this if you want a lighter option to the PB & B Burger.

[caption id="attachment_27228" align="alignnone" width="1810"]
The Kim Cheesy Pancake Burger (Image Credit:
The Breakfast Pancake Burger (Image Credit:
Rainbow Rice Bowl (Image Credit: Burpple Guides)[/caption]

Another item worth trying is the No Fuss Chicken Fusilli ($19). While this is a relatively common dish in many restaurants, Tiong Bahru Bakery checks all of our boxes with their well seasoned pasta, coupled with tender chicken thigh ragu. This will definitely be included in our list of comfort foods after a tiring day at work.

Located at such a central location and with such well executed dishes, Tiong Bahru Bakery is going to be our go-to option for dinner gatherings!

Tiong Bahru Bakery
Address: #B1-11/12, Raffles City Shopping Centre, Singapore 179103
Dinner timing: Weekdays: 5pm – 9.15pm; Weekends: 9am – 9.15pm
Contact no.: 63334160
Soup Curry Is A Thing, And You Can Now Get A Taste Of This Hokkaido Specialty In S'pore