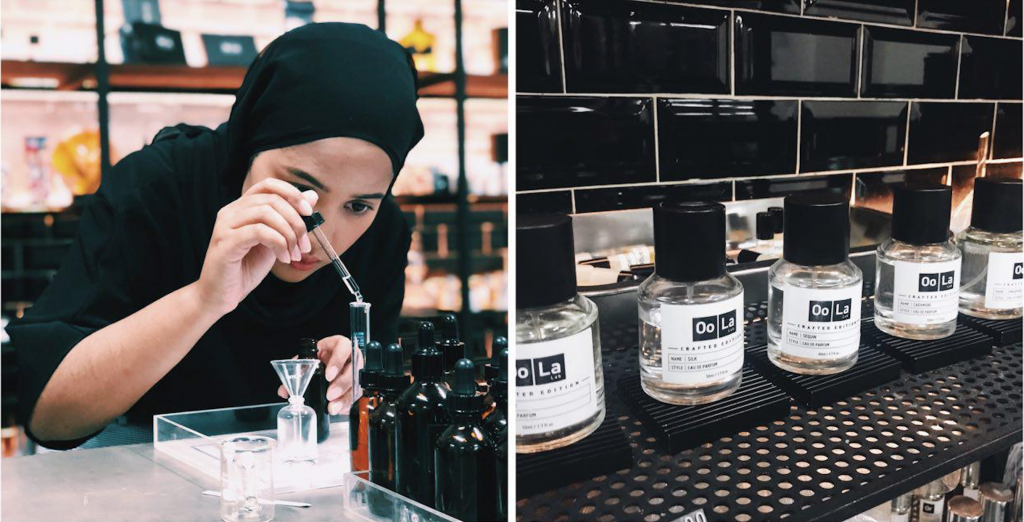 It's kind of crazy how certain scents can instantly evoke memories you'd completely forgotten about.

The smell of warm chocolate cookies can transport you to that night you slept underneath the Christmas tree because your dad told you Santa and his reindeers will show up. Sunscreen and coconut oil can remind you of sunny days in Bali. And Jo Malone Lime Basil & Mandarin cologne might make you recall your ex-boyfriend's….mom?

There is a plethora of brands out there offering fragrances but the downside is there's always the chance you may end up wearing the same scent as someone else–especially if you wear a classic fragrance like Chanel No. 5.

This is where Oo La Lab comes in. Established in 2016, this fragrance lab allows you to customise your fragrance with a mixologist to come up with your ideal perfume – from picking all the notes to choosing a name.

[caption id="attachment_36464" align="aligncenter" width="4032"]
Image Credit: Discover SG[/caption]
Craft Your Own Scent
You'll smell it before you see Oo La Lab's workshop, their counters are lined with bottles of essential oils and perfumes. Located in Delta House, Oo La Lab lets you customise your own fragrance in a 60-minute perfume making session ($88/pax, $176/two pax).

Starting with a quick theory lesson on the Oo Fragrance Table which has a total of 25 core scent and 2 complex scent available, we set out to start our perfume making process.

[caption id="attachment_36462" align="aligncenter" width="1280"]
25 eau da parfum core scents | Image Credit: Discover SG[/caption]

The first step required us to take a whiff of every scent and narrow down our favourite ones. The scents were split up to 3 different categories (bottom, middle, top notes).

Now, if you're like me and you suffer from the butter finger syndrome, you'll find yourself fumbling with the glass beakers, funnels and the bottles.

Please don't break anything. Please don't break anything. PLEASE don't break anything.

[caption id="attachment_36461" align="aligncenter" width="1280"]
Image Credit: Discover SG[/caption]

The entire set up felt like a complete throwback to chemistry lessons in secondary school. All that's left was a lab coat, goggles and gloves to complete my look.

While I was halfway through smelling the different scents, I started getting a little giddy or perhaps high from all the different smells. The lab also carries "edible" scents such as Vanilla and Gourmande which honestly got my tummy rumbling. The aromas were so sweet that I was almost tempted to taste them. They also carry a limited edition synthetic scent called "Chocolate" which will remind you of a chocolate fondue.

From Fresh and Floral notes to deeper Oriental and Wood fragrances, I had a tough time picking out the scents that would fit my personality.

[caption id="attachment_36470" align="aligncenter" width="4032"]
Image Credit: Discover SG[/caption]

Once I've decided on my scents, it was time to do the math.

I was allowed a total of 20 drops for each round (there are 2 rounds), which must include 10 drops of bottom and 10 drops of middle and top notes (5 from middle, 5 from top).

[caption id="attachment_36463" align="aligncenter" width="4032"]
Image Credit: Discover SG[/caption]

Here's the slightly tedious part: Mark down the scents that you want to combine and decide how many drops of each scent will go into your trial mixture.

This requires quite a bit of trial and error because you don't want to leave the workshop smelling like a Funfetti Cake or the Amazon Rainforest.

Now here's where you get to feel like a chemist.

Based on your prior selection, it was time to translate 20 drops into 20ml which is the amount needed to fill your perfume bottles! This step was important because an extra drop might change the entire formula of your perfume.

[caption id="attachment_36466" align="aligncenter" width="4032"]
Image Credit: Discover SG[/caption]

The mixture in the bottle will then be iodised and topped up with alcohol, before being professionally sealed with a spray nozzle and cap. To make it even more personalised, you can name your perfume.

Once that's done, you'll receive your 20ml eau de parfum packaged nicely in plastic wrappers with a card indicating your mixture so you can re-order on the website if you ever run out!

[caption id="attachment_36469" align="aligncenter" width="4032"]
Final Product | Image Credit: Discover SG[/caption]

If you're ever looking at doing something out of the ordinary in Singapore, this workshop is perfect for a date or even as a birthday gift. You'd be surprised to find out how everyone's preferences are so different. Who knows, you might just be able to recreate a perfume you love.

Oo La Lab
Address: The Lab, ​DELTA HOUSE #02-04 2 Alexandra Road 159919 Singapore
Duration: 60 minutes
Price: $88/pax
Book your workshop here
Website

Also Read I Paid $400 To Make My Own Watch From Scratch – And It Was Totally Worth The Price Tag

(Header Image Source: Discover SG)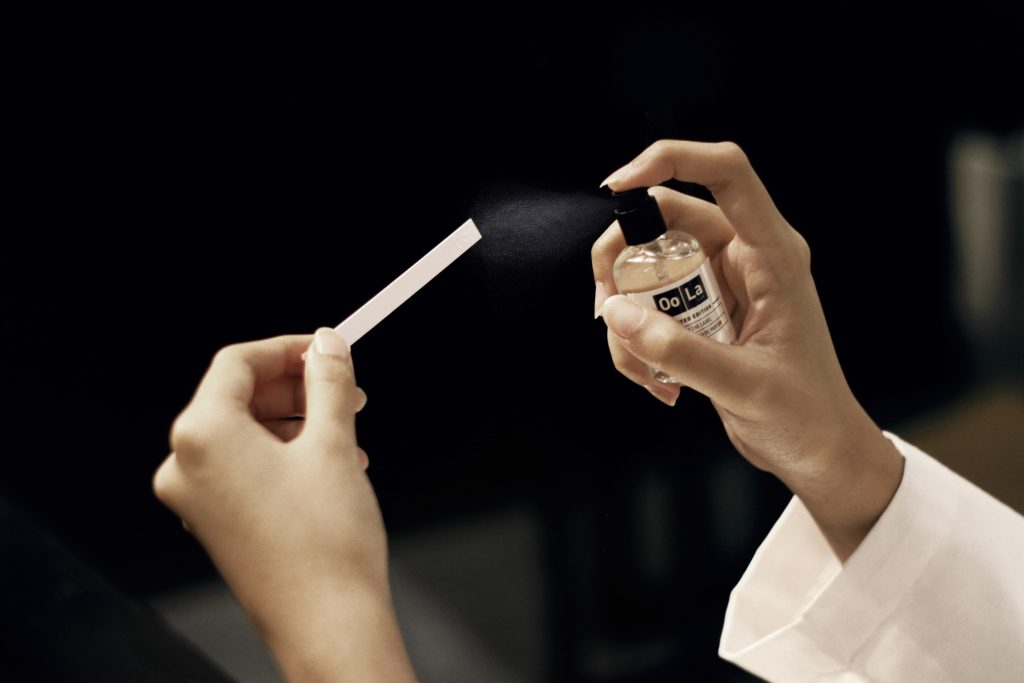 Can't seem to find the perfect fragrance to complement your style and personality? Or simply looking to switch things up?

Whichever it is, we've got the solution!

As part of its pop-up store promo this month, up-and-coming fragrance and mixology specialist Oo La Lab has launched Chemistry of Oo, a sensorial workshop where you can not only learn all about fragrance design, but also create your own personalised fragrance.

Sounds exciting, doesn't it? The DiscoverSG team attended one of these sessions with our ambassadors just last week, so here's a whiff of what to expect at Chemistry of Oo:

[caption id="attachment_27646" align="aligncenter" width="4032"]
Oo La Lab (Image Credit: Vivienne)[/caption]
A Scent-sational Experience
[caption id="attachment_27648" align="aligncenter" width="4752"]
Image Credit: Oo La Lab x Mandarin Gallery[/caption]

This may seem like a no-brainer, but it's imperative that you identify 5 to 7 notes (from over 25) you like best to ensure you love your final product. For those unacquainted, 'notes' is fragrance terminology for the basic building blocks of scent. Because your fragrance is going to be uniquely you, you'll need to take note (pun intended) of what you like and have an idea of what fragrance you want to end up with.

Notes vary in intensity and type. They can be fresh, floral, oriental or woody. From the subtle and fresh Citrus and Tea scents to the more intense and complex Musk, Chypre and even Leather, there's something for everyone!

[caption id="attachment_27650" align="aligncenter" width="4032"]
With over 25 basic notes, there's something for everyone (Image Credit: Vivienne)[/caption]
Getting It Just Right
[caption id="attachment_27651" align="aligncenter" width="4032"]
Building your own fragrance 101 (Image Credit: Vivienne)[/caption]

After you've identified your favourite notes, it's time to try out the various combinations to see what works best!

Since you'll be combining about 5 notes, you'll need to experiment with various proportions to see how they turn out. This is where the fun really starts!

Participants will each receive a mini chemistry set of sorts, complete with a test tube, beaker, vials and more. Instructions are clear and easy to follow, and should you have any questions (e.g the ideal ratio), simply ask the staff at Oo La Lab and they'll be more than happy to give you some tips.

[caption id="attachment_27653" align="aligncenter" width="4898"]
Image Credit: Oo La Lab x Mandarin Gallery[/caption]

Don't be afraid to make as many attempts as you need to get your fragrance exactly right!
Mixing Your Fragrance
[caption id="attachment_27652" align="aligncenter" width="1280"]
DiscoverSG Ambassadors Chelsea and Cheryl hard at work (Image Credit: Cheryl)[/caption]

Once you're happy with your concoction, it's time to actually build your fragrance and bottle it up!

All you have to do is mix the notes in the ratio that you want, but at a much greater volume. This is made easy with the measuring cylinder provided. A checklist will also be provided so you can keep track of all the notes that will go into your bottle.

[caption id="attachment_27654" align="aligncenter" width="600"]
Image Credit: Oo La Lab x Mandarin Gallery[/caption]

You will be provided with a pretty bottle to keep your fragrance. The default size is 20ml.
Crimp, Label and Seal The Deal
[caption id="attachment_27655" align="aligncenter" width="4898"]
Image Credit: Oo La Lab x Mandarin Gallery[/caption]

When you're done mixing your fragrance, you'll need to bring your bottle to one of the staff, who will then add a dash of ethanol and finally seal – or crimp – your bottle. You'll also get to name your own custom-made fragrance, which will appear on the label! Name it whatever you want and once your bottle is sealed, voilà, you're done!

[caption id="attachment_27656" align="aligncenter" width="1280"]
Posing with our proud creations! (Image Credit: Cheryl)[/caption]
SPECIAL PROMO: 50% off
Alright dear readers, we bring you good news – Oo La Lab is currently having a smashing 2-for-1 promotion for its Chemistry of Oo workshop!
For just $98 (i.e $49 per person), you and a friend can create something unique together–that's half the usual price. It's an informative, engaging, not to mention fun experience! Whether you are new to fragrance or a fragrance connoisseur, you'll have a scent-sational time here. Simply quote "Oolalab@mandaringallery" when you visit the store and you're good to go!
Promotion ends after 30 June 2017, so hurry and make a date with Oo La Lab!
Chemistry of Oo
Address: Oo La Lab pop-up store, Mandarin Gallery, #03-24, 333A Orchard Road, Singapore 238897
Duration of workshop: 1.5 – 2h
Click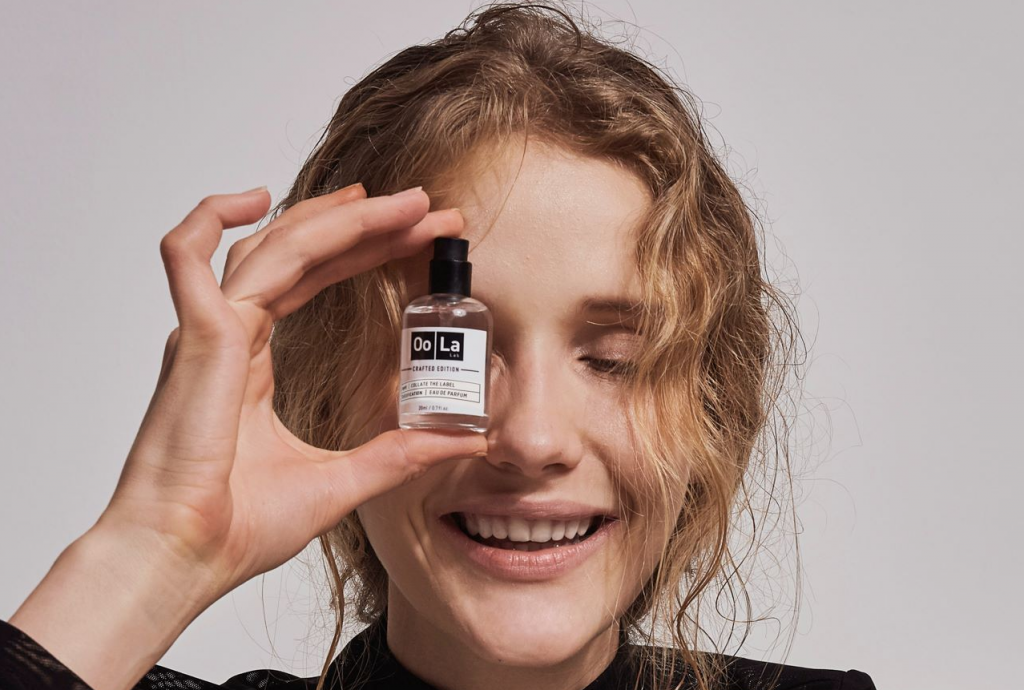 Christian Dior once said "A woman's perfume tells more about her than her handwriting."

Indeed, a fragrance can tell you a lot about a person–and even their mood!

There is a plethora of brands out there offering fragrances but the downside is there's always the chance you may end up wearing the same scent as someone else–especially if you wear a classic fragrance like Chanel No. 5.

This is where Oo La Lab comes in. Established in 2016, this fragrance lab allows you to customise your fragrance with the finest raw ingredients. Choose from popular formulas or work with a mixologist on-site to create your own signature scent.

You can even try customising one for your friends and loved ones! With its chic black and white packaging, we think it will make the perfect gift!
Oo La La: Creating your scent at Oo La Lab
The word "oo la" stands for emotion in Oo La Lab's Fragrance Table.

[caption id="attachment_24385" align="alignnone" width="1600"]
Oo La Lab's Fragrance Table (Image Credit: Lux Mondi)[/caption]

Each fragrance from the lab corresponds to an element on the table. Organised by top notes (first two rows), middle notes (third row) and base notes (bottom row), clients get to visualise how different scent families and ingredients can complement each other.

Aside from using the best ingredients, Oo La Lab also prides itself in hand-pouring their fragrances and working in small batches. Staff at the Lab also prepare the fragrances on-site and in front of customers so you can watch the making of your own fragrance.

Prices for a custom-made fragrance starts from SGD$48.

[caption id="attachment_24382" align="alignnone" width="1280"]
Credit: Oo La Lab[/caption]

For those of you who would prefer to pick Oo La Lab's existing fragrances, you will be pleased to know that Oo La Lab has a wide range of Eau De Parfums, crafted perfumes as well as limited edition fragrances such as the (Top Image Credit: