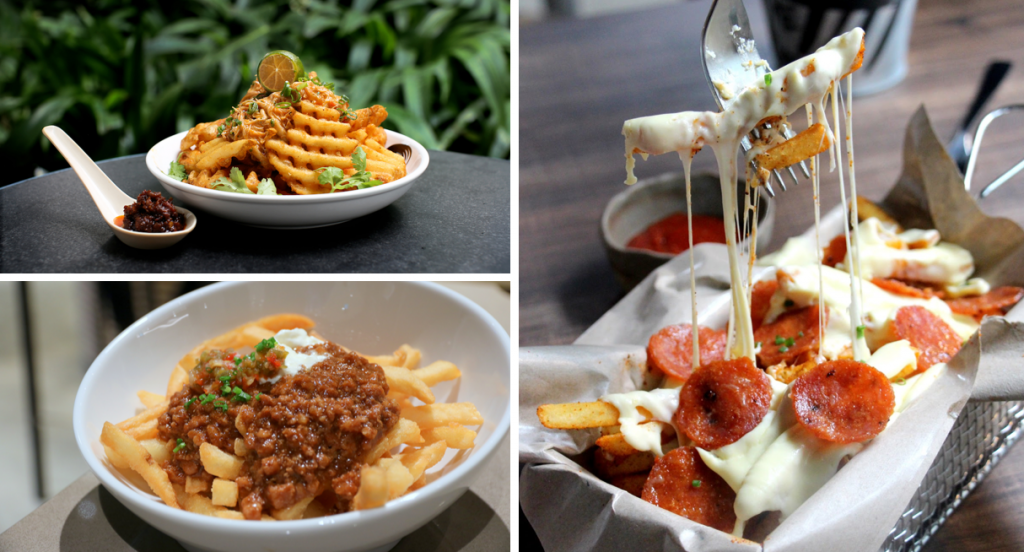 If you're a normal human being with tastebuds and you love fries, keep reading.
You've definitely tried the ever-delicious Truffle Fries, but that has had its day. Now, we're ready for a new type of fry to take over the spotlight.
Some of these are really sinful, but as the saying goes: don't count your calories, make your calories count. After all, potatoes are a staple too, right?
Here are 10 places to binge on some of the most unique fries you've ever come across!
1. Char Siew Chilli Fries
We Singaporeans really do love our fusion foods.

Here's where Redpan's Char Siew Chilli Fries come in; a tasty specimen of east meets west.

[caption id="attachment_28550" align="aligncenter" width="1880"]
Image Credit: The Ranting Panda[/caption]

The fries are covered in a moist, saucy char siew ragout you won't be able to stop scooping up!

Think sweet BBQ meat chunks laced with sour cream and jalapeño salsa. Mm mm mm… A step up from your usual fries with meat sauce.

Redpan
Address: 6 Raffles Boulevard, Marina Square #02-03/04 Singapore 039593
Opening Hours: Mon – Fri: 9am – 10pm; Sat, Sun & PH: 11am – 10pm
Contact no.: 6255 5850
You can't go wrong with falling back on a local favourite.

That's what Loof has done with its heavenly Chilli Crab Fries!

[caption id="attachment_28547" align="aligncenter" width="1200"]
Image Credit: These fries are drenched in Loof's signature tangy blue crab dip.

Their waffle-cut shape is perfect for scraping up super big servings of the dip.

Enjoy this with crafted Southeast Asian inspired cocktails for a chill evening at this urban rooftop bar!

Loof
Address: 331 North Bridge Road, #03-07 Odeon Towers Extension Rooftop, Singapore 188720
Opening Hours: Mon – Thu: 5pm – 1am; Fri – Sat: 5pm – 2am; Closed on Sun
Contact no.: 6337 9416
McDonald's may be the original creator of these, but we've found a better version.

Everything With Fries' Curry Fries aren't just sprinkled with curry powder.

[caption id="attachment_28555" align="aligncenter" width="768"]
Image Credit:
Rather, the fries here are tossed with fried curry leaves, and heavily spiced with a highly addictive curry powder.

An eatery specializing in fries, the fries here definitely do not disappoint.

Order these as a side to their burgers, or have them on their own – we know we would!

Everything With Fries
Address: #04-05, Bugis Junction, 200 Victoria St, Singapore, 188021
Opening Hours: Sun – Mon: 10am – 11pm; Fri – Sat: 10am – 1am
Contact no.: 6463 3741
These fries have to be the most sinful of the lot.

Introducing Duck Fat Fries!

[caption id="attachment_28552" align="aligncenter" width="1698"]
Image Credit: TripAdvisor[/caption]

These fries are fried in duck fat two to three times.

The result is a crispy outer layer that's guilt-inducing, but oh-so-flavourful.

At Les Bouchons, these delicious babies are free flow with every main!

Les Bouchons
Address: 7 Ann Siang Road, Singapore 069689
Opening Hours: Mon – Thu: 12pm – 3pm, 7pm – 11pm; Fri: 12pm – 3pm, 7pm – 12am; Sat: 7pm – 12am; Closed on Sun
Contact no.: 6423 0737
Fans of all things Korean, listen up!

Here's where you can get one of the best Kimchi Fries in Singapore.

[caption id="attachment_28664" align="aligncenter" width="700"]
Image Credit: Deliveroo[/caption]

At Don't Tell Mama, the fries are served with real kimchi; none of that artificial kimchi powder you may get at some other places.

The fries are drizzled with generous amounts of homemade kimchi mayo, with extra jalapenos and onions for that sharp, spicy kick.

There are also chunks of pulled pork hidden within the dish to make it more filling.

It's definitely something we'd order as a meal instead of just as a snack.

Don't Tell Mama
Address: 52 Tanjong Pagar Road, Singapore 088473
Opening Hours: Mon – Thu: 5.30pm – 2am; Fri – Sat: 5.30pm – 3am; Closed on Sun
Now, here's a healthy(ish) option.

House At Dempsey's Pumpkin Hazelnut Fries are sure to delight with it's unique mish mash of flavours.

[caption id="attachment_28551" align="aligncenter" width="1024"]
Image Credit: Deenise Glitz[/caption]

Sweet, nutty and spicy sensations hit you with each bite you take.

The fries are actually deep fried pumpkin slices, while the hazelnut bits give them the nutty flavour and crunch.

It's not all sweet though – there's also chilli powder and paprika in it for that extra kick that makes it so appetizing.

House At Dempsey
Address: 8D Dempsey Rd, Singapore 249672
Opening Hours: Mon – Thu: 12pm – 11pm; Fri: 12pm – 12am; Sat: 11am – 4pm, 6pm – 12am; Sun: 9am – 4pm, 6pm – 11pm
Contact no.: 64757787
This dish combines two of our favourite things – pizza and fries. 

The two flavours are a match made in heaven, and we're glad they've finally gotten together.

[caption id="attachment_28549" align="aligncenter" width="1202"]
Image Credit: 's fries are covered with loads of melted cheese, three-cheese sauce and smoky pepperoni slices. 

It's paired with a savoury house-made bacon ketchup.

Is it sinful? Yes. Is it worth it? Definitely

Alter Ego
Address: 8 Raffles Avenue #01-13D Singapore 039802
Opening Hours: Sun – Thu: 11am – 11pm; Eve of PH, Fri, Sat: 11am – 1am
Contact no.: 63279301
Salted egg yolk has made its way into all sorts of foods recently, and Arbite Cafe has hopped onto the bandwagon with its Salted Egg Yolk Fries!

[caption id="attachment_28545" align="aligncenter" width="960"]
Image Credit: Burpple[/caption]

Their crispy fries are coated all over in the all-familiar salted egg yolk sauce!

For less than $10, you'll get a mean serving of these golden babies, so share away!

That said, we would be more than willing to brave a sore throat to finish a whole plate of this ourselves.

Arbite Cafe
Address: 66 Serangoon Garden Way Singapore 555962
Opening Hours: Tue – Fri: 11.30am – 3pm, 6pm – 10.30pm; Sat & Sun: 11am – 10.30pm
Contact no.: 6287 0430
Website
9. SPAM Fries
Here's the ultimate diet-killer.

Spam Fries – or deep fried cuts of luncheon meat – are apparently a thing now.

[caption id="attachment_28554" align="aligncenter" width="1024"]
Imade Credit:
serves this in thick cuts and in a large portion.

Scoop up some of the Kaffir lime mayo dip for a flavour combo you've probably never tried before!

This is probably the fanciest form good old luncheon meat will ever take. 

Strangers Reunion
Address: 35 Kampong Bahru Rd Singapore 169356
Opening Hours: Wed – Mon: 9am – 10pm; Fri & Sat: 09am – 12am
Contact no.: 6222 4869
Facebook
10. Truffle Taro Fries
Okay, so we cheated and threw in some Truffle Fries.

But these ones are made with Taro, and that makes all the difference.

[caption id="attachment_28556" align="aligncenter" width="960"]
Image Credit: Burpple Guides[/caption]

House At Dempsey's shoestring truffle taro fries are a power combination.

Unlike the the rest of its heavier counterparts, these fries are as light as air.

The taro fries are dipped generously in batter and fried to maximum crispiness.

Together with the fragrance of truffle oil, this becomes the ultimate snack for both truffle and taro lovers alike.

House At Dempsey
Address: 8D Dempsey Rd, Singapore 249672
Opening Hours: Mon – Thu: 12pm – 11pm; Fri: 12pm – 12mn; Sat: 11am – 4pm, 6pm – 12mn; Sun: 9am – 4pm, 6pm – 11pm
Contact no.: 64757787
Website

Are you ready to satis-fry your deepest cravings?

We say, skip the McDonald's fries and try out one of these out-of-this-world creations on your next cheat day.

Also read 10 Fresh Events And Food Spots That Have Just Popped Up In The Second Half Of July [16-31 July]