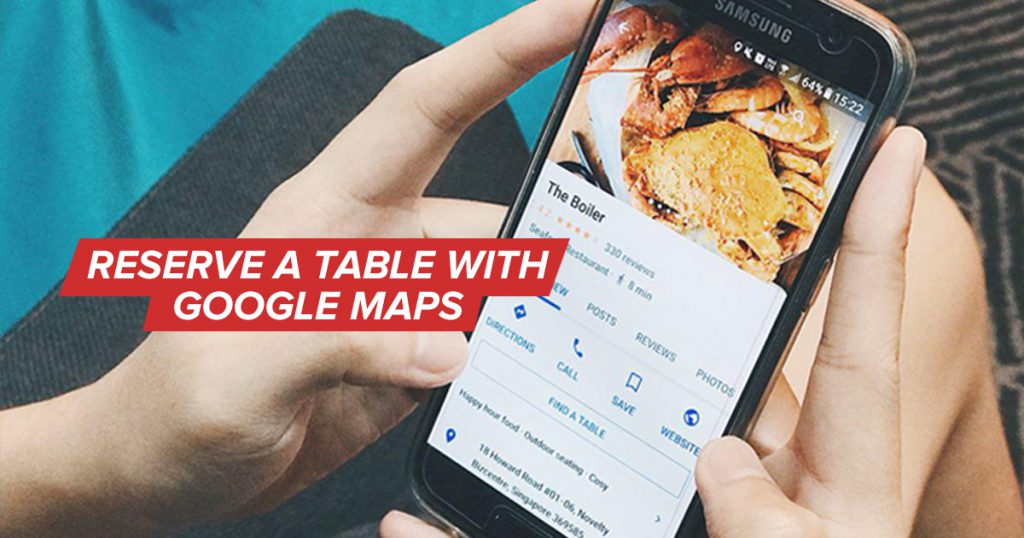 Making reservations at restaurants is one of the things you learn to do as you grow into an adult but nobody enjoys long interactions with strangers.

Because we're all awkward turtles, we've got some good news to share.

Today, Google announced that they've partnered with Chope, HungryGoWhere, and Quandoo to launch the new "Reserve with Google" feature.

That's right, Singaporean users are now able to make reservations at their favourite restaurants directly on Google Maps and Search.

[caption id="attachment_33872" align="aligncenter" width="609"]
Image Credit: Google[/caption]

Because making a reservation has always been a bit of a hassle, Google is making that process more seamless.

Now you can just Google search for a restaurant, view its real-time availability, and make a reservation immediately by clicking on the "Find a table" button.
How To Make A Restaurant Reservation With Google
Open Google Maps and search for a restaurant or tap on a restaurant you see on the map.
Tap on the name of the restaurant for more information. If the restaurant uses OpenTable, you should see a "Find a table" button along with the available time slots.
If you're looking for a time slot that's not listed, you can update the number of people you're reserving for, and the specific time slot.
You should be redirected to a confirmation page for your reservation once everything is done.
A confirmation email from OpenTable will be sent to you shortly after confirmation.
Changing or cancelling reservations are also easy. Go to the confirmation email sent to you by OpenTable and just tap on Change or Cancel.
Also, if your Gmail is registered with OpenTable, you'll get Dining Rewards points for your reservation.
Say goodbye to multiple redirections to different websites and frustratingly long waiting times for reservation calls!
Also read 8 Steakhouses In Singapore That Will 'Meat' Your Expectations For Under $50
(Header Image Source: DiscoverSG)