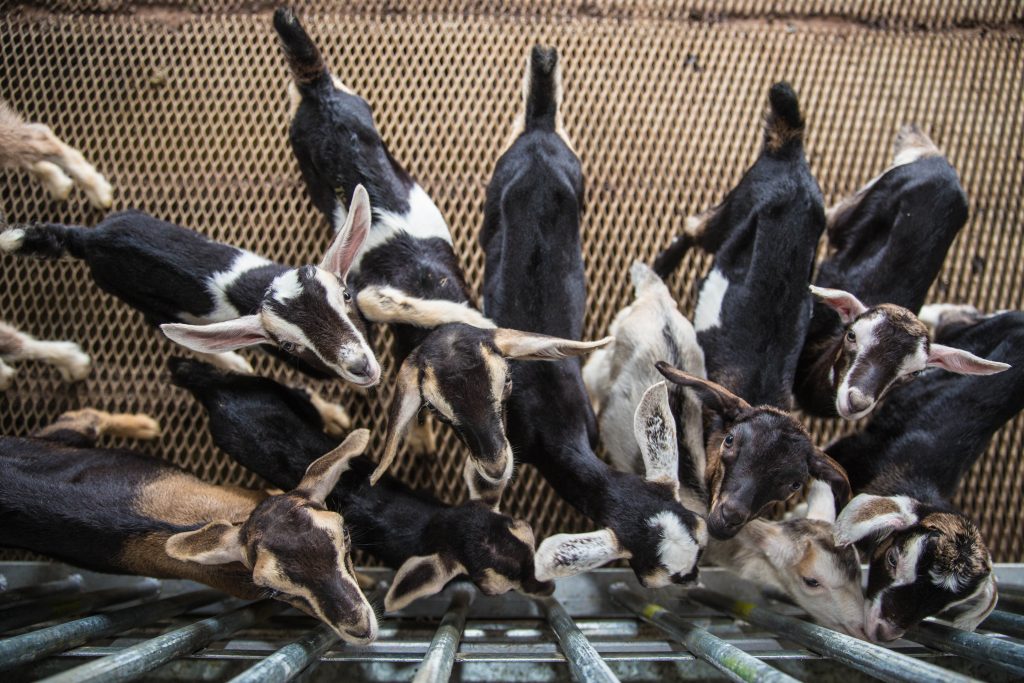 If your idea of paradise is to be surrounded by animals of all kinds, this one's for you.
We all know the Zoo, the Bird Park, the Night Safari, and the River Safari. Let's be honest, you can only visit these places so many times before you get bored of it.
Here are 7 lesser-known places in Singapore for you animal lovers to get up close and personal with some cute (and some less cute) critters. From rabbits to goats, to tortoises, you're sure to find your spirit animal in one of these animal enclaves.
A word of warning though: some of these critters aren't as cute and fluffy as the ones you may have in mind…
1. The Animal Resort
It seems like gone are the days when animals could run and roam freely around our homes.

The Animal Resort brings a taste of that back with its little zoo with a kampong twist!

[caption id="attachment_25431" align="aligncenter" width="1600"]
Image Credit: T81 Seletar West Farmway 5, Singapore 798061
Opening Hours: 10am – 6pm daily
Admission: Free
Contact no.:

64821160 / 91271323


Make friends with goats at Hay Dairies!

Walking down the enclosures, these amicable and curious animals will poke their noses through the bars to nudge your hand, as if to say "hello". 

[caption id="attachment_25433" align="aligncenter" width="5472"]
Image Credit:
No. 3 Lim Chu Kang, Agrotech Park Lane 4, Singapore 718859
Opening Hours: Mon, Wed, Sun: 9am – 4pm; Farm is closed on Tuesdays
Admission: Free
Contact no.:

6792 0931


These slow and chill guys are our spirit animal for sure.

The Live Turtle & Tortoise Museum lets you enter a rare world of turtles and tortoises.

[caption id="attachment_26861" align="alignnone" width="1332"]
Image Credit: Wikimedia[/caption]

You'll be surrounded by 200 turtles and tortoises of more than 60 different species.

Be entertained by the funny antics of the Terrapins and Soft Shells roaming freely through the park. You can also pet and hand feed some of them! If you are in luck, you might even witness eggs hatching.

The founders of this museum rescue and rehabilitate the rarer species. These include "Double Happiness", a two-headed, six-legged turtle that was nursed back to health after she was found in critical condition.

It is a common Chinese belief that turtles and tortoises represent longevity. So come soak up the good fortune with these zen creatures!

The Live Turtle & Tortoise Museum
Address: 1 Chinese Garden Road, Singapore 619795
Opening Hours: 10am – 7pm daily
Contact no.: 6268 5363
For a nature paradise and getaway from the hectic city life, try Farmart Centre!

Their simple setup and rest-and-relax activities will give you a glimpse of the kampung spirit.

[caption id="attachment_25427" align="aligncenter" width="3000"]
Image Credit: Adrian Video Image[/caption]

Its "Weekend Animal Corner" lets everyone interact with the small animals. Experience the feeding of goats, rabbits, bullfrogs, tortoises, and many more.

You can also sign up for one of their interesting and educational farm tours. You'll be taken around and introduced to all the different farm animals around the Kranji area!

Don't leave before having a good lunch of Traditional hot wok Zi Char, Hot Grilled BBQ Chicken Wings, Otah Otah and Malay Satay!

Farmart Centre
Address: 67 Sungei Tengah Road, Singapore 699008
Opening Hours: Food Outlets: Sun – Thu: 10am – 10pm; Fri, Sun, PH: 10am – 12am
Admission: Free
Contact no.: 67670070
If calming sea creatures are more your thing, the endless rows of koi ponds at Mainland Tropical Fish Farm will be a treat.

It's a great place to indulge in a bit of fishing or fish feeding!

[caption id="attachment_25423" align="aligncenter" width="1200"]
Image Credit: Andrew, Shuhua, Claire[/caption]

Buy a pack of fish food from the shop and watch the pretty koi gather eagerly for a bite. Or try your hand at longkang fishing and prawn fishing.

Dip your feet at the fish spa for a ticklish, yet relaxing experience. Or simply gaze at the scores of ornamental fish on display and admire nature's handiwork.

Should you decide to take home a finned friend, you'll find everything you need for its well-being right here!

Mainland Tropical Fish Farm
Address: No.1 Pasir Ris Farmway 1, Singapore 519352
Opening hours: 8.30am – 7pm daily
Admission: Free
Contact no.: 62873883, 65843643, 65812550
You'll hear them before you see them.

These outspoken creatures at Jurong Frog Farm are sure to greet you as you enter their home!

[caption id="attachment_26862" align="alignnone" width="1000"]
Image Credit: 51 (Plot 56) Lim Chu Kang Lane 6 Singapore 718864
Opening Hours: Tue – Fri: 9am – 6pm (reserved for booked tours and pick up of purchases); Sat, Sun, PH: 9am – 5.30pm
Admission: Free
Contact no.:

6791 7229


Don't forget that insects are animals too!

Butterfly lovers will love Oh' Farms Butterfly Lodge, a place that houses around 20 local butterfly species.

[caption id="attachment_25426" align="aligncenter" width="660"]
Image Credit: Butterflies of Singapore[/caption]

This butterfly-friendly flight cage allows visitors to observe and enjoy the butterflies in a landscaped garden environment.

The habitats are carefully designed to allow the butterflies to fly freely and go about their daily business with as little interference as possible. Nectar collecting and flower pollinating is all very important stuff.

You'll also learn about the ecology and conservation of butterflies, and appreciate the diversity and beauty of Singapore's butterfly fauna.

Come marvel at the beauty of these flying jewels as they flit just by your ear!

Oh' Farms
Address: 14A, Bah Soon Pah Road, Singapore 769970
Opening Hours: Mon – Sat: 8am – 5pm; Closed on Sundays & PH
Contact no.: 67538011
In Need Of A Happy Hour? This 'Atas' Food Hall In The CBD Has A Bar That Offers Drinks For Just $5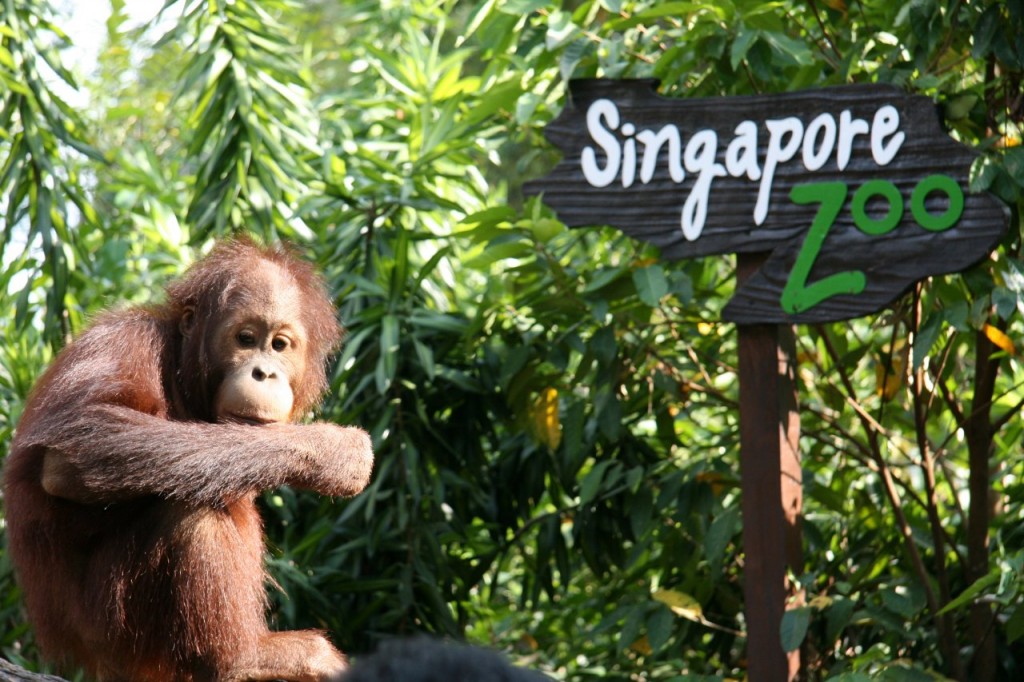 We almost always head to the same few places every weekend. Is there really nowhere else to go?
With a bit of research, we've compiled a list of 5 fun places in Singapore (away from the bustling city) for an afternoon of activity!
1. Singapore Zoo/Night Safari/River Safari – Relive your childhood by going on an excursion
Be it school excursions or family outings, most of us have gone to the as a kid. Wouldn't it be interesting to see how the Zoo has changed since then?

Go for a day out at the Zoo and feast your eyes once more on the magnificence of over 300 different species of wildlife that reside in the 26 hectare animal park.

[embed]https://www.instagram.com/p/BAqq-_otR51/[/embed] [embed]https://www.instagram.com/p/BCJq_9cvC3X/[/embed] [embed]https://www.instagram.com/p/BCJyVL_lPhf/[/embed]

Too busy in the day? No worries, because the is open from 7:15pm to midnight. As the world's first safari park for nocturnal animals, the Night Safari can be touted as a unique experience in its own right.

[embed]https://www.youtube.com/watch?v=OwxLCUgYTJQ[/embed]
Been to both the Zoo and Night Safari recently? We got it covered!

The latest addition to our wildlife reserves is the which was built with inspiration from the world's greatest rivers. One of their more popular attractions include the Giant Panda Forest, where panda darlings Kai Kai and Jia Jia currently reside at.

[embed]https://www.youtube.com/watch?v=-yXTpFqbMoA[/embed]

Singapore Zoo/Night Safari/River Safari
Address: 80 Mandai Lake Rd, Singapore 729826
Opening Hours:
Zoo: 8:30am – 6pm
River Safari: 10am – 7pm
Night Safari: 7:15pm – 12mn
Tel: (65) 6269 3411
Email: [email protected]
2. Bollywood Veggies – Discover Singapore's countryside
Founded by Ivy Singh and her husband, Bollywood Veggies
Address: 100 Neo Tiew Road, Singapore 719026 (Kranji)
Tel: +65 6898 5001
Opening Hours:
Wed-Fri: 9.30am – 6.30pm
Sat, Sun & PH: 8.00am – 6.30pm
Mon-Tue Closed (except for PH)
3. Sungei Buloh Wetland Reserve – Enjoy a serene walk with Mother Nature
As Singapore's first ASEAN Heritage Park, Sungei Buloh Wetland Reserve has much to offer. Explore the vast mangroves and trails that span all over the reserve as you contemplate the beauty of your surroundings.

[embed]https://www.instagram.com/p/BCInBTgKXhP/[/embed]

Play a game of Hide-N-Seek with our native mangrove inhabitants such as mud lobsters, monitor lizards and otters amidst the muddy landscape.

[embed]https://www.instagram.com/p/BCKmDqHElbE/[/embed]

Between September to March, visitors can also observe the flocks of many different species of migratory birds.

[embed]https://www.instagram.com/p/BCKd3JtJvvs/[/embed]

According to a 2011 Bird Checklist released by the National Parks Board, over 200 different species of birds have been recorded on-site at the reserve!

[embed]https://www.instagram.com/p/BCH22vPniI-/[/embed] [embed]https://www.instagram.com/p/BB-lhl0RvNh/[/embed]

Guided tours are also available in English and Mandarin. Click here for more information!
4. Red Dynasty Paintball Park – Bond with your friends by firing paint-bullets at each other
Delight in the exhilarating thrill of an adrenaline rush as you feel paint-bullets brush past your mask.  Since 2007, [email protected]

Red Dynasty also operates two other paintball parks in Singapore, click Agri-Food & Veterinary Authority of Singapore (AVA) and they provide a wide variety of select seafood such as fish, sting-ray, crabs, clams, as well as lobsters to many of our local food establishments.

[embed]https://www.instagram.com/p/5AkW97PrPL/[/embed]

Their sources include local fish trawlers, fish farms, as well as in-shore vessels. Over here, you can get your hands on the freshest seafood available at wholesale prices. Now you know where to go if you're planning for a cookout or BBQ.

[embed]https://www.instagram.com/p/tJvXdqqtGH/[/embed]

Senoko Fishery Port
Address: 31 Attap Valley Road, #02-29, Singapore 759908
Opening hours: Tue-Sun from 2am – 6am
Tel: 6257 9760 / 6257 6721

So, who says Singapore is boring? If we've left out any must visit places in Singapore, leave us a comment!
Follow Discover SG on Facebook