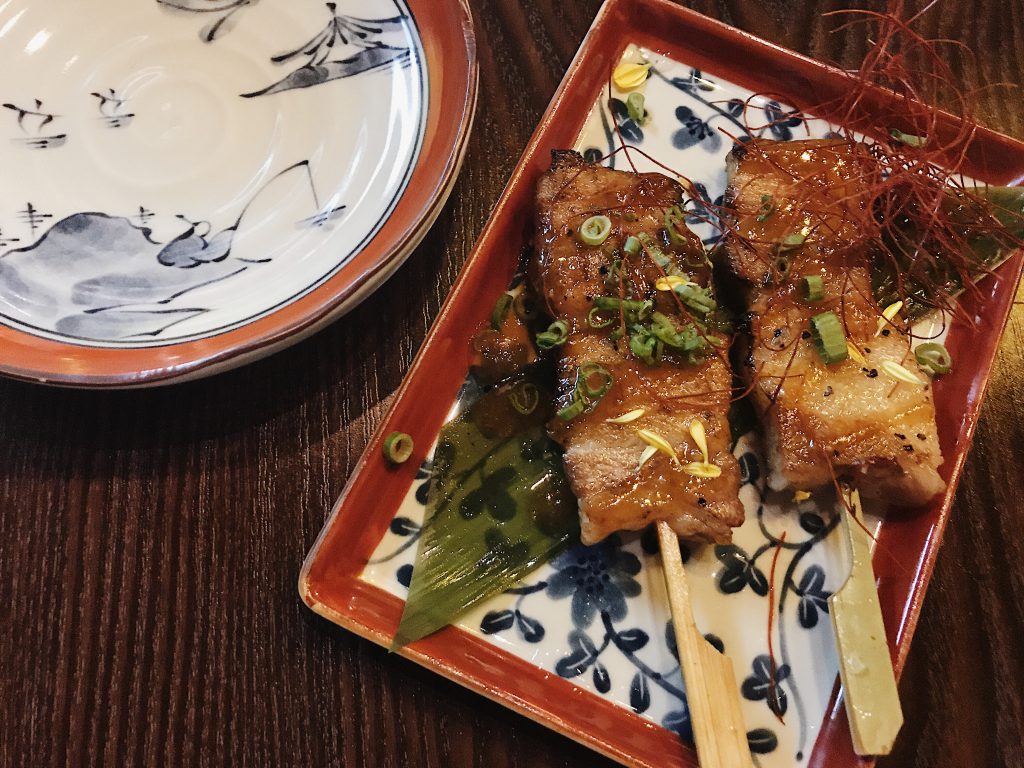 'Kushiyaki' is a term that many people in Singapore are not familiar with.

Don't worry, we will explain. Kushiyaki essentially refers to skewered food that is grilled.

Grilling brings out the natural flavours of the food. It caramelises the sugars in vegetables and marinated meat tend to take on a distinctive roast aroma and flavour.

Enter Kimoto Gastro Bar. This hole-in-the-wall restaurant bar located at The [email protected] Bay serves up a wide range of skewered meat and vegetables, tempura, rice bowls, and an extensive menu of saké to go with the food.

This quaint bar may be small but their food is big on flavour.

[caption id="attachment_30626" align="aligncenter" width="4032"]
Kimoto's unique windows can be opened up and doubles as seats as well.[/caption] [caption id="attachment_30628" align="aligncenter" width="4032"]
Take a seat at the cosy bar and watch the chefs grill your food.[/caption]
Stick After Stick Of Deliciousness
Now, this is the fun part. The food!

[caption id="attachment_30630" align="aligncenter" width="4032"]
Buta Bara ($6)[/caption]

The Buta Bara (Iberico Pork Belly) is a must-try. The iberico pork belly is brushed with a special sauce before being grilled to caramelised perfection. We promise that this will disappear from the table faster than you can say "Buta Bara".

[caption id="attachment_30631" align="aligncenter" width="4032"]
Unagi Riceball ($8)[/caption]

New on the menu is this Kimoto original, the Unagi Riceball. Generous amounts of grilled fatty unagi is wrapped in a toasted riceball and is served with their special sauce, bonito flakes and a dollop of tobiko mayo.

This delectable creation is crispy and packed with flavour. We love how umami the unagi is when paired with the special sauce. However, it is quite a hassle to try and get rid of the toasted rice from your teeth afterwards.

It is still a really good riceball though, so do give it a try!

[caption id="attachment_30632" align="aligncenter" width="3868"]
Crispy Fried Squid ($15)[/caption]

Another Kimoto original, the Crispy Fried Squid is an addictive bar bite that is fried to perfection, yet tender and moist on the inside. This is a hot favourite on the menu so order fast or it might just run out!

[caption id="attachment_30629" align="aligncenter" width="3953"]
Uzura Tamago ($4) and Zucchini ($4.50)[/caption]

The Uzura Tamago (Quail Egg) is a mini ramen egg. The yolks are not fully cooked so it's still a bit runny and the umami is concentrated. Each bite of the quail egg is akin to setting off an umami bomb.

Grilled and simply seasoned with salt is the Zucchini kushiyaki ($4.50). It looks underwhelming but don't let that fool you. We never knew zucchini could be this good.

When you finish your food, don't just leave the skewers lying around. Kimoto provides these cups for you to leave your finished skewers. Handy!

[caption id="attachment_30638" align="aligncenter" width="2880"]
Skewer cups[/caption] [caption id="attachment_30635" align="aligncenter" width="4032"]
Tempura Moriawase ($12)[/caption]

For those of you who are craving something a little more familiar, Kimoto has that covered.

The Tempura Moriawase comes with battered prawns, shitake mushroom, brinjal, sweet potato, carrot, and interestingly, chicken breast!

The chicken breast is tenderised before being coated in tempura batter and fried. The result is a flat, tender piece of chicken breast that just melts in your mouth.

Kimoto also has a rather extensive saké menu, because no decent japanese bar serves food without alcohol. Prices for the saké go from $70 to $1688. Yes, $1688. If you're not sure about the drink pairing, feel free to ask the friendly staff for recommendations!

All in all, Kimoto Gastro Bar is a great spot to unwind with friends, with great food, great saké and reasonable prices for quality food.

Kimoto Gastro Bar
Address: 6 Marina Boulevard #01-15 The [email protected] Bay Singapore 018987
Opening Hours: Mon – Fri: 11.30am – 2.30pm, 6pm – 10pm; Sat – Sun: Closed
Contact no.: 6222 7588
Website

Also read 21Moonstone Lets You Revisit Your Youth With Arcade Games, Cheap Booze, And Old School Snacks

(Header Image Source: Kimoto Gastro Bar)
Be prepared to be blown away by this ultimate fugu experience.

Guenpin Fugu, Japan's largest fugu restaurant chain, has set up shop in Singapore! It boasts a whopping 96 outlets in Japan, and has just settled here in a cozy 32-seater establishment.

The secret to its success? The most exciting dish on the menu–its signature Tiger Puffer Fish.

[caption id="attachment_26645" align="aligncenter" width="1378"]
Image Credit: Guenpin Fugu[/caption]
Tempting Torafugu
Not all fugu are created equal.

"Torafugu", or Tiger Puffer Fish, is recognized as the most premium grade of puffer fish available on the market.

Rich in collagen and protein, torafugu has less calories and fat than normal puffers, making it the luxury go-to fish for health and beauty.

[caption id="attachment_26648" align="aligncenter" width="3448"]
Image Credit: Alainlicious[/caption]

You can choose to have this rare fish in all its delicious forms.

There's the thin sliced puffer fish sashimi "Tessa" ($28), puffer fish hot pot "Tecchiri" ($55), BBQ puffer fish meat ($48), puffer fish sushi ($18/3 pc, $28/5 pc), and deep fried puffer fish meat ($35).

Each dish is prepared by hand, and with the 30 years of skill and expertise of Genpin Fugu's licensed artisan cooks.

[caption id="attachment_26646" align="aligncenter" width="1094"]
Image Credit: Guenpin Fugu[/caption]

Guenpin's torafugu is flown in from Shimonoseki, Japan's puffer fish capital for safe and quality fugu.

If you've never tried torafugu before, expect a clear, translucent meat with a crisp, firm texture, and subtle flavour.
Snow Crab & Sake
For the less courageous, Guenpin's snow crab is a great alternative.

Just like the fugu, it's prepared in a variety of ways like sliced sashimi, sushi, grilled, hotpot or cooked with porridge.

[caption id="attachment_26644" align="aligncenter" width="2048"]
Image Credit: Guenpin Fugu[/caption]

No Japanese meal is complete without sake!

While classic picks are always on the menu, the more adventurous can go for the more obscure ones. Think fin sake ($25), or tsugi sake ($15)–a cup of heated sake with grilled fish fins.

[caption id="attachment_26647" align="aligncenter" width="2048"]
Image Credit: Guenpin Fugu[/caption]

If you're looking to have a taste of pufferfish, this is the fugu specialist you need to visit.

Guenpin Fugu & Snow Crab Japanese Restaurant
Address: Guenpin Fugu, #01-06 Maxwell Chambers, 32 Maxwell Rd., Singapore, Singapore 069115
Opening Hours: Mon – Fri: 12pm – 3pm, 6pm – 12am; Sat – Sun: 5pm – 12am
Contact no.: 6634 2916
Website


Also read Forget Sugar Glazed, This Cafe Serves Up Savoury Donuts Like 'Cheeseburger' And 'Bacon' At Only $2.90 A Pop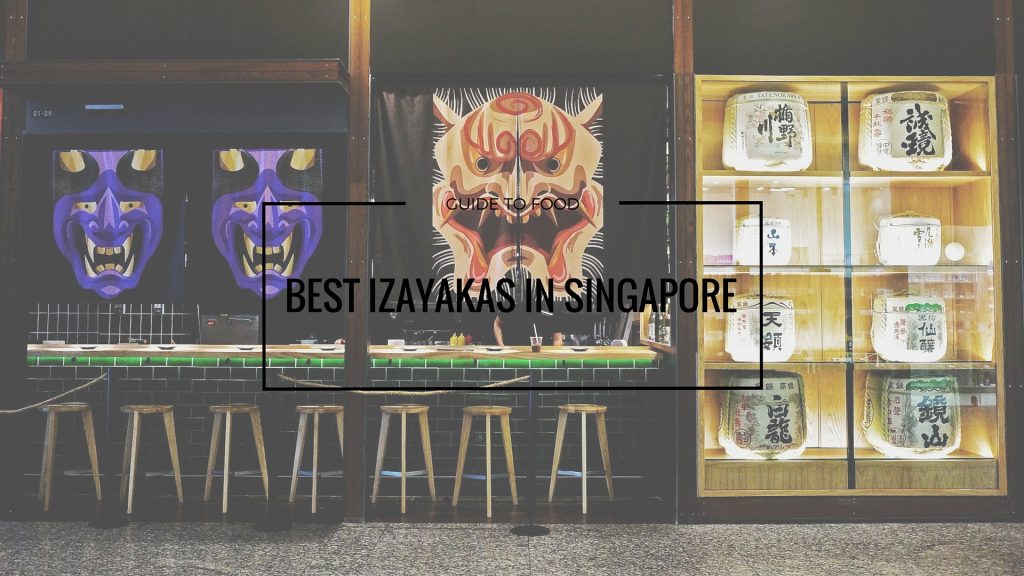 Looking to unwind over a large variety of sakes or whiskies while indulging in some tapas, yakitori or some good Japanese food? With Izakayas growing in popularity as a spot for after-work drinks and chill out, we have hunted down the best bars and restaurants for your top-notch sake, cocktails and Japanese-inspired bar bites.
Pop by our list of recommended hidden izakayas in Singapore, we're sure you'll enjoy the relaxing, chill-out vibes while you hit the bottles.
1. Hokkaido Izakaya
[caption id="attachment_9645" align="alignnone" width="1000"]
Image credit: 95 Tanjong Pagar Road, Singapore 088516


Contact:

65 6221 7118


Opening Hours: Mon-Sat 11.30am-2.30pm; 6pm-12am, Sun/PH 11.30am-2.30pm; 6pm-10.30pm
2. Bar Ippudo
[caption id="attachment_9626" align="alignnone" width="851"]
Image credit: Bar Ippudo Facebook Page[/caption]

This recently opened bar by the famed Ippudo ramen brand specialises in over 80 Japanese sake labels. These sake labels are from more than 20 sake breweries from Japan. With such a large variety, Bar Ippudo caters to both retail and dine-in customers. With tons of Japanese bar bites to everyone's favourite Hakata-style ramen, you'll always have something to pair with your sakes.

This minimalist 12-seater bar is the place to go if you're looking for a cosy yet intimate sake dining experience.

9 Bras Basah Road, RendezVous Hotel Gallery, #02-02A, Singapore 189559
Contact: 65 6235 2547
Opening Hours: Sun-Thu 11.30am-10pm, Fri-Sat 11.30am-11pm
3. Bam! Tapas-Sake Bar
[caption id="attachment_9628" align="alignnone" width="626"]
Image credit: 38 Tras St, Singapore 078977


Contact:

65 6235 2547


Opening Hours: Sun-Thu 11.30am-10pm, Fri-Sat 11.30am-11pm
4. JINzakaya
[caption id="attachment_9659" align="alignnone" width="1024"]
Image credit: JINzakaya Facebook page[/caption]

Tucked at a backstreet off Rangoon Road beside its sister concept restaurant Sushi Jin, lies the new retro-chic JINzakaya. JINzakaya is a small quaint restaurant refurnished as an old Tokyo train station with Japanese commercials playing in the background. The restaurant displays retro posters on dark walls and uses rustic wooden furniture. Choose to dine at the main dining area or simply sit at the counter seat to watch chefs prepare your food.

JINzakaya offers a wide range of yakimono (grilled items), bar bites, and noodles in its cosy small restaurant. For drinks to go along, try their Shichi Hon Yari Junmai Ginjo Tamasakae for a refreshing and slightly tangy taste. If you appreciate a good Japanese meal with a dose of sake, this intimate restaurant is highly recommend! Do book before coming as space at JINzakaya is limited.

1 Farrer Park Station Road, #01-08/10 Owen Link, Singapore 217562
Contact: 65 62443 1173
Opening Hours: Daily 12pm-3pm; 7pm-11pm
5. Neon Pigeon
[caption id="attachment_9643" align="alignnone" width="700"]
Image credit: chope[/caption]

Located at the hip enclave of Keong Saik Road lies Neon Pigeon. Serving up Japanese small plates to go along with its lists of craft sakes and other liqueurs, this restaurant is fit for both after-work drinks and intimate dates. The restaurant has a lively atmosphere. Its interior has a funky vibe as its decor is a mix of industrial concrete and wood. Huge graffiti murals adorn the walls.

Their artistic cocktails are to die for. Try their house signature "Throw a Kyuri-ken" which is a refreshing mix of vodka tossed with cucumber. If you prefer sticking to sake, the bar's special in-house junmai daiginjo sake features a lighter taste that pairs well with food. With a huge crowd flocking to this well-loved restaurant, do make a reservation to secure the best seats! What's more, what we love about Neon Pigeon is their no-service-charge policy!

1 Keong Saik Rd, Singapore 089109
Contact: 65 6222 3623
Opening Hours: Mon-Sat 6pm-12am, Closed on Sun
6. Izakaya 95
[caption id="attachment_9660" align="alignnone" width="650"]
Image credit: danielfooddiary[/caption]

Looking for a no-frills, relaxing place to enjoy good Japanese dishes with perfectly matched Japanese beers, whiskies, sakes and shochus? This hidden gem at Punggol settlement has it all! At Izakaya 95, wind down to a relaxing seafront view and enjoy bar food and traditional charcoal grill dishes paired with premium beers and a wide selection of alcohol. Try their Hakurakusei Tokubetsu Junmai Sake for a smooth, clean and crisp light body with unami.

Though this location is quite inaccessible, it is certainly well-worth the trip! Do note that driving to Izakaya 95 would be the best way to get there.

Izakaya 95
Address: 3 Punggol Point Road, #02-05 The Punggol Settlement
Contact: 65 6384 1132
Opening Hours: Mon-Thu 5pm-12am, Fri/PH eve 5pm-1am, Sat 1.30pm-1am, Sun/PH 12.30am-12am

There's so much more to look forward to after a hard day of work. Call your friends, book a reservation at one of these spots and unwind to great food and drinks!

(Header Image by JINzakaya Facebook Page, edited by writer)

Also read: Wind Down Your Week – 6 Whisky Bars All Whisky Lovers Must Visit