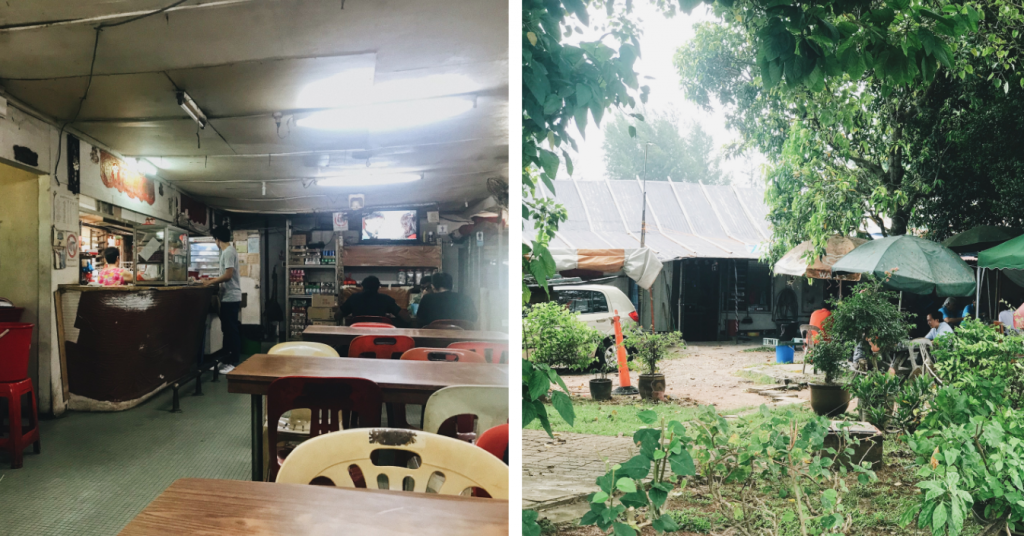 Seletar has changed drastically over the years as the authorities cleared the old RAF airbase and colonial architecture and transformed the space into an aerospace hub.

Located along Piccadilly Road in Seletar, this kampong style canteen dates back to the 1960s and still feels like it.

The canteen served mainly British military personnel of RAF Seletar followed by local military personnel when the camp was handed over to SAF after the British withdrawal in 1971.

Yet at this intense transformation of Seletar, a couple of things still brings you back to what Seletar was. Canteen 398 has been sitting on the chopping board for development since 2012 as Seletar is being developed into an aerospace hub. 

[caption id="attachment_37223" align="aligncenter" width="4032"]
Image Credit: Discover SG[/caption]
A Disappearing Piece Of History
This canteen is a piece of vanishing history of Singapore. Situated in the vicinity of an army camp, Seletar Camp, Canteen 398 is open to public and accessible by car and bus.

Time and time again, I kept reminding myself to visit Canteen 398 and boy I'm glad I finally did.

At a glance, you won't be able to guess that it's a functioning canteen. That was until, William, owner of Canteen 398 waved his arms and signalled to me that there were more seats inside.

[caption id="attachment_37219" align="aligncenter" width="4032"]
Image Credit: Discover SG[/caption]

The canteen is a humble looking structure, serving the workers around the area as well as military personnel from Seletar Camp.

Stepping into Canteen 398 felt like I was being transported into another dimension. It was as though time stood still and I was back in the 1960s.

It was hot out so I quickly ordered my Milo Peng and made a beeline for the seats.

The interior was something straight out of the 1990s when solid wooden top table and red stackable chairs are still widely used in coffeeshops. The old school mosaic tiles flooring and chipped paint stands as a testament to its age.

[caption id="attachment_37220" align="aligncenter" width="4032"]
Image Credit: Discover SG[/caption]

William shared with us that he took over his brother's business and now runs Canteen 398 with his wife and sister in law.

"I've been working here even before I enter army. I'm 70 now. You count lah how many years I work here already," William laughed.

He mentioned that he wakes up at 4am everyday and takes a bus from Yishun to get to Canteen 398 and you'll see him mingling and laughing with his regulars.

[caption id="attachment_37225" align="aligncenter" width="500"]
Image Credit: ChinChaiJiak[/caption]

"This place ah, second home to me already. I know everyone that comes to my canteen," William added.

Even at a warm afternoon at 12pm, I felt a sense of serenity while I was sipping on my Milo Peng as workers around the area streamed in and out to get their lunch fix.

Canteen 398 only has three stalls. A drink stall managed by William's wife. A Malay stall selling Nasi Padang which has been around for 20 years and a Chinese stall selling Cai Fan which has been around for 10 years.

[caption id="attachment_37224" align="aligncenter" width="1600"]
Image Credit:
Makcik's Asam Pedas and Bean Sprouts | Image Credit: Discover SG[/caption]

Her food definitely did not disappoint as I wiped my plate clean in under 5 minutes.

Despite having gone through a major damage in 2015 caused by a fallen tree, Canteen 398 has recovered and it seems like nothing ever happened to this humble looking structure.

Canteen 398 is like another world on its own, going on with what they have been doing since the 1960s, while Singapore continued to change outside.

[caption id="attachment_37222" align="aligncenter" width="4032"]
Image Credit: Discover SG[/caption]

Coming to this canteen gave me a sense of closeness to this place although it was only my first visit. I was not born in the 1960s but this canteen offers a glimpse of Singapore's humble past when things were not as perfect and comfortable as today.

The experience at Canteen 398 is truly one of a kind in Singapore.

"Come again this Saturday okay!" William smiled and waved as we parted ways.

Canteen 398
Directions: Jalan Kayu exit at Tampines Expressway and enter camp
Opening Hours: Mon – Fri: 6am – 4pm, Sat: 6am – 12pm, Closed on Sun

Also Read NP & NYP's Iconic Sandwich Shop Is No Longer On Campus, But You Can Find It At ION Orchard Instead

(Header Image Source: Discover SG)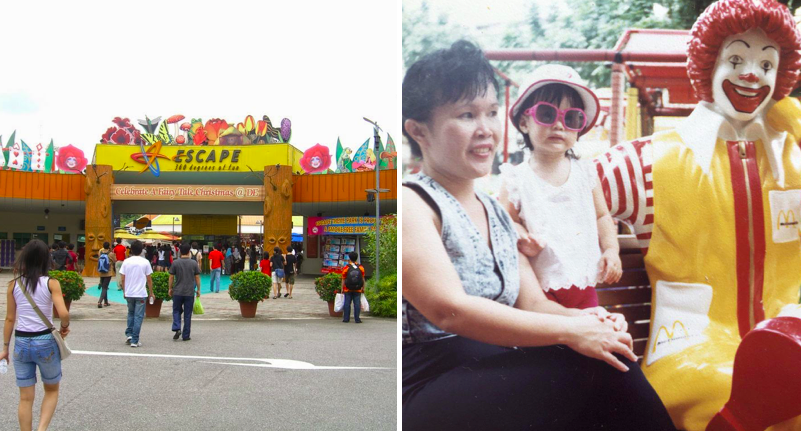 We all grew up in Singapore. Right? Most of us. Well, after considering the concentration of Singaporeans to foreigners in the country, SOME of us grew up in Singapore.
But anyway, my point is we all grew up in a neighbourhood and have lots of memories tied to a certain area in Singapore.
Since my colleagues hail from different parts of Singapore, I decided to do a little investigation to find out where they grew up.
Bedok
Melissa

"I grew up in Bedok North, Fengshan. It was the quieter side of Bedok because the people living there were mainly elderly. Time moved slowly in the area, which made it very homely and cosy. This was before the trend of food bloggers hyping food in neighbourhoods.

[caption id="attachment_35283" align="aligncenter" width="680"]
Image Credit:
Image Credit: Sportify Cities[/caption]

You know how they have the ice cream uncles who would sell ice cream downstairs? Yeah, mine wasn't an ice cream uncle. It was the kacang putih man.

I moved to Yew Tee in my early Primary years, but to be honest, Marine Parade was more exciting. Don't put that in."
Pasir Ris
Farhanah

"I grew up in Pasir Ris all my life. Though I shifted from Pasir Ris East to Pasir Ris West.

But I remember that the area was like a ghost town, because nothing was really developed yet. And the only mall we had at the time was White Sands Shopping Mall, that's still around today.

[caption id="attachment_35281" align="aligncenter" width="1024"]
Image Credit: Wikipedia[/caption]

There was also West Plaza and Elias Mall. Every outing with friends was always at Downtown East. This was before Downtown East expanded into e!Avenue today.

My Sports Days were a little more special because ours wasn't conducted in-school, rather the school put up a huge tent and held Sports Day at Pasir Ris Park.

Also, I think every Pasir Ris kid will remember that we had our very own theme park in our neighbourhood. Yes, Escape Theme Park was ICONIC.

[caption id="attachment_35280" align="aligncenter" width="1024"]
Image Credit:
Image Credit: meme generator[/caption]

I liked that everyone living in Yishun had each other's backs. The neighbourhood spirit was palpable. Can feel one. There was this sense of unspoken security in the neighbourhood. So actually no need to build wall because we already feel secure.

Even though Northpoint wasn't much, it was great because it had Toys 'R' Us. For a kid, any place that had a Toys 'R' Us was a wonderland.

[caption id="attachment_35285" align="aligncenter" width="350"]
Image Credit: Choa Chu Kang

Janielson

"I grew up in Choa Chu Kang. I lived in Teck Whye until I was 3 or 4, but to be honest, the areas are just next to each other.

I remember taking the feeder bus to the MRT, because LRTs weren't created at the time. There was also Choa Chu Kang Park. I mean, it's still around today, but back then it was really an empty park with sand playgrounds.

There was a bicycle shop at Choa Chu Kang MRT interchange. My first bike was bought there. Sadly, the shop is gone now.

Lot 1 Shopper's Mall was the only mall we had in the area. It was quite….limited, in the past. Now they're trying to expand the MRT so it's cool."
Jurong West
Ian
Finally, there's me. I live in Jurong West, the armpit of Singapore. Left or right? It's up to your perspective.
I used to hate living in Jurong West. As if Jurong wasn't already "West" enough, I had to live in Jurong WEST. Everything was far. Can you imagine what my life was like when I had to book in every Sunday night during NS?
The only shopping we had was Jurong Point and it was boring. I mean, it was fine for a while when they decided to open a Toys 'R' Us there. But it eventually closed.
[caption id="attachment_35288" align="aligncenter" width="700"]
Image Credit: SRX Property[/caption]
That's not all, we were near Tuas, so factory smog and weird smells were common. Not to mention the presence of Tengah Air Base, which ensured that the 2 or 3 months leading up to National Day was filled with daily sonic booms of passing aircrafts.
I'm pretty sure my hearing is damaged thanks to the RSAF. Patriotism, I guess.
But to be honest, I grew to love Jurong West.
I love that the neighbourhood is quiet, even in the day. I love that we don't have a huge amount of traffic passing through. I love that I don't have to deal with crowd when I take the MRT, unlike Jurong East.
I guess there are benefits to living in the corner of Singapore after all.
Where did you grow up in Singapore?
Also read Bishan's Carnival This Weekend Offers Food, FREE Workshops, And Black Panther Screening
(Header Image Source: Melissa Chan)