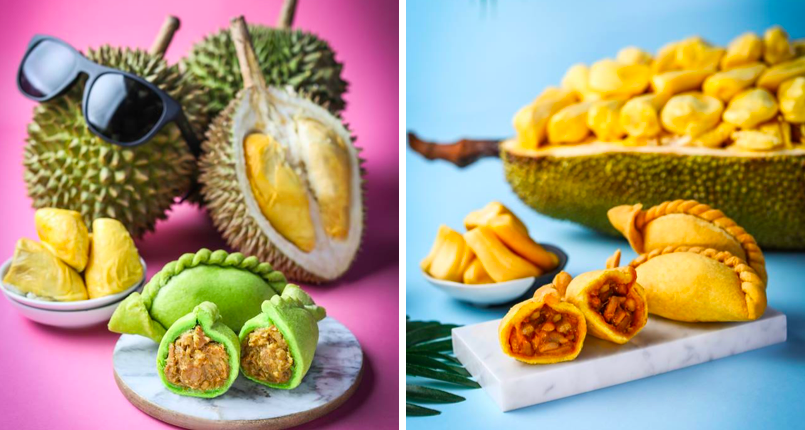 Back in June, Old Chang Kee announced that Curry Day 2018 will be taking place on 27 and 28 July 2018.
In case you missed the announcement, here's the article.
They also announced that they will be unveiling 2 new exclusive Curry puffs closer to Curry Day 2018.
Enter Old Chang Kee's new Durian Curry Chicken'O and Jackfruit Curry Chicken'O.
Curry With Jackfruit And…Durian?
Sometimes, pandering to local cuisine can take drastic turns, and this is one of them.

It may be Durian season but we're not quite sure what to feel about mixing Durian and Curry.

[caption id="attachment_36041" align="aligncenter" width="480"]
GIF Credit: giphy[/caption]

Jackfruit, on the other hand, might not be that much of a stretch, considering that jackfruit is a component used in curries in Bangladesh and other parts of Asia.

Here's a look at the Durian Curry Chicken'O in all it's pastel green glory.

[caption id="attachment_36039" align="aligncenter" width="640"]
Image Credit: Old Chang Kee[/caption]

And the Jackfruit Curry Chicken'O.

[caption id="attachment_36040" align="aligncenter" width="640"]
Image Credit: Old Chang Kee[/caption]

These new curry puffs will be available at Curry Day 2018 at [email protected] Square.

It'll cost $4 for 2 pieces for the new curry puffs. The Chilli Crab'O will also be available at Curry Day 2018.

[caption id="attachment_35914" align="aligncenter" width="2480"]
Image Credit: Old Chang Kee[/caption]

Other than the myriad of Curry puff flavours you'll find there, there will also be curry puff crimping demonstrations, so you can make your own at home! The kids can also take part in spice art lessons!

Are you looking forward to trying the Durian Curry Chicken'O and Jackfruit Curry Chicken'O?

Curry Day 2018
Venue: Velocity @ Novena Square, 238 Thomson Road, Singapore 307683
Date: 27 – 28 Jul 2018
Website

Also read Cold Stone Creamery's Latest Concoction Features Cucumber Slices And…Spicy Sambal Ikan Bilis?

(Header Image Source: Old Chang Kee)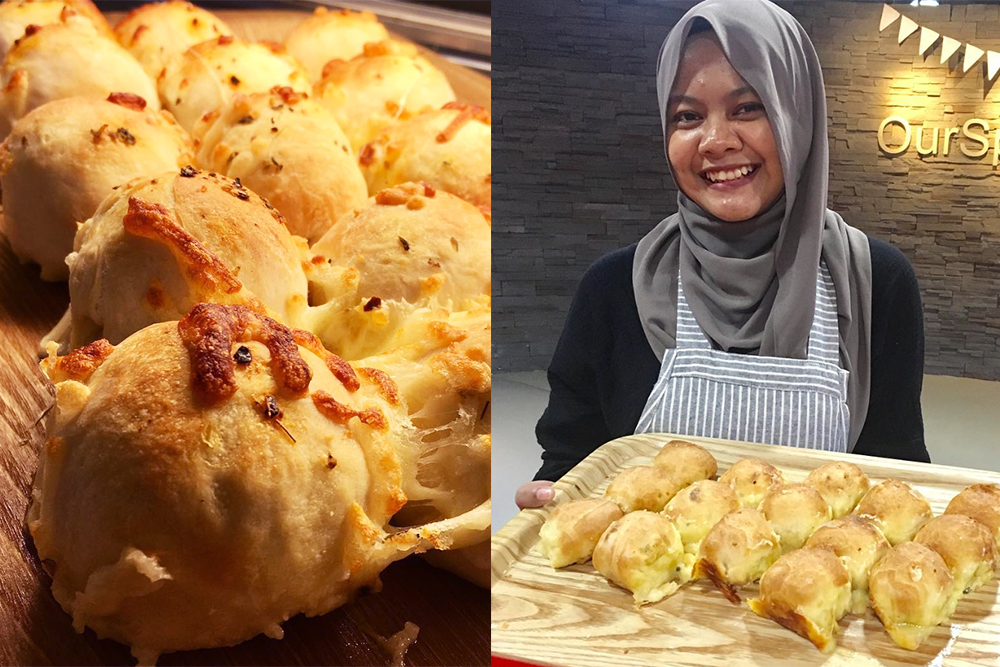 You can order in English – or sign language if you prefer – at Puzzles.

If you order in sign language, you'll get an additional 10% discount.

Don't know how to speak sign? Don't worry, as there is an instruction board at the counter to guide you. The servers will be super appreciative that you tried to converse in their language, so take your time.

[caption id="attachment_29601" align="alignnone" width="856"]
A beginner's guide to sign language that you'll find at the counter (Image Credit: Wikipedia)[/caption]
A Cafe With A Cause
Puzzles, a cafe that serves up pizza bombs and other snacks, was started by two Ngee Ann Polytechnic graduates, Suzana Slemat and Shazlina Sulaiman, who wanted to shed some light on the struggles that deaf people face when interacting with service staff.

[caption id="attachment_29590" align="alignnone" width="979"]
Founders Suzuna nad Shazlina (Image Credit:  After coming in first runner up in a start-up competition, the two girls were offered a space in Ngee Ann Poly's Ourspace and a $5,000 grant to help kickstart the initiative. 

Puzzles mostly employs hearing impaired students, who are able to gain some working experience and earn some pocket money. The sign language guide and discount helps encourage interaction between the hearing impaired the regular customers.

While majority of customers are students and school staff, there are also regulars from the deaf community who enjoy visiting the cafe because of the servers who speak the same language. It seems like word has gotten out!

[caption id="attachment_29592" align="alignnone" width="1280"]
Pizza bombs are served! (Image Credit:
Grab a pizza bomb for an explosion of flavor in your mouth (Image Credit: Puzzles SG)[/caption]

Pizza bomb toppings (or fillings in this case) are constantly on rotation, which means you'll never get bored by the selection. You can expect flavors like salted egg, Hawaiian, chilli crab, beef satay, black pepper chicken, and cheesy spinach.

Other than pizza bombs, there are all sorts of snacks and desserts to sate your appetite in a long lecture. Think glazed chicken bites, brownies, meatball puffs, and mac and cheese.

Sometimes, they will have an all-day breakfast menu going on, with offerings like breakfast buns, roti johns and the super popular hashbrowns.

[caption id="attachment_29573" align="alignnone" width="1098"]
Sweet treats to brighten up your day (Image Credit: Puzzles SG)[/caption]

For now, Puzzles only operates in Ngee Ann Polytechnic during term time as that's when they get most business. Puzzles takes a break during school holidays, but is still open for catering orders.

Suzana and Shazlina has plans to continue operating Puzzles for two more years, and hopefully expand to other tertiary institutions. Soon, you might even be able to see Puzzles at other universities and polytechnics!

Till then, you'll have to make do going to Ngee Ann Poly for your pizza bomb fix while learning some sign language on the side!  

Puzzles
Address: [email protected] Ann Poly, 535 Clementi Rd, Singapore 599489
Opening Hours: Mon – Fri: 10am – 6pm (during school terms)
Website

Also read 10 Quirky Mooncakes That Break Tradition With Flavours Like Bubble Tea, Chilli And Salted Egg Yolk

(Header Image Source: Images from Puzzles Instagram)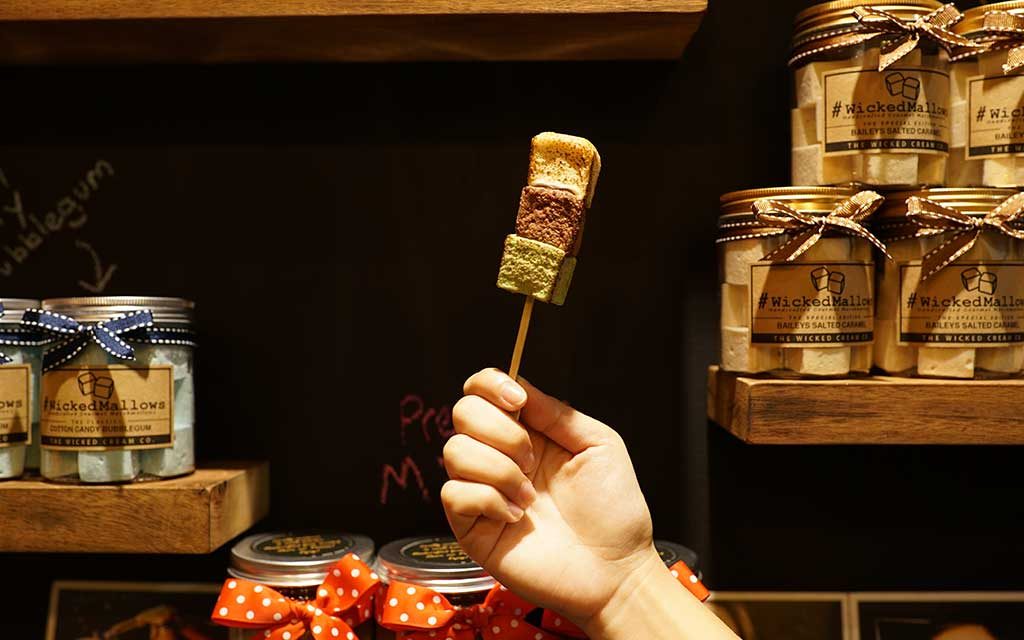 West-siders, we've found a sweet spot for all you dessert fiends! The Wicked Cream offers gourmet marshmallows that will surely satisfy your sweet tooth. 

Their signature creation, the WickedMallow, gives the humble roasted marshmallow a gourmet update.

These marshmallows are made in small batches, and are carefully hand-crafted and roasted individually. You can choose from an array of unique flavours like sea salt gula melaka, speculoos caremelised cookie and uji matcha, just to name a few!

[caption id="attachment_22536" align="aligncenter" width="960"]
Credit: Roasted on the outside, with a soft, gooey inside that melts in your mouth, the WickedMallow is the perfect bite-sized dessert!
[caption id="attachment_22507" align="aligncenter" width="1080"]
Credit: You might have even seen these guys around at pop-up stalls and art markets with their beautifully packaged jars, all ready for you to take home or give away!
A Drink To Go Along?
Aside from these pop-in-your-mouth delights, The Wicked Cream offers a selection of hot or iced chocolates and teas. Delicious and creamy, their flavours range from Chocolate Earl Grey to Thai Green Milk Tea.
When you order it hot, it even comes with a stick of mini roasted mallows as a bonus treat!
[caption id="attachment_22537" align="aligncenter" width="1080"]
Credit: facebook.com/TheWickedCream.SG[/caption]
Mash in Cone
Another one of their inventions is the Mash in Cone. Presented deceptively like a soft-serve ice cream, it is actually a truffle mash, torched and served on a cone! Topped with a syringe filled with honey brown sauce, this is definitely an insta-worthy food capture.

[caption id="attachment_22551" align="aligncenter" width="640"]
Credit: The Wicked Cream also has a These guys have definitely left their mark with their unique, instagrammable treats. Be sure to keep a lookout for these carefully crafted goodies the next time you're at a pop-up event or local art market!
The Wicked Cream
Address: 3 South Buona Vista Road, #B1-04 Viva Vista Mall, S118136
Tel: 8222 0140 / 9732 3123
Operating Hours: Based on reservations / appointments only
8 Best Acai Bowls And Smoothies In Singapore For A Completely Guilt-Free Treat