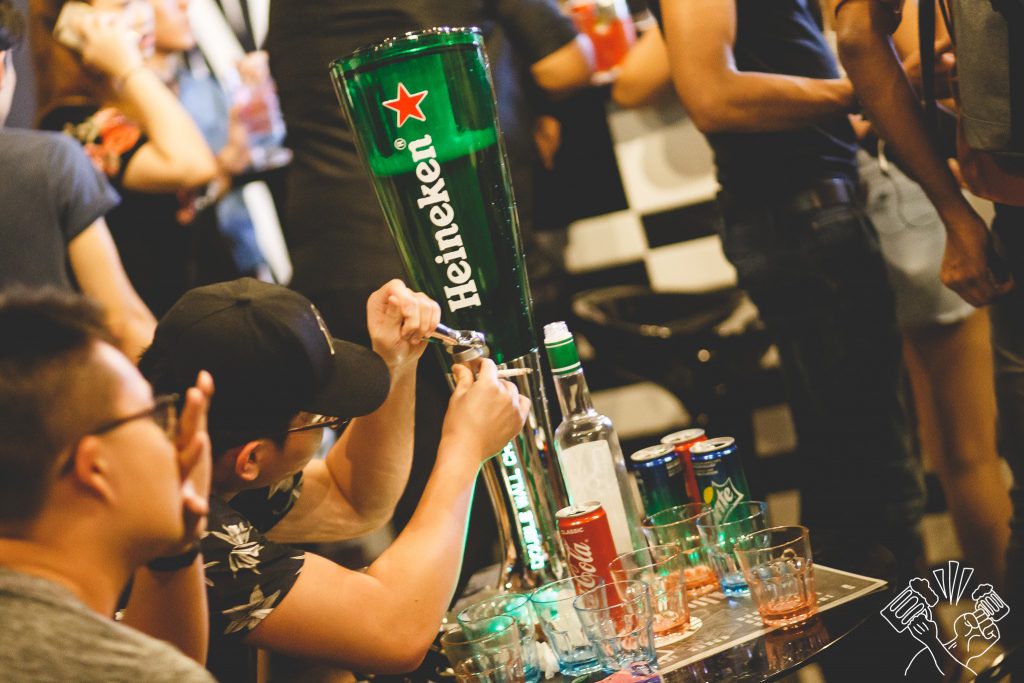 Singapore has no shortage of pubs and bars, thanks to a nation of drinkers.
However, not all places have cheap beer and if you're out drinking with your mates, it might be a bit of a shock when the bill arrives.
Don't worry though, we've got you covered with a short list of places with the cheapest beer towers in Singapore, because honestly, with beer towers this cheap, there's no reason to get your own bottle.
Let's go!
Inspirit House
Inspirit House kicks off the list, offering beer towers at $50 during their Happy Hours.

[caption id="attachment_36316" align="aligncenter" width="1600"]
Image Credit: Inspirit House[/caption]

Now, before you get bummed, you should know that their Happy Hour lasts from the time they're open till 8pm daily.

Yes, DAILY. What's more, you get to choose from a Hoegaarden White tower or a Rosée tower.

[caption id="attachment_36317" align="aligncenter" width="960"]
Image Credit: Inspirit House[/caption]

If you like any of those 2 beers, then you should hit up Inspirit House.

Inspirit House
Address: 3 Punggol Point Road, The Punggol Settlement #01-05, Singapore 828694
Opening Hours: Tue – Thu: 3pm – 12am, Fri: 3pm – 1am, Sat: 9am – 1am, Sun: 9am – 12am, Mon: Closed
Contact no.: 6920 6388

Image Credit:
Image Credit: @deyeballz[/caption]

Happy Hour begins at 11.30am and ends at 9pm daily. What's more, you can get finger food such as Crispy Chicken Skin ($6) and Mozzarella Cheese Sticks ($10) to go with your beer.

You can view their full menu Two Fat Men Food Bar

Two Fat Men Food Bar is a neighbourhood bar that offers Singha Draught Beer Towers at just $48 during their Happy Hour!

[caption id="attachment_36315" align="aligncenter" width="960"]
Image Credit: two fat men[/caption]

Happy Hours are from 5 to 9pm on weekdays, and 2 to 9pm on weekends.

[caption id="attachment_36318" align="aligncenter" width="690"]
Image Credit: two fat men[/caption]

What's more, they're also known for their fragrant Basil Chicken Fried Rice ($9), packed with wok hei.

[caption id="attachment_36314" align="aligncenter" width="1080"]
Image Credit: @sir.fried.chicken[/caption]

If you love Thai food and Thai beers, then Two Fat Men Food Bar is THE place for you.

Two Fat Men Food Bar
Address: 376 East Coast Road, Singapore 428984
Opening Hours: Mon – Fri: 5pm – 12am, Sat – Sun: 2pm – 12am
Contact no.: 6348 0241
Website
Al Capone's Kallang
You would think that a mall by the sports hub of Singapore would be filled with GNCs and other fitness or wellness shops, but NO.

[caption id="attachment_36322" align="aligncenter" width="1600"]
Image Credit: Al Capone's Kallang[/caption]

Here we have Al Capone's at Kallang Wave Mall. They're known for their all-day $39 Heineken Beer Towers.

[caption id="attachment_36319" align="aligncenter" width="960"]
Image Credit: Al Capone's Kallang[/caption]

Yes, ALL DAY. If that's not good enough for you, check out their Mabuk Monday promotions on their Facebook page.

Anybody up to get mabuk?

Al Capone's Kallang
Address: 1 Stadium Place Kallang Wave Mall #01-15, Singapore 397628
Opening Hours: Daily: 11am – 2am
Contact no.: 6282 5926
Website
Stickies Bar
Stickies Bar is a crowd favourite. If you ask any person who knows their beer, they'll tell you that Stickies Bar is one of the best places to drink.

[caption id="attachment_36324" align="aligncenter" width="640"]
Image Credit: Eatigo[/caption]

You can get a beer tower for just $35! That's insanely cheap and one of the best prices you're going to find in Singapore.

[caption id="attachment_36323" align="aligncenter" width="1080"]
Image Credit: @garethnp[/caption]

Also, the service is great and the staff are friendly. If you're not already drinking at Stickies Bar, then what are you doing?

Stickies Bar
Address: Riverside Piazza #01-10, 11 Keng Cheow Street, Singapore 059608
Opening Hours: Daily: 12pm – 12am
Contact no.: 6443 7564
Website
Sleeping Giants Bar
We thought Stickies Bar had the cheapest beer tower in Singapore. We were so wrong.

Enter Sleeping Giants Bar. They have the cheapest beer towers in Singapore, at just $29.90 for their Housepour Tower! And the 2nd tower onwards goes for just $19.90!

[caption id="attachment_36325" align="aligncenter" width="476"]
Image Credit: Sleeping Giants[/caption]

You can choose from Asahi, Heineken, Cresten and more for your Beer Tower.

[caption id="attachment_36326" align="aligncenter" width="2048"]
Image Credit: Sleeping Giants[/caption]

So what're you waiting for?

Sleeping Giants Bar
Address: 217 East Coast Road, #01-01, Singapore 428915
Opening Hours: Mon – Thu: 4pm – 1am, Fri – Sun: 3pm – 1am
Contact no.: 8383 5602
Website

Also read 8 Hawker Food Haunts That Are Tried, Tasted, And Recommended By True Blue S'poreans

(Header Image Source: Sleeping Giants)