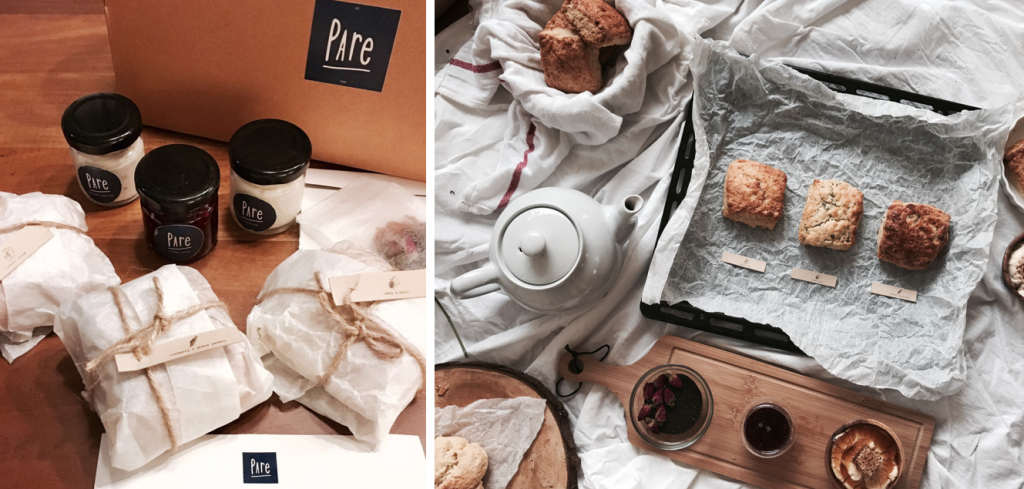 Rose tea, gold leaf soft serve ice cream, rainbow prata… it seems every other week, some new type of food emerges onto Singapore's food scene.
With the incredible variety of eats for us to choose from, it can all be a little overwhelming, even for the biggest foodies among us.
If you're fan of food, but not so much the clutter that's on our plates these days, Pare is here to help.
A Box Of Goodness Every Month
Pare was born out of its founders' philosophy of trimming away the excess in the food scene today. A monthly themed dessert box, each month presents a different theme, and with it, a different kind of bake.

That means you can expect anything from cookies to macarons, to apple pies, depending on what kinds of produce are in season, and the story its creators – Felicia and Geraldine – wish to tell.

Last month, the box was themed around the duo's childhood dreams of a fruit tart, inspired by the Enid Blyton books they read as children.

[caption id="attachment_30801" align="alignnone" width="1417"]
Image Credit: Pare[/caption]

This month, it was a tea set that was all about the scone.

The box contained 3 scones and 3 accompaniments including jams and creams! This was inspired by the hours they would spend in cafes during their travels, slowing down, reflecting on life over a pot of tea. To complete the experience, it even came with a custom-blend floral black tea!

[caption id="attachment_30799" align="alignnone" width="3733"]
Image Credit: Pare[/caption]

The scones came in 3 different flavours: Classic cream, lemon basil, and rosemary grana padano. These were paired with wild berry compote, honeyed cream, and roasted garlic cream cheese.

[caption id="attachment_30800" align="alignnone" width="5184"]
Image Credit: Pare[/caption]

With each release, Pare hopes to share with the world a bit of magic, drawing from the stories of their childhood to the fleeting moments of everyday.

Next month, they will be presenting an entirely different concept.
Fastest Fingers First
Because the baking duo believe in serving only good things and pay great attention to detail, all their bakes are small batch only – specifically, they produce 10-15 boxes each month for a very lucky group of 10-15 people who manage to put in their orders first.

You order a box, pick it up, and enjoy it wherever and however you want!

[caption id="attachment_30803" align="alignnone" width="1508"]
Image Credit: Pare[/caption]

The bakes come packaged in a recyclable brown carrier box – rustic, minimal, and oh-so-Instragrammable!

Have it in your office on a gloomy day, put on some good tunes and enjoy your bakes in the comfort of your own room, or gift it to a friend!

[caption id="attachment_30824" align="alignnone" width="1080"]
Image Credit: @pare.sg[/caption]

Unfortunately, Pare rarely revisits and re-features an old box, but they're not opposed to the idea if there is strong demand for a certain one. Look out for the surprise releases they hold occasionally, where they sell some of their baked items in very limited quantities. Whatever it is, the rule is always fastest fingers first.

To make sure you don't miss out on Pare's bakes, be sure to follow them on Instagram. The pair tease new releases on their stylish Instagram feed, and once these hints are out, it won't be long before you can start putting in your order!

Prices differ from box to box, depending on the bakes and experience you'll be receiving.

Love baked goods that taste and look amazing? Keep an eye out for Pare because they'll be rolling out some amazing bakes in the coming months!

Pare
Instagram
Singapore's First Treehouse Hotel Opens In 2023, With Pandas And Otters As Neighbours