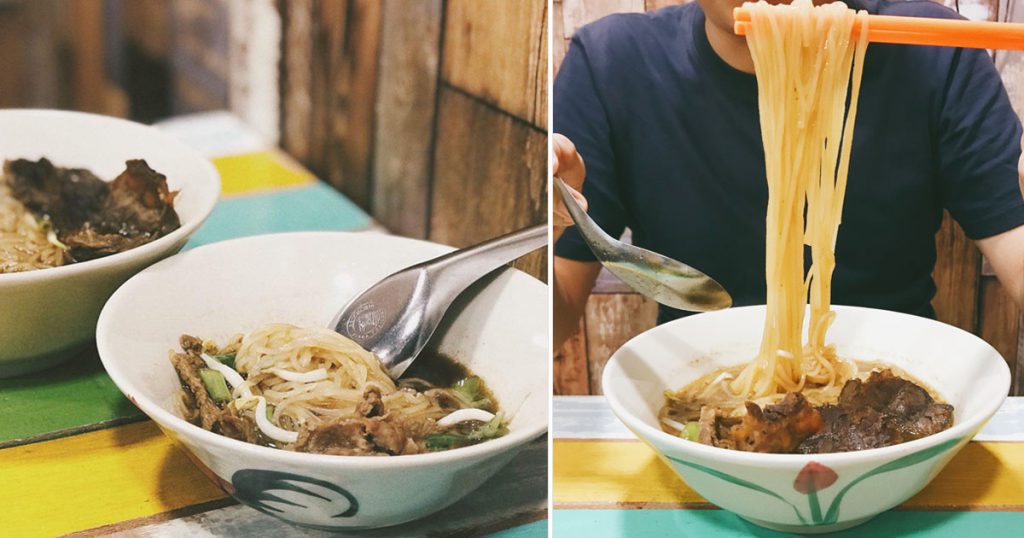 Upon hearing the news of this newly opened Thai boat noodles place in Singapore, I knew I had to go down to experience it for myself. My first thought was, "About god damn time we get halal boat noodles in Singapore."
The boat noodles craze has sent plenty of Singaporeans including me going over the causeway JUST for Thai boat noodles, so imagine how excited I was when I found out there's finally a halal boat noodle place in Singapore.
So I packed my bags, braved the weather and decided that today will be the day I finally get to indulge in this savoury delight right here in Singapore.
Cheap Cheap, Good Good
I drummed my fingers on the handrail of the escalator as it slowly descended into the basement of I12 Katong, perhaps one of my favourite malls in Singapore.

It was honestly a very small shop but I had real high expectations for the food served at Hat Yai Noodle Cafe.

[caption id="attachment_34466" align="aligncenter" width="1280"]
Hat Yai Noodle Bar[/caption]

Just like any other typical Thai boat noodles shop, the noodles are served in mini bowls ($1.90 each) that can be gobbled up in about 2 large mouthfuls. Each bowl comes with a slice of beef, meatball, leafy vegetables, beansprouts, spring onions and noodles of your choice (of course we got the traditional glass noodle).

[caption id="attachment_34467" align="aligncenter" width="1280"]
Small Thai Boat Noodles ($1.90)[/caption]

I was not that blown away by their broth but honestly, for $1.90 per bowl, I'm not complaining. It's definitely perfect if you've got a small appetite and looking for something light.

Ordering 3 bowls is definitely not a smart move if you're hungry. If you're looking for a proper heavy meal, they do have a bigger version which is the Braised Beef Tendon ($8.50). You can choose from 3 different proteins – beef, chicken, duck.

[caption id="attachment_34469" align="aligncenter" width="1280"]
Braised Beef Tendon Noodle ($8.50)[/caption]
You can also choose to have it dry with soup on the side if that's how you roll.

I was looking forward to trying out their side dishes like the Ping Gai which is basically Thai style BBQ chicken and beef sticks. Unfortunately, they weren't selling any side dishes today.

So I settled for their Chicken/Beef Meatball Skewers ($1.90 per skewer) instead. Each stick comes with 4 beef/chicken balls. Was not too sure what they meant by "Thai Special Sauce" but ours came drenched in Thai Sweet Chilli sauce that my mom buys from Giant Supermarket.

[caption id="attachment_34471" align="aligncenter" width="1280"]
Chicken/Beef Meatball Skewers ($1.90 per skewer)[/caption]

I prayed real hard, "@ God, the least you can do is give me decent Thai Milk Tea. I headed all the way to Katong for Thai food. Please don't disappoint."

God heard my prayers and decided not to disappoint me any further. It tasted exactly like the famous Thai milk tea brand your friend would buy for you from Bangkok.

[caption id="attachment_34473" align="aligncenter" width="1280"]
Thai Ice Milk Tea ($2.80)[/caption]

It helped wash all my sadness and problems away.

My total meal totalled up to $26, inclusive of a 10% service charge. I left Hat Yai Noodle Cafe feeling slightly disappointed but at least I'm pleased with the fact that there's halal boat noodles in Singapore if I'm ever craving for it.

In the mean time, I'm gonna fix myself a cup of instant tom yum noodles and daydream of a getaway to Thailand.

[caption id="attachment_34475" align="aligncenter" width="480"]
GIF Credit: giphy.com[/caption]

Hat Yai Noodle Cafe
Address: 112 East Coast Rd, I12 Katong Mall, B1-18, Singapore 428802
Opening Hours: 11 am – 9.30 pm, daily
Website

Also Read These 10 Bakeries In S'pore Serve The Best Bread – And They All Deserve A Toast

(Header Image Source: Discover SG)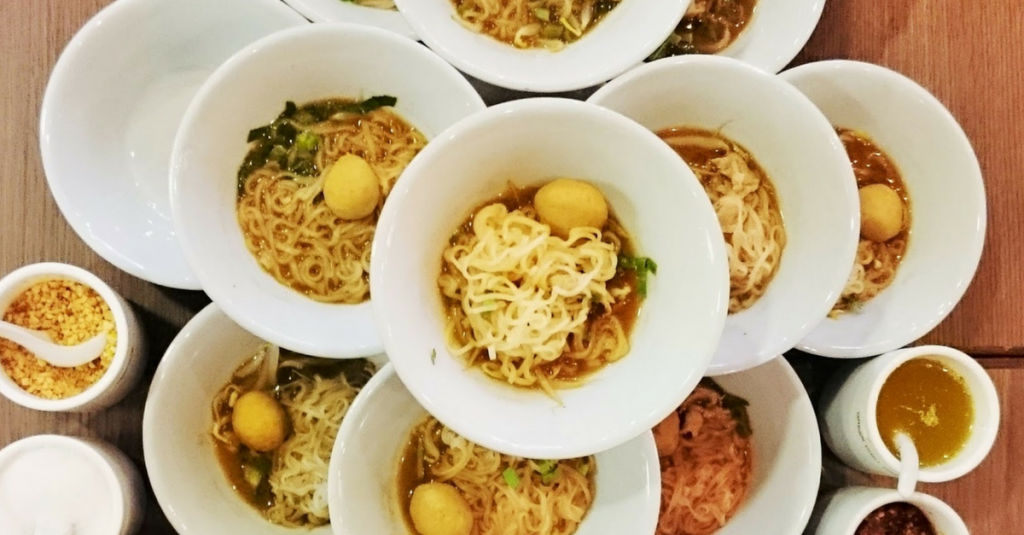 What defines a good bowl of Thai boat noodles? Also known as kuai teow ruea, boat noodles are generally tasty, rich in flavour, and small in portion. Some foodies have slurped from 6 bowls, to up to 16 bowls of boat noodles!

Traditionally, mini bowls were used because the noodles were originally prepared and served on boats (and not because the Thais have a small appetite).

[caption id="attachment_12222" align="alignnone" width="1006"]
Image source:
Image source: +65 6274 3955
Operating Hours: 11:00am – 9.30pm Daily
Website:
Image source: HungryAmanda's Instagram[/caption]

It's past midnight, and you're hungry. There may not be much food options, but just go to Gu Thai Noodle Cafe and order their palm-sized bowl Boat Noodles.

Priced at $1.90 per bowl, diners get to choose from 4 spiciness levels. One word of advice – you might want to check with the staff about the spiciness of the soup cause we heard even the 'less spicy' level comes with a kick!

Gu Thai Noodle Cafe
Address: 1 Selegie Road #01-04 PoMo Mall 188306 Singapore
Contact number: +65 3113 2003
Operating Hours: 11:00am-5:00am Daily
Facebook page: Gu Thai Noodle Cafe
3. Thai Boat Noodles (Bedok)
[caption id="attachment_12023" align="alignnone" width="960"]
Image source: Thai Boat Noodle[/caption]

Priced at $1.00 per bowl, Thai Boat Noodles serves the cheapest Kuai Teow Ruea you can ever find in Singapore. The portion is quite small, like two gulps and you're done kinda small.

But the good thing is you get to choose from dry or soup versions, or just top up an extra $0.50 for mini tom yum noodles. If you have some seriously competitive friends, you can end the 'who has the biggest appetite' feud here once and for all. Whoever loses will have to settle the bill!

Thai Boat Noodles
Address: 799 New Upper Changi Road, Bedok Point #02-32/34 Singapore 467351
Contact number: +65 64459932
Operating Hours: 11:30am – 10:00pm Daily
Facebook Page: Thai Boat Noodles
4. Thai Boat Noodles (Golden Mile Complex)
[caption id="attachment_12191" align="alignnone" width="630"]
Image source:
Image source: Noodle Cafe[/caption]

Noodle Cafe is a little bit of a hidden gem. To get to this place, you'll need to take the stairs down towards a "Diva Disco". It may seem a little dark and dodgy but the noodles might make you go "hey the journey isn't thaaat bad".

Noodle Cafe is a popular choice among boat noodle lovers and we can totally see why. Each $1.90 bowl may only a mouthful but it's a mouthful of sweet, spicy, savoury, and smoky. It's literally a flavour shot!

Noodle Cafe
Address: 5001 Beach Road Golden Mile Complex #B1-08 199588
Contact Number: +65 3113 2003
Operating Hours: 10:00am-05:00am Daily
6. Thai In Town
[caption id="attachment_12217" align="alignnone" width="600"]
Image source: Thai In Town

With 6 yummy Thai boat noodles to choose from, how about going on a boat noodle marathon and try 'em all? What are you waiting for? Go grab your friends for a Boat Noodle Challenge! Don't forget to tell us how many bowls of noodles you can slurp up.

Header image source: Pexels

Also, read Makan All Day Long! Singapore's First Vending Machine Cafe Opens In SengKang