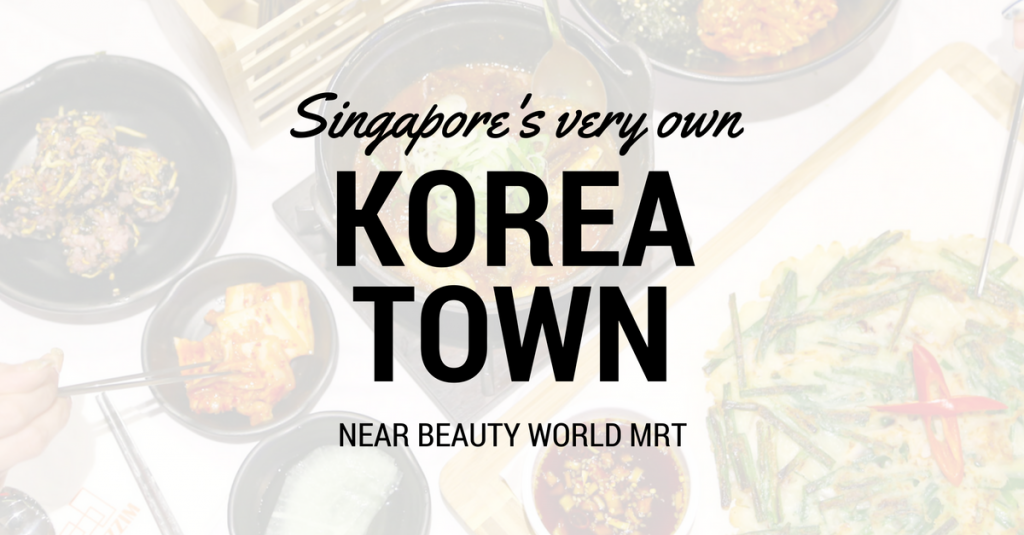 Do you know that there is a mini Korea Town near Beauty World MRT?
With Singapore Korean International School located in the vicinity, it is only understandable that there is a big Korean community in the area.
Nestled around Beauty World MRT (Downtown Line) are 6 Korean restaurants that will make your visit to this Korea town worth it!
1. Manbok BBQ & Seafood
Serving different varieties of meats, seafood and specially cooked Korean dishes, Manbok BBQ & Seafood whips up authentic Korean BBQ and Steamboat cuisine.

Enjoy BBQ-ing with the charcoal barbeque sets and indulge in a bottle of soju with a couple of friends at Manbok

[caption id="attachment_14570" align="alignnone" width="1600"]
Image Credit: Kumory[/caption]

You can also go easy with a set meal starting from just S$12. There's an array of complimentary side dishes such as kimchi, rice cakes and pickles.

The majority of staff here is Korean, so it'll be a proper Korean dining experience!

Manbok BBQ & Seafood
Address: 19 Cheong Chin Nam Rd
Opening Hours: Mon – Fri: 12pm – 1am; Sun: 12 – 11pm
2. Oven & Fried Chicken
KFC, KFC, we love you! No, we are not talking about Kentucky.

We are talking about crispy heavenly Korean Fried Chicken! Oven & Fried Chicken's second outlet has opened in Beauty World.

[caption id="attachment_14571" align="alignnone" width="1600"]
Image Credit: Hautestuff[/caption]

If you need a KFC fix, this is the place to be!

Think non-greasy crispy fried chicken doused and seasoned in various appetising sauces such as Soy Sauce and Jambayala. Perfect for those who simply love licking sauces off their fingers!

Oven & Fried Chicken
Address: 16 Chun Tin Rd
Opening Hours: Mon – Thu: 11:30am – 2:30pm, 5:30pm – 12:00am; Fri – Sat: 11:30am – 2:30pm, 5:30pm – 1:00am

Image Credit: Danielfooddiary[/caption]
Be sure to try their Dolsot Bibimbap (Hot Stone Rice) and Samgyetang (Ginseng chicken soup) to satisfy the inner Korean in you!
Three Meals a Day
Address: 12 Chun Tin Rd
Opening Hours: Tues – Sun: 12pm – 3:30pm, 6pm – 11pm; Closed on Mondays
4. Joo Mak Korean Restaurant
How do you know a Korean restaurant serves authentic Korean food?

Ask a Korean, of course.

Walk into Joo Mak and be greeted with the incessant chattering of Korean families, couples, and students.

[caption id="attachment_14574" align="alignnone" width="600"]
Image Credit: Opensnap[/caption]

Located at the fourth level of Beauty World Centre, Joo Mak is the natural choice for Koreans living in the neighbourhood

It is not hard to understand why once you have tried one of their Korean pancakes – crisp, golden-yellow, with a generous amount of leek and seafood, finished with a coating of egg.

Joo Mak Korean Restaurant
Address: 144 Upper Bukit Timah Rd, #04-01 Beauty World Centre
Opening Hours: Mon: 6pm – 10pm; Tues – Sun: 12pm – 3pm, 6pm – 10pm
5. Nunsongyee
The Korean bingsu craze is a long way from being over – famed 24-hour bingsu branch Nunsongyee opened yet another outlet here at Beauty World.

Their menu of delectable shaved ice with a wide variety of toppings available is certainly here to stay.

[caption id="attachment_14577" align="alignnone" width="960"]
Image Credit: Rachel Leong[/caption]

There are two types of bingsu available – Snowflake bingsu ($12.90 – $15.90) and Premium bingsu ($18.90). Also, you can pick from an assortment of flavours including Oreo, Choco-banana, Cheesecake or Black Sesame and Coffee.

You are not truly a Korean food connoisseur if you have not tried one of their bingsu!

Nunsongyee
Address: 9 Yuk Tong Ave
Opening Hours: 24 hours daily

Image Credit: Javintham[/caption]
With unique flavours like Milk and Red Bean ($11), Tomato and Green Tea ($11), these shaved ice dessert is the perfect solution to cool off with.
Bing Go Jung Korean Dessert House
Address: 1 Jalan Anak Bukit, Bukitt Timah Plaza
Opening Hours: 10am – 11pm daily
Click here for their other outlets and contact details.
If these don't excite you, we don't know what will. Korean heaven is right here, near Beauty World MRT, so feast away!
Header image credit: Danielfooddiary, words by editor.
Also, read Korean Food 'Seoul' Good That You'll Visit All Day Every Day! Here Are The Best 8 Spots!