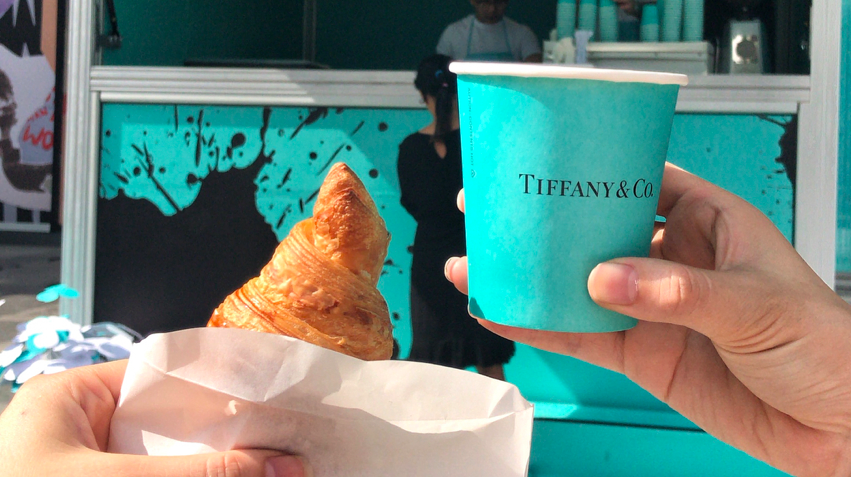 For those of you who loved the classic 1961 film starring Audrey Hepburn, having 'Breakfast at Tiffany's' is no longer a dream.

Tiffany & Co. is collaborating with Tiong Bahru Bakery as part of the launch of their Tiffany Paper Flowers collection in Singapore.

From 27 August to 3 September 2018, Tiong Bahru Bakery will be handing out free croissants and coffee from their striking turquoise kiosk outside ION Orchard.

https://www.instagram.com/p/Bm-WspPHqTb/

There are, however, certain prerequisites before you proceed to claim your croissant and coffee.

First, you'll have to take a photo of the kiosk.

Next, upload it onto Instagram or Facebook with the hashtags #tiffanypaperflowers and #tiongbahrubakery.

That's it. You have earned your breakfast. Or lunch. Note that the kiosk operates from 10am to 2pm daily.

But if a croissant and a coffee isn't sufficient, then you might want to head to the actual OG Tiong Bahru Bakery instead, which has also been taken over by Tiffany & Co.'s signature colour.

[caption id="attachment_36814" align="aligncenter" width="2048"]
Image Credit: Tiong Bahru Bakery[/caption] [caption id="attachment_36815" align="aligncenter" width="2048"]
Image Credit: Tiong Bahru Bakery[/caption] [caption id="attachment_36816" align="aligncenter" width="2048"]
Image Credit: Tiong Bahru Bakery[/caption]

This is a feast for eyes, as much as it is for the stomach.

For those of you who are more interested in the Tiffany Paper Flowers jewellery collection, check out their ad below.

https://www.youtube.com/watch?v=JTjxuqn67d4

The collection arrives in Singapore on 1 September 2018. In the meantime, can I interest you in some light refreshments? A croissant, perhaps?

[caption id="attachment_36818" align="aligncenter" width="1080"]
Image Credit: @sothisdermnpwaslike[/caption]

Tiffany & Co. x Tiong Bahru Bakery Kiosk
Venue: ION Orchard, outside Tiffany & Co.
Date: 27 Aug – 3 Sep 2018
Opening Hours: 10am – 2pm
Website

Also read Life's A Beach – Sentosa Offers FREE Entry For S'poreans From 1 to 16 September

(Header Image Source: @tiongbahrubakery)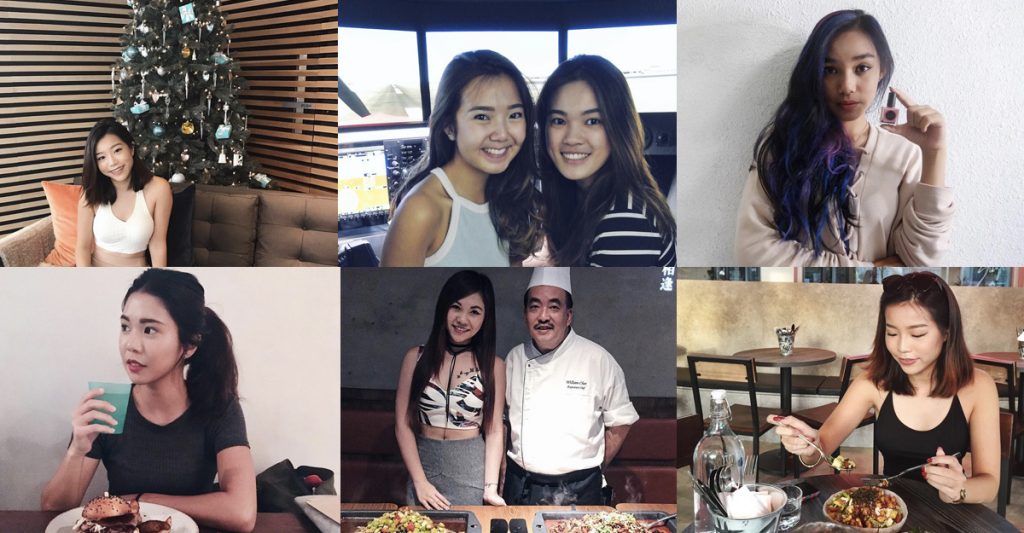 Another month has just gone by so quickly (time really does fly at this time of the year)! We're back for another monthly round-up of the events our ambassadors had the chance of dropping in on! From food tastings to 'do not miss' events our ambassadors were there to witness the fun and indulge in delicious eats! Here are some of November's highlights!
1. Nail Deck
https://www.instagram.com/p/BM_XgLWjApV/?taken-by=dianabakar_
Freshly polished nails are a girl's best friend.  Nail Deck is a new app that let's you customise your own colour and virtually "try on" various hues. Lacquer Bar is the real life counterpart of Nail Deck. Mixing your customised nail polish by hand and in under 10 minutes!
Our ambassador, Diana, got a chance to witness the magic of her own customisable colour being made right in front of her very own eyes!
Head down to Lacquer Bar and get your customisable polish. Best part? They're not too expensive at $11 for a 5-ml bottle and $16 for a 10ml it's a steal considering you'll be the only one donning your own masterpiece!
Want to find out more? Check out our article! Perfectly Nailing It! This Lacquer Bar Can Make Any Nail Polish Colour You Want
Nail Deck
Facebook
Download the app
Lacquer Bar
Sarnies' New Menu Packs A Solid Punch: From Curry Pasta To Overflowing Burgers!
Sarnies
Facebook
Instagram
Always Wanted To Be A Pilot? Get Your Licence To Fly Without Emptying Your Bank Account!
Flight School
Reignite The Magic Of Christmas On Orchard Road With ION's Tiffany & Co. Xmas Tree!
5. Balvenie 
[caption id="attachment_19202" align="alignnone" width="768"]
Balvenie[/caption]

The world's most handcrafted single malt, Balvenie is renowned around the globe for their award winning malt whiskies.

Earlier this month, Balvenie teamed up with acclaimed photographer James Stroud to showcase the history and the culture behind Balvenie. The showcase's art pieces highlighted the Balvenie distillery in Dufftown, Scotland.

Our ambassador, Janelle, dropped by the National Museum of Singapore to catch a glimpse of the Balvenie x James Stroud exhibition and experiencing the craft of making whiskey!

Want to find out more? Check out our article! The Balvenie x James Stroud Partnership Is A Shining Light For Craftsmen Worldwide
6. Alter Ego
https://www.instagram.com/p/BNG-WL3DOO2/?taken-by=neecolly
Located at Esplanade, Alter Ego offers up both "clean eating" Poke Bowls that Poke Theory is known for as well as a more decadent selection of eats. Bar snacks like Loaded Taters and a mouth watering Chilli Cheese Dog make up the bulk of the menu at Alter Ego.
Our ambassador Nicole dropped by Alter Ego to indulge in some of the delicious (and seriously sinful) fare that Alter Ego is known for!
Best part about Alter Ego? It stays open pretty late and they offer a pretty wide selection of ciders, ales and draft beers!
Want to find out more? Check out our article! A Poke Theory's Alter Ego Serves Up Irresistibly Sinful Food You Cannot Say No To
Alter Ego
Riverside Grilled Fish – For Lovers Of Tongue-Numbing And Spicy Ma La Goodness!
Riverside Grilled Fish
Website
Address: Raffles City Shopping Centre, #B1-06/07, 252 North Bridge Road
Opening Hours: 11am – 10pm daily
Tel:  +65 6352 2035
If you're looking to increase your brand's awareness and you want to introduce products both old and new to more Singaporeans! Drop us an email at [email protected], we would love to work with you!
We're also on the lookout for more ambassadors who are on the mission to discover the fun and exciting things in Singapore! If you love eating, shopping, and discovering new places in Singapore, just drop us an [email protected].
Also Read: Ambassador Highlights #3: DSG Meetup, Atlantis Fright Night and Singapore Fashion Week!