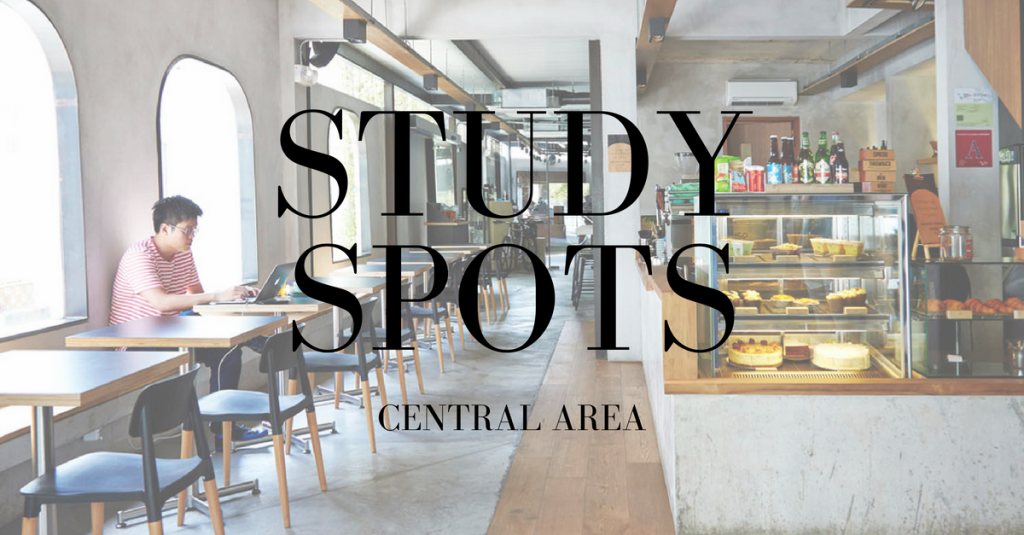 Going to be around the central region and need study spots?
The central region is where life in Singapore intersects the most frequently. With blistering paces and overwhelming noises, it may seem impossible to settle down on a spot to study or work.
Here, we uncover study spots in the central region that are perfect for students who need to focus on their work at hand.
#1. Starbucks
Here's everyone's default and favourite study spot – Starbucks! The quintessential coffee house that serves delicious coffee, offers new and exciting seasonal drinks and is conveniently located all around the country.
Starbucks – Plaza Singapura
This is one of the most convenient Starbucks outlets in Singapore, located near Dhoby Ghaut MRT station.

[caption id="attachment_15162" align="alignnone" width="1600"]
credit: pacamara.sg[/caption]

The cafe serves all day breakfast along with mains which will fuel your studying marathon all through the day.

Pacamara
Address: 185 Upper Thomson Road, Singapore 574333
Opening Hours: 9:00AM to 11:00PM
#4. Drury Lane
It's hard to miss the bright red doors of Drury Lane Cafe at Tanjong Pagar road.

[caption id="attachment_15254" align="alignnone" width="1024"]
credit: suchafatty[/caption]

With seats on ground and upper levels, this hip cafe is extremely apt for those in the neighbourhood looking for a good spot to finish up on some readings.

Drury Lane Cafe
Address: 94 Tanjong Pagar Road, Singapore 088515
Opening Hours: 8:00AM to 06:00PM (Mon-Tues), 8:00AM to 09:00PM (Wed-Fri), 9:00AM to 06:00PM (Sat-Sun)
#5. The Daily Press
The Daily Press is an unpretentious cafe located within the mature estate of Toa Payoh that serves a variety of sandwiches and good coffee.

[caption id="attachment_15255" align="alignnone" width="1600"]
 

Blk D #01-01, 1 McNally St, Singapore 187940


Opening Hours: 08:30AM-09:00PM (Mon-Sat), 09:00AM to 03:00PM (Sun).
#8. Library
For people who need absolute silence and zero distractions in order to be productive, we didn't forget about you! Here are some of the quietest spots in town for you to mug hard all day long! 
National Library, Singapore
The ultimate study spot in the central. This library has designated study spots on the 5th level, but there are plenty of tables through till the 11th floor.
[caption id="attachment_15167" align="alignnone" width="839"]
credit: draken4130 on Flickr[/caption]
Just be sure not to occupy the tables reserved for those referencing the library's materials.
National Library
Address: 100 Victoria St, Singapore 188064
Opening Hours: 10:00AM to 9:00PM
Library @ Esplanade
This one comes as a surprise to many. Yes, there is a library inside the Esplanade. Yes, it is super quiet and conducive.
[caption id="attachment_15168" align="alignnone" width="960"]
Attention Coffee Lovers: Here's Your Chance To Savour 30 Cups Of Coffee At Only $30!